With the first month of school behind us, many college campuses are getting ready for Parents Weekend. This is when everyone's families flood to campus, dressed from head to toe in college apparel, and basically take over the entire school. Here are 5 reasons why us college students LOVE Parents Weekend
1. Good dinners.
One of the best parts about Family Weekend is the food. This is the rare occasion when your parents take you out to any restaurant of your choosing and then pay the bill. You'll finally get a break from that gross dining hall food.
2. Shopping
Whether you go to the mall, or the campus bookstore, your parents are most likely going to spoil you with some new clothes... and we love that!
3. Football games/ tailgates. 
This is the one weekend a year when parents can act like college kids again and it's totally acceptable. Watching your dad get "iced" and seeing your mom do a keg stand is great material for your Snap story!
4. Getting a taste of home.
Besides seeing your lovely family, your parents might bring down your favorite things from home that you've missed since you've been at school. Whether this is a pet, your mom's cooking, or a couple of clothes you forgot to pack, it's nice to have that taste of home after you've been away.
5. Being reunited.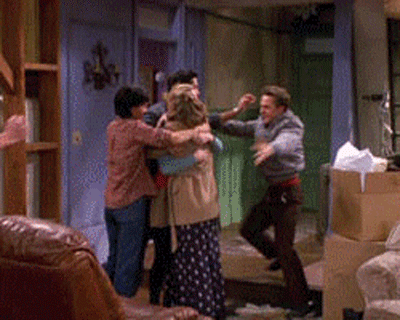 Giphy
After a full month of studying, all-nighters, and a few mental breakdowns, it's nice to be reunited with your family. So show them around campus, spend time with the people you love most, and enjoy some good ole' family time!