June 12, 2016. It's a day that I'll probably never forget. Some people may ask where I was when I first heard about the Pulse Nightclub Massacre. Well, it was about 10:30 a.m., and I had just woken up. As I walked out of my room and into the family room, the first thing my sister said to me was, "Carlton, you're going to want to see this!"
My sister and my mother were watching the TV in the family room while my youngest sister played with toys on the carpet floor. As I turned to look at the TV, I saw that it was tuned to CNN and was in the middle of a press conference. The news headline read, "50 dead in Orlando nightclub shooting."
At first, it was difficult to process, primarily because I was still pretty drowsy. But when the words "terrorism" and "massacre" were mentioned, that's when it began to sink in. Orlando, the area I grew up in, was now home to what they were calling the deadliest mass shooting in U.S. history.
At that point, they also had the name of the gunman, which will only be mentioned once in this article: Omar Mateen. Later on, I would come to realize that everything had started long before I woke up, and that the nightclub was targeted simply because it was a gay nightclub. Here is a brief timeline of the events surrounding the Pulse Nightclub massacre.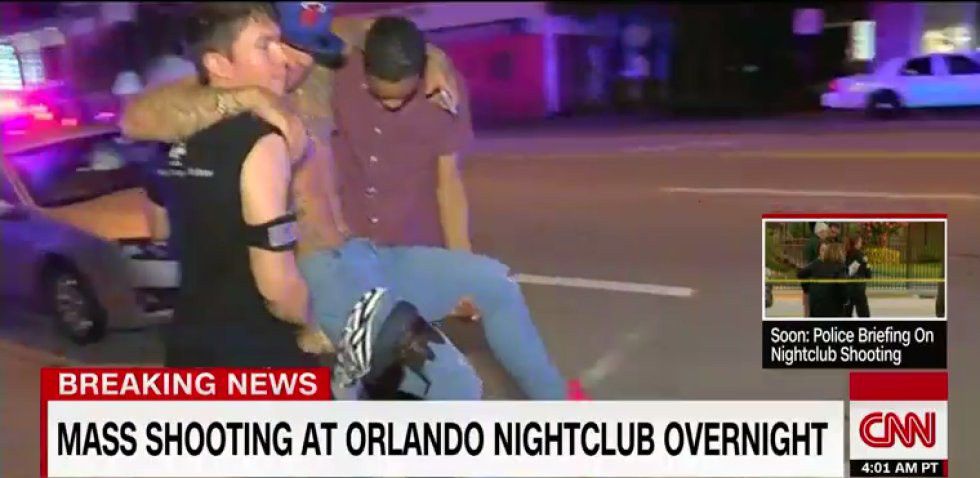 Timeline:
2:00 a.m. EST
The gunman who was equipped with a handgun, an assault rifle and ammunition opens fire in Pulse Nightclub. He is quickly met by an off duty officer who was inside the club.
2:09 a.m. EST
Pulse Nightclub's Facebook page posts their chilling status, "Everyone get out of pulse and keep running."
3:30 a.m. EST
The Orlando Regional Medical Center (ORMC) is notified of the shooting with an urgent message.
3:58 a.m. EST
The Orlando Police Department (OPD) announces via Twitter that they have responded to a shooting and advise people to stay away from Orange Avenue and Kaley Street.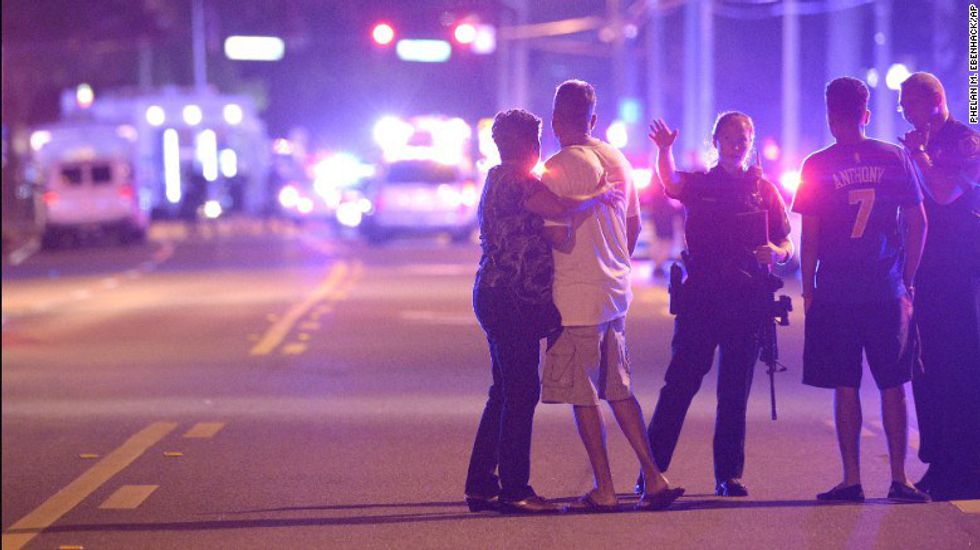 5:00 a.m. EST
The gunman now has hostages. He also calls 911 and reportedly pledges his allegiance to ISIS. The OPD then enters the nightclub and shots are fired from both sides. Only one officer was injured in the gunfire exchange, but he was saved by his helmet. The gunman was then killed.
5:53 a.m. EST
The OPD officially announce the gunman's death via Twitter
7:15 a.m. EST
An early morning press conference was held with Buddy Dyer in attendance. Part of the conference was posted on the OPD Twitter page.
In Twitter video, Police Chief John Mina announces that "multiple people are dead inside Pulse Nightclub" and that they "going to continue to work with the FBI and Florida Department of Law Enforcement" for the investigation. It is also fist mentioned that the shooting is being examined as a possible act of terrorism.
10:30 a.m. EST
During a press conference, the death toll is revealed to be 50 (including the gunman). There were still 53 victims still hospitalized.
Approximately 12 p.m. EST
Florida Governor Rick Scott declares a State of Emergency for Orange County.
1:50 p.m. EST
President Obama addresses the nation on the Orlando shooting. He calls it an act of hate and orders that on that day, all American Flags be flown at half-mast to honor the victims of the tragedy. The issue of gun control is also brought back into the political spotlight.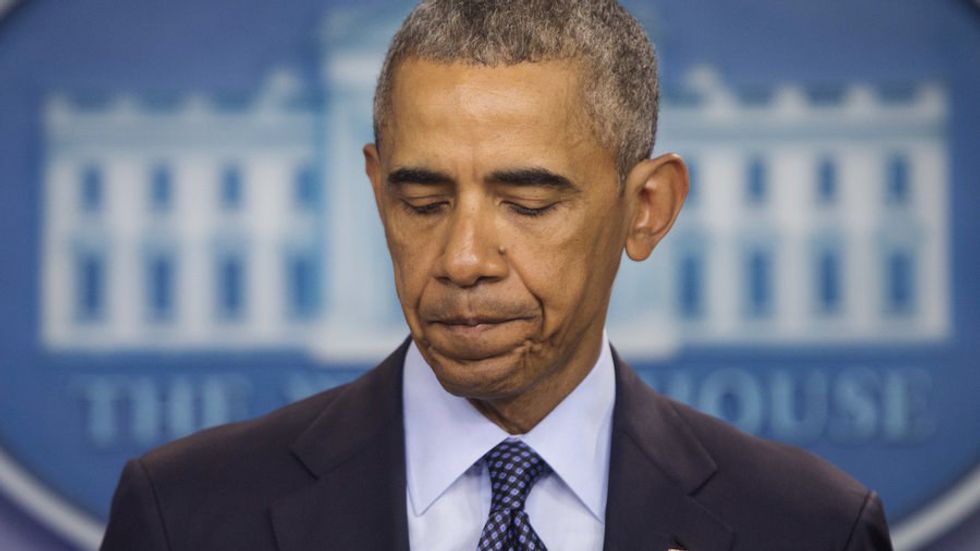 Sunday And Monday Nights
A vigil held in front of the Dr. Phillips Performing Arts Center on Monday night is just one of many vigils that were held across the world to mourn those lost in the tragedy.
Monday Afternoon
The full list of the 49 victims are released.
Reaction and Support
People from around the world reacted to this horrific tragedy and offered support for the city of Orlando. Celebrates took to social media to post their condolences and messages of support. A list of a few of the celebs who reacted can be found here. Other celebrities include Zendaya, Katherine McNamara and Ariel Winter.
Celebrities weren't the only people who showed their support for Orlando. Several sports teams, most notably the Orlando franchises, came out to support the victims of this horrible tragedy. Along with posting to social media to show their support all off the city's major sports teams teamed up to create Orlando Pride T-shirts. The funds raised from these T-shirts would go to help the victims.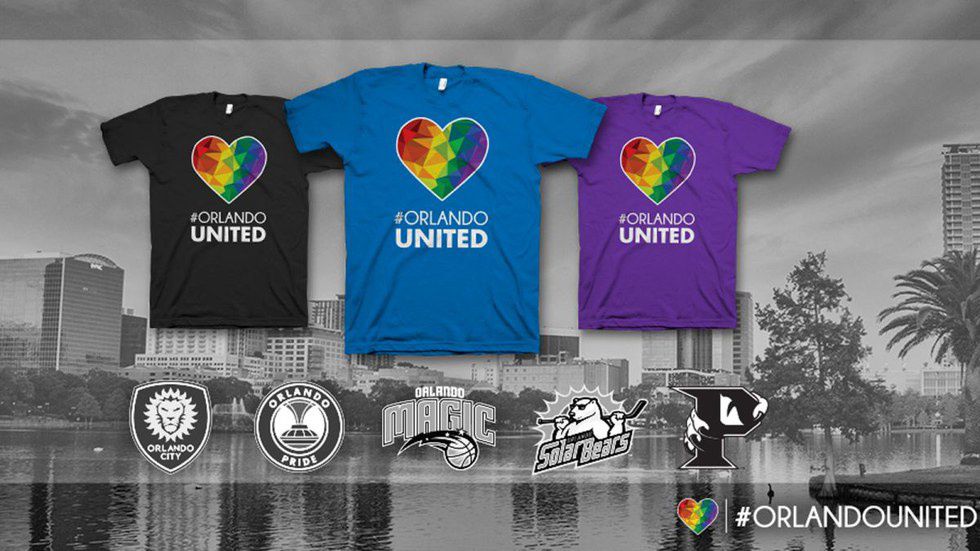 The sports teams included in this team up were the Orlando Magic (NBA), the Orlando City Soccer Lions (MLS), The Orlando Pride (NWSL), the Orlando Solar Bears (ECHL) and the Orlando Predators (AFL). As of June 17 2016, the shirts sold out online, but the Magic promised to have more available to sell at the Amway Center on Friday, June 17 and Saturday, June 18.
Despite help and support coming in from all around the world, the people who helped and supported the most were the citizens of Central Florida themselves. I remember seeing in the 10:30 a.m. press conference on CNN that Buddy Dyer, the mayor of Orlando, talked for a little bit. He, and some others who spoke at the press conference, said that if citizens of Central Florida wanted to help, then the one thing they could do would be to donate blood. They even gave the phone number of One Blood, the primary blood bank for Central Florida.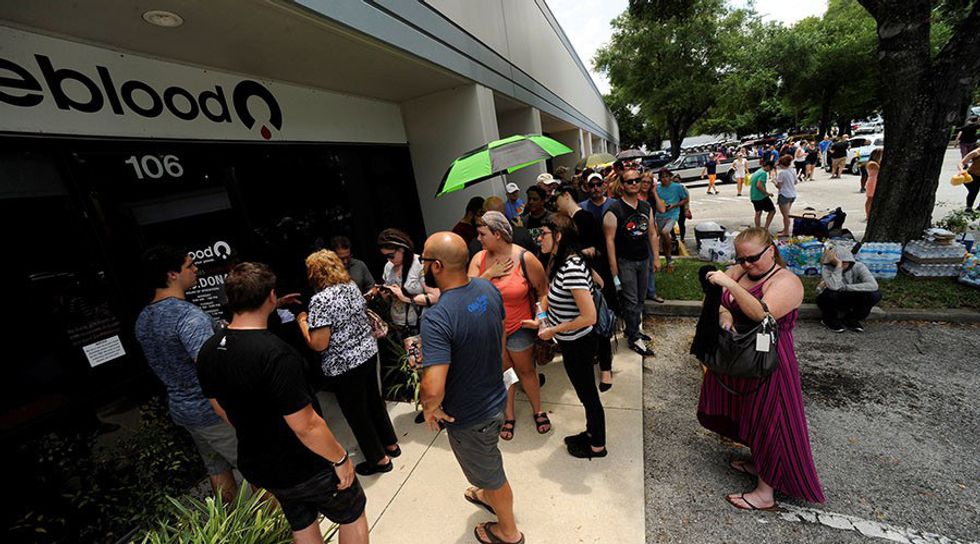 After the press conference ended, the channel was briefly switched over to the local FOX affiliate, Fox 35. There, it was shown that hundreds of people had already lined up to donate blood at one of the Orlando One Blood locations. In fact, the turnout was so massive, that they said if you have O Negative, O Positive or AB Plasma blood, to please stay in line and for everyone else to return later in the week. In that newscast, they also mentioned Central Florida citizens could donate at some of the other local locations, including the ones in Lake Mary, Oviedo and Kissimmee.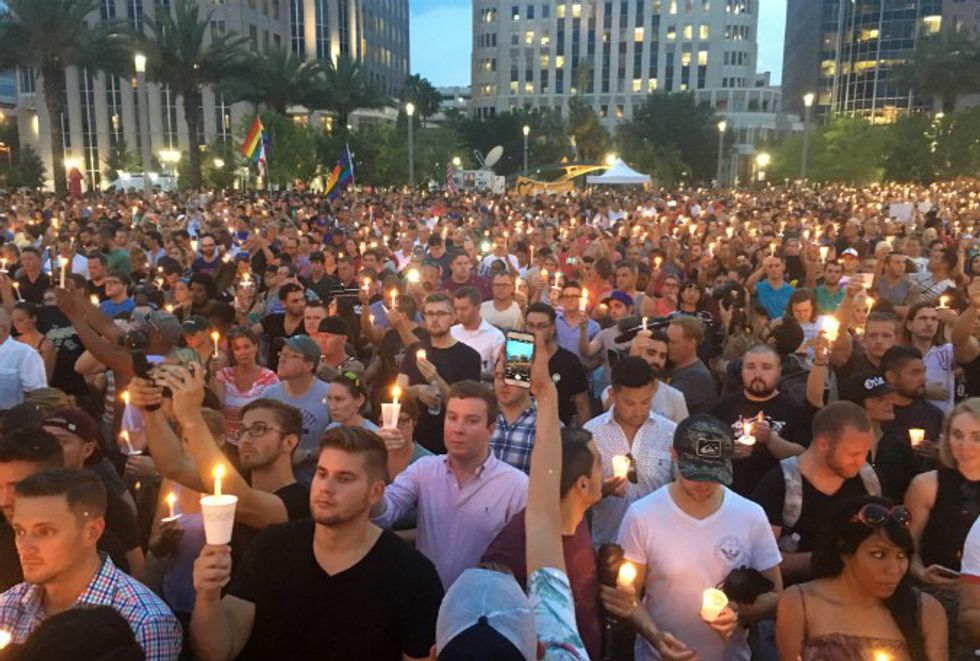 Many of the locals wanted to do what they could to help the victims and prevent more lives from being lost. The turnout at the blood bank was more than anything I have ever seen. And it didn't stop there. Thousands of people attended vigils in the Central Florida area and a few were so large that they could be easily noticed from anyone flying overhead.
The Victims
Let's not forget the 49 lives that were tragically cut short on the morning of June 12, 2016. Here is a full list of all the victims. Each name is linked with a short profile about the victim, written by the Orlando Sentinel. May they all rest in piece.
Stanley Almodovar, III, 23 years old
Amanda Alvear, 25 years old
Oscar A Aracena-Montero, 26 years old
Rodolfo Ayala-Ayala, 33 years old
Antonio Davon Brown, 29 years old
Darryl Roman Burt II, 29 years old
Angel L. Candelario-Padro, 28 years old
Juan Chevez-Martinez, 25 years old
Luis Daniel Conde, 39 years old
Cory James Connell, 21 years old
Tevin Eugene Crosby, 25 years old
Deonka Deidra Drayton, 32 years old
Simon Adrian Carrillo Fernandez, 31 years old
Leroy Valentin Fernandez, 25 years old
Mercedez Marisol Flores, 26 years old
Peter O. Gonzalez-Cruz, 22 years old
Juan Ramon Guerrero, 22 years old
Paul Terrell Henry, 41 years old
Frank Hernandez, 27 years old
Miguel Angel Honorato, 30 years old
Javier Jorge-Reyes, 40 years old
Jason Benjamin Josaphat, 19 years old
Eddie Jamoldroy Justice, 30 years old
Anthony Luis Laureanodisla, 25 years old
Christopher Andrew Leinonen, 32 years old
Alejandro Barrios Martinez, 21 years old
Brenda Lee Marquez McCool, 49 years old
Gilberto Ramon Silva Menendez, 25 years old
Kimberly Morris, 37 years old
Akyra Monet Murray, 18 years old
Luis Omar Ocasio-Capo, 20 years old
Geraldo A. Ortiz-Jimenez, 25 years old
Eric Ivan Ortiz-Rivera, 36 years old
Joel Rayon Paniagua, 32 years old
Jean Carlos Mendez Perez, 35 years old
Enrique L. Rios, Jr., 25 years old
Jean C. Nives Rodriguez, 27 years old
Xavier Emmanuel Serrano Rosado, 35 years old
Christopher Joseph Sanfeliz, 24 years old
Yilmary Rodriguez Solivan, 24 years old
Edward Sotomayor, Jr., 34 years old
Shane Evan Tomlinson, 33 years old
Martin Benitez Torres, 33 years old
Jonathan Antonio Camuy Vega, 24 years old
Juan P. Rivera Velazquez, 37 years old
Luis S. Vielma, 22 years old
Franky Jimmy Dejesus Velazquez, 50 years old
Luis Daniel Wilson-Leon, 37 years old
Jerald Arthur Wright, 31 years old
This article is dedicated to the 49 innocent lives that were lost in the early hours of June 12, 2016.