I am starting my freshman year of college next week and I think it's more than safe to say that I would not be the same person I am now, if not for one organization.
For the past two years, I have had the humbling privilege of serving as a Girl Advocate for the Working Group on Girls (WGG). In this role, I worked at the United Nations in the fight for gender equality. WGG is a coalition of over 75 international and national NGOs that collectively empower and protect the rights of girls—yes, girls, not just women—globally through advocacy at the United Nations. The Girl Advocate program allows girls to be the leaders in this international movement (because after all, who better to discuss the particular issues facing girls than girls themselves?). My fellow Girl Advocates and I moderated large scale UN events, held meetings with high-level policy makers, and wrote language to propose for UN documents, to name just a few aspects. WGG truly does work "with girls, for girls," and the experience of being a part of it was invaluable for me.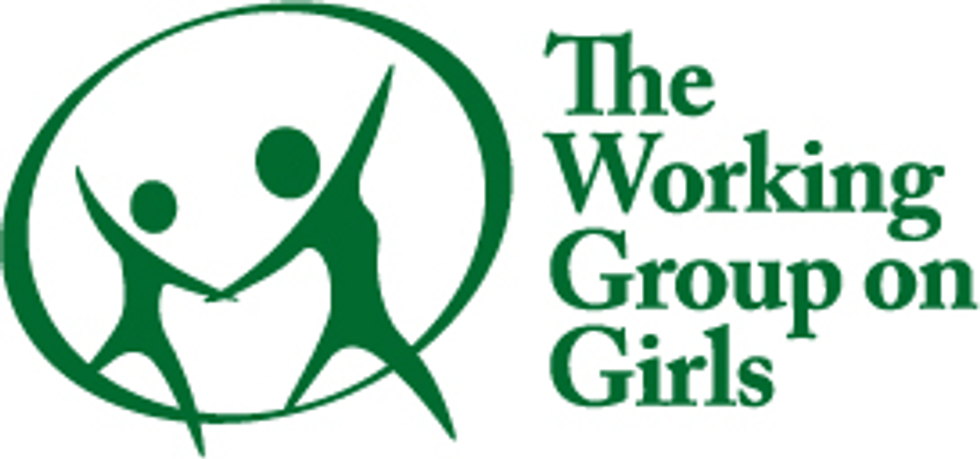 WGG, you changed me.
My first experience with you was the 2014 International Day of the Girl, back when I was just a performer for that singular event, and not yet a full-time Girl Advocate, which involves the aforementioned advocacy roles year-round. Held in the ECOSOC chamber of UN Headquarters in NYC, the event featured pieces submitted from girls all over the world about their experiences as girls in their communities, and I had the honor of performing not only the piece I wrote, but many others.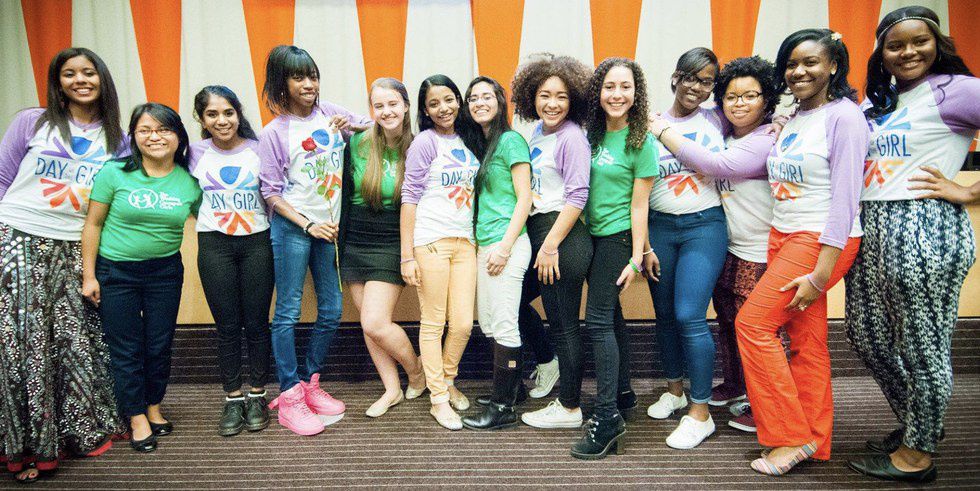 IDG 2014 Performers with WGG Girl Advocates.
I still remember one particular moment of the event as if it was yesterday: we had just finished performing a particularly emotional piece about the violent rape of a young girl, and UNICEF Deputy Executive Director Geeta Rao Gupta was scheduled to speak right after.
Instead, she put aside the speech she had written, and tearfully said to a silent audience of thousands that watching us made her both happy, and sad.
Sad: because she would have told that same story when she was a young girl.
Happy: because for the first time, these stories were being told on a platform that high.
I've retold that memory countless times by now, but it still never fails to ignite all of the same emotions in me as it did that day. That was the moment that I realized the potential my voice—ALL of our voices—have to make an impact, whether on one person or on thousands. That our gender, our age, our race, or any other differentiating factor could never limit that power. I realized that we—a group of about twelve "regular" teenage girls who somehow made it to speaking at the Headquarters of the United Nations—were showing every single young girl watching just how limitless their power really is, and that even a platform as high as the UN was within their reach, simply by seeing us up there already. Most importantly, that was the moment I realized just how important it is to speak up, especially when we're told to quiet down.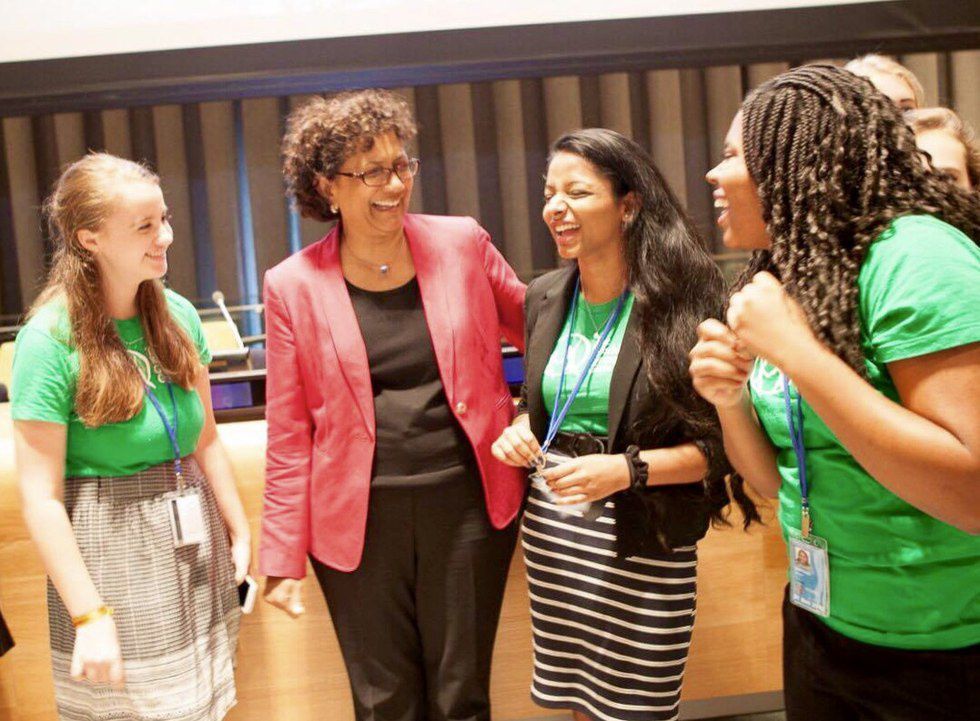 UNICEF's Geeta Rao Gupta, laughing with Girl Advocates one year later at IDG 2015.
I applied to be a Girl Advocate with you immediately after the event. During my following two years as a Girl Advocate, you gave me boundless opportunities that I never could have dreamed of having as a high school student, from interning with an ambassador at the Panama Mission to meeting with—and proposing feminist policy to—the all-time celebrity/political/general crush, Prime Minister Justin Trudeau. However, the opportunities are not what I am most grateful for, and are not the reason I am writing this letter. Rather, it's the personal development that you facilitated. My eagerness to join the movement stemmed from expecting to help empower girls worldwide. What I wasn't expecting, however, was to actually end up empowering myself far more than I ever could have imagined—and it is all because of your endless support. For that, I thank you most.
Thank you for showing me that my thoughts are just as valid as anyone else's, even at a stage in my life when it was easier than ever to question my worth. You bring the old and the young together in one room at every membership meeting, in an epitome of intergenerational dialogue. What was most formative in that regard was the fact that my opinion and what I had to say was always, always regarded with full weight, despite the fact that I'd be sitting next to women who had seen, experienced, and knew decades more than me. You ingrained in me to never let myself be ignored or be valued less because of my age or my gender—whether it be by others, or even by myself.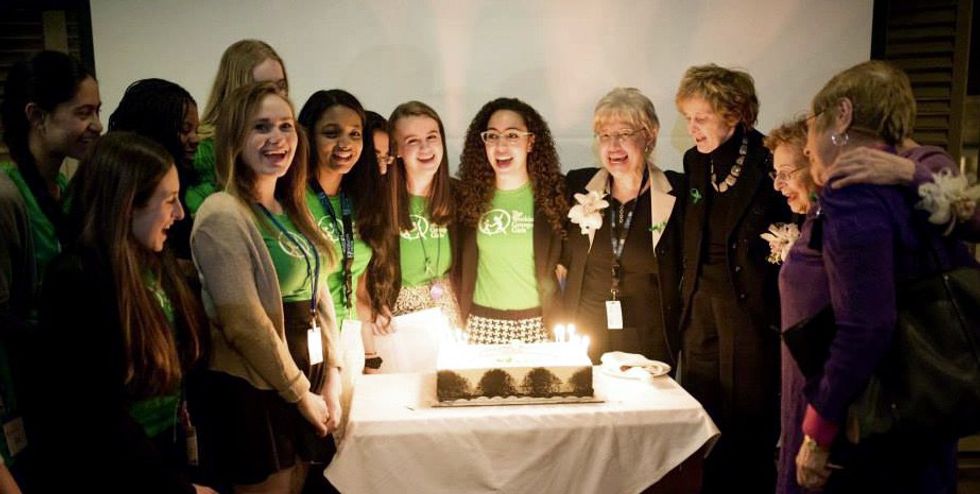 WGG's founding members side-by-side with Girl Advocates, celebrating the anniversary of WGG's creation.
Thank you for introducing me to some of the most fierce and inspirational girls I know. There are ten of us Girl Advocates, and I can truly say that getting to know each one of them has been the most wonderful experience. Their passion for feminism inspires me endlessly every day, and that's just my fellow Girl Advocates—let's not even begin to discuss all of the unimaginably resilient girls you've allowed me to meet from around the world, who have survived more than anyone should have to endure in lifetimes. We Girl Advocates support each other's successes and comfort each other's setbacks, and are a poster-example of the sheer power of girls when we stand together. Individually, we are all uniquely strong beyond belief; together, we are unstoppable.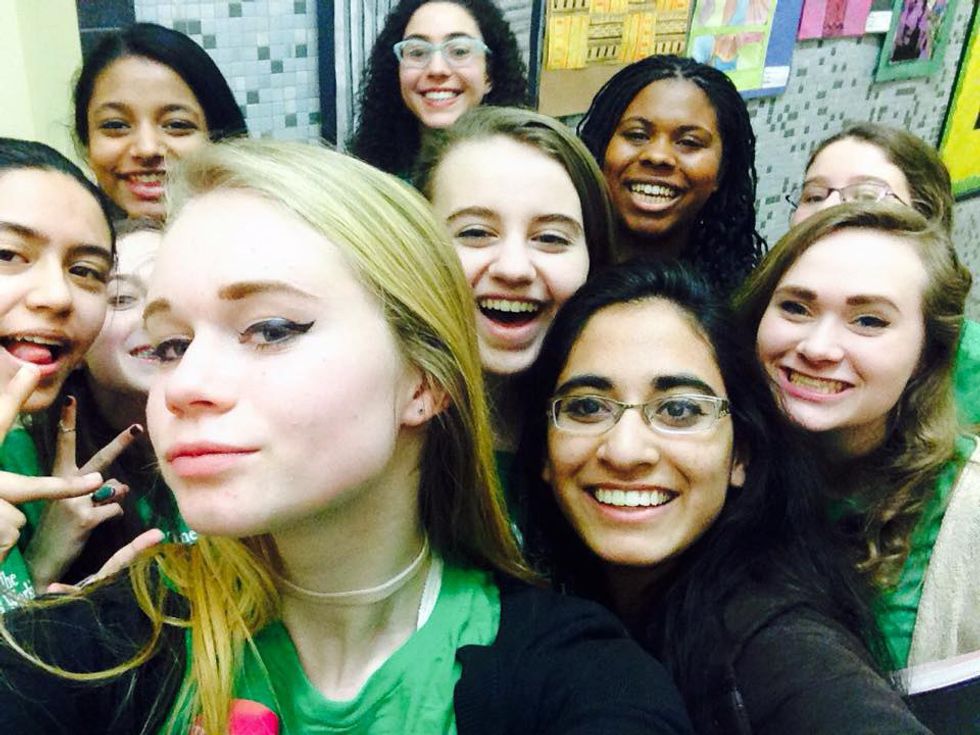 Girl Advocates having fun while working hard at the 59th session of the UN Commission on the Status of Women.
Thank you for giving me the most incredible mentors and support network of adults I could ever ask for. Every adult who I have worked with in WGG or my sponsor organization, the American Association of University Women (AAUW), has gone out of her way to support me anytime I needed it. Literally. Whether it be as simple as "tweeting" support about my accomplishments, or as significant as speaking at events I was running at my high school, providing encouragement throughout the grueling college application process, or simply being there if I ever needed to talk about anything at all, I now know that there are a number of non-obliged adults in my life who are invested in my wellbeing. For a girl who spent much of the past doubting how many people truly cared, or even cared at all, I can't begin to describe how grateful I am for the endless support I have received from you. It truly means the world. Thank you, WGG, for giving me those role models who I only hope to one day match in dedication and impact.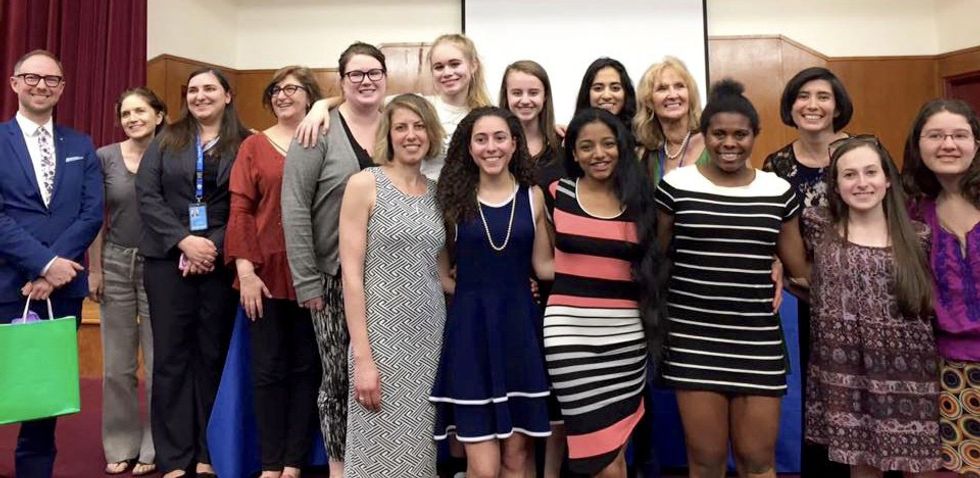 Girl Advocates and mentors at the final WGG meeting of the year, which was he senior Girl Advocates' "graduation."
Finally, and perhaps most consequentially, thank you so, so much for helping me recognize my purpose. I could (and in all likelihood will) write a whole separate article about how significant feminism has been to my life and identity, but that really all started with you. In the feminism you showed me, I found where I belonged—cliché as that might sound, it was hard to see the bigger picture of my role in the world before I got involved with you.
Once I did, however, I realized my passion for activism, and my duty to speak up for those who go unheard: all of the girls around the world who are just like me, except that they lack the immense privilege of being able to use their voices and be heard, one taken for granted far too often. In many ways, I was drowning inside myself during the years before I joined you. By allowing me to be a part of the movement, and giving me a means to make a true difference, you helped me save myself by giving me a niche mission that every inch of my being now serves—as well as a support network of women and girls who are now some of my closest friends. There may still be times when I doubt myself more than I would like to admit, but the progress has nevertheless been exponential.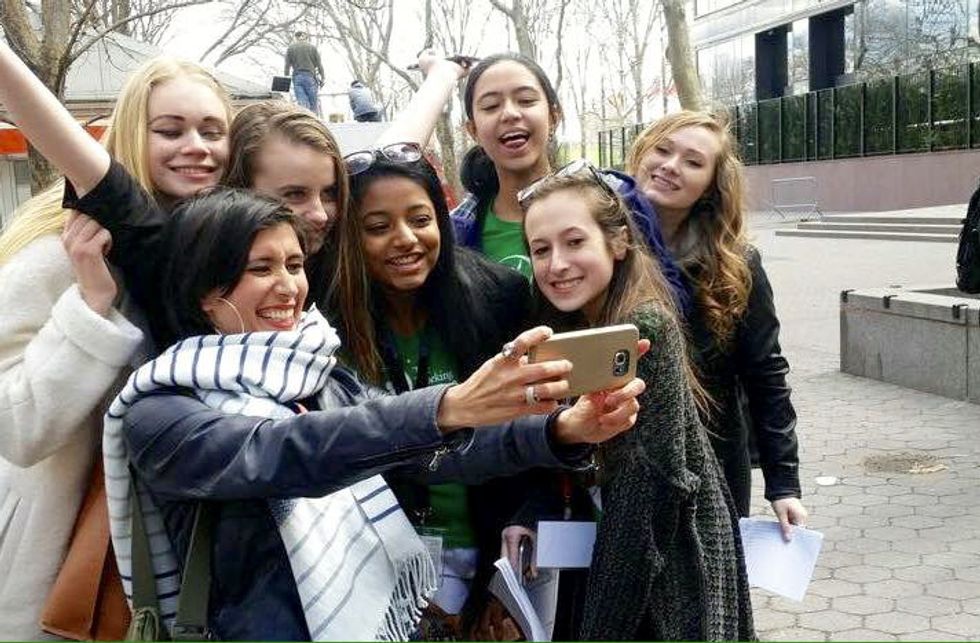 Girl Advocates celebrating the end of the 60th session of the UN Commission on the Status of Women with a supporting mentor.
I always cringe just the slightest bit when people say that someone, or something, "gave" them their wings, because I strongly believe everyone already has their wings, and that it is just a matter of recognizing them. That being said, WGG, you certainly did more than your fair part in helping me see mine, and I couldn't be more grateful. "Graduating" from the Girl Advocate program this past June was bitter-sweet to say the least, but I left you as a better and happier version of myself than I was when I joined—all while being able to help elevate the status of girls globally, which goes without saying as the biggest honor of all.
Starting college now, I am palpably more confident, more knowledgeable, and more unapologetically myself than I was before you. To quote one of my fellow Girl Advocates, "thank you WGG for showing me my wings, although it hurts my heart to fly away."
With endless love,
Aasha
P.S., to all girls under 18: WGG is currently accepting submissions for the 2016 International Day of the Girl event! Visit their website to learn more and to submit your piece for the chance to have it featured at the United Nations for the event this October. Submissions are due September 1st, although you can check the website for any extensions! Don't take your voice for granted; make sure it's heard.
Note from the author: In activist work, the most important aspect is, of course, the impact on the group being helped, and my intention in this piece certainly was not to refocus that light upon myself by discussing my empowerment. Being able to help the movement was without a doubt the most rewarding part of my experience. Rather, I wanted to acknowledge my case of the less-spoken about, concurrent impact on the activists themselves, for the purpose of thanking the organization that facilitated the development for me.