Wildcard weekend has come and gone and now we enter the heavyweights of the divisional round. The heavy hitters, Atlanta Falcons, Dallas Cowboys, Kansas City Chiefs and New England Patriots, welcome the wildcard winners. Who advances and survives to one step closer to playing the big game? My predictions below.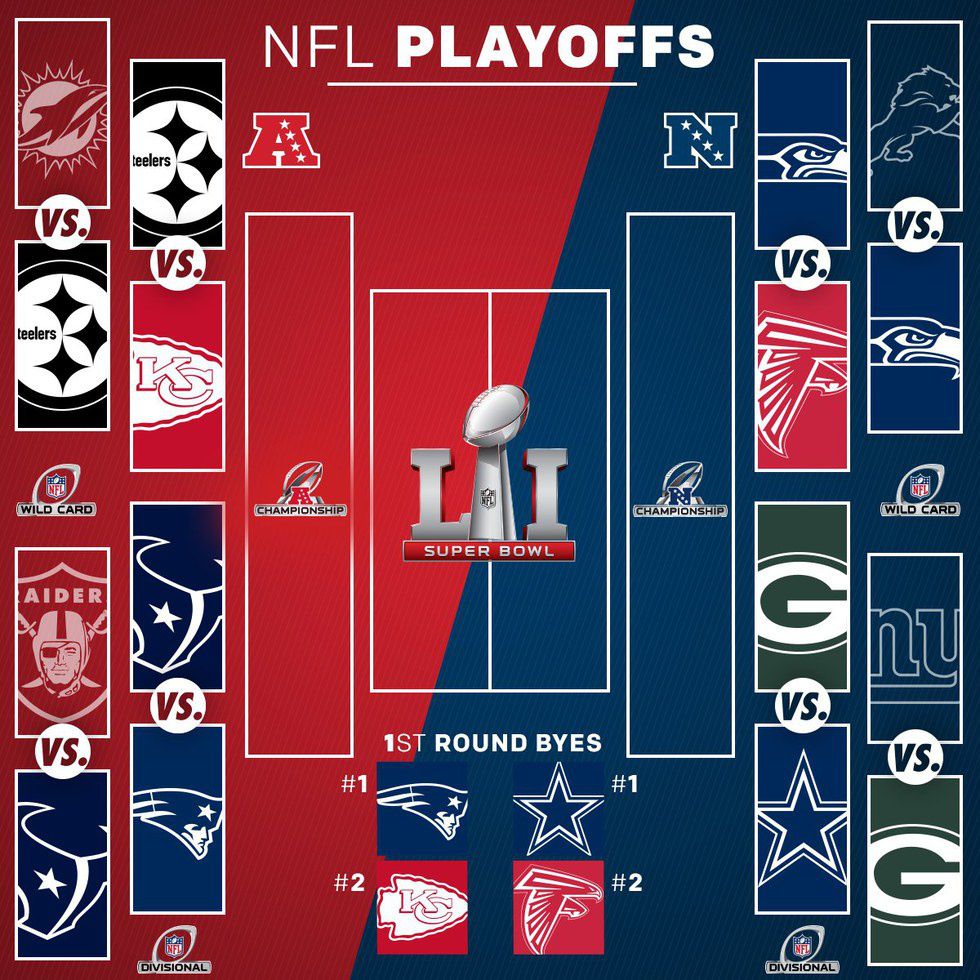 Saturday games:
Seattle Seahawks @ Atlanta Falcons
The Seahawks who average 16 points a road game, head to Atlanta to face Matt Ryan and this high scoring team at home. Ryan will go into this game with a 1-4 playoff record but this matchup is different, Ryan has all the weapons at his disposal to unload the chamber. The running back duo of Davonte Freeman and Tevin Coleman with the receiving threats of Julio Jones and Mohamed Sanu could get this team to be a team of destiny. The Seahawks have their flaws in the offensive line, will the line stand up or will they let the NFL sack leader, Vic Beasley continue his success in the post season? The run game they found last week will be a key to watch for the Seattle offense. The defense will accept the challenge of the weapons, and force Matt Ryan to choose to be either fire or ice.
X-Factor: Falcons, Matt Ryan, Vic Beasley
Seahawks: Thomas Rawls, Seattle D
Winner: Atlanta, Ryan gets hot and drops heat in Hotlanta.
Houston Texans @ New England patriots
Coming off his post season debut and earning that money, Brock Osweiler and that stout Texans defense heads to number one seed New England Patriots. The Patriots defense will be tested; it will be up to cornerback Malcom Butler to challenge the offensive playmaker for the Texans DeAndre Hopkins. Hopkins torched the Oakland defense last week in the wildcard game; he had 116.4 rating when targeted in last week's game. If defensive end Jadeveon Clowney gets a hit or two on Tom Brady early can be a dynamic domino effect. Brady is not keen to getting hit, but will his offensive line let him get hit?
X-Factor: Texans, Lamar Miller, run game, and Clowney can he set the tone on defense?
Patriots: wide receiver Michael Floyd, Tom Brady, and running back LaGarrette Blount.
Winner: New England puts the pedal to the metal and never gives up.
Sunday games:
Pittsburgh Steelers @ Kansas City chiefs
The Steelers with their big three of wide receiver Antonio Brown, LeVon Bell, and Ben Roethlisberger head to Arrowhead to face the Chiefs secondary that is a plus 16 in turnovers. Can that secondary bait Roethlisberger to make a mistake? The Steelers who steam rolled behind their big three last week in the wild card division will look to continue to build off that success again. The Chiefs have the defense that could potential seal this one for them.
X-Factor: Chiefs, Tyreek Hill, he could do it all, safety Eric Barry.
Steelers, the big three.
Winner: Steelers, the big three come up huge in a game-winning drive.
Green bay packers @ Dallas cowboys
A hot packers passing team going against the best run offense of the Cowboys, Aaron Rodgers comes to big D as the best quarterback in the league. 19 touchdowns with no interceptions, Rodgers has been money he will look to pick apart a decent Cowboys secondary. The Boys are built for the post season with this run game, behind rookie sensation Ezekiel Elliot, if fellow rookie Dak Prescott can continue to play smart, they have a chance.
X-Factor: Packers, wide out, Randall Cobb and Rodgers
Dallas: Elliot, wide receiver Dez Bryant.
Winner: Packers, Rodgers puts numbers on the board early.