I am not a make-up artist (MUA), nor do I ever want to be one. However, I started experimenting with makeup when I was in the 6th grade and I started wearing it daily in the beginning of high school. I love makeup and I think is empowering for folks who want to enhance their beauty or want to express their artistic abilities through makeup.
Nevertheless, makeup is not remedial. Makeup is not easy. Not everyone can do it. I think a lot of people have really come to understand how serious and tough makeup is when they realize after watching one youtube video and buying their LA Girl Pro concealer that that wasn't enough to beat their face to the Gods.
There are a lot of things that go into makeup and making your face look the way you like. You have to take into consideration your skin tone, skin type, preferences, the weather, even your body type! You have to rule in the different products that are available, your budget, your brushes, the lighting in your bathroom. Makeup is no joke and even after all these years, I am still learning that.
My first time beating my own face — I'm talking highlight, contour, dramatic eye, bold lip, Ben Nye Powder, the whole 9 — was December 27, 2015, for an engagement party. 365 days ago. I have learned so much since then and I would like to share them with you all.
These pictures are so cringe-worthy, I cannot believe I left my house in such a state. One of my biggest pet peeves is when I use makeup to enhance my beauty and after an hour and half of standing in the mirror, I feel like I look worse with makeup on.
But I have learned and I have gotten better — thank heavens! I hope I can teach you all what I learned.
Here it goes,
1. Eyebrows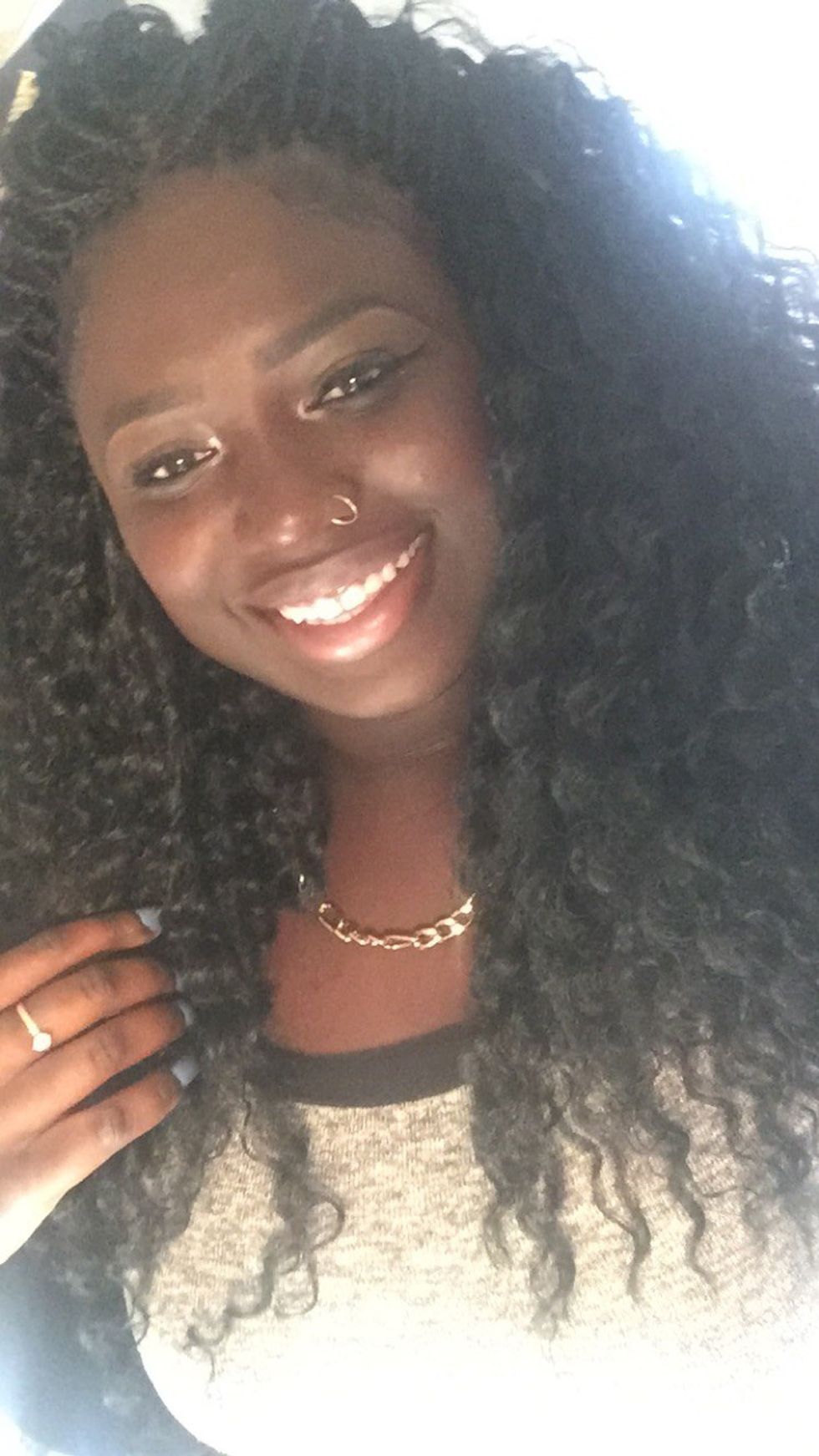 It's not so noticeable here, but my eyebrows are tragically asymmetrical here, meaning they are not the same size or nearly similar.The rule for eyebrows are your eyebrows should be sisters, not twins if you can't achieve that look. The beauty supply store that sold my eyebrow pencil vanished, so I began using the NYX Brow Gel. I am not a drawer, my hands are not sturdy. With pencil, I have way more control. So for about two months my eyebrows were super tragic until I got my pencil back. I tried to make it work by outlining with the NYX gel and then using a darker pencil to shade in, but that didn't work as well as I would like. Use the products that work for you. You know your eyebrows and you know how you like them to look.
2. Primer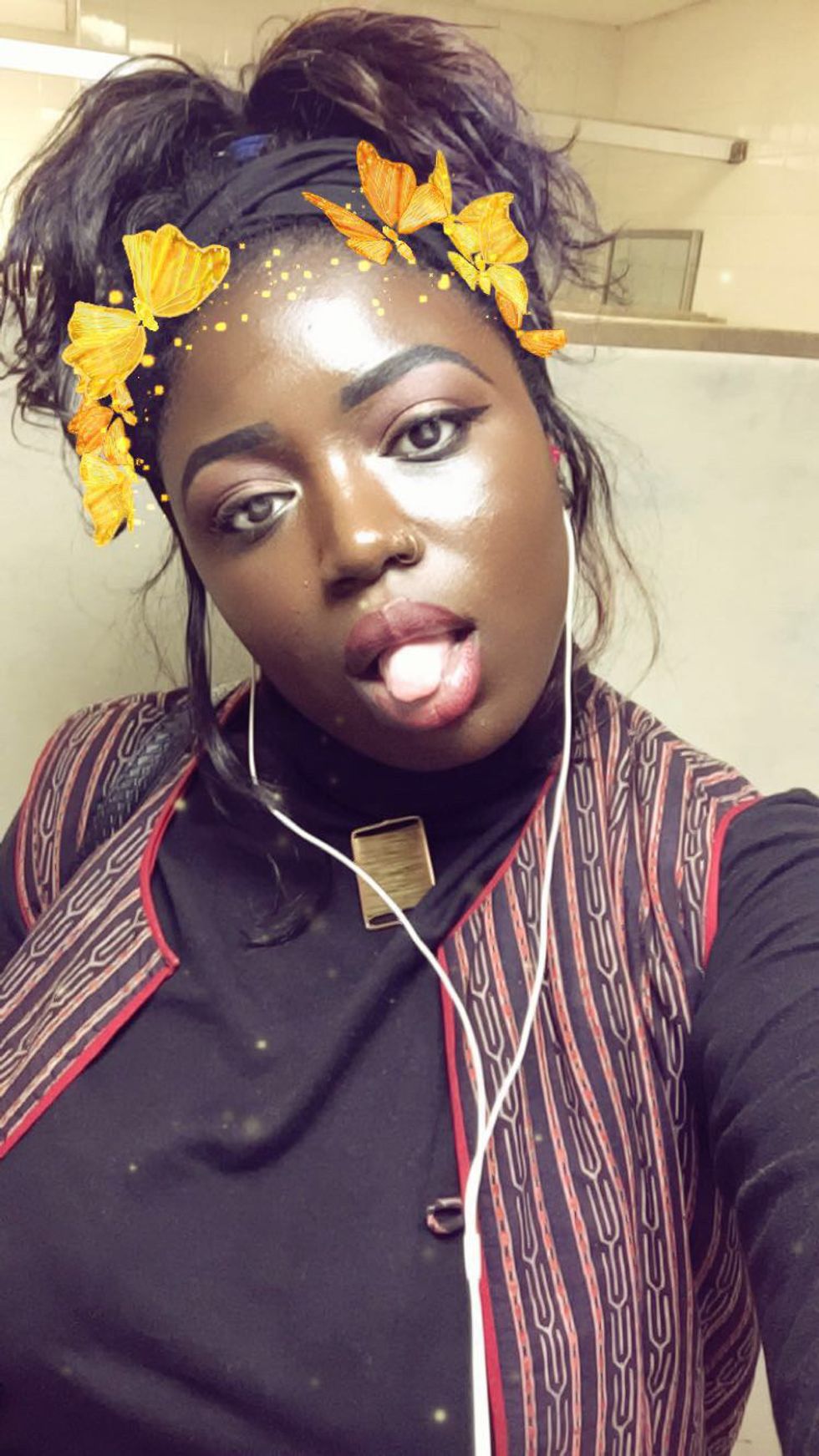 I have combination skin. My t-zone is very oily, and I also have some dry spots. I did not realize my primer was only aggitating that. I thought I had to deal with oily skin forever. But NAH. I don't. I found this primer — Angel Veil — and it works great for my skin.I don't like a dewy face. I like a matte finish and it does the trick.
3. Foundation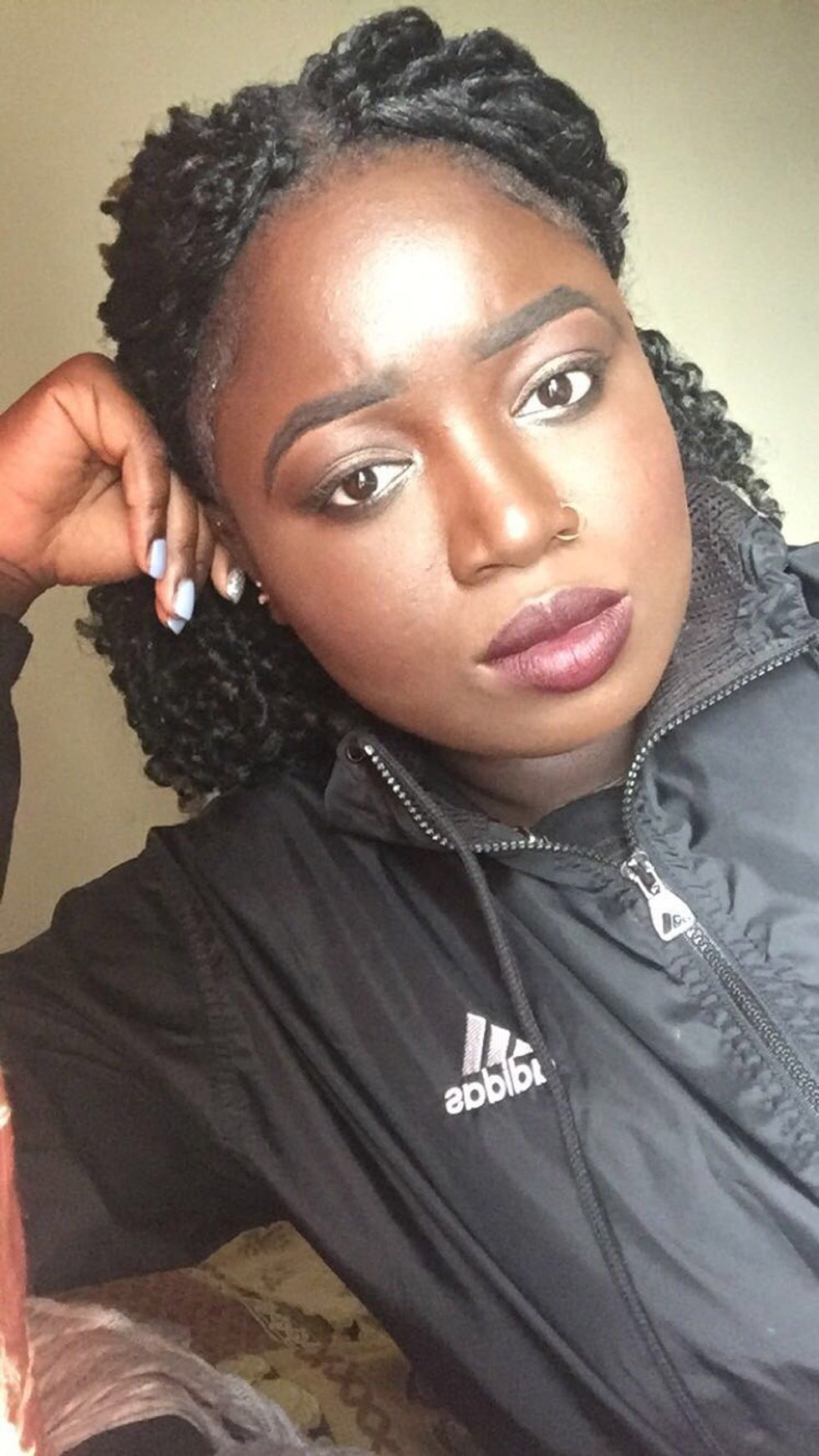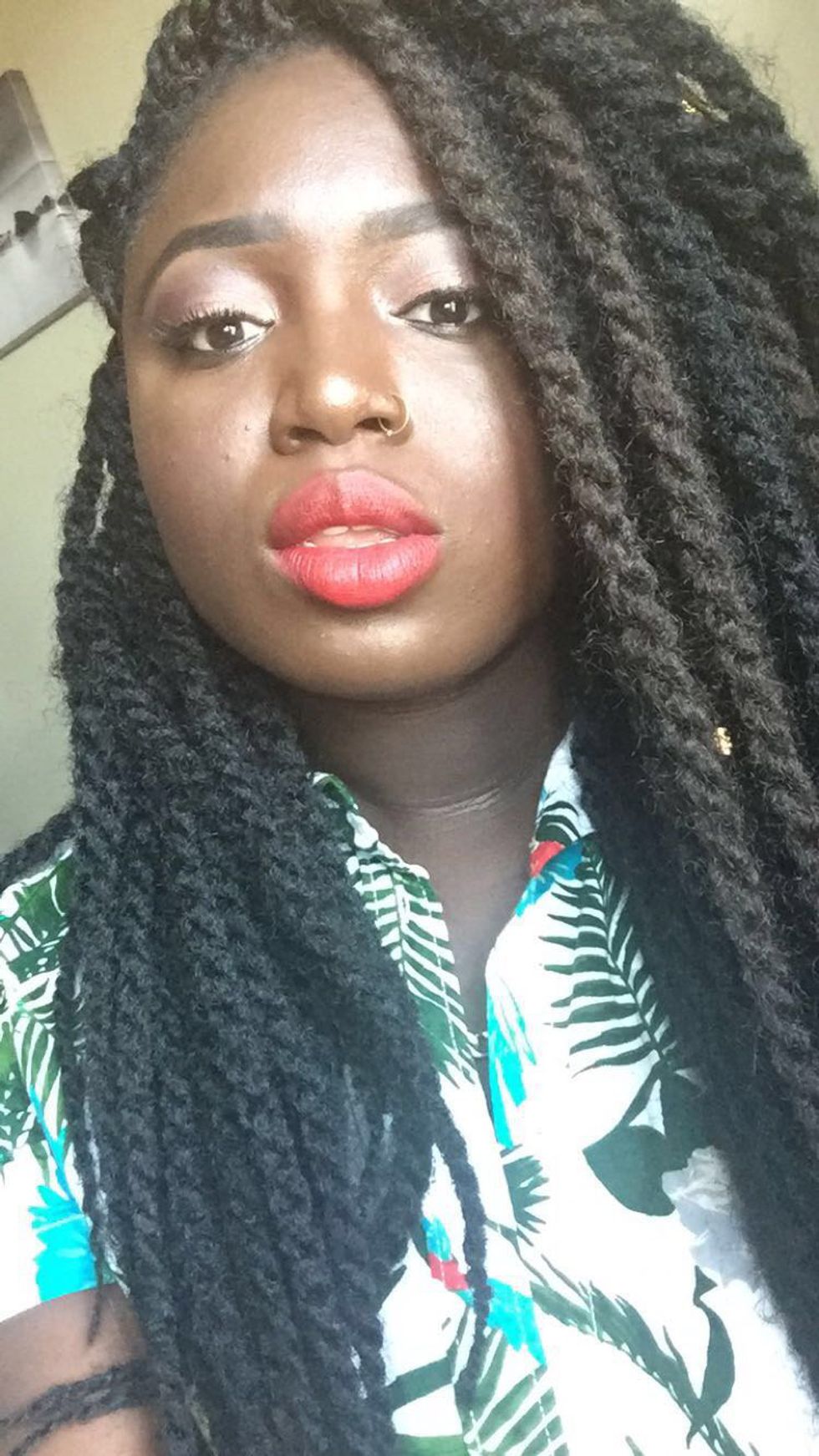 Oh, lord. This is a major key and something I struggle with to this day. Admittedly, I found my perfect foundation. It's from Lancome and it's $48 at Sephora, which is not my lifestyle. However, this foundation works really well for my skin, it's the right shade and everything. Since I am a broke college student, I cannot always afford that one so I have tried drug store brands. They are not cutting it. Many drug store brands do not cater to the darker end of the color spectrum and their colors can be misleading hence my tragic yellow ashy face above. Many people think makeup is supposed to make you lighter and that's not the case. When testing out your foundation, if you cannot test it on your face, test it on your chest since that is a closer shade to your face. Also, most drug stores and makeup stores allow you to exchange and return your foundation so do not feel stranded when you choose the wrong color. Some great and affordable women of color lines are: The Covergirl Queen Collection, Loreal, Shea Moisture, BlackOpal & Iman Cosmetics.
Related: 32 Woman- And LGBTQ-Owned Businesses
4. Eyeshadow Primer and Brushes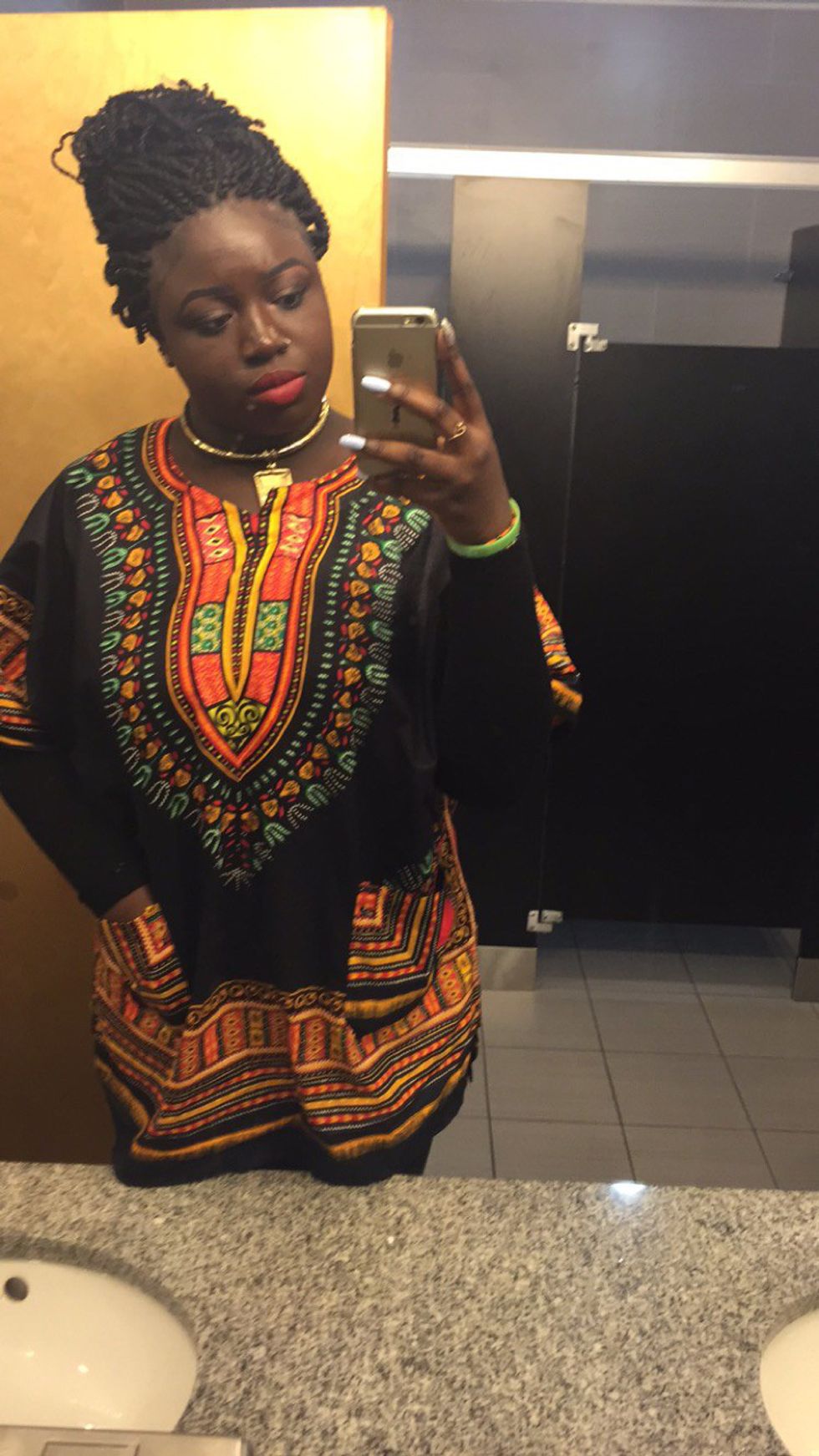 This one is kinda simple. No matter how great your eyeshadow palette is, if you do not have the right brushes and the right primer it's not gone work. In this picture, you can't even see the bomb gold smokey eye look I attempted cause I didn't have the right products to finesse it. ELF has super affordable brushes that work wonders and their primer is my holy grail. My eyeshadow neverrrr creases and always remains vibrant.
5. Setting Powder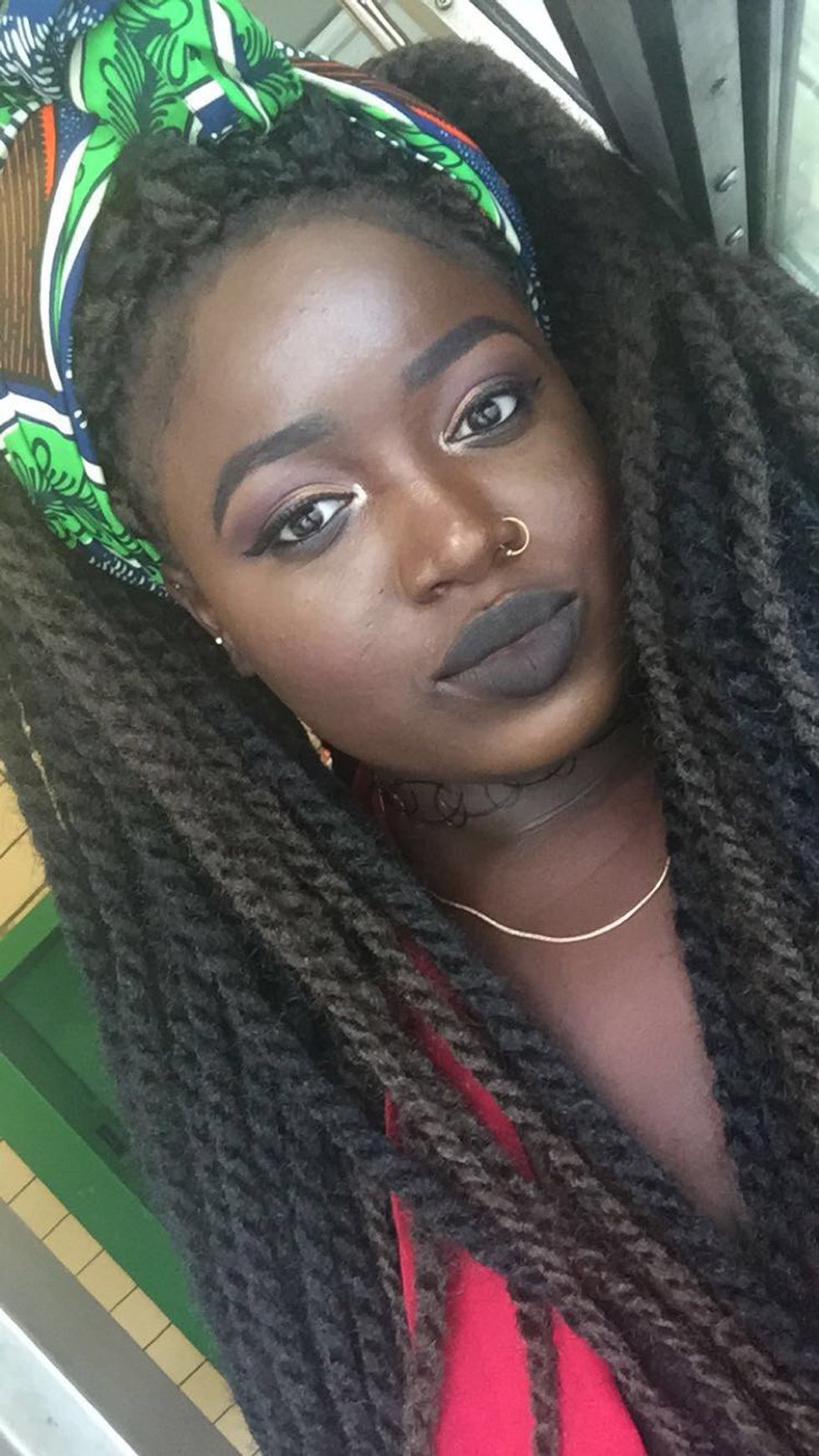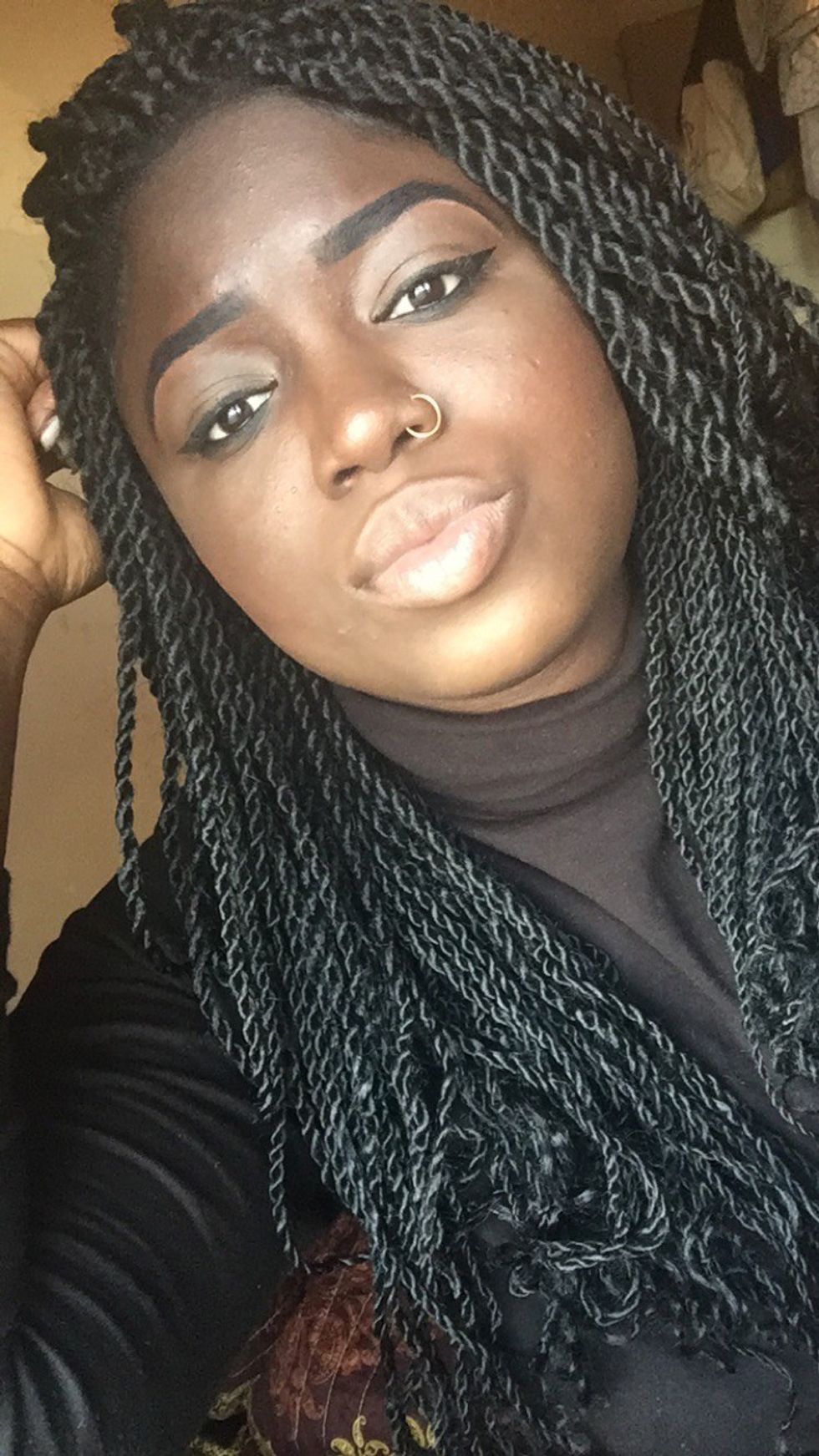 These pictures haunt me in my sleep because they're so bad. Let me be the first to tell you, BANANA powder isn't for everyone. And let's be clear, banana is a shade in the Ben NYE powder family. Granted its the most popular one but it isn't the only one. I had to learn that the hard way. Ben NYE powders are great because of their longevity and affordability but do your research before purchasing a bottle. There are tons of shades to choose from that will give you a wonderful finish. Sometimes the lighter shades worked for me, depending on the concealer I highlighted with and how long I left the powder on for, however, I've had more bad days than good. Now, I use the ebony shade, I just apply it and admittedly blend it in and that works for me. After setting, your face should not look ashy or super yellow unless you're light skinned. Your powder needs to blend in and not look cakey. Otherwise, you undo of all the hard work you put into your face.
6. Eyelashes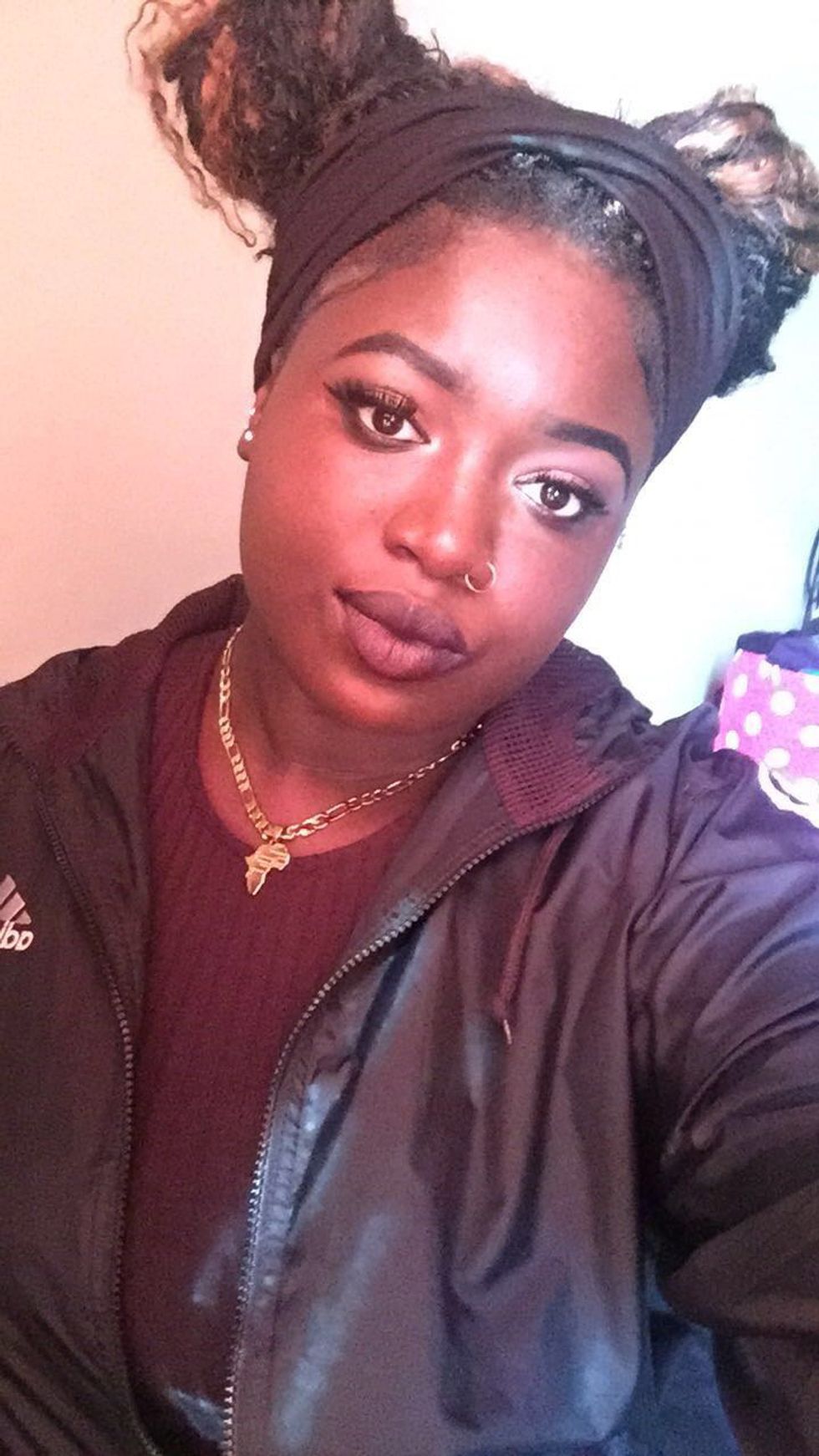 Eyelash application is not easy and I still struggle with it. Please direct your attention to my left eye. Peep how my eyelash is super lifted in the corner and it's placed too far to the edge of my eye. To me, that is super unflattering. The key, for me, to successfully apply falsies are: 1. Adhesive, not hair glue. I am a cave man and I make a mess. Adhesive is super light and you can make mistakes without ruining your strips or your eye makeup if your slip. DUO is the brand I use because it comes out white and then kinda goes invisible so it isn't noticeable. 2. Use Tweezers. Once again, I am a cave man. Tweezers don't work for me because I am not delicate enough to maneuver them without stabbing myself. My fingers work fine. However, Tweezers do give you a good grip on the light lashes that can make application smoother. 3. Apply on your water line, not your eyelid. I know. Your water line is so thin and you have a whole eyelid to just stick them lashes onto. But don't. When you do that, you not only ruin your eye makeup, but it makes your eye look very droopy because they're being weighed down my your eyelash.
6. Overusing Products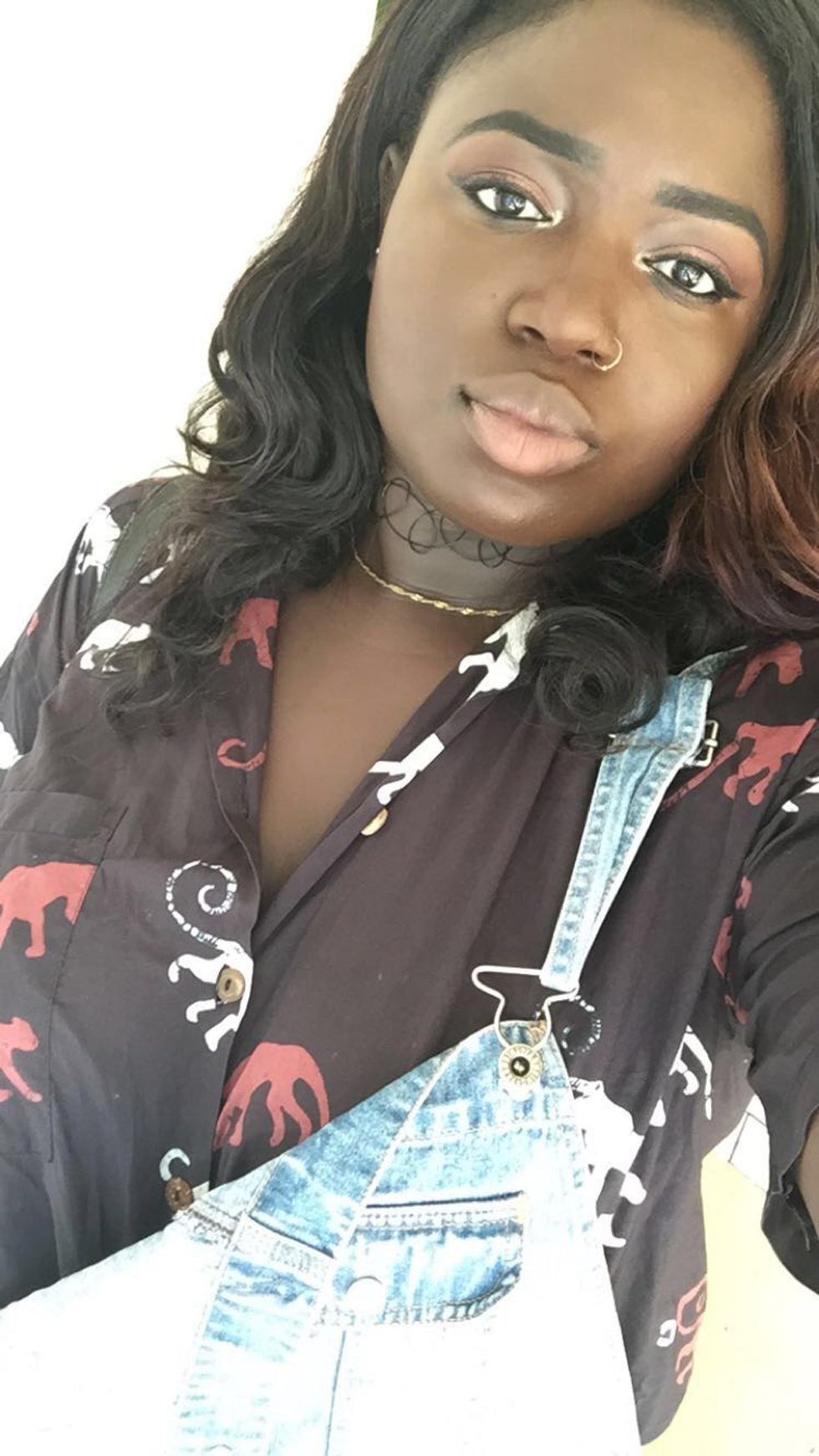 We all like to hold onto things because we think we can still make it work. That can fly sometimes with makeup and sometimes it's not going to work. I always over use my liquid liner and mascara and, obviously, that does me no good. Notice how lumpy and clumped my liquid liner/ mascara combo is. I am a pro at cat eye but when I use products that have died I do myself a disservice. When something is done, let it go in peace and re-up.
7. Setting Spray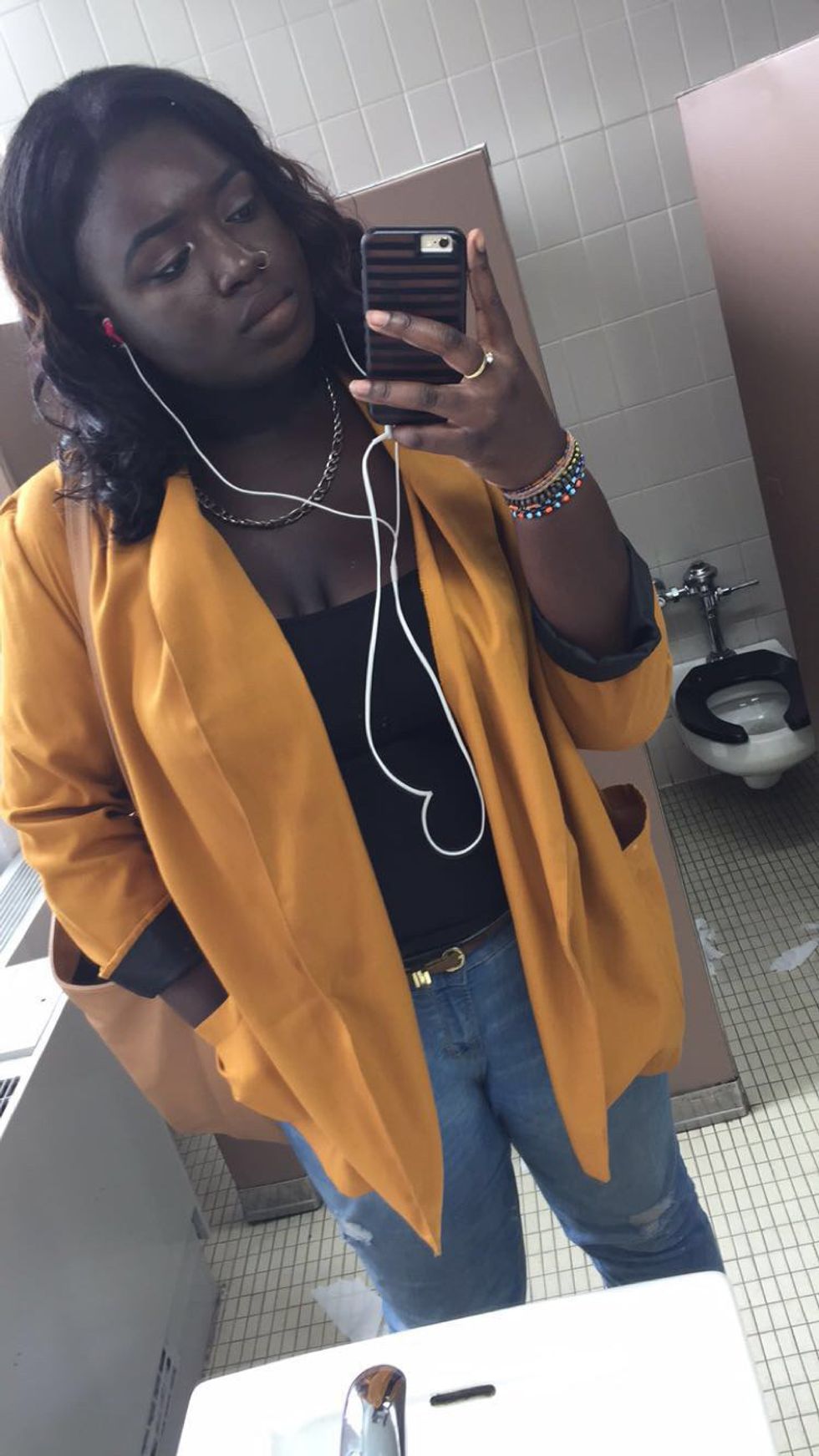 I don't know what enemy of progress has tried to convince people that setting spray is optional- but they are a liar. On this day, I forgot to set my face with spray after I was done and it is a mistake I will tell my grandchildren about. My makeup did not look flawless and since I have this bad habit of touching my face — by 1 p.m., my makeup was all over my hands. Setting spray makes you face smudge proof and makes it last longer. It is vital to making sure your makeup looks as good as you want it to.
Well, that wraps up what I've learned about makeup this year. I'm sure 365 days from now I will have learned so much more. Makeup does not have to be your life if you choose to indulge in it.However, if you're going to spend time, energy and money into makeup, try to equip yourself with the skills and products you need to achieve your best as you should with everything you put your mind to. You are all beautiful and I hope you've learned something.
Here's a view of my makeup at the end of 2016. May it only get better from here: