Luckily,we had an early afternoon flight to Venice so we didn't have to be at the airport during the wee hours in the morning. I surprisingly found the airport to be significantly less busy in the afternoon, there were about half as many people as I normally see which I found to be kind of weird but I did not mind it. We got on the connecting flight to Chicago and that airport was packed. It was also incredibly huge and we had about a three hour layover so me and the three girls I went with decided to walk around and see what was there until we had to get on the international flight that was eight and a half hours long. At about 6:30 pm we boarded and got as comfortable as you can get in an airplane seat. If you have never been on an international flight, the plane has three rows of three seats, and they seem slightly closer together than connecting flight seats. However, they have monitors on the back of every seat with a remote (it's also touch screen) and they have a massive variety of movies to watch and games to play. Now, I am a person who doesn't like people seeing me sleep so instead, I watched about three and a half movies. Not to mention it is difficult to get comfortable enough to sleep in an airplane seat. Anyway, the flight seemed both short and way too long. We got to Venice around noon but in central standard time it was five o'clock in the morning. I was tired but seeing as it was noon and light outside in Venice, it convinced me to not be tired because it was midday and I was in a different country.
I went to Venice with three other girls I had graduated with and a mom as the sponsor/supervisor for our trip. We went to France four years prior on a guided tour so we did the same when we went to Italy. We met our tour guide at the airport and when we left, I learned that the main transportation in Venice is by boat. The main waterway is the Grand Canal so after we met our tour guide and another group of people who will be on the same tour as us, we got on a boat docked outside of the airport and rode for about 45 minutes until we got to the destination closest to our hotel. Upon entering the hotel, we met a third group of people who will be on the same tour. Our tour guide gave us thirty minutes to put our stuff away and freshen up before exploring Venice for the rest of the day. We met in the lobby of the hotel, the tour guide gave us a sort of speech which I want to call an oral syllabus. He explained what we are doing and what to do if something happens, like if someone gets lost or something and how to contact him or how to get back to the hotel. After that, we got our water taxi card (like a metro card but for the water bus) and we were off to Saint Mark's Square.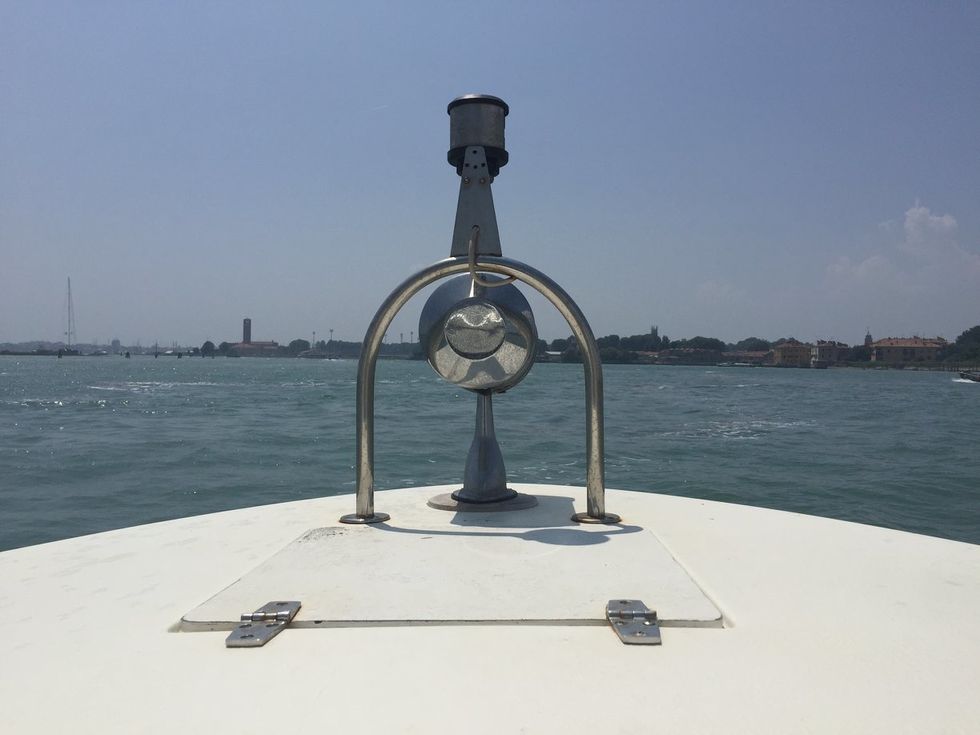 Water bus from airport Brooke Burney
Since it was June second they had flags up in front of the St. Mark's Basilica.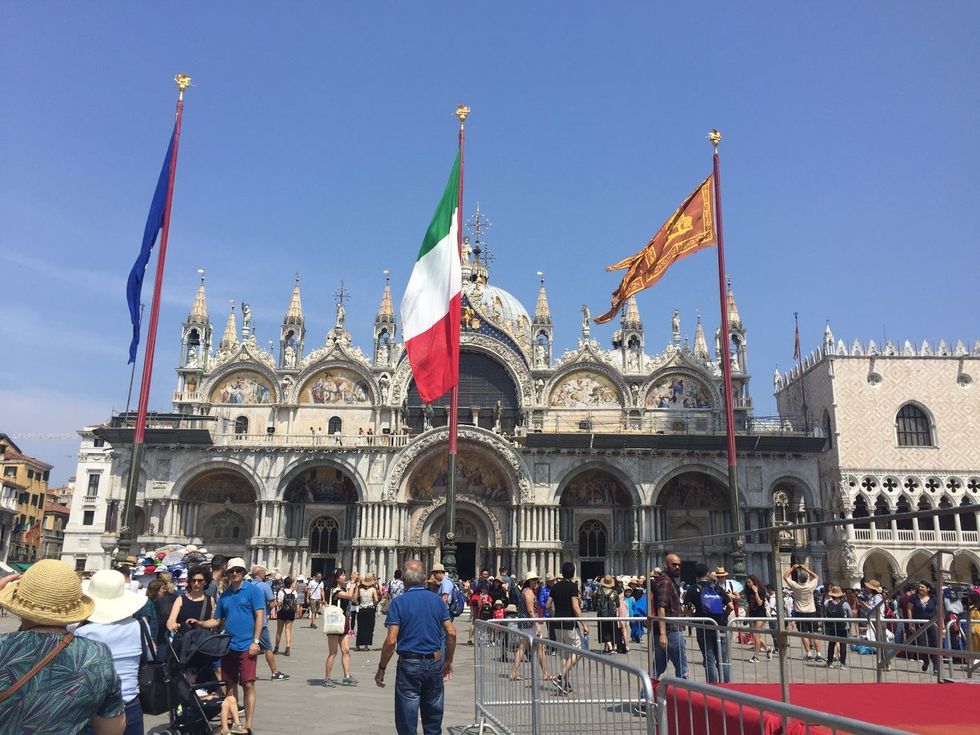 European Independence Day, June 2Brooke Burney
June second is Republic Day in Italy when the public voted out monarchy and made the country republic. We were told that this is the only day the flags were put up in front of the church. After he gave us some information about Venice, we had about two hours to wonder around, so we did. Along the way, we kept eyeing the gondolas but we knew that we could not ride them yet. When the two hours of leisure was up, we met with our tour guide and he took us to this mall-like building. It was definitely a mall but it was filled with high end products like Gucci, Prada, Chanel, etc.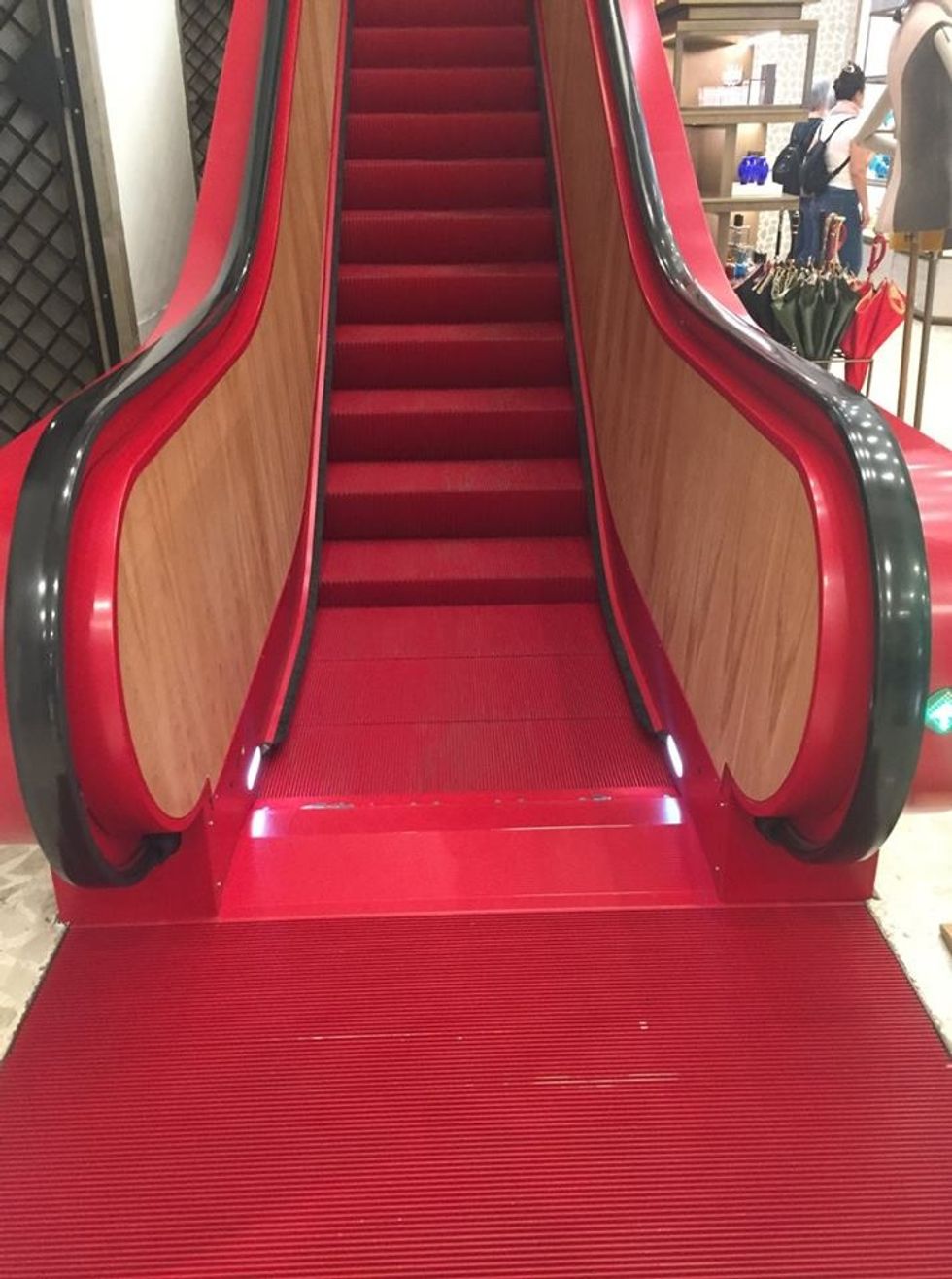 The only thing in the mall I was able to get a picture of is the escalator, I mean have you ever seen one like this?Brooke Burney
All of which was way too expensive to buy, especially on the first day. But the products is not why he brought us here. Instead, he lead us all the way up to the top where people can get on the roof, we stepped out on a huge balcony and it overlooked almost the entire island we were on.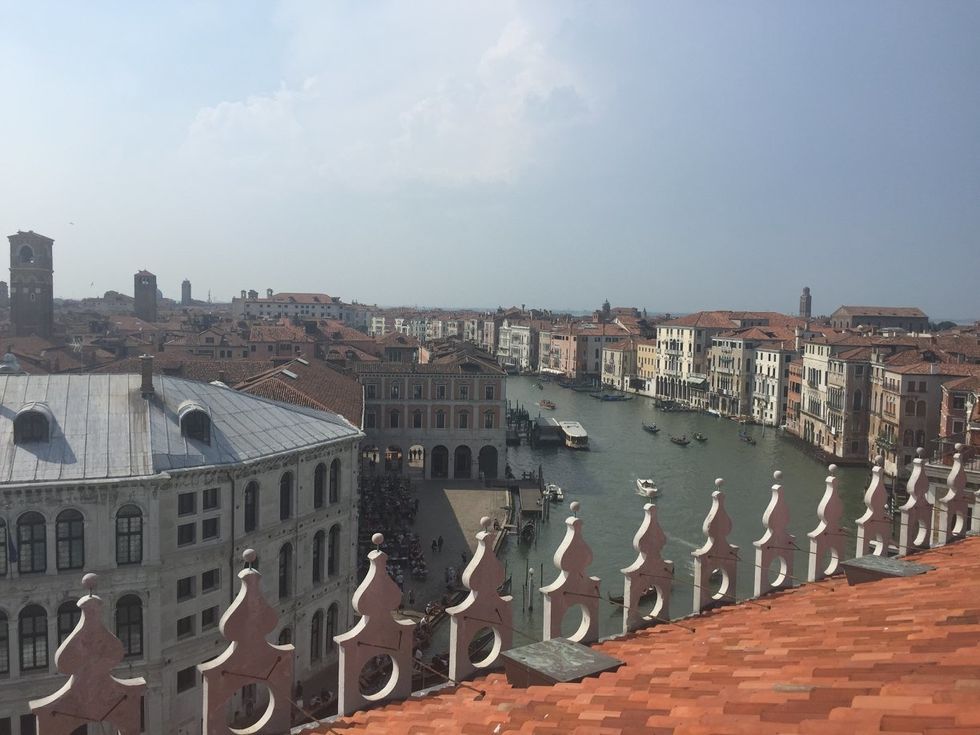 Right side of a canalBrooke Burney
After this, our tour guide walked us through the parts of Venice we had yet to see. Venice is completely man-made with logs under the water supporting the foundation. (If you are wondering why the logs are not rotting it is because they are completely underwater and oxygen has not touched them, therefore they cannot oxidize and rot.) This causes the ground to be somewhat uneven and bumpy.
Anyway, as our tour guide was walking us around, he did so leisurely which gave us time to shop and explore whatever area we were in. We did this for about three hours until we had to go eat dinner at a restaurant next to our hotel. After this, we had the rest of the night to do whatever we wanted until the morning. Arrivederci.