With the Miss Universe pageant on Sunday, December 16th, beauty queens from all over are traveling to Bangkok, Thailand, to compete for the universal crown. There will be 94 competitors, representing numerous countries and territories, for the 67th Miss Universe Pageant. These ladies have already arrived at the capital of Thailand and are preparing for the event. Unfortunately, a Miss Universe scandal already made headlines before the actual competition began, which involves our very own, Miss USA.
24-year-old Sarah Rose Summers represented Nebraska in the 2018 Miss USA pageant. Now that she's moving onto Miss Universe, she'll be competing with other international beauty figures who also serve their home country. Summers received backlash due to her xenophobic insults directed towards Miss Cambodia and Miss Vietnam during a live Instagram video on Wednesday, December 12th.
During the live video, Miss USA talks about Miss Vietnam, H'Hen Nie, saying how "[She's] so cute and she pretends to know so much English and then you ask her a question after having a whole conversation with her and she [nods and smiles]." Then, later in the video, Miss USA talks about Miss Cambodia, Rern Sinat. She says, "[She] doesn't speak any English and not a single other person speaks her language... Can you imagine? Francesca (Miss Australia) said that would be so isolating and I said yes and just confusing all the time. Poor Cambodia."
Many users online called out Miss USA for her xenophobic comments. After receiving backlash from her comments online, Summers quickly posted an Instagram post in regards to the situation. She apologized for her inappropriate words, saying, "In a moment where I intended to admire the courage of a few of my sisters, I said something that I now realize can be perceived as not respectful, and I apologize." According to CNN, after speaking with Miss Vietnam, she accepted the apology and understood that "[Summers] didn't mean anything by it." Miss Cambodia also showed forgiveness, and posted a picture on Instagram with the caption: "I speak the language of love, respect, and understanding."
The question now is, does Miss USA's behavior reflect American society as a whole?

While Miss USA took responsibility for her poor choice of words, her comments brought an important issue to light: how do we treat others who speak a different language? According to the 2016 US Census, 35 million Americans over the age of 18 speak a language other than English.
In a map provided by the US Census, we see that multilingual people are found in metropolitan areas, such as New York City and Los Angeles, or near the Southern border. Rarely do we see multilingual people in the Midwest region — exactly where Summers is from. In fact, the majority of Nebraska has less than 6.3% of multilingual people living in the state.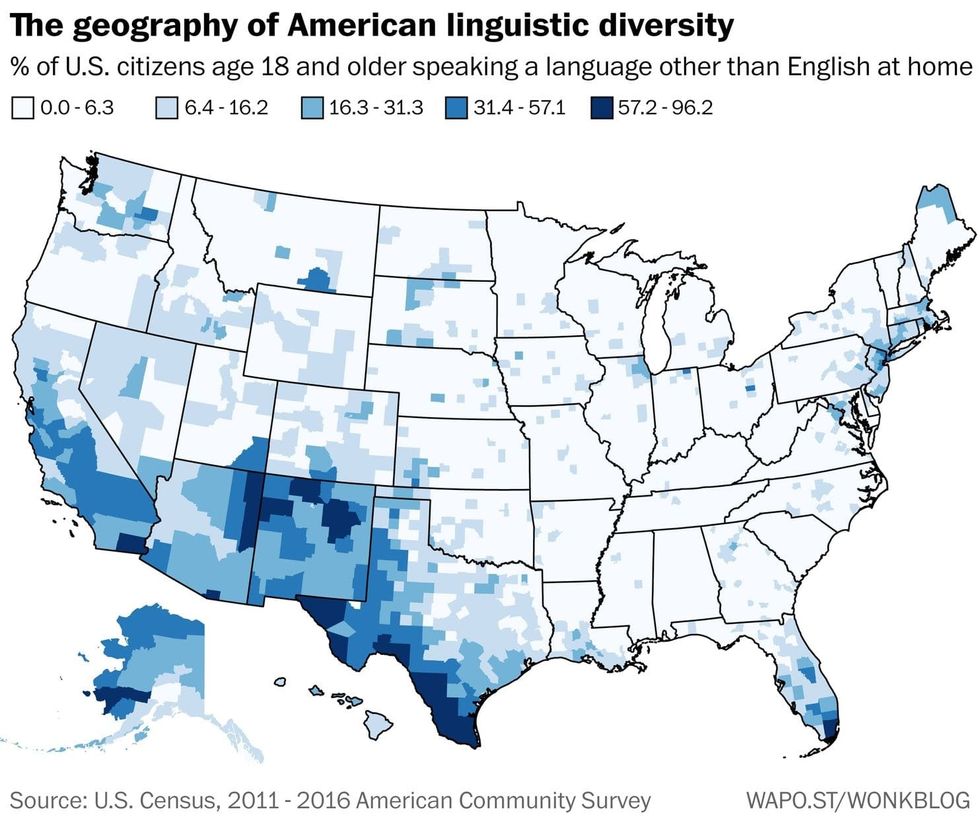 Personally, I think Summers' comment towards Miss Vietnam and Miss Cambodia was definitely arrogant. Summers would've been better off by not saying anything in the first place. However, due to the limited exposure of other languages, it's no surprise that Summers immediately commented on the beauty queens' first languages. I can't speak for Summers, but after looking at the Census map, it does make sense as to why people who speak a different language and don't speak English at all would shock Summers.
People should look at Summers' mistake and try not to repeat what she has done. Diversity is an essential branch in society and should be respected by all individuals. At this point, there isn't a need to continue to bash Summers, considering that she has already apologized; instead, we should try to learn more about other cultures and grow as a global society.