A year ago, Zayn Malik left One Direction in the middle of a massive world stadium tour. Like many Directioners, I was devastated, sitting in class trying to maintain my composure. But I had a second thought after initially feeling like Armageddon had arrived, and one that was 1000 times less dramatic. I was excited about his solo work.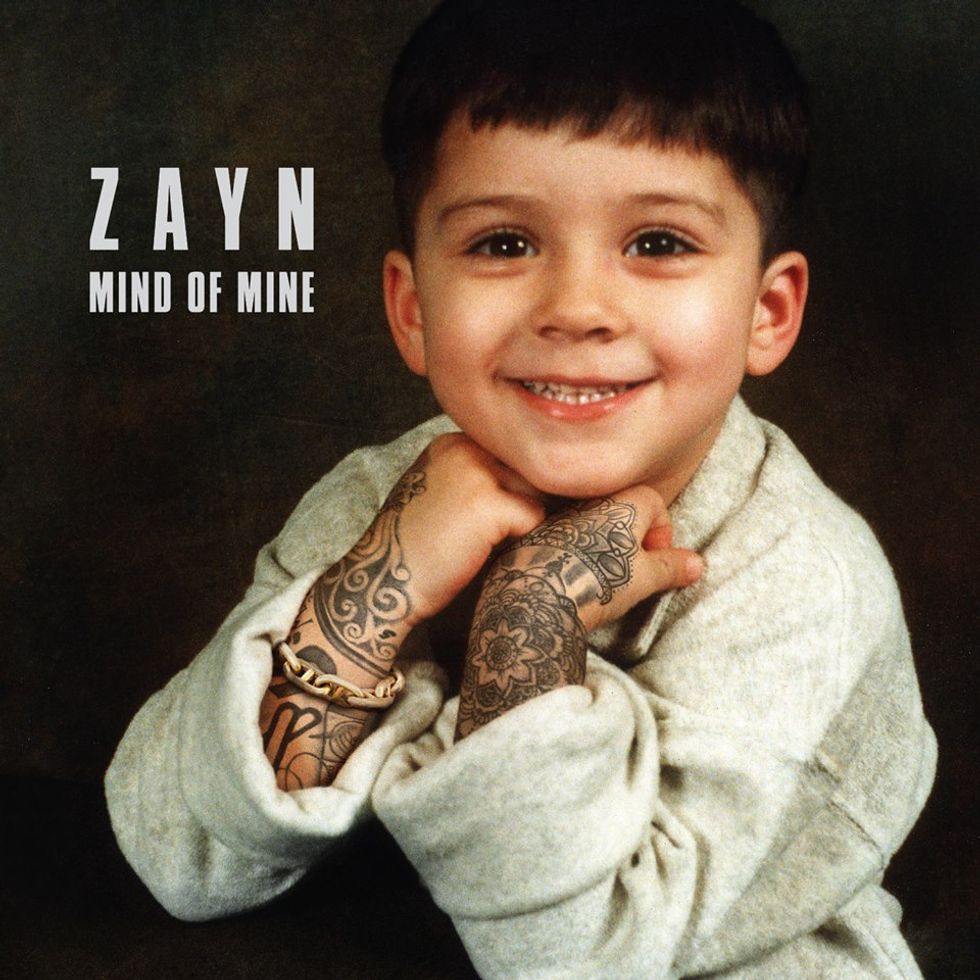 In his new album, Zayn has proven that he's no ordinary boy bander. He's insightful, poetic and pays remarkable attention to his image. His whole heart and soul is in this record, and he's breaking the mold.
In the December 2015/January 2016 issue of The Fader, Zayn discusses his influences from R. Kelly to Usher, and hip-hop legends 2Pac and Biggie. "Mind Of Mine" is a culmination of all these sounds, with songs like "Borderz" and "It's You" paying tribute to the early 2000s style of R&B.
When "Pillowtalk" was released earlier this year, we learned that Zayn isn't afraid to strip down to his deepest fantasies. It was our first glimpse into "Mind Of Mine," and it was an instant hit.
The songs are a direct look into the thoughts of Zayn. It's exotic and artistic, much like himself. The production of every song is clearly thought out. The seventh track on the album is "Intermission: Flower," and it's sung in Urdu, a Hindustani language. It's an homage to his father and his heritage, something that comes up again and again for the British-Arabic singer.
The most remarkable thing about this album is that Zayn is showing off his vocal range to the highest degree. By the end of "She," we hear Zayn's high pitch falsetto, to the point that you can imagine only dolphins or Mariah Carey can hear it. His voice is also so melodic it almost puts you to sleep, but the beats make you want to dance.
His songs are a diary. It's hard to think that the song "Truth" isn't about anything but the divide he felt when he was in One Direction. Some of the lyrics include "This ain't my scene / This ain't my dream," and "I got caught up in this game / And you know I won't say names." And that's just from the first verse.
Since he's left One Direction, Zayn has been vocal about how difficult it was to represent something he didn't believe in. For many die-hard Directioners, his leaving felt like a betrayal. However, seeing what he's created since departing from the group, it's clear that he is finally doing what he should be.
For the "Bradford Bad Boy," he's proving to the world that he's no longer just the 18-year-old kid in One Direction. He has sexy lyrics, drops the f-bomb, and loves a slow jam.
The title track, "Mind of Mine (Intro)," is the first on the album. It's only 57 seconds long, but it introduces us to who Zayn wants us, as the fans and the audience, to view him as. It is his way of inviting us into his world. The production of the song is beautiful, the vocals are stunning, and the overall album itself is purely seductive.
Zayn is only getting started. As a debut album, he's proven that he's ready to be the solo artist he believed he could be when he auditioned on "The X Factor" in 2010 with a Mario song.
Zayn Malik is all grown up, and he's ready to let us into this beautiful, creative mind of his.