My friend once said this to me: Online dating is where your dating dreams go to die. I wish I believed her when she first told me, but like the stubborn woman I am- I didn't listen. I considered, naively, stepping back into the dating pool by the end of my second fall quarter as an undergrad student. I downloaded a few apps and proceeded to make my profile intriguing yet beautiful- this "swipe" culture in online dating has significantly reduced the importance of first in-person interactions in my opinion. In joining these apps, I was opening up the possibility of negative and positive feedback, but my high hopes were soon dashed with a number of trans-phobic responses and what I call 'jokes' from insensitive men.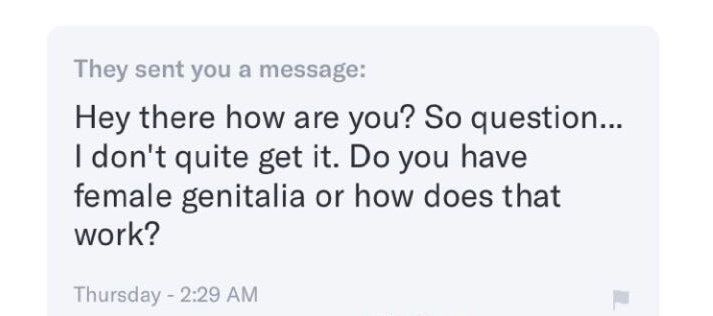 None of your business, bud.
The first message I received said, "Are you a man/woman or woman/man?" I had to laugh at this because what does that even mean? The slash? I told him and he responded with "Let me know when you're a real woman." That crushed me. I immediately responded renouncing his blatant trans-phobia and misguided definitions of what a woman is. After deleting him from chats, I sat and cried on my couch. I felt so invalidated as a person from him- someone I didn't even know. While I learned of how online dating can be awful, I also learned the ineffectiveness of that childhood phrase: Sticks and stones may break my bones, but words will never hurt me. That is total BS. I dislike hearing that and stop somebody if they are about to say that to me. It is not helpful nor constructive. That is one type of guy I encountered online.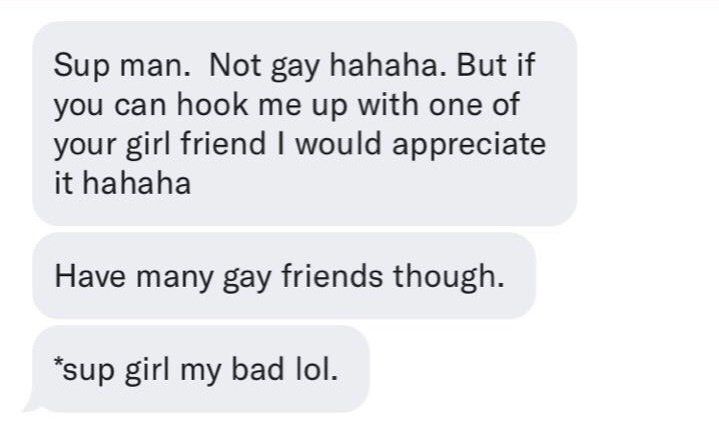 Ugh.....good-bye bro.
Come a few weeks later, I get a message from someone calling me "a goddess." I had to laugh, that was too much for an introduction. This initial attempt to butter me up was nice to hear, but I quickly learned he had ulterior motives- he repeatedly asked for explicit photos which I denied him. He became angered and then ghosted me. This is the second type of guy I came across. Better than someone outright rejecting me for who I am, but treating me as some kind of fetish is a major turn-off. I encountered several other similar characters to him and once it became clear the kind of person they were, I simply walked away to go looking again.

The worst of the worst.
The widespread and institutionalized trans-phobic language I witnessed in this online world showed me the level of people are so insensitive and uneducated on trans-related topics. Most were also unapologetic about their comments even after I responded negatively and called them out. I quickly learned how thick-skinned I would need to become if I were to continue existing on these platforms. After telling myself to remain calm in these situations and take it as an opportunity to teach, more and more men became understanding and started apologizing for offending me. But even after apologizing, they still weren't interested. Oh well. Their loss.

The three types of men over this online experience: the transphobes, the fetishists, and the ones who actually want to go out with you. The third and final guy is the keeper- the kind of man (or person) who doesn't care what body you have, only what kind of person you are. To find someone like this is truly an amazing feeling. This is the best anyone can get.
I remember finding a profile that sparked my interest- he had confidence and he had charisma, all wrapped into a digital profile. I can't fully explain it, but I was captivated by him. We started talking for a few weeks which eventually expanded into a month. Unfortunately, we never ended meeting in person (tragedy struck his personal life and I had to end it so he could heal) but it showed me there are great men (and people) out there, somewhere waiting for us and wanting us as much as we want them. I recognize how cheesy that sounds, but it is true, believe it or not. A big part of navigating this intolerant world is patience- teach yourself to be patient and you will open so many new doors for yourself.
I'm still trying to find other men who resemble him and have come across a few, but I haven't yet experienced what it's like to be able to connect with another person who didn't care about my biology. These types of people make you feel well, human. Validated. Loved. Appreciated. Acknowledged.