In 2014, Jennifer Laude, a 26-year-old Filipina woman, was brutally murdered after having sex with a U.S. marine. The marine in question, Joseph Scott Pemberton, strangled her until she was unconscious and then proceeded to drown her in a toilet bowl.

Understandably, this crime triggered a lot of outrage. But while some were outraged over the horrific nature of the crime, many others were outraged by a different detail in the story. That was because Jennifer Laude had done the unspeakable. She was a trans woman and had not disclosed that information before having sex with Pemberton. So in the minds of many cis people, her death was the price she paid for not disclosing her trans status. Here are some of the comments on CNN's Facebook page when the story broke.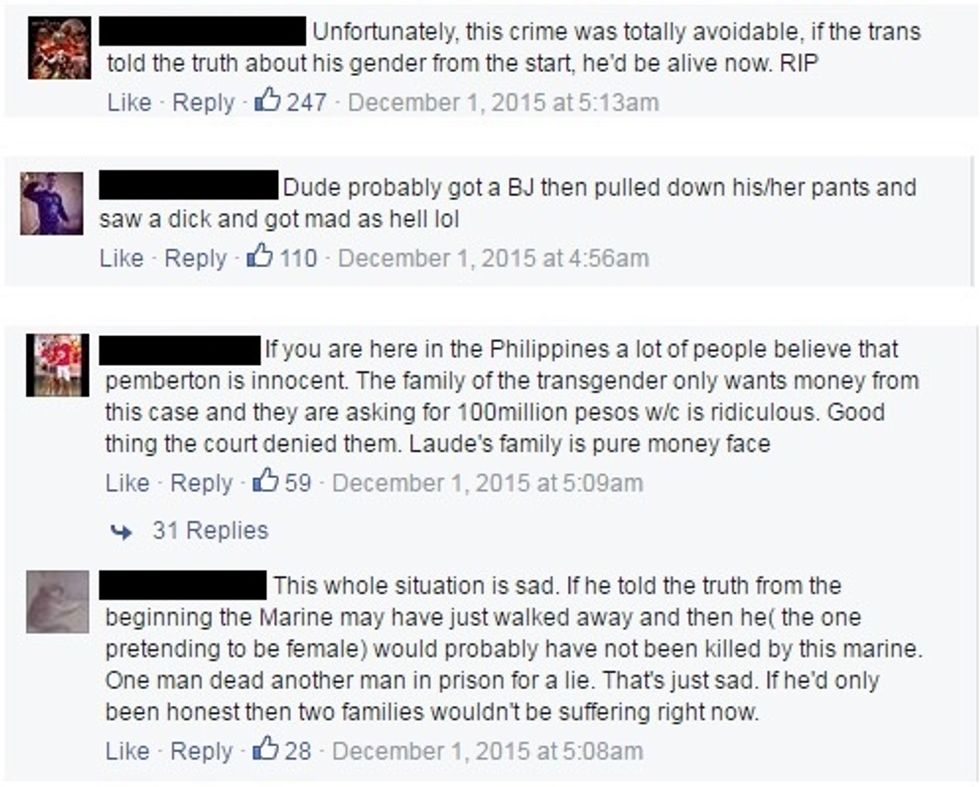 As a trans person, I run into this attitude all the time. I constantly hear cis people raging about how a trans person is "lying" if they don't come out to a potential partner before dating them. Pemberton himself claimed that he felt like he was "raped" because Laude did not come out to him. Even cis people that fashion themselves as "allies" tend to feel similar.

Their argument is that they aren't attracted to trans people, so they should have a right to know if a potential partner is trans before dating them. These people view transness as a mere physical quality that they just aren't attracted to.
The issue with this logic is that the person in question is obviously attracted to trans people, or else they wouldn't be worried about accidentally going out with one. So these people aren't attracted to trans people because of some physical quality, they aren't attracted to trans people because they are disgusted by the very idea of transness.
Disgust towards trans people is ingrained in all of us from a very early age. The gender binary forms the basis of European societies. It establishes that there are men and there are women, and each has a specific role. For the gender binary to have power, it has to be rigid and inflexible. Thus, from the day we are born, we are taught to believe in a very static and strict form of gender. We learn that if you have a penis, you are a man, and if you have a vagina, you are a woman. Trans people are walking refutations of this concept of gender. Our very existence threatens to undermine the gender binary itself. And for that, we are constantly demonized. For example, trans people, mainly women of color, continue to be slaughtered in droves for being trans.
The justification of transphobic oppression is often that transness is inherently disgusting. For example, the "trans panic" defense still exists to this day. This defense involves the defendant asking for a lesser sentence after killing a trans person because they contend that when they found out the victim was trans, they freaked out and couldn't control themselves. This defense is still legal in every state but California.
And our culture constantly reinforces the notion that transness is undesirable. For example, there is the common trope in fictional media in which a male protagonist is "tricked" into sleeping with a trans woman. The character's disgust after finding out is often used as a punchline.

Thus, not being attracted to trans people is deeply transphobic. The entire notion that someone isn't attracted to a group of very physically diverse group of people because they are trans is built on fear and disgust of trans people. None of this means it is transphobic to not be attracted to individual trans people. Nor is it transphobic to not be attracted to specific genitals. But it is transphobic to claim to not be attracted to all trans, people. For example, there is a difference between saying you won't go out with someone for having a penis and saying you won't go out with someone because they're trans.
So when a cis person argues that a trans person has an obligation to come out to someone before dating them, they are saying trans people have an obligation to accommodate their transphobia. Plus, claiming that trans people are obligated to come out reinforces the idea that not being attracted to trans people is reasonable. But as I've pointed out, not being attracted to trans people supports the idea that transness is disgusting which is the basis for transphobic oppression.
The one scenario in which I would say a trans person should disclose their trans status is if they are going to have sex with someone and are unsure if their partner is attracted to whatever genitals they may have. In that case, I think it's courteous for a trans person to come out to avoid any awkwardness during sex. But even then, a trans person isn't "lying" if they don't come out and their partner is certainly not being "raped."
It is easy to look at the story of Jennifer Laude and claim that her death was due to the actions of one bigot. But it's more complicated than that. Pemberton was the product of a society that told him that disgust towards trans people was reasonable and natural. So when he found out that he accidentally slept with a trans woman, he killed her.
Every single cis person that says that trans people have to come out because they aren't attracted to trans people feeds into the system that caused Jennifer Laude's death. And until those cis people acknowledge their complicity in that system, there will only be more like Jennifer Laude.
SEE ALSO: Yes, You Absolutely Need To Tell Someone You're Trans Before Dating