The Japanese say we have three faces. The one you show the world, the one you show to those close to you, such as family and friends, and lastly the face you only show to yourself. They say the third face that you only show to yourself is the truest reflection of who you are. So who are you truly behind the masks?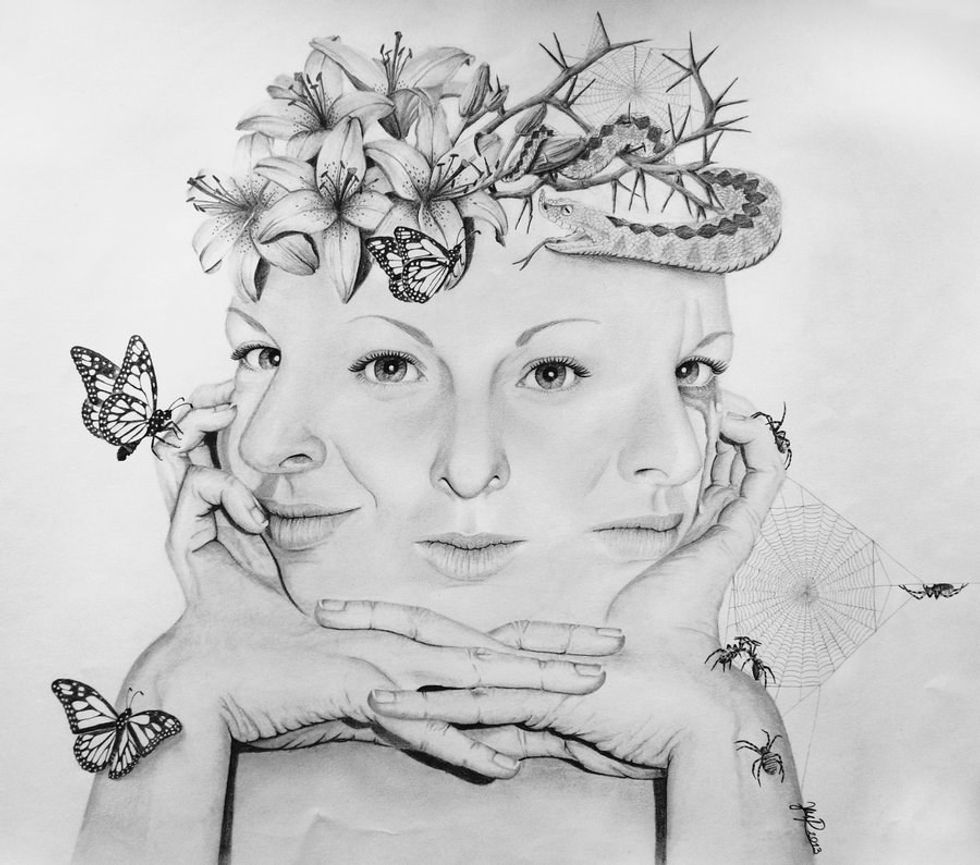 Honestly, I believe that it is all true. I mean when you truly take the time to think about it all, look at the way you act in everyday life. Break it down.
The first face, the one you show the world.
For you to have a good public image and look like a good citizen, you will show the world that you are doing good, that you're getting an education, or that you're changing lives. It may be intrinsic, sure but the underlying reason is that you don't want society to look down on you. No individual wants to be hated by their peers or even people they don't know so they construct a good, positive public image. Let me give you another example, companies check social media occasionally for applications, colleges do this too. We live in an era of technology; What you say is amplified compared to the brazen days. Most companies look to a certain social media site when they do portfolios and that is Facebook. So what do people do? They invest time into building their profiles, establishing connections, let's be honest, annoying others with their game requests, and providing a positive public image. Some people are so meticulous to where every word, status, photo, or anything is calculated to the point that it makes them look like a saint. Why? Simply because we want the world to view us as Good Samaritans.
The second face, the one you only show to family and friends is an ever changing face.
Because people change, this is probably the face that changes the most. People act different around different friends. People grow up and mature and therefore grow out of childish stages. We learn from different experiences. Humans evolve and grow on a daily basis no matter how small the decision or how big the risk. Take into careful consideration how you act around your friends. You expect them to accept you for who you truly are but not your entire being. What I mean by that is although you'll be yourself around them you won't truly be yourself around them. There's somethings you're just not going to want to show or share with others. Because we don't want to be judged or ostracized. Some people are so frightened of being alone that they lose their voice and just become another one of many. We all have a safe haven to where we can only retreat to. And as strange as it may be, friends can turn into enemies, friends can deceive you, and people lie. Subconsciously after a while you're going to establish a mental barrier to guard yourself and therefore create a third face.
That third face is the face you can only show yourself because you can never betray yourself.
The last face, the face you only show to yourself, is a personal face. Most people never even get to the point where they even see this face. And sometimes those that see it are scared of what it actually looks like. See, we spend so much time into our other masks, producing a positive public image, making sure friends are taken care of, and making sure family is loved and provided for that we forget to spend time on ourselves. How many times do you go in the mirror and praise yourself? Or take time off to just reflect on yourself and all the decisions you've made recently? Personally, I believe we fear ourselves that's why we always invest more time into the other two faces rather than our most important face, ourselves. Because as we grow and mature, we start to lose touch with who we are, and who we are becoming and when we finally take a look at ourselves, we are displeased with the image. That's why I think it's linked to a lack of self confidence, a lack of love, and a lack of successful relationships. How can someone bring you down if you know who you are and are confident in everything you do? How can you love someone else if you don't love yourself? How can you expect someone else to do for you if you don't do it for yourself. Everything starts with yourself.
Here's an outlier, what about the face we show but never show? Would it be a cultivation of all three faces? It's the face where you mask the pain, hide the feelings, or escape the world. For example, when you put on a smile even though you're crying inside. Or when you're breaking yourself to put somebody back together. Or when you're doing everything you can to keep it together for everybody else when you don't even have the time and energy to help yourself. When you plead for help but nobody answers and nobody can hear you. Would this be a face for love? Because love combines your public image, your interaction with peers, and who you are yourself. The extent at which you would do things for others.
So I ask you again, what mask are you wearing?