Maybe you've heard of her; maybe you haven't. In the simplest terms possible, Maria Brink is the frontwoman of the American metal band In This Moment. However, Brink is much, much more than a lead singer (and if you don't know who she is--then welcome to the crash course).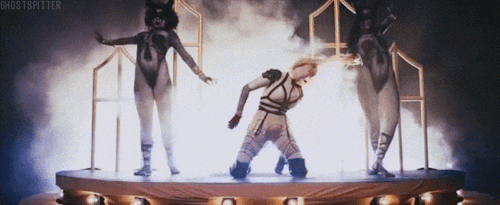 For starters, she's a goddess--one with limitless talent at that. She's confrontational and empowering. Her history in regards to her work is crucial, because it embodies both the idea and action of turning your pain and suffering into a tool of empowerment, into something more. This becomes even more important precisely because of what she faced throughout her life, and especially because she is a woman in the metal world, something that has been gendered as male since its beginning.
She has shattered countless gender norms. She has destroyed the idea that women do not belong in rock and metal by making the genre hers, and by extending that power and strength to her listeners.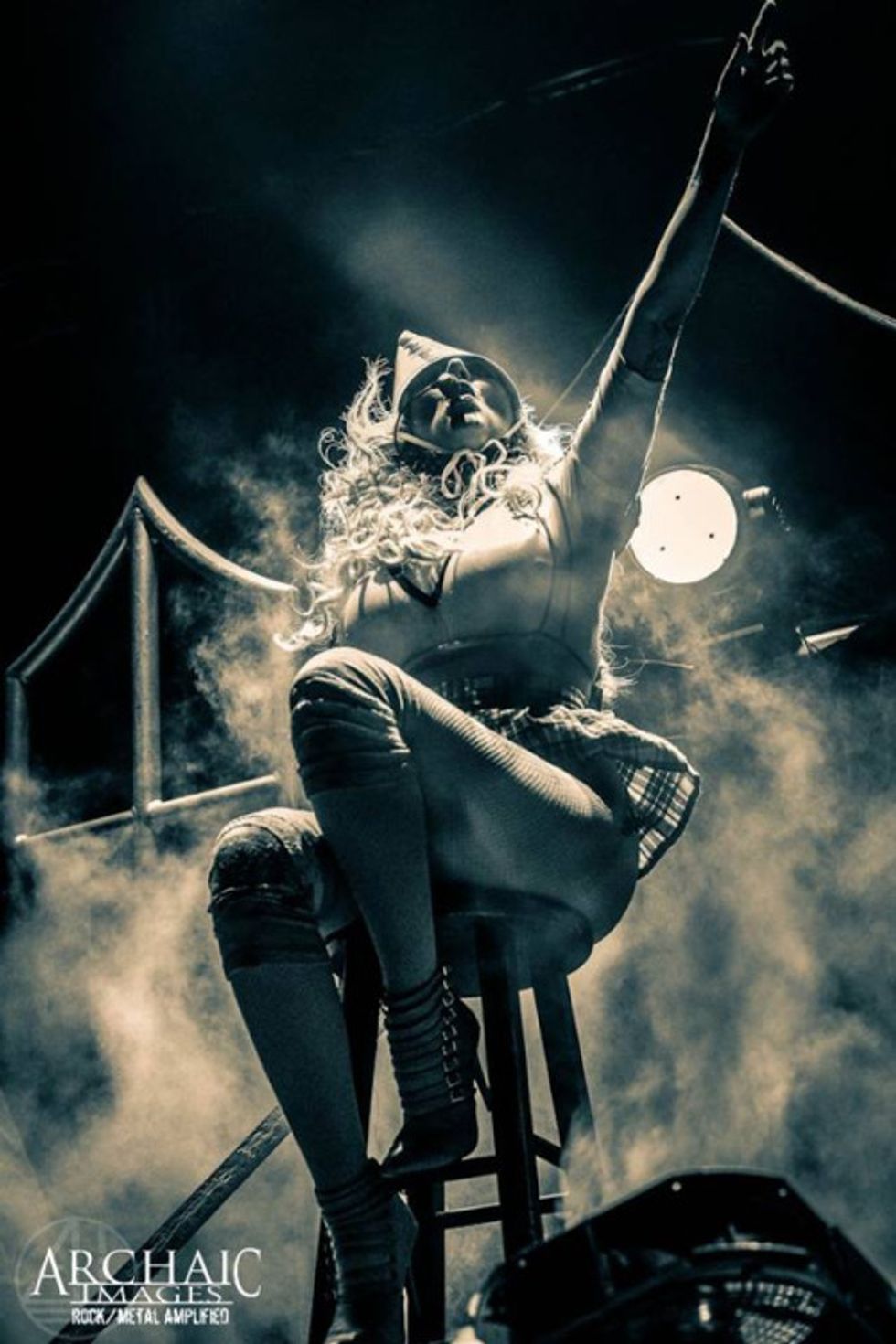 She creates extensions of herself in her music, such as "Black Widow," and "Whore." Beyond that, her creativity and lyricism isn't measurable. Her aesthetic is something unique to In This Moment; you know who you're hearing and/or watching when their songs are playing or being performed. These personas she creates to are woven into her work, providing powerful mediums to challenge doubt and misogyny. More than that, they provide outlets for listeners, for people who have suffered similar experiences, and they serve as a means to facilitate that anguish. She gives a voice to those who haven't been heard.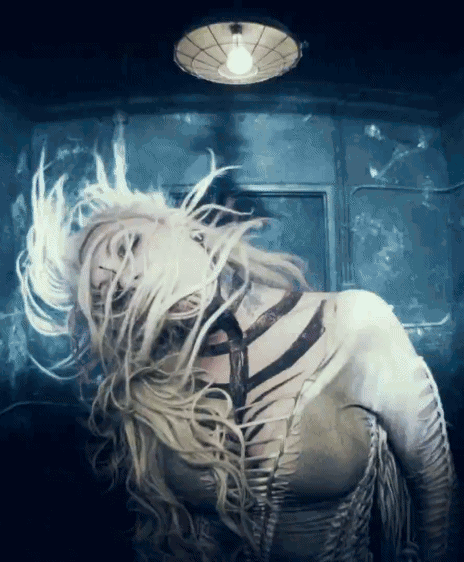 Mentioned previously was In This Moment's song, "Whore." The title raises plenty of questions for people who haven't heard the song, but Brink actually turned the derogatory name into an acronym: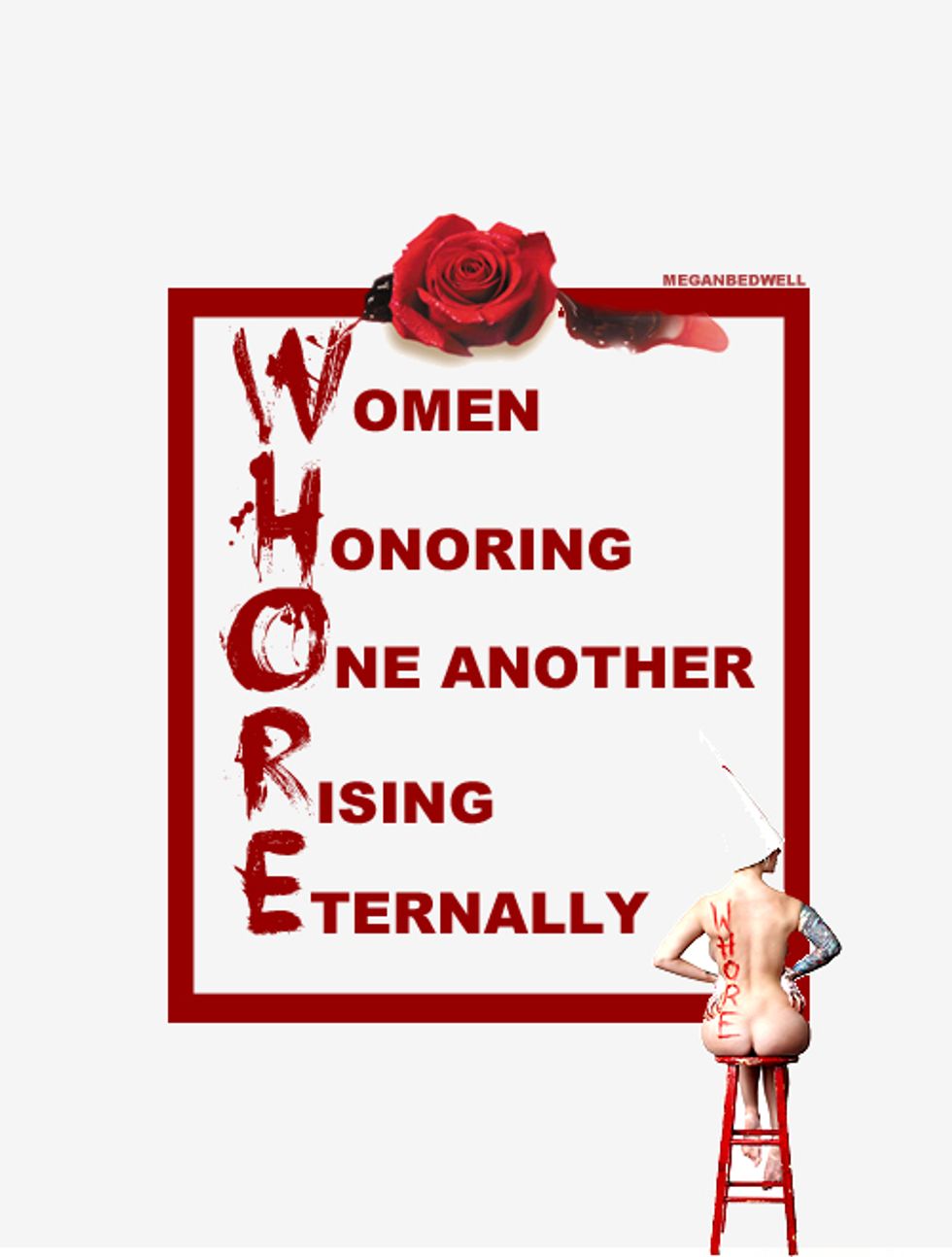 How's that for reversing roles?
Of course, the question about being a woman in the metal scene is something Brink unfortunately can't avoid, but she has shut them down quickly with some headstrong answers. In an interview with Trudi Shaffer in 2013, Brink stated, "And I think that it doesn't matter if you're a woman or a man. When somebody is really true in that, and they're doing something powerful, I don't think anybody could deny that. So, I had to start looking at it as, 'I'm a powerful woman and I'm going to create whatever it is I want, in any genre of music it is that I want, and nothing's going to stop me.'"
Just by saying that about herself, that sort of message can inspire and resonate with a lot of people, which is why it's so important she doesn't shy away from discussing it. When she first met the other founding member of the band, Chris Howorth, he wouldn't let her audition because of her gender. Luckily for everyone, Brink wouldn't take no for an answer--especially a "no" that relied on her gender. She later came to one of their practices and stole the mic without warning.
Needless to say, there were plenty of apologies when he heard her sing, and they have a wonderful relationship now. Brink stated in Revolver magazine in 2014, "Women can be just as powerful as men in the metal world," and she's done far more than proving that. Her lyrics and imagery have set the bar pretty damn high for any metal artist. Her hope with the aesthetics in her performance is to evoke emotion by visuals along with her music--to create an all-encompassing performance (in case you're wondering, she's achieved that; that much is pretty clear).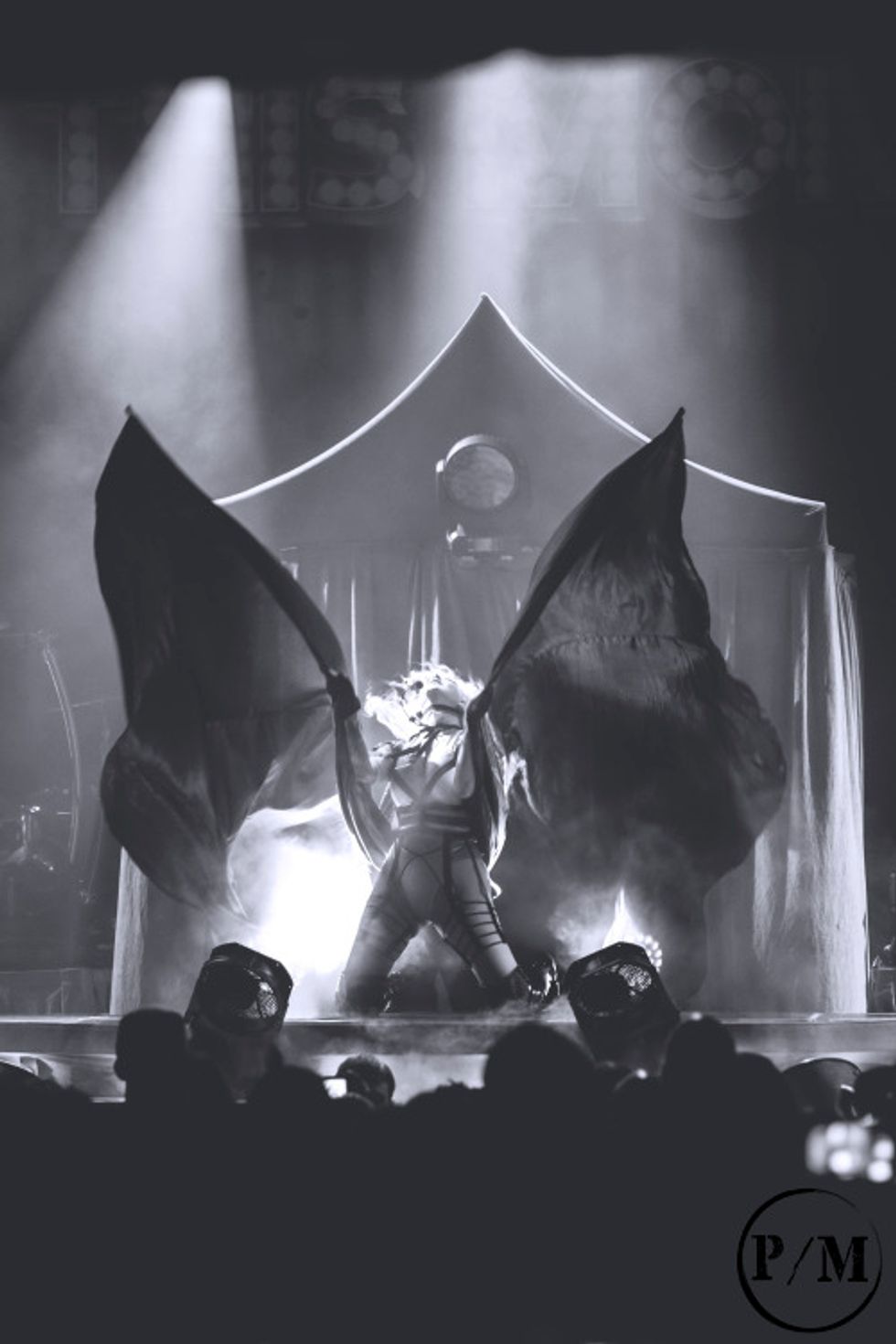 For further proof of her resilience and strength, she split her nose open on the corner of a camera while filming a music video. Instead of halting production, she sealed the inch-wide wound shut with glue and covered it with makeup.
Brink is a survivor of various forms of abuse and severe depression. She's a single mother, a vegetarian, and she put her own mother through rehab. She isn't merely an inspiration through her music, but through her survival and perseverance as well. At 18, she traveled from Albany to Los Angeles and worked menial, low-paying jobs until she had the money to fly her son out six weeks after her move.
She doesn't ignore her past. It's a consistent motif in her work. She relies on it to make her work powerful, and it speaks numbers for what people feel when they hear it. "Remember" is a song that explores the agony that remained when she was sexually assaulted as a child.
"The Fighter" is a declaration of her utter strength, and an ode to those who have suffered similarly. It's also a means of reaching those who may need help struggling with something.
As a testament to her talent, In This Moment's song, "11:11" actually uses no instrumentals. It's about 50 vocal tracks layered on top of each other. She's also able to turn this:
Into this:
Are you kidding me?
Her talent is raw and unrivaled. Her voice is strong and beautiful, and her screaming is melodic and haunting, with an echoing quality to it. It is striking. She isn't given nearly enough credit for her work and her diligence, for her strength and resilience, and for her prowess and imprint she leaves on anyone who's fortunate enough to see or listen to her music.
Maria subverts the idea of male dominance as well. In This Moment's album Blood portrays dominance as a fluid concept, and gives control to Brink in her songs. Though the lyrics explore sexual themes, they do so in a way that leaves the control in Brink's hands.
The song "Sex Metal Barbie," was formed out of sh*t-talking haters' words. It's apparent enough in the title alone that she is, again, turning something negative into something positive.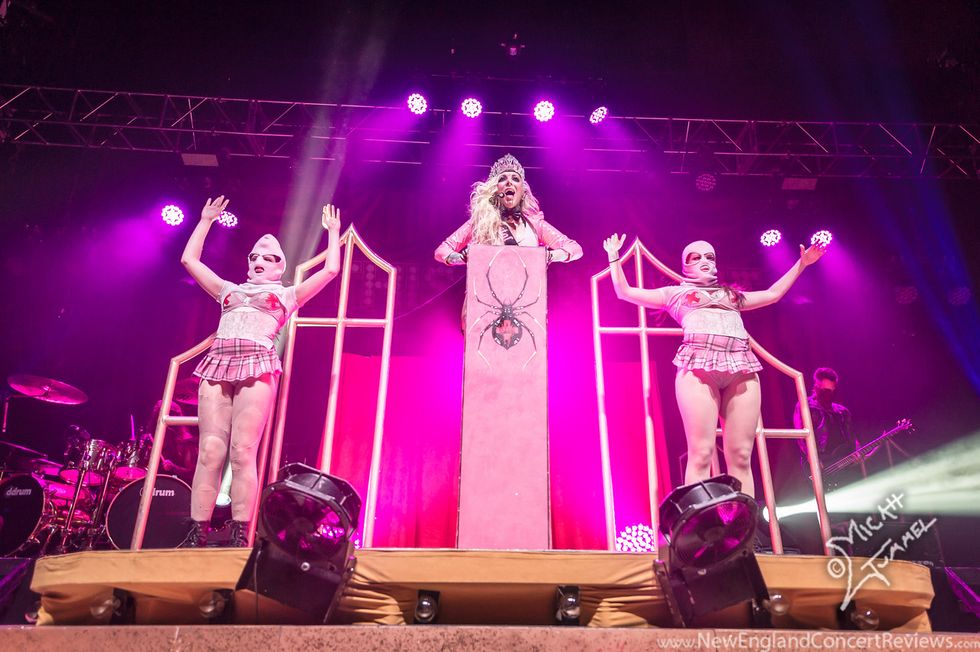 And speaking of "Sex Metal Barbie," the band recently hosted a contest that allowed fans to explore their own creativity through the nuances of Brink's messages. The contests instructions were simple: create a fan-made music video lip-syncing the song "Sex Metal Barbie." The winner of the contest won a signed guitar, among other prizes, but this was also an example of how Brink does not separate herself from her fans, but rather, she engages with them. The hashtag #BecomeTheShow encourages fans to dress up as Brink's current or past personas, to essentially be a part of the performance and not only witness it. Brink takes hundreds of pictures with costumed fans at meet-and-greets, and even gives a prize to the best-dressed fan at the end of the show, the Whore Hat. This is a play off the dunce hat, worn with large, capitalized letters spelling out "WHORE" on it. Brink dons a kind of school-girl uniform and sits on a stool with a ruler and the whore hat when she performs the song.
I had the fortune of seeing In This Moment live in May in Niagara Falls, New York. They certainly lived up to their expectations, and I hope to see them again in the future. Brink knows well how to command a stage and an audience, and I can distinctly recall her asking the men in the room to scream, then followed the request by having "all the girls and goddesses" do the same. For women and girls especially, this insists upon the idea that we are more than any sort of patriarchal definition, and we can break free of those societal restraints.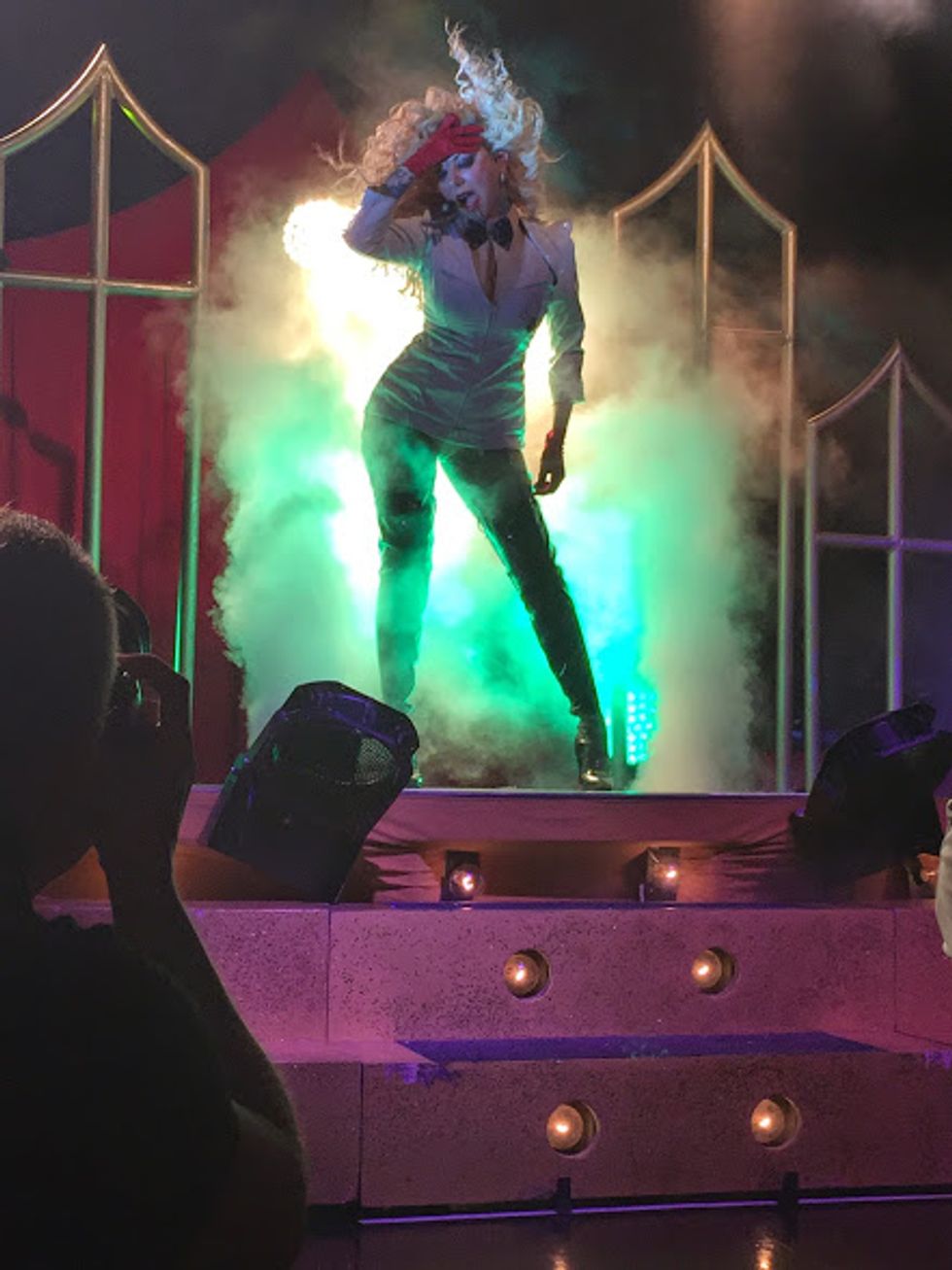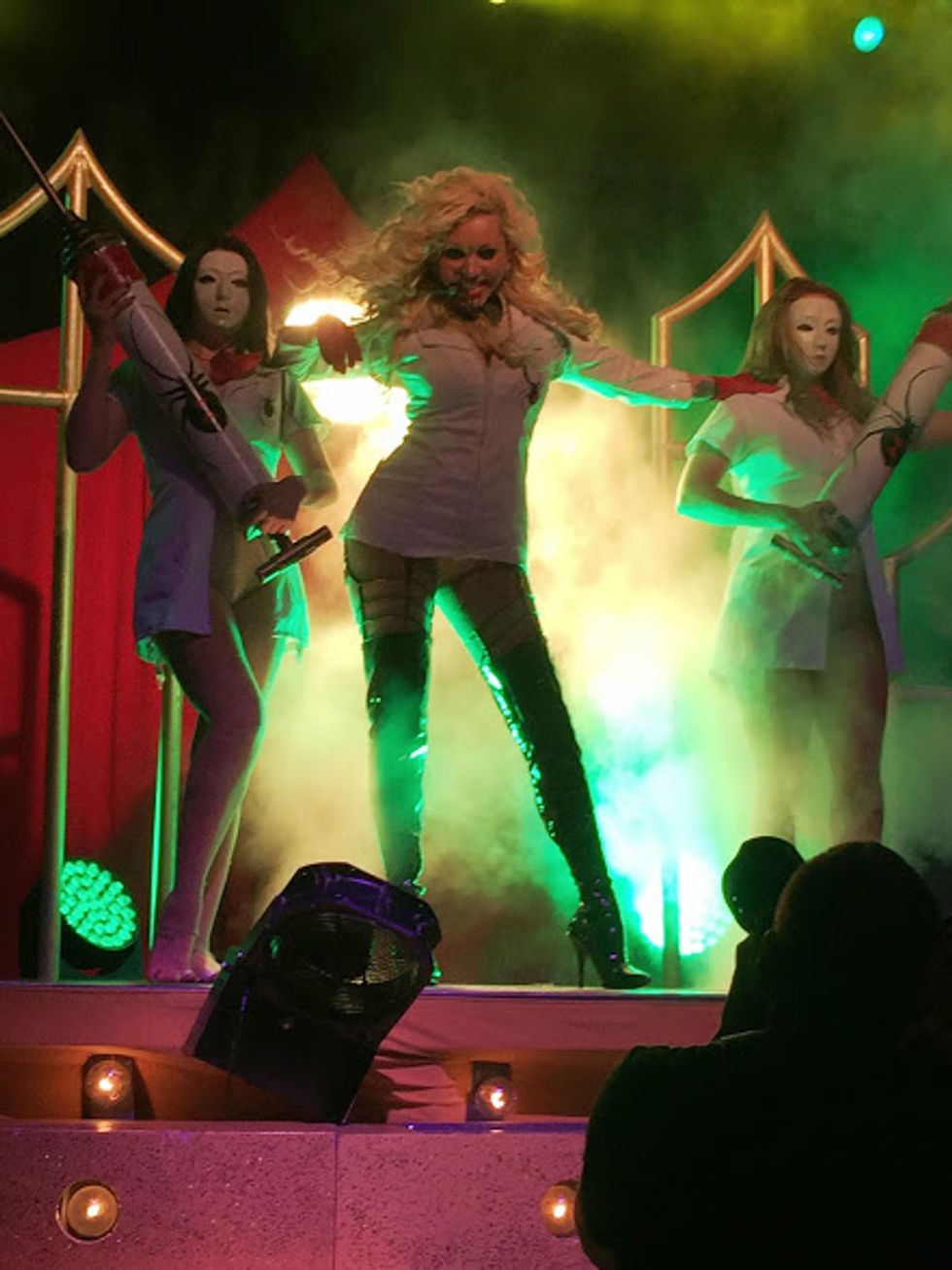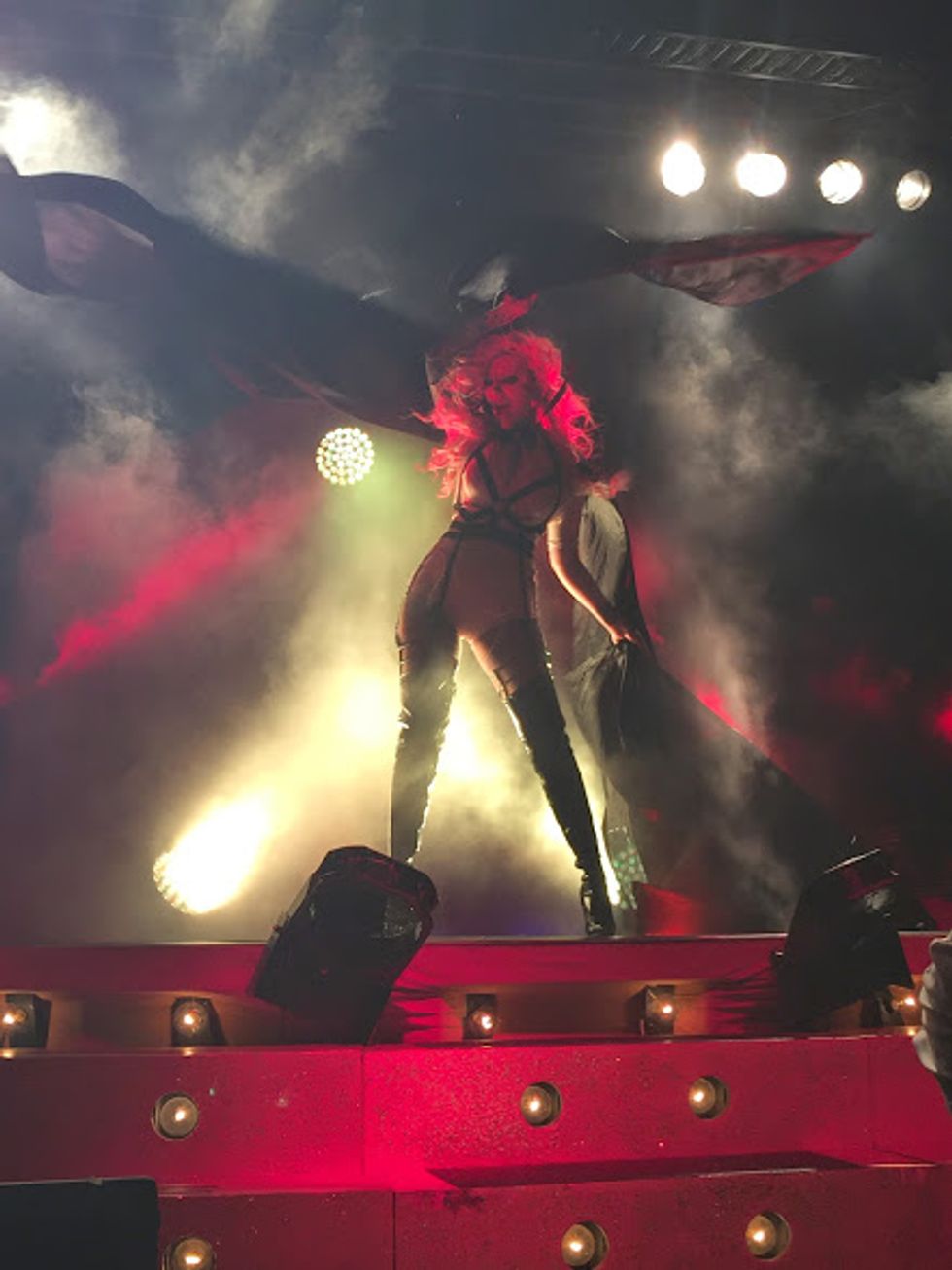 Brink has not only achieved her dreams in the face of resistance, doubt, abuse, and mental illness, but she has made her work purely her own, and allows fans of it to indulge in it as well. She has confronted stereotypes and subverted gender roles as well. Brink is a force to be reckoned with; she means business.
Oh, and for those of you who are thinking her fans are only women and girls, think again.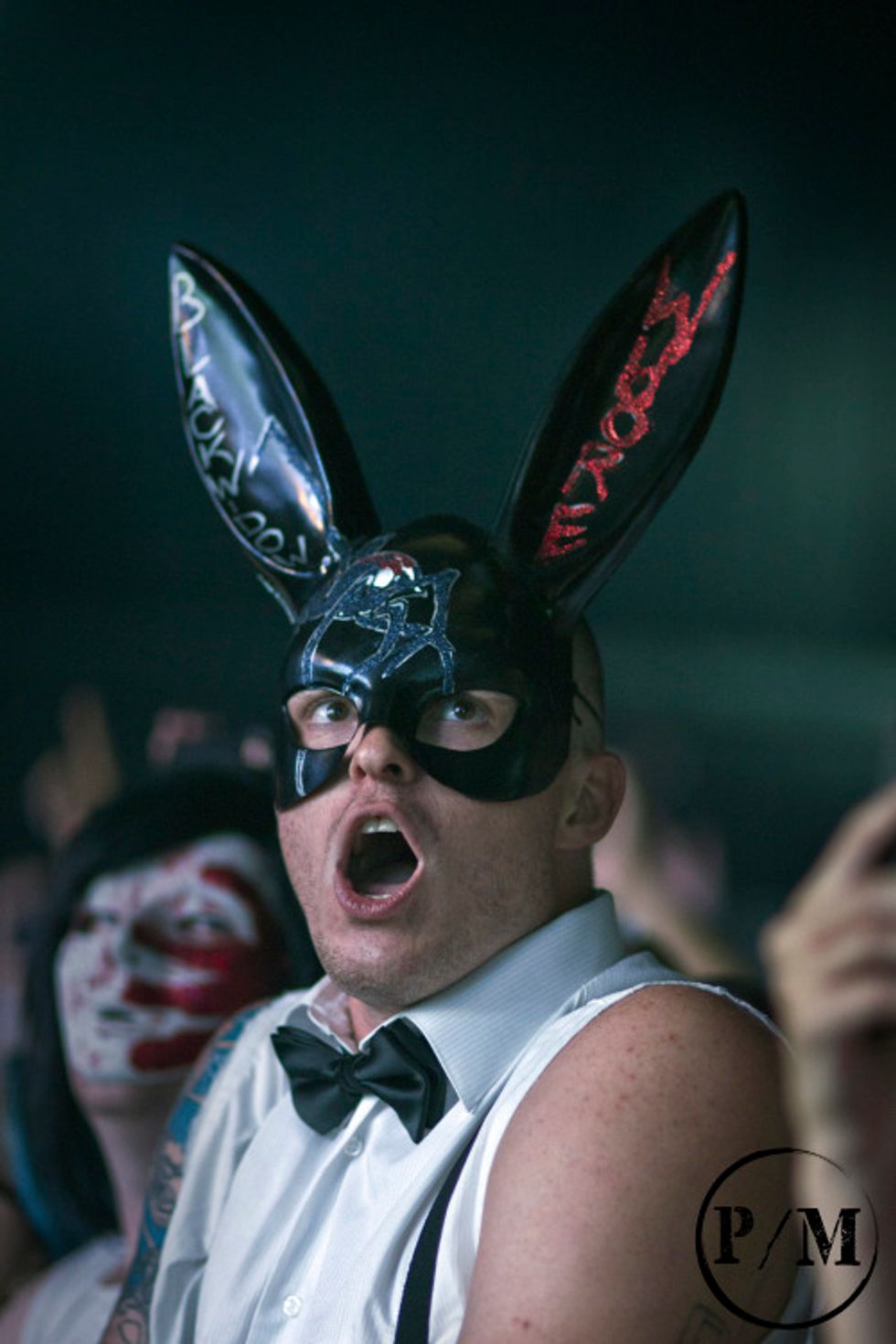 If you're interested in Maria Brink, check out this article: http://www.inkedmag.com/articles/maria-brink/