If you're a true Mardi Gras fan, you know that parades have a certain dress code. It's practically required that you wear the craziest outfit you can come up with, from colorful wigs to tutus to animal onesies. The sparklier the better, and bonus points if you're nailing the purple, green, and gold color combo. But personally, I like my attire to be as comfortable and functional as possible, too; parades can get cold, and you may have to walk a lot to find a good spot, and who wants to be shivering and have aching feet all night? So this year, I decided to channel my inner Muse -- and by that I mean the all-female Mardi Gras Krewe famous for throwing gorgeously hand-decorated high heels to the crowd - and re-purpose a pair of old tennis shoes for this year's parade route uniform. Follow these easy steps to make your own!
1. Grab a pair of tennis shoes you're no longer rocking.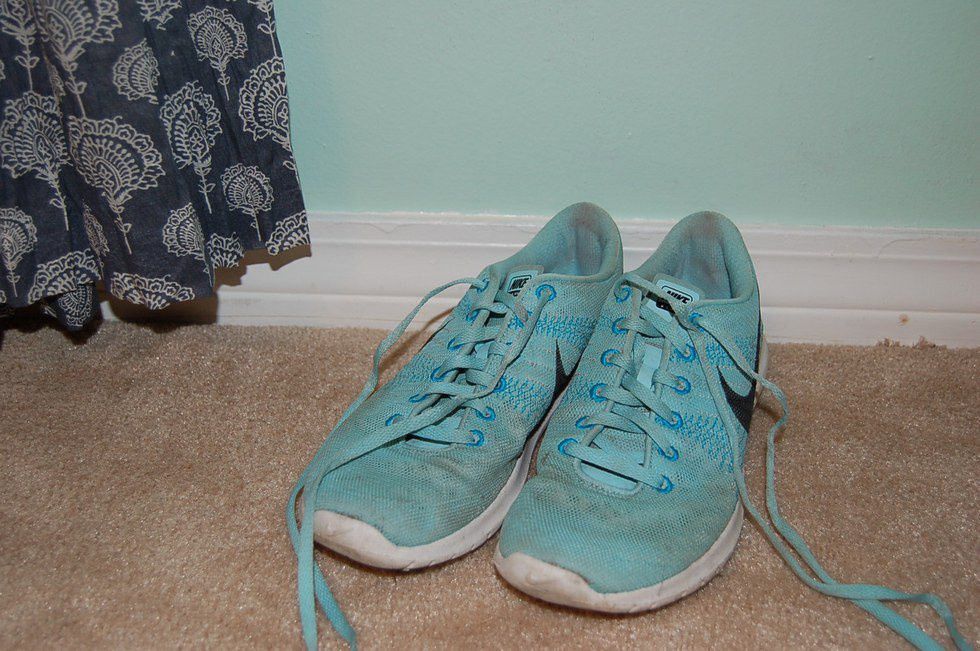 I run and walk for exercise a lot, so I burn out Nikes pretty quickly, but I usually save my last pair or two as a backup in case my newer pair gets wet or something. (Getting caught in the rain happens pretty often in Nola.) Time to give those old, worn-out sneakers new life!
2. Hit the craft store.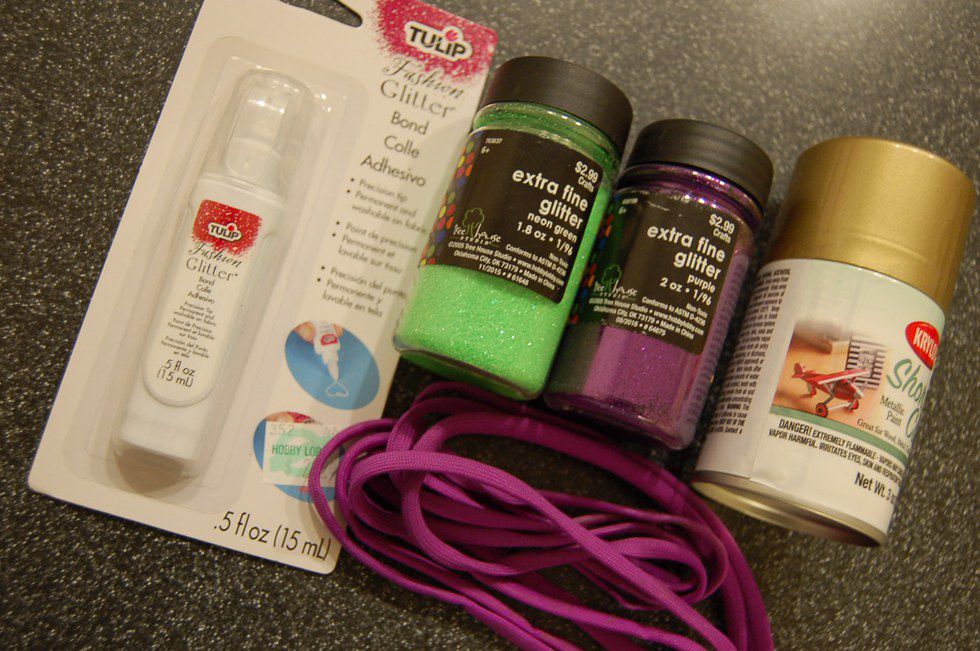 You'll need glitter bond, glitter, spray paint, and shoe laces. (If the laces that your shoes came with aren't the color you want, that is.) This small can of spray paint was plenty to cover a single pair of shoes, and the 5oz glitter bond was just enough for the designs I wanted to do. If you want more glitter designs than I did, you might want a bigger size.
3. Go for the gold!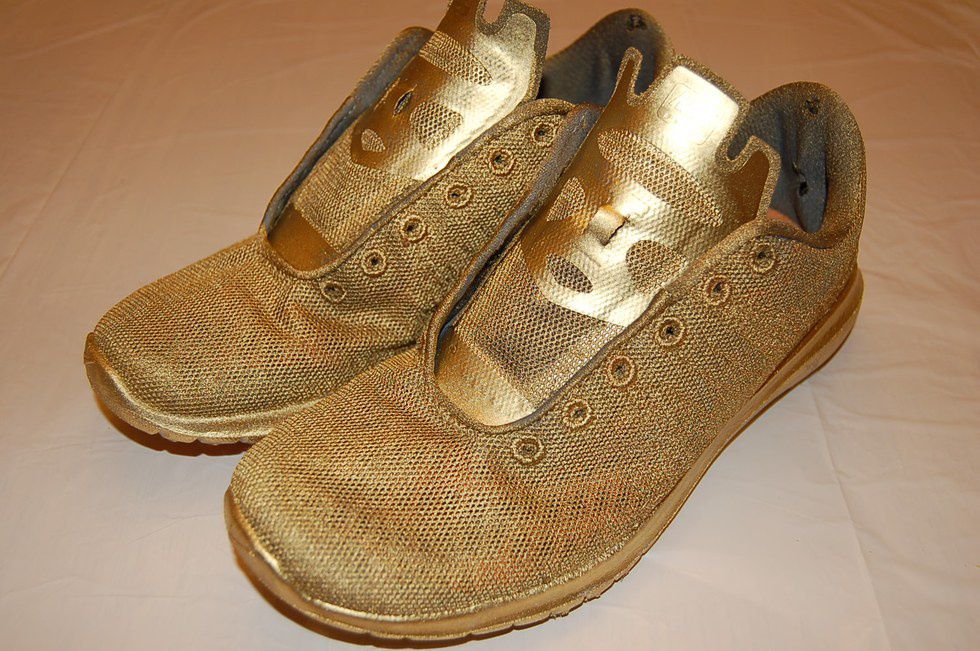 Unlace your shoes, take them outside to a spot where you won't make a mess, and spray-paint them gold. (Or whatever color you chose.) Leave them to dry for a few hours.
4. "Go insane, go insane, throw some glitter, make it rain."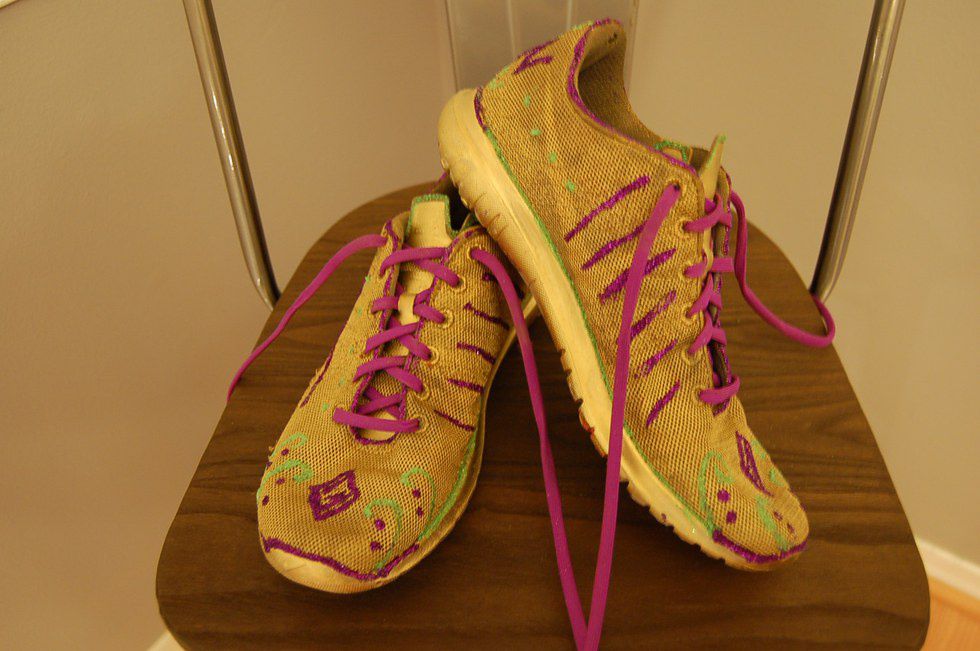 On a covered work surface, use the glitter bond to paint designs on your shoes, then pour some glitter over the wet glue and shake off the excess. Transfer them to another covered space to dry, and carefully clean up your very glittery station. Once the shoes are dry, you can lace them up. Now you're all set for a long night of catching beads!