Pop singer/songwriter, Luke Wade grew up in the small rural town of Dublin, Texas. As a child, Luke struggled to fit in causing him to do a lot of soul-searching. He worked to find a connection with the people around him, eventually finding music as his connection to the world. Luke soon realized that music was what he was meant to pursue. Beginning in 2000, Luke began writing his own music and playing cover songs and in 2003 he began playing live shows in small venues. His small town life, parents, and heartaches all contributed as influences towards his music.
Luke formed his first band, Hurt Street when he attended college at Tarleton State University in Stephenville, Texas. After college, Luke took a huge step and formed a new band, Luke Wade and No Civilians. The band released their first album, "Tomorrow's Ghosts," in 2010. In September of 2014, Luke gained national/international attention on Season 7 of NBC's reality singing show, "The Voice." He finished in the top eight with Team Pharrell. Later that year in March, Luke released his second album titled, "The River." Throughout the years Luke has headlined more than a thousand live shows and toured with many great music artists.
On January 13th, 2017 Luke's 3rd full-length studio album, "Only Ghosts," is expected to be released. Along with the album release, Luke is beginning a tour on January 12th, 2017 which will start in San Diego, California and finish in his home state of Houston, Texas on February 10, 2017.
I was lucky enough to have the chance to interview Luke as he took the time out of his day to speak with me!
What have you been up to lately?
"I've been home from being on tour and have been binging the show, Westworld! I've got only about an hour and twenty minutes left of the first season."
You finished in the Top 8 on Team Pharrell on Season 7 of The Voice. What do you feel was the most valuable lesson that you learned throughout your time on the show?
"That the people are always going to be more important than the thing. The show was fun, and a lot of things happened, but the most important part was the relationships, connections and things that I learned from the people on the show. People and relationships, regardless of what world you're in, are the most important thing."
Your 3rd full-length studio album, "Only Ghosts," is expected to be released on January 13th. What is the meaning behind the title of your album?
"It's from a line actually. "Face to face with what you fear the most; I can show you that their only ghosts." The line is wrapped up into the title. I have personally dealt with a lot of self-doubts since The Voice. When you get down on yourself, sometimes it is hard to feel that who you are is enough. This line expresses what I'd want to be told and what I want to connect with other people."


What song on the album are you most excited for people to hear?
I really love the last song on the record called, "Dreams." It's a message to my fans, family and the overall people who have been there for me. I've learned that dreams are hard to achieve without a lot of help and everyone who has helped me has become a part of my dream. I find that sometimes at the end of the day when things are hard I keep pushing, and stay up a little bit later, drive a little bit further, play a few more shows for them and if it wasn't for them I couldn't do it.
Which song on your upcoming album did you have the hardest time writing?
The opening track called, "Passenger Side." I had multiple bridges, choruses, and verses. It had all of these different parts. It was like a puzzle where I had to figure out the right order and way to connect them. I drew inspiration from several different writers for this song. The song is ultimately about keeping your love young and always loving and living like your first love. It took me so long to put it all together. Although it was difficult, I didn't get frustrated; I actually enjoyed it. If I'm writing a song and it isn't coming together, I just leave and come back later which I am always happy to do.
I love your song, "Three Days." I was jamming to it on the way home from college last week! What was the inspiration behind it?
It started off with a simple line that said, "I had a crazy thought." I challenged myself to see what I could do with it and how I could build off of the line and add chords.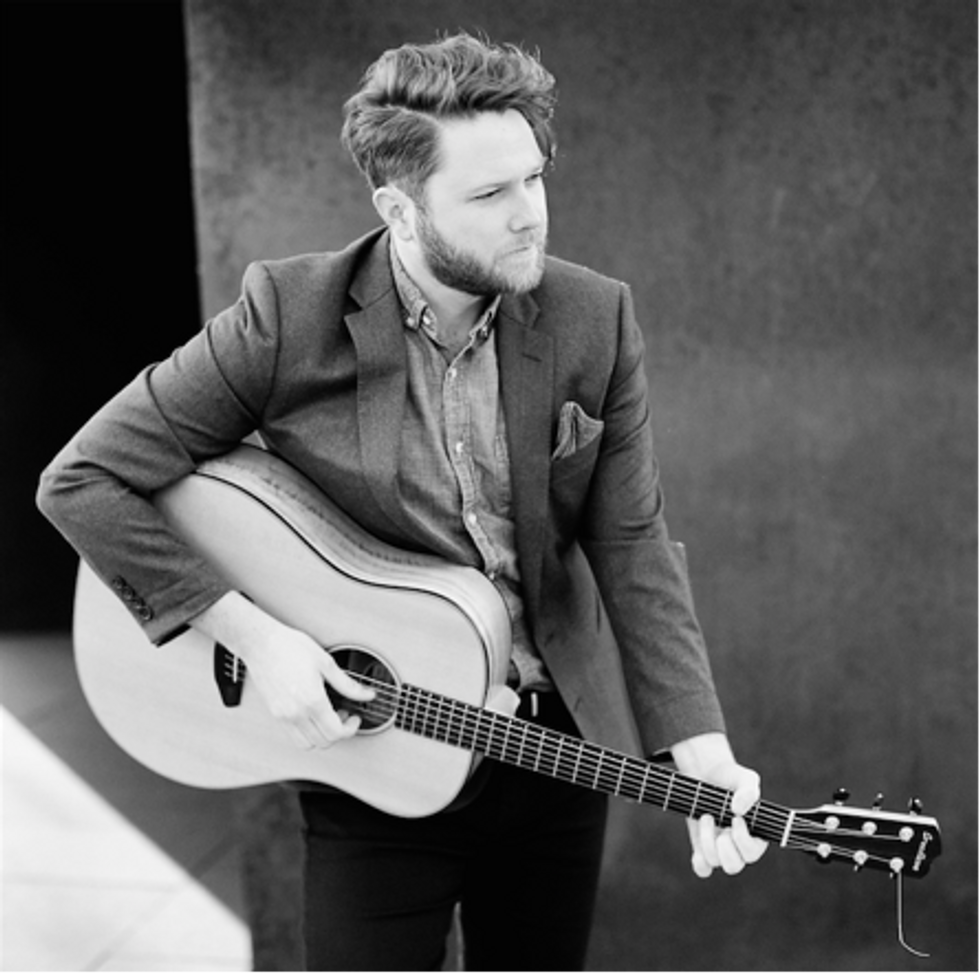 You have a tour beginning this January in San Diego, what are you most excited for about this tour?
Hanging out with my buddies! My favorite part is seeing my family and meeting the family that I didn't know I had. It is also such a cool feeling to go to sleep and wake up in another city the next day.
Which artists have influenced your own music and sound?
I've mainly been influenced by the people I'm around. Some artists that I've been influenced by are Josh Weathers, Martin Sexton, and Eddie Vedder - Pearl Jam's lead singer.
What music have you been listening to lately?
Bruno Mars! His new album sounds just straight up early '90s, late '80s. It is a lot like the music that I listened to as a kid and I love it. I also enjoy listening to Quincy Jones and Michael Jackson.
Do you have any rituals that you do before you perform?
I usually just do my vocal warm-up which I learned from my vocal coach on The Voice.
Don't forget to get Luke Wade's album, "Only Ghosts" when it releases on January 13, 2017. For more information on Luke Wade, you can download his music on iTunes and follow him on social media!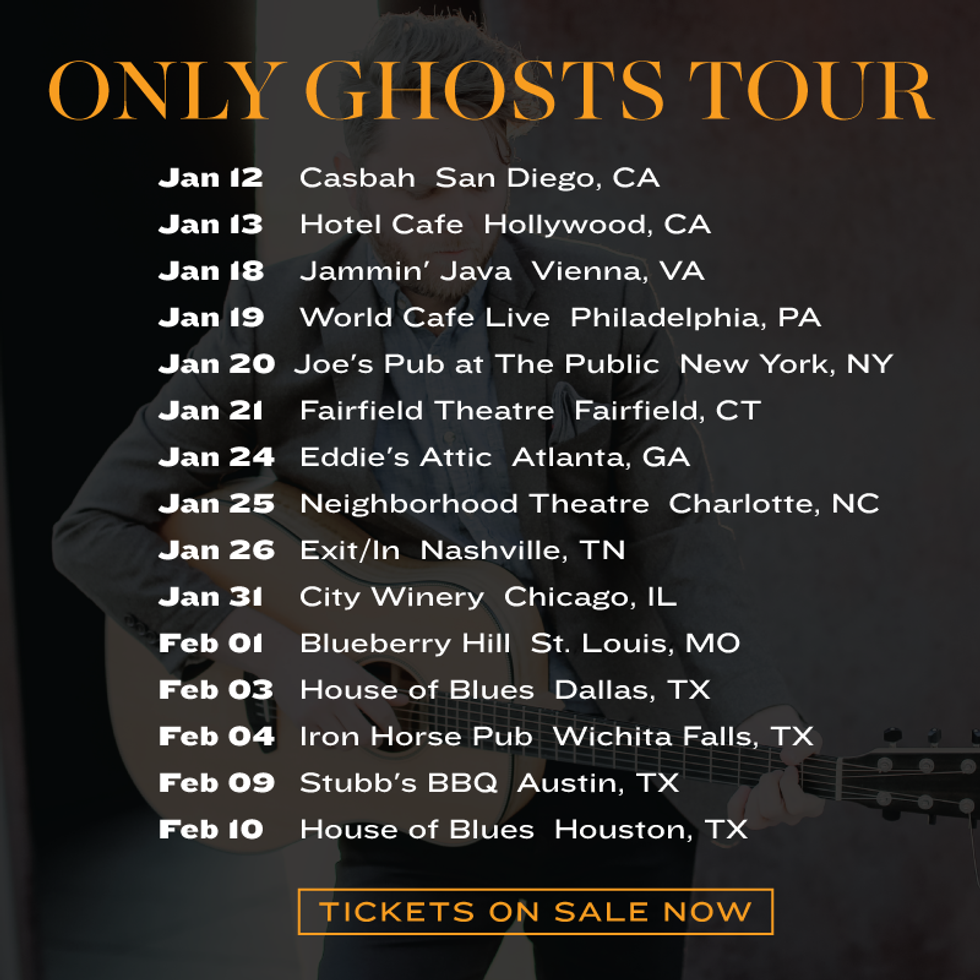 Website: http://www.lukewademusic.com/
Tour info: http://www.bandsintown.com/LukeWade
Facebook: https://www.facebook.com/lukewademusicofficial
Twitter: https://twitter.com/lukewademusic
Youtube: https://www.youtube.com/user/lukewadeandcivilians