The top 10 reasons I love Mississippi State football.
1. The Game
Who doesn't love the game of Football? Win or lose I will always enjoy a good football game on a Saturday especially at Davis Wade.
2. The Atmosphere
There is truly nothing like Davis Wade on a Saturday in the fall. Words can't even describe it, you'll have to go experience it if you haven't already.
3. The Cowbells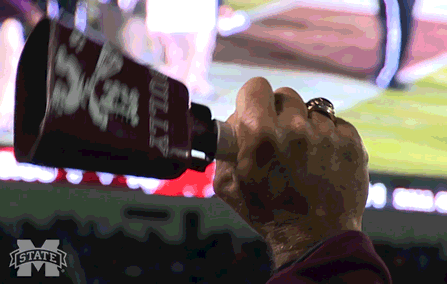 Not only is the Cowbell unique to Mississippi State, it has the whole stadium ringing (no pun intended) and it truly is something you need to experience once in your life time.
4. The Fans 
I don't know any other team that has a more dedicated fan base than Mississippi State fans. Whether we are up or down by 40 the stadium still has a crowd cheering on our beloved Dawgs.
5. The Team 
I had to mention them at some point... I have so much respect for the team because they have classes all week and then quickly switch to play football. Plus, if you ever talk to them outside of the football environment and on they are all super caring.
6. The Beginning of The Fourth Quarter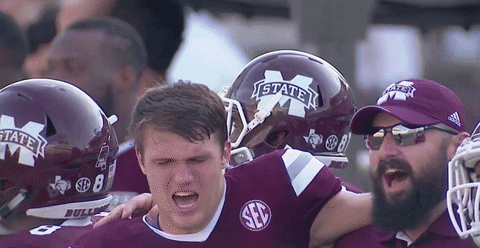 I think we can all agree with Nick Fitzgerald on this one. There is nothing like all of Davis Wade, including the visiting team, singing Don't Stop Believing. Not to mention all of those phone lights shining gives you the chills.
7. The Student Section
I've already mentioned the fans, but I have to mention the section where all the students sit. This is truly a new environment. The never ending energy from the student section is something else. Especially when we get together and sing the Alma Mater.
8. The Junction 
Everyone loves a good tailgate, especially in The Junction. The Junction is also home to the Dawg Walk, so if you don't thoroughly enjoy your time here, then you're doing something wrong.
9. The Mascot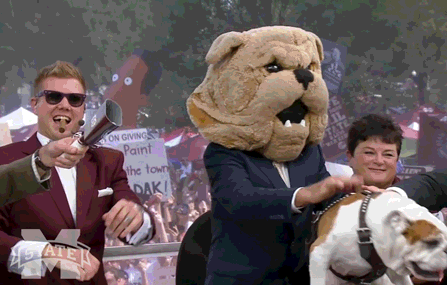 Also known as the cutest bulldog in the SEC.
10. The Memories
The memories made every season are ones that can't be forgotten. Mississippi State Football gives everyone something to believe in and love. Whether you get a whole drink spilled on you or you make it on the jumbotron, you will never forget that game.