http://parenting.exposed/the-relationship-between-the-scapegoat-and-the-golden-child/ "The golden child learns very quickly that to gain the narcissistic parent's approval, one must behave in this un-empathetic, judgemental, disgusting way. If they behave like the scapegoat, (concerned, empathetic, and loving) they will be treated like the scapegoat. The narcissistic golden child refuses to stand in the corner with the scapegoated child and have stones thrown at them. Instead, they unconsciously decide that one will fare better in this family system, and may even gain some approval, or feigned love and support if they take on the role of psycho bully"....~Parenting Exposed, "The Relationship Between A Narcisstic Golden Child And The Scapegoat" July, 2017
...This behavior worsens in adulthood, and often results in family mobbing. The golden child and narcissistic parent are always the ringleaders in family mobbing against the scapegoat" http://parenting.exposed/2017/07/

---
The roles within a dysfunctional family of narcissistic parents usually consist of four separate parts. The first is the golden child, a term used for the extra special treatment they receive from the narcissistic mother/father for being the confidant, accomplice, and often the emotional care taker to them. Second is the Scapegoat, which by its very definition means the one to take all the blame. Third in line is the Mascot, which essentially means the clown. The one to be oblivious to the cruelty happening around them and even find humor in the anything but funny circumstances. Lastly, there is the lost child. This child by no means is free of the abuse but is easily forgotten and dismissed.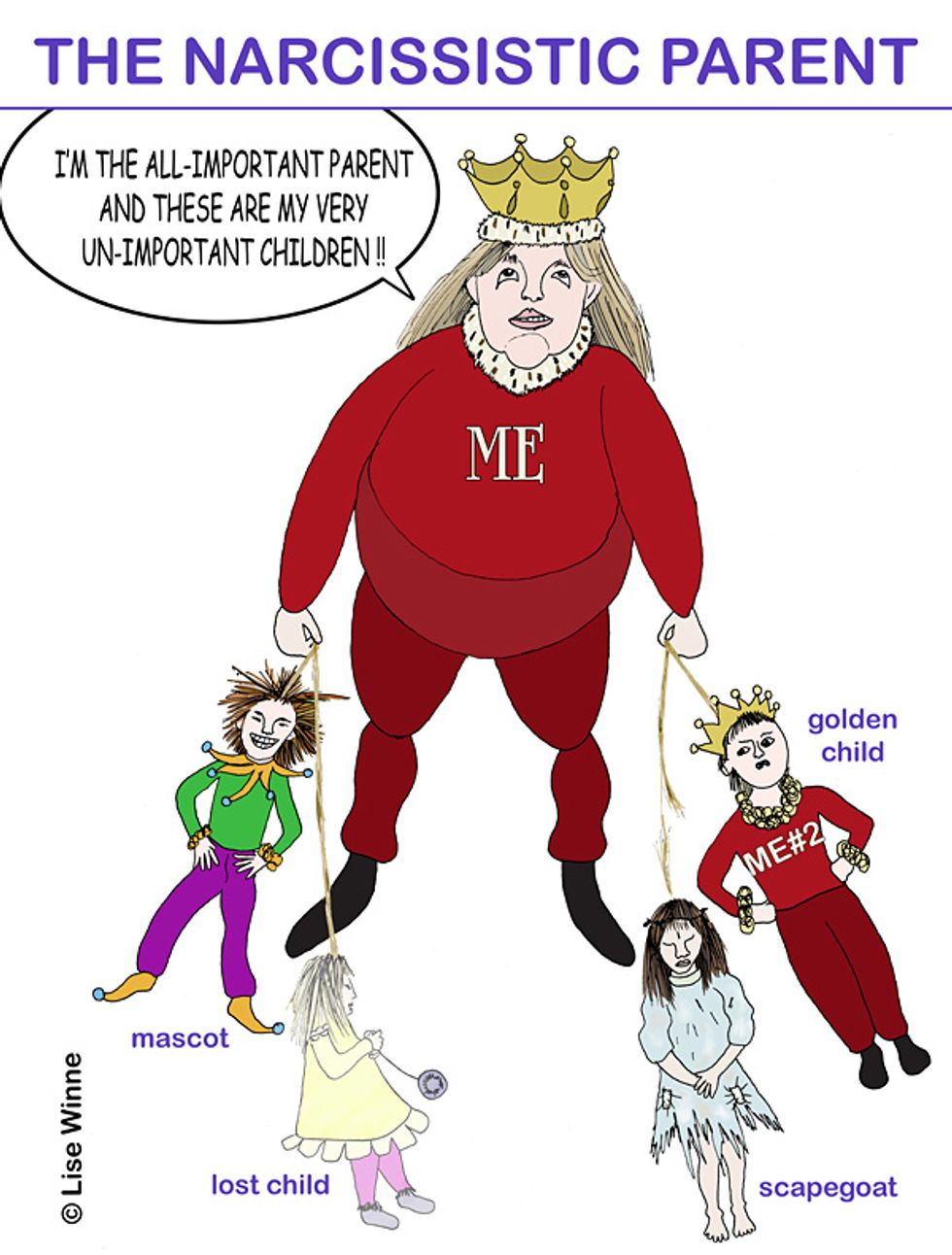 I grew up in an extremely dysfunctional home with a sociopath, narcissistic mother. My chosen role was to be the scapegoat, which is arguably the worst position to be in. My brother and I actually shared the role whilst he also fell into the lost child category. We were both targeted by the entire family to take all of the abuse of all different types. My brother however managed to escape their powerful clutches when he came of age, but only in the physical sense. Mentally, they had damaged him beyond repair and he would never be the same. I understand completely why he ran far away and never looked back. I on the other hand, stayed within striking distance to this horribly manipulative, abusive family and have lived to regret it.
My older sister had become a miniature replica of the woman I feared the most. She regularly assisted mother in brutal beatings and agonizing mental torture. If at times she was not specifically hands on, she would stand along-side mother smiling as it happened, as if to give her approval. From the very beginning and throughout the daily torture of this sadistic dynamic, I specifically referred to her as "The Golden Child", ironically the true term for her role.
A few key memories come to mind as I think of the incredibly vicious mentality my sister had been trained to have.
I remember the nauseating feeling I had listening to her and mother laughing and making fun of the screams of my eight year old little brother. Miraculously, he'd broken free of her after she'd tried to drown him and ran pleading desperately through the streets for help. She taunted him right alongside mother, laughing and mocking some of the most horrifying moments of his life.
In my early teen years, I recall mother just finishing an especially brutal beating in which she used tools as her weapon of choice. As I lay on the floor with my face bloodied and swollen, I look up to see my sister sprawled on the sofa looking down and back at me. She leaned in and let out a most chilling, unforgettable laugh at the wreckage she saw before her. She was all mother had trained her to be and more. She'd become the perfect little assistant.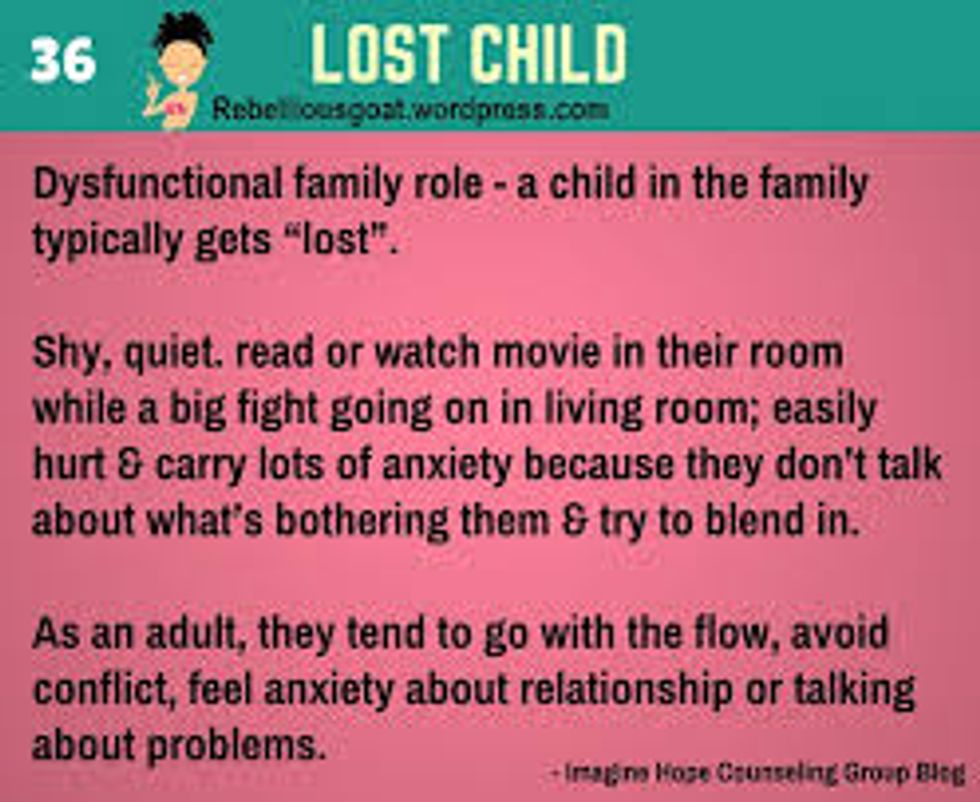 Naively, I thought as the years went on she would have changed. This proved however to be the farthest from the truth. When my little brother left the state and was out of sight, to them he was completely out of mind. Even after repeated attempts he made to reach out to her, my sister snubbed him like a bum on 5th Avenue. He wasn't spoken of, or thought of and it was like he never existed.
Well into my thirties, I'd finally gotten my day in court against the mother who'd committed such heinous crimes. One by one, family members closest to me stood up and attested to the true details of what she'd done. All that is, except my older sister. Shockingly, as took the stand and was questioned of the abuse that took place throughout our childhood, she turned and proclaimed that the alleged abuses were merely disagreements, ....I was utterly astounded. I knew from that day that she would never be a true sister to me.

Ongoing through my adult years, she continues her attempts to make my life miserable. I am perplexed at why she would still be targeting me. What could she possibly be getting out of it in her forties? Is she really still that needy of approval that she will keep using the only tactic she's ever known? At this age, it tells me that she is not just fulfilling the dirty deeds of a narcissistic mother, but has taken the role onto herself and plainly enjoys it. Having lived through the nightmare of this erosive dynamic I am to the point where enough is enough. We are not children anymore, there is no reason for her attacks on me anymore, and I am certainly not going to withstand it ever again. Continued assaults to please a deranged, narcissistic mother long after we'd moved onto our own lives is truly unforgivable. I've tried my hardest to rise above the detrimental role I had to play, why can't she?
'Family scapegoating is a hostile discrediting routine by which the scapegoating family members' remove blame and responsibility from themselves for problems within the family unit, and dump all of the responsibility onto a targeted family member. The practice of scapegoating allows for feelings of anger and hostility to be projected onto the family scapegoat through continued inappropriate accusations. The scapegoated adult child of a narcissistic parent feels wrongly persecuted after receiving misplaced vilification, blame, criticism, and rejection from the member's of the family whom the narcissistic parent seeks to influence. Scapegoating allows for the self-righteous discharge of one's aggression onto another more vulnerable source.' ~Parenting Exposed, "Family Mobbing In Action", July, 2017 http://parenting.exposed/2017/07/