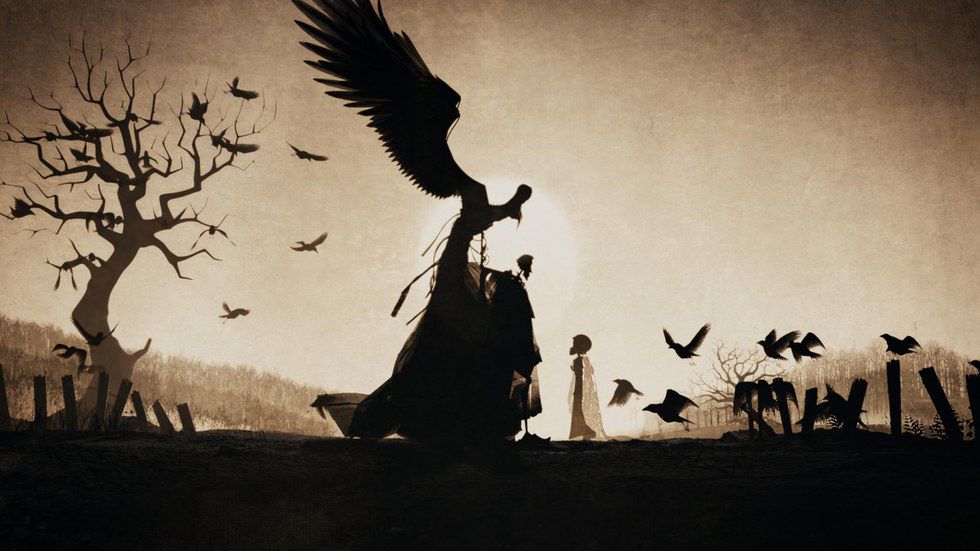 It is the Unknown we fear when we look upon Death & Darkness. Nothing more. – Albus Dumbledore

---
Dear Death,

On Sunday I celebrated the life of a man you took recently. I'm sure you know him very well by this point; his name is Lou Ackers. A man who worked beside my father for decades in finance, mentored me in many ways, and became the epitome of what is required to earn the title "best friend."
He had a genuine interest in people and desire to connect with everyone he met – he was the type of guy that would take your cell phone out of your hand, make you look him directly in the eye and ask "So, how is your day going?"
He looked essentially like a living mountain, a size that bellied his infectious personality down to the very core. Unfortunately, after suffering from severe liver disease and undergoing three liver transplants, his body deteriorated to that of a withering beanstalk. However, the strength of that spiritedness persevered till the very end.
His son Joe pointed out his most defining trait during his poignant dedication speech. He stated that he never knew anyone who had a positivity as resolute or infinite as his father, that he could find the joy in life no matter how bad the situation may be. He would always be blessed for having such a man his life. As if to prove this point, Joe read a poem Lou wrote while in the hospital, summarizing how death is something not to fear but simply the next step in his adventure.
In that moment, the thought occurred to me:
I wonder if you ever feel jealous that you never get to experience that spiritedness, that special optimism that thrives amidst life's struggles.
Looking back, the first time I ever came in contact with you, Death, was when you took my grandmother, Gam. I was only four at the time, and my small mind was already consumed with thoughts of dinosaurs, German shepherd dogs, cowboys, and Disney sing-along songs. I remember walking up to the casket where my grandmother lay, holding onto my mom's trembling hand as the tears cut jagged lines down her face. I didn't understand why everyone was upset – I simply thought my Gam was going on an adventure, that she was simply napping and that she would be ok. I remember gently laying my finished coloring book of zoo animals, and one of my favorite Beanie Baby toys alongside her, thinking they would help keep her company on the trip. I was blissfully ignorant of who you really were.
The first time I saw the full scope of your power was on September 11th. I was in 3rd grade and remember Steve sprinting up to my friends and me at recess while we were playing take-off on the swings, telling us that a plane had just flown into one of the Twin Towers in New York. Later the teachers ended class early, filing us all into the lobby to get picked up by our parents. Unbeknownst to me, my mother had shown up hours earlier for pickup, but the teachers told her they wouldn't end school early. Consequently, my carpool was the last to be picked up. To this day I can still vividly see my mom, a woman known for her kindness and sense of humor, explosively shouting down the teaching staff for their blatant misconduct and disrespect, along with a few colorful swears here and there. When we got home I glanced at our small screen TV and watched as the towers came crashing down, as dust and debris blew threw the streets, as people covered in white powder screamed and ran for cover. As comprehension dawned on me I recall crying, and constantly asking why. Why would anyone do this, why would anyone want to do this?
In 2005 I experienced how your selfishness knows no bounds. A beloved science teacher at my school, William Bassett, left campus on a typical Friday afternoon to go to the nearby Towson Mall. On the fifth floor of the parking garage, Mr. Bassett was shot dead at point blank range by a young robber because he refused to hand over his wallet. Mr. Bassett was a husband, a loving father two adopted children, and an honorable teacher who had given so much to our school, and enhanced the honors science program to a degree of statewide recognition. Yet all his life amounted to in the end, in those final breaths, were twenty dollars and a hand-full of credit cards.
It wasn't until the following year, on New Year's Eve, that we nearly met face to face. I was celebrating at the home of a close friend of mine, playing video games and racing around the house, setting off fireworks – all the typical kid stuff you should be doing on New Year's. After the ball dropped it was time to leave and the person driving me home, who I won't name out of courtesy, called for me and said it was time to go. As soon as we got in the car I noticed something was off about this person for they were fumbling sluggishly with the gearshift on the car. It wasn't until we pulled out of the driveway, turned the wrong way, and nearly slammed into a mailbox that I realized what it was – drunk driving.
For the next forty-five minutes, which really felt like an eternity, I kept one small hand on the steering wheel to direct, the other on this person's shoulder, loudly calling for them to stay awake, to slow down, to turn left at the next stoplight, or to remember that one tree on the corner. Twice we nearly swerved into on coming traffic. At one point flying downhill while on the expressway I glanced at the dial to see we were speeding at 97 miles per hour. In spite of the fact that my heart felt like it was going to burst out of my chest like a scene in "Alien" and that every nerve ending was on fire, I was still aware you were there – hovering just out of sight but avidly watching, waiting. That's why I remember sending up a short, defiant prayer: "We're not dying God, not now. Not like this. Not yet. Please help us." He must have heard, for we managed to make it back in one piece, though the road to forgiveness would be long after that.
Drunk driving. Drug overdose. Cancers and other diseases. Hurricane Katrina. The tsunami in Indonesia. The earthquake/tsunami that struck Fukushima, Japan. The wars in Iraq and Afghanistan. The mass shootings at Columbine, the Aurora movie theater in Colorado, at Sandy Hook Elementary School, and at the Pulse Nightclub in Orlando, and countless others. The terrorist attack in San Bernadino that stole away 22 lives. The three-part terrorist attack in Paris in November of last year, followed up by similar attacks in Belgium and Niece. Treyvon Martin, Michael Brown, and Eric Gardner. The murder of Medal of Honor Recipient Chris Kyle, killed by the hands of another, deranged veteran. The list of examples is endless where in each case you've shown zero regard for age, gender, sexuality, religion, race, or ethnicity. You're consistent in leaving behind parting gifts of pain, destruction, and sadness in your wake. We like to say that we're all equal in the eyes of the law, but I guess the same phrase goes to you as well. You're the equalizer of all.
Maybe, I'm really giving you too much credit. After all humans are bestowed with many incredible gifts and among them free will – the ability to make our own choices. More often not we choose wrong. Given how interconnected we are nowadays, we're keenly aware of the consequences of those decisions. We're more aware of you and the darkness and fear that follows you than ever before, to the point where you could easily blot out all the light if we let you. Yet in a twist of irony, without you we wouldn't truly appreciate that lack of permanence that makes this life so majestic. Without you we wouldn't realize that the true tragedy in life isn't death, but what we let die inside us while we live.
It may be true that you have the final say, that we will never know what's waiting for us in the hereafter; whether we'll see pearly white gates above the clouds, and be greeted by some almighty God or Yaweh or Allah or who ever "He" may be. Yet Lou discovered something vital in his life: we have this one irreplaceable chance to experience life and all the virtues and vices it has to offer. It is incumbent upon us to make it count.
So I'm going to take Lou's lesson to heart, and choose to see the light rather than darkness. To not let fear inhibit me from engaging with all this life has to offer. To accept that no matter how insurmountable the obstacles may seem, to stay confident with the knowledge that I was given this life because I'm strong enough to live it. To take the pain that comes my way and, instead of letting it rule me, turn it on its head and find the humor in it. After all, laughter may not add years to my life but it will add life to my years.
Finally, to share, connect with, and positively impact others in order to hopefully create something that lives on. That way when we finally do meet face to face, I will greet you the same way as Lou - with an open heart, a fulfilled soul, and an everlasting legacy.

Until The End of the Road,
M.