Unless you've been living under a rock for the past 10+ years, you know who Meredith Grey and Derek Shepard a.k.a. McDreamy are. Dr. Meredith Grey is the focal point of the medical based TV series Grey's Anatomy, and Dr. Derek Shepard is her love interest for the majority of the series. Anyone who follows the show knows that these two have an epic love story, that all starts with just another girl in a bar.
1. Not everything will be perfect
Okay, seriously from the first encounter between these two, it's obvious that they have chemistry, but in the end of their one night stand, Meredith can't even remember his name. After she discovers she has been hired by the same hospital he is a resident at, things get even more interesting. As the show (and their romance) continues, McDreamy shows that he can also be a McIdiot when his wife shows up before he can tell Meredith of his marital status. After a few episodes of fights, tears, and a ton of tequila, viewers realize that this is only the beginning of a long, long relationship with "MerDer." No matter what happens and who gets involved, if it's meant to be it will find a way.
2. Put Yourself Out There
These two are the epitome of wearing your heart on your sleeve. Although Meredith is all "dark and twisty", she eventually comes clean with her feelings for Derek and begs him to reconsider their relationship. Yes, that's right; I'm referring to the well-known "Pick me. Choose me. Love me." scene. Meredith is a very headstrong and independent character, but when it comes to Derek, she shows us that it's okay to put everything right out on the table sometimes. At least nothing can get lost in translation.
[rebelmouse-proxy-image https://media.rbl.ms/image?u=%2Ffiles%2F2016%2F03%2F16%2F635937495741594772-102179182_Greys%2520Anatomy.gif&ho=https%3A%2F%2Faz616578.vo.msecnd.net&s=680&h=82fd35d393b525301056985d951ce7f4eca69a2a7474f00e646a97ee55f4e437&size=980x&c=2157138456 crop_info="%7B%22image%22%3A%20%22https%3A//media.rbl.ms/image%3Fu%3D%252Ffiles%252F2016%252F03%252F16%252F635937495741594772-102179182_Greys%252520Anatomy.gif%26ho%3Dhttps%253A%252F%252Faz616578.vo.msecnd.net%26s%3D680%26h%3D82fd35d393b525301056985d951ce7f4eca69a2a7474f00e646a97ee55f4e437%26size%3D980x%26c%3D2157138456%22%7D" expand=1]
3. Go big or go home
When it comes to MerDer, no shortcuts are taken. They've done it all from designing a house together to actually creating a candle-lit outline of the blueprints of the house, complete with a speech about the incredible life they could build together, to an elaborate proposal in an elevator with brain scans lining the walls. Basically, love makes people do crazy, beautiful, romantic things. So embrace it, and when it comes to your partner, there is no length that shouldn't be gone to for their happiness. I mean come on, when Meredith couldn't get pregnant, Derek found a beautiful baby girl to adopt that she immediately fell in love with. It doesn't get much more real than that.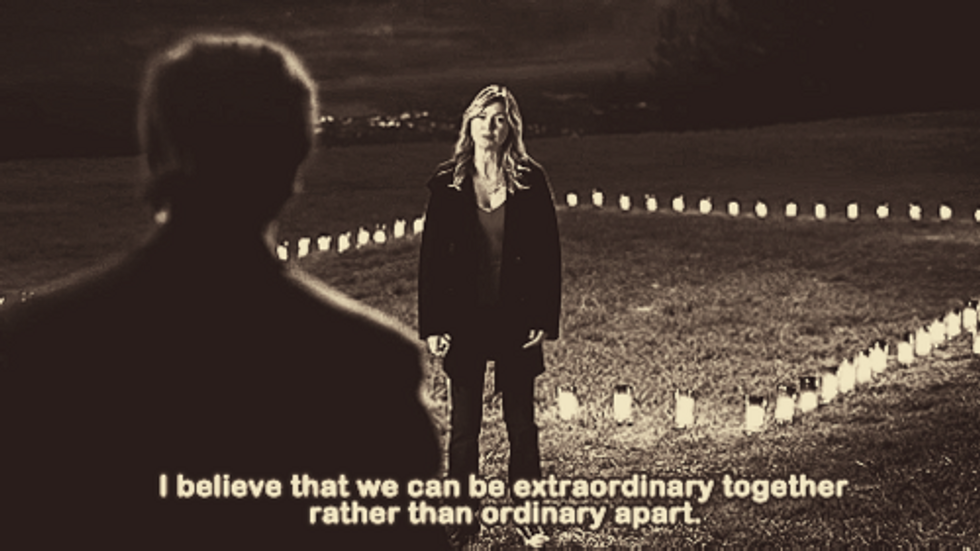 4. Do your own thing
When this whole relationship started, nobody approved. Meredith's friends thought it was a terrible idea, and so did the hospital staff, including Chief Weber. These two show that no matter what others say, if you love someone, be with them, it's as simple as that. Love isn't just a feeling, it's a choice. In order for a relationship to work, you have to put effort into it. Don't use other people's stereotypes of a relationship or commitment to dictate your own. Meredith and Derek were married via post it for two seasons before they legally tied the knot at city hall. To them, they didn't need a legal piece of paper to tell them they belonged to each other; they only needed each other's personalized commitment.
5. Sometimes, sacrifice is necessary
The ultimate sacrifice is giving your life for another. In season 6, Meredith offers herself to a gunman who is pointing his weapon at her husband's head while he is on the operating table. She nearly convinces the shooter to kill her instead, but luckily better things prevailed. Derek even quits a job at the White House to be closer to his family and to help Meredith raise their children on more than just a part time basis. Often times, if you only worry about bettering yourself, you will hurt your relationship. A relationship consists of two people, and although sometimes it may call for sacrifice, it is better to pass up on something that can hurt your loved one instead of risking losing it all.
It's nearly impossible to watch Grey's Anatomy and not become engrossed in the drama, scandal and lust of the hospital. Even when they were unsteady, Meredith and Derek were always something that was a given in the show. It made us all fall in love with McDreamy, in a really, really big, pretend-to-like-your-taste-in-music, let-you-eat-the-last-piece-of-cheesecake, hold-a-radio-over-my-head-outside-your-window, unfortunate way that makes us hate you..love you kind of way.