Thanksgiving dinner had been served on the table. A cornucopia filled with autumn flowers and leaves stood as the centerpiece. The rich red and orange colors in sight were accompanied by the aroma of baked turkey, fresh bread, and pumpkin pie. The sounds of the many happy voices echoed in the dining room. The family was ready to give their thanks, pray, and then begin the feast.
But then, a new sound disturbed the Thanksgiving gathering.
Outside of the dining room window sat Tiki, the Citron-Crested Cockatoo, on a perch in her new cage placed in its new surroundings. She had only been a Gaumont-family pet for a couple of hours, but she was currently voicing her discontent about missing out on the warm gathering inside.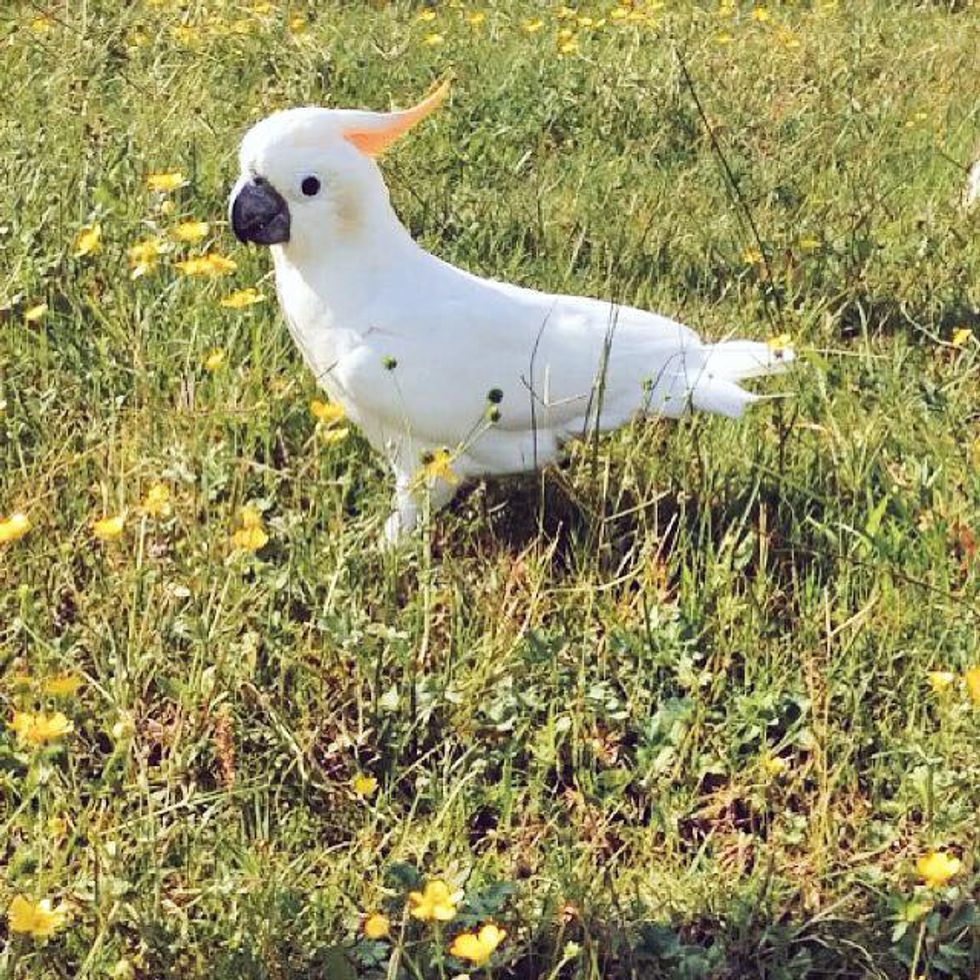 In Eastern North Carolina, the November-weather was comfortable, lacking any brisk chill, but Tiki was alone in the dark night while my family sat inside eating dinner, and she felt this was very unfair. Therefore, she screamed. High-pitched screams of protest reverberated through the window-glass and into the dining room.
My father and mother had been very strict when I had first told them about getting a cockatoo as a pet: "Birds are loud and messy. If you bring her into this family, that thing has to stay in its cage – outside." However, the little white bird's big calls for attention melted their hearts.
"It might be a little cold out there, Marc. She's lonely. Maybe we could put the bird's cage in the garage instead," my mother suggested.
Tiki then enjoyed her Thanksgiving treats (green beans and bits of turkey) inside the comfort of the garage. It wasn't until later that evening that my father had another suggestion.
"It might be a little cold in that garage, too. We better put Tiki's cage inside of Marie's room," he said. Within just a matter of hours, Tiki had flown into the hearts of my parents.
That was a year ago. Within these first 365 days, Tiki has become the undisputed comedian, troublemaker, and heart of my own personal world. In my first year of pet ownership, I've learned some undeniable truths.
[rebelmouse-proxy-image https://media.rbl.ms/image?u=%2Ffiles%2F2016%2F11%2F26%2F636157245670636737-5240398_636157245667943498-2073041889_12998708_1087426811280179_3001536030828958509_n%2520%282%29.jpg&ho=https%3A%2F%2Faz616578.vo.msecnd.net&s=223&h=f4db91e3028bf7b86ff32fe7bdd24b0235a8725b128621c1f4e7690613a23c4f&size=980x&c=1374705592 crop_info="%7B%22image%22%3A%20%22https%3A//media.rbl.ms/image%3Fu%3D%252Ffiles%252F2016%252F11%252F26%252F636157245670636737-5240398_636157245667943498-2073041889_12998708_1087426811280179_3001536030828958509_n%252520%25282%2529.jpg%26ho%3Dhttps%253A%252F%252Faz616578.vo.msecnd.net%26s%3D223%26h%3Df4db91e3028bf7b86ff32fe7bdd24b0235a8725b128621c1f4e7690613a23c4f%26size%3D980x%26c%3D1374705592%22%7D" expand=1 original_size="1x1"]
Following are the truths I've learned in my first year of owning Tiki, the Citron-Crested Cockatoo:

Cockatoos double as early-morning alarm clocks. This truth was understood quite early in my first year of ownership. When Tiki's cage was moved into my room last Thanksgiving, it was placed approximately an arms-length away from my bed.
Every morning since, I've woken up to the sound of Tiki rattling her metal cage as she climbs down its side and jumps onto my bed. Sometimes, when I'm being extra sluggish on a Saturday morning, she nibbles on my nose to wake me. This year has taught me the true meaning of the phrase, "the early bird gets the worm."
Cockatoos are, as my parents promised, messy pets. Potty-training is a necessity for any parrot (no explanation or reasoning necessary). Sort of like fur, feathers shed and require a broom or vacuum to be present nearby for pickup.
Cockatoo feeding can be another mess. Tiki is a lot messier than the average messy cockatoo because of her particular eating habits. Most cockatoos use their feet to pick up the seeds, dried fruit, pellets or other treats from their food dish and raise it to their beak for consumption (much like humans use their hands). Tiki, however, likes to use her foot to throw much of the unwanted seeds, dried fruit, pellets or whatever else I've fed her, onto the floor. This year has taught me how to effectively use a vacuum.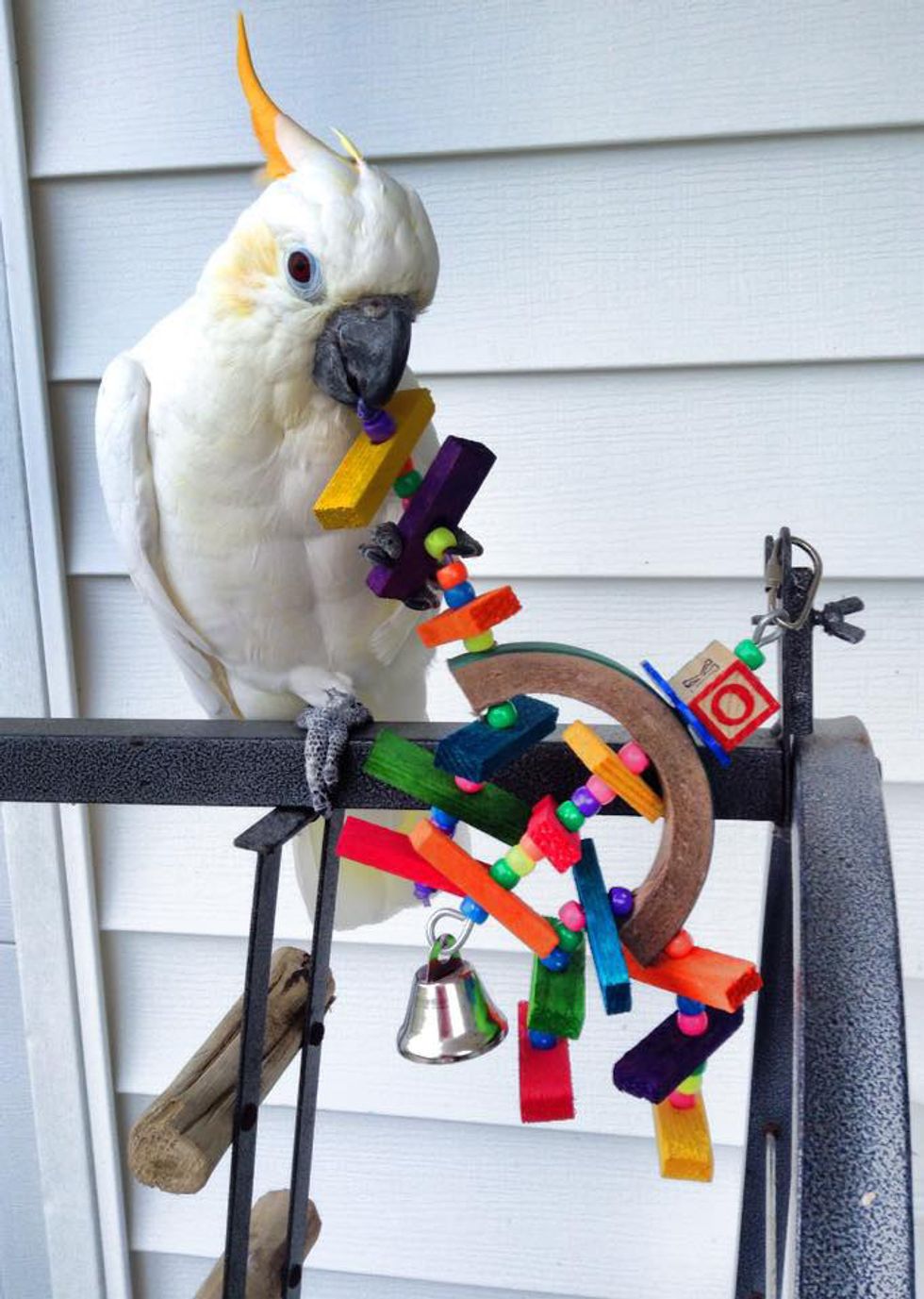 Cockatoos are loud, as my parents also warned, but moreover, they can be great conversation starters. Since she has been in my care, Tiki has hated being alone. If she's in one room and I'm in another, Tiki will call for me until I have retrieved her. Cockatoos are very social animals.
Tiki has helped me become more social, as well. People are always intrigued by the exotic bird perched on my shoulder, and will ask questions to spark conversations about parrots with me. Tiki has literally started conversations with new people for me, as a cockatoo who can mimic speech to physically talk. This year has taught me that the best conversations start with a cockatoo saying: "Hello, pretty bird."
Cockatoos love to snack on a number of human foods. Of course, there are some dangerous exceptions: avocados are poisonous for birds, chocolate is a no-no, and the pits and seeds of apples shouldn't be fed to a cockatoo.
Since that first Thanksgiving-feeding with my family, Tiki has continued to indulge in (safe-to-eat) table scraps. Some of her favorites include pizza crust, chips, green beans, watermelon, bread rolls, and chicken nuggets (it's a little cannibalistic, I know, but chicken is a really good source of protein for parrots). This year has taught me that human food is meant to be shared.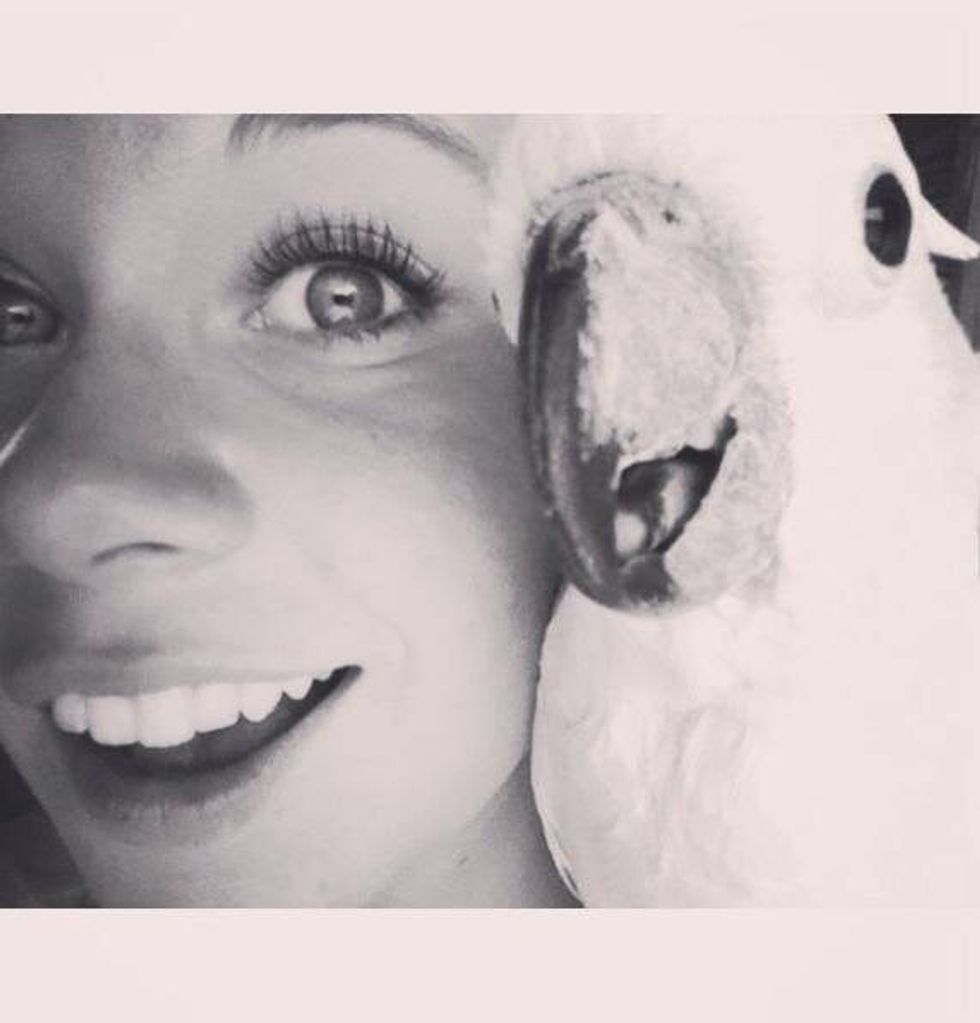 My cockatoo isn't just a pet, she is my best friend. Tiki is my Netflix or Hulu binge-watching couch companion. She is the only thing I can bear to talk to before my morning cup of coffee. She's also the reason most of my shirts have holes in them (there's no fabric Tiki can't bite through), and why most of my shoestrings are nonexistent (you wouldn't believe how fun it is for a parrot to play with a shoestring), but after this first year, I couldn't imagine another day without her destructive and messy antics.
Because Tiki is the reason my heart is so full.
This year has taught me that love is unconditional and friendships come in all forms.