I briefly ragged on Golden State Warriors shooting guard Klay Thompson for a shooting slump he suffered early in the 2018-19 NBA season. Then he went OFF. After going 4-for-28 from beyond the arc and only 92 points through six games, the perennial All-Star hung 52 points and an NBA record 14 three-pointers on the Chicago Bulls in 26 minutes. Those 14 threes eclipsed his teammate Stephen Curry's record of 13 threes in a single game. The second half of the Splash Brothers are back in full effect, as his point averages have increased since his 52-point game and his teammates have more confidence in him.

Perhaps I and everyone else should have expected Klay Thompson to explode like he does seemingly annually.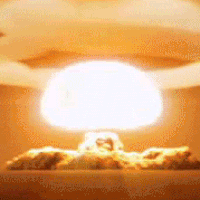 There was the game in the 2014-15 season in which he put up 37 points in one quarter, another NBA record that he still holds. Two years later, he dropped a personal best of 60 points in 29 minutes on 11 dribbles, eclipsing the career-highs of his star teammates Curry and Kevin Durant.
Thompson is slated to be a free agent after the 2018-19 season, along with several other superstars like Durant, Kyrie Irving, Jimmy Butler, and Kawhi Leonard. I stated that Thompson would have to play like he wanted a max contract if he truly did, and that is Officially what he did against Chicago. Every great athlete goes through slumps, but this is the way to bust out of it.
Thompson later put up 22 points against the Minnesota Timberwolves and 27 against the Memphis Grizzlies. He has also been playing well on defense, something he has not slumped in. This is important considering Thompson prides himself on being a two-way player, and one of the best in the NBA at that.
Based on this, I think we can all agree that Klay Thompson has broken out of his early-season slump. Who knows if he will maintain this success, but I can at least be certain that he is in a rhythm again.