Well, guys, midterm season is here and it is for sure taking a toll on us, however, that doesn't mean we can stop because it just so happens to be the start of cuffing season, too! We're going to talk about ideal first dates and how to keep the flames of a Tinder relationship going. As always, don't forget to send in your questions here as we love hearing from you.
​​Breakfast, brunch, coffee, lunch, or dinner for a first date?​​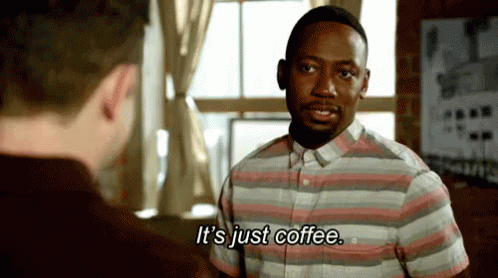 Cass: Coffee! Coffee dates are SO ideal in my opinion. For one, you don't feel pressured to get actual food and have to make a judgment call based on what your date is getting to eat. Plus, you're caffeinating yourself so you would be able to get through even the most boring date. Also, as someone with anxiety around food, I feel like it is always a safe bet to pick something that DOESN'T involve food on the first date because I'd feel super uncomfortable. Coffee dates are short and sweet, which means that you can dip at any point you feel the date going south instead of being stuck there for a whole meal. However, coffee dates can also be long if the conversation is engaging and typically you'll feel no pressure by waiters to leave so it is a win-win situation all around.
Angie: I agree — coffee dates are definitely ideal for a first date because they're casual, low-stress, and it's easy to dip and escape a date gone wrong. My second choice would be a lunch date, though. It's also short, doesn't require you getting up too early, and is way less formal than getting dinner. It also looks more impressive if you pick up the check (wink!) Plus, chatting in a booth at a restaurant can feel a little more private than a table at Starbucks, which could open the door to more serious conversation.
Does it matter whether a couple only texts or uses Snapchat?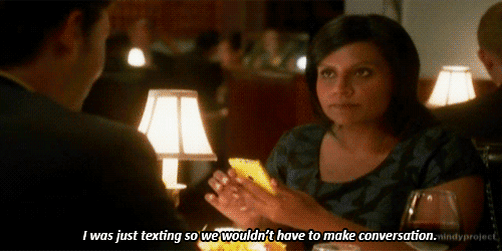 C: To me, it really doesn't matter how a couple communicates as long as they are communicating. For example, my partner and I typically communicate via Tumblr, which is super unconventional to have most of our conversations on, but we like being able to send each other the content we find while staying in the app. Granted, we use Snapchat and text, but text is where most serious conversations take place like if we're making plans for a date or to go somewhere with their family. I think you should only be concerned if you're trying to make solid plans with someone and they refuse to text you about it and want to stay on Snapchat. Snapchat doesn't save chats unless you manually do it, so there's a chance your messages will get lost and it makes it easier to forget and/or bail on plans later. Just communicate however you feel most comfortable, but make sure you have receipts if you're making important plans.
A: As long as you can communicate effectively using those apps, then who cares? Couples' schedules won't match up exactly, many people pursue long-distance relationships, and there are tons of other reasons why people are unable to get together. They could be using carrier pigeons as long as both parties are happy and satisfied with the way they're communicating. But if there is constant drama, misunderstandings, or hurt feelings because of the medium (texting and Snapping grants you emojis but costs you tone, body language, and other tells), that couple might want to consider communicating in another way.
How should I get a Tinder boy to commit to me?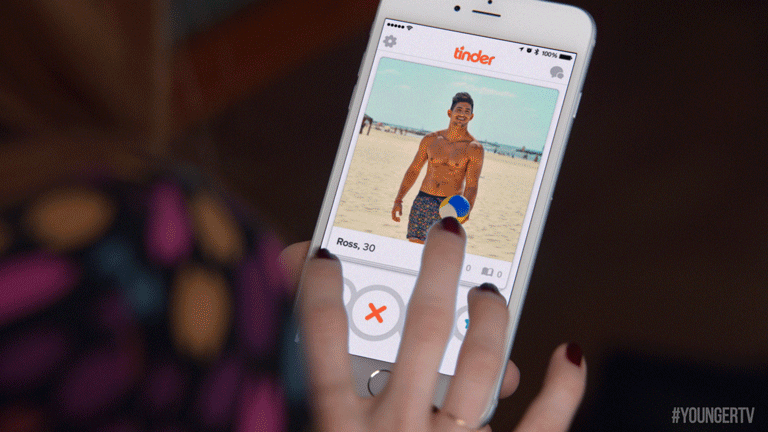 C: The tricky thing about this question is the fact that Tinder has such a reputation as being a hookup app. Plenty of people have formed happy and healthy relationships off of Tinder so I'm not saying it's impossible to commit to someone from the platform, but it's important to recognize if that's what the other party wants. Does their bio specify they're looking for something more? Or does it say that they're here for fun? If they've indicated they want something more, SAY SOMETHING. Just flat out tell them you're looking for something committed and are hoping they can give that to you. If they aren't about it, then okay, at least you've already got Tinder downloaded so you can keep swiping for Mister Right.
A: I'll be honest with you here — I had a Tinder for a couple of weeks, got one series of messages from a creepy guy, and abandoned the app, so I'm not the most experienced with it. That being said, almost everyone I know who uses the app is more interested in hookups than commitment. Make sure your own bio is clear and that you're honest with what you're looking for from the start, and put your foot down — if you found a cute boy who got you to agree to something short or temporary at the beginning, you're going to have a harder time convincing him to commit. Otherwise, though, keep being your honest self, and communicate as clearly as you can.