From a small town to a big city, from the East Coast to the West Coast, and from having my mom cook food for me to making my own food, moving to another place is never easy, especially when it is to attend college. Inevitably, one will miss at least one thing -- if not, more -- about their hometown. Here are a few things I miss about Ithaca, NY from a perspective of not a IC/Cornell student (believe me, Ithaca is different world for townies).
1. The Gorges
It's no wonder those "Ithaca is Gorges" shirts are best-sellers. Ithaca's gorges are indeed gorgeous. There's nothing quite like walking across the gorges, looking down and seeing the rock layers and formations, thinking how these trickling waters were able to cut through the rocks to form this deep crack. Seasons refresh the views of these gorges, beautifying the landscape with colorful orange, yellow, and purple leaves, or dusting the tops of the rocks with powdery and sticky snow.
There are so many of these gorges in this small town, too. While driving for daily errands, I would most likely encounter at least one of these gorges. So much so, that I may have taken them for granted. Looking back now, I miss driving through these deep gorges, seeing frozen waterfalls, or the raging flow of water when all the snow has melted.
I was riding the BART on my way to San Francisco one day, when I spotted someone wearing an "Ithaca is Gorges" shirt on the other end of the subway car. All of a sudden, feels flooded in.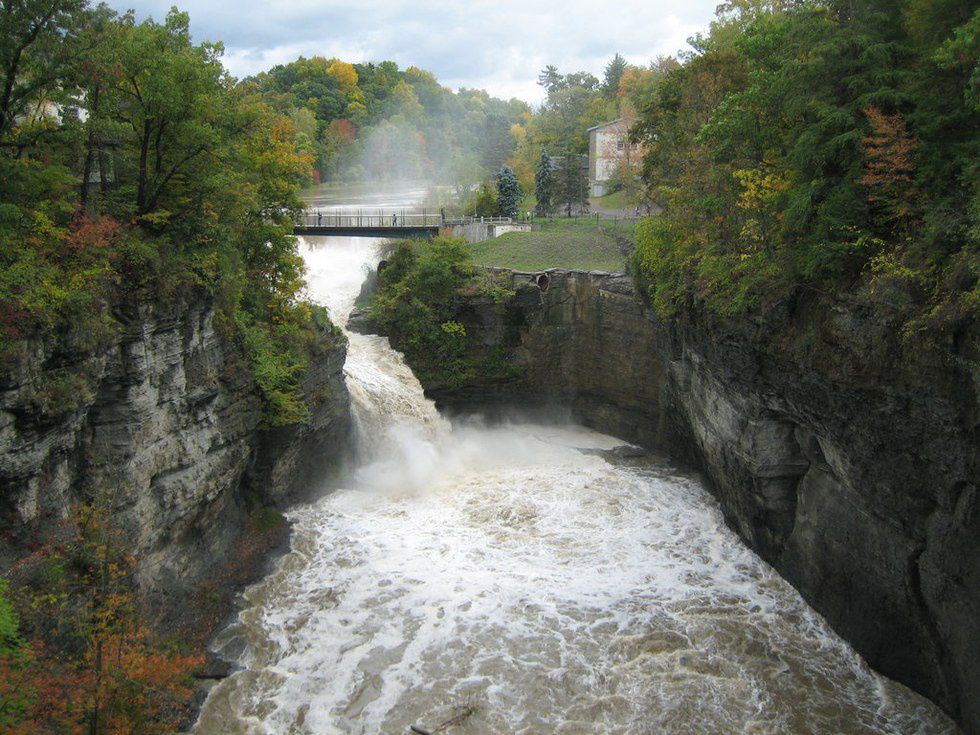 (Students walk to class with this view, and I saw this view on my way to school everyday).
2. The Commons
It is definitely safe to say that The Commons is the heart of Ithaca. This is where it's at -- a perfect melding of a scenic landscape with a rich hippie culture, topped with cute boutiques, unique second-hand stores, and delicious eateries. There's usually bound to be some sort of live entertainment or festival here, year-round. Whether it be the Ithaca Festival, Apple Harvest Festival, Chili Cook-Off, or Oktoberfest, all are great and memorable events, especially when they are experienced with friends and family.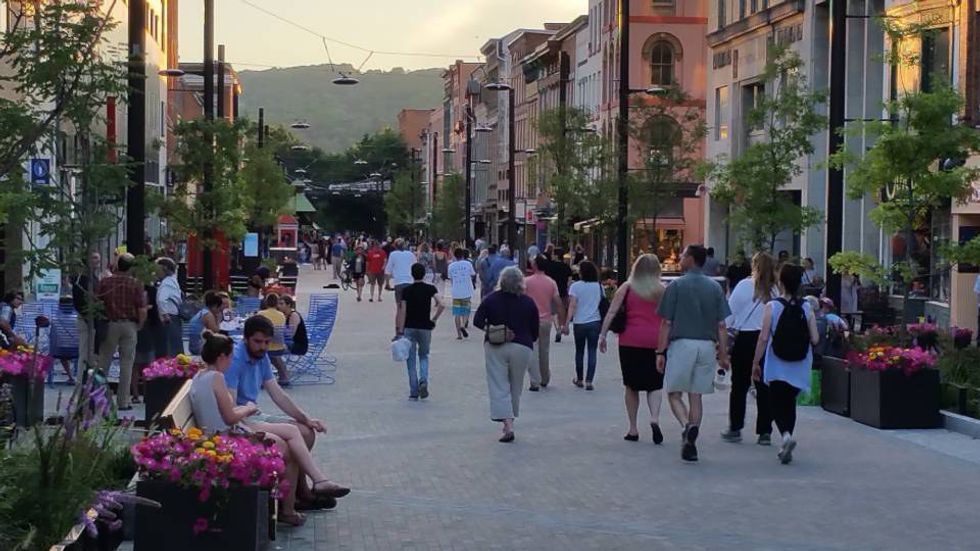 3. Cornell University and Ithaca College Campuses
Ithaca would not be the rich and diverse culture that it is today had it not been for the two campuses. The mere fact that this small town is home to two very good universities is impressive-- it's what makes the town of Ithaca so unique.
The Cornell campus sits atop a significant chunk of very hilly land -- tourists who see the campus for the first time would be surprised by the vastness of the campus, and first-year students whine constantly about hiking up to get to class. Nonetheless, most of the campus buildings have strategically-placed windows that allows its students to see an amazing view of the hills of Upstate New York (also note: Libe Slope). This also allows for a beautiful view of the sunset at dusk. Also, I especially love the two gorges that cross through the campus. For many students, the view to and from class involves crossing a bridge that connects the two sides of Ithaca Falls, and one can easily go to places around the town by hiking along other gorges. Although dangerous, these gorges are particularly breathtaking in the winters.
The Ithaca College campus, on the other hand, is located at South Hill -- which is at another hill and another part of town. Sitting at approximately the same altitude as the Cornell campus, one can see a view of Cornell when driving down to the Commons from the IC campus. Not to mention, every building in this campus yields not only a beautiful view of Ithaca's hills, but also Cayuga Lake. There's a special window in the music building that I like to look through, especially in the fall, as the view of the lake is extremely picturesque.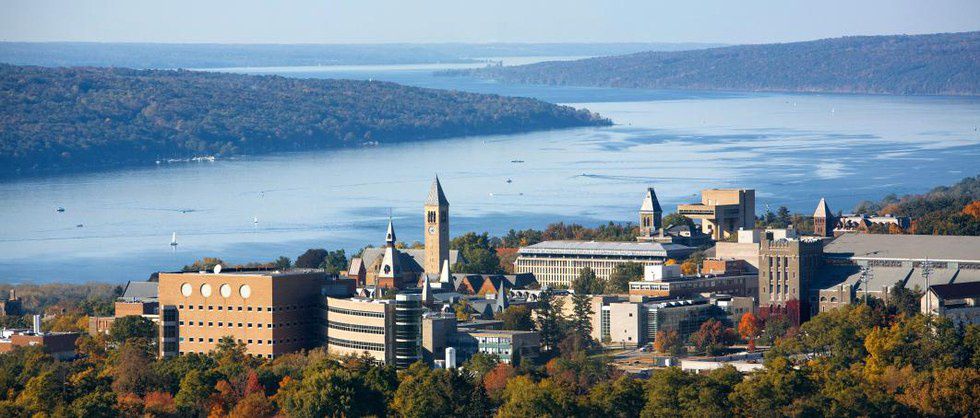 4. Cayuga Lake
As the largest lake in the Finger Lakes, Cayuga Lake is also undoubtedly the prettiest (from my biased point of view). With Ithaca located right on the southern tip of the lake, and surrounded by hills, the town is able to enjoy the beautiful and peaceful view from either their homes, or from Stewart Park. From Cornell University's Herbert F. Johnson Museum of Art, a panoramic view of the lake can be seen. During fall season, the lake's glory is in full effect, especially from the museum's view. If anything, a drive down route 13 yields a glorious view of Cayuga Lake as well -- especially during dusk or dawn.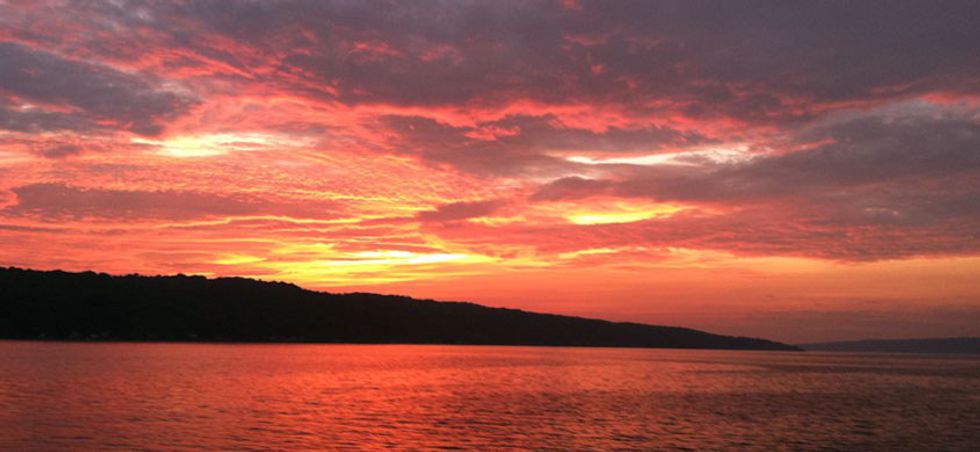 5. Dirt cheap thrift stores (of really good quality)
Of course, there's Plato's Closet and Trader K's. But the stores that I'm talking about are the Rescue Mission and Salvation Army thrift stores along Elmira Rd. Many times, they have antique decor from early nineteenth century and sometimes from the eighteenth too. They have a slew of clothes -- as any thrift store would -- but the prices are extremely cheap.
Thrift-shopping is all about finding treasure and upcycling clothes to find that perfect, individualized style. However, when the price range is sub-$5, with 50% off select clothes everyday and a weekly $0.50 storewide sale, thrift shopping has never been so fun.
6. Snow… and cold weather in general.
Many might disagree about this last point, and I can totally understand that. I used to be one to hate on Ithaca's unpredictably terrible weather. However, if anyone asks me the one thing I miss most about Ithaca, it would have to be the plentiful amounts of snow in the winter. Do note, however, that I hated the cold when I lived in Ithaca. Though, now that I am living in Northern California with rain that sometimes go on all day long and seeing pictures of snow from my friends back in New York, I have come to miss the winters. I missed playing with the falling leaves, seeing my breath in the cold weather, and witnessing frost in the morning -- only to have it melt by noon. I even miss the burden that is wearing winter clothes, shoveling inches (and sometimes feet) of snow, raking leaves, and slipping from ice.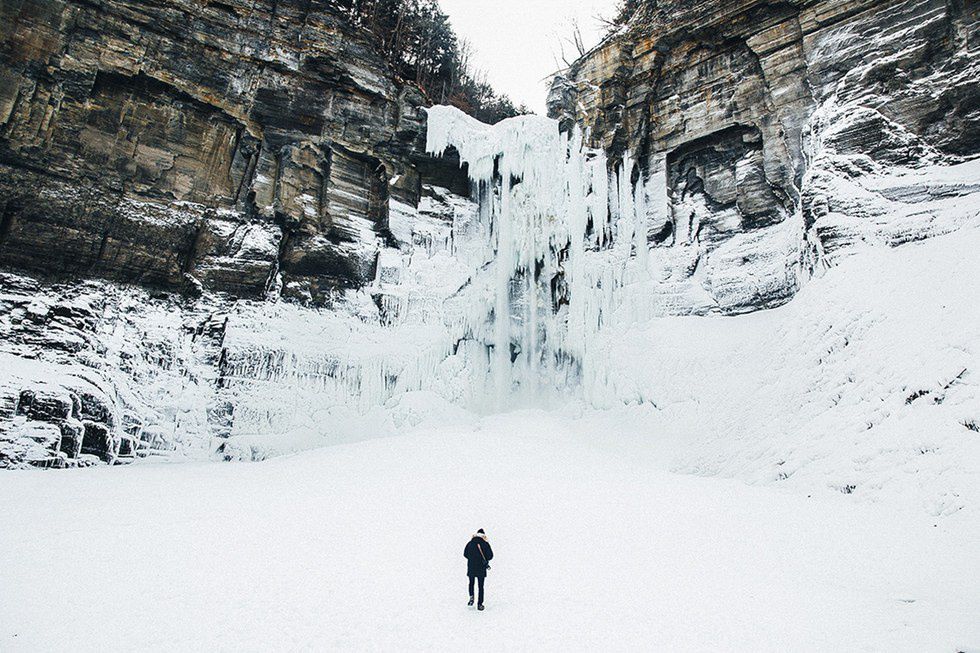 Crazy, I know. There's also one other thing that I miss about Ithaca, and that is the people that I have come to grow up with, who see me grow up, and who have greatly inspired and supported me throughout my years living there. Many I've considered my role models, many I have learned skills from, many I have laughed and created memories with, and many I have considered their life advices. As much as I love the bay area, I miss Ithaca; I really do.