Recently, I got to ask the incredibly talented, multi-instrumentalist/ singer-songwriter, Elise Trouw, some questions regarding her songwriting process, musicianship, and the music business out on the west coast.
First off, what is your name, how old are you and where do you hail from?
My full name is Elise Ashlyn Trouw. I'm seventeen years old and have lived around Southern California my entire life. I was born in Newport Beach, but currently live in San Diego.
Elise, from what I've seen, you can play the drums, the guitar, the bass, and you sing? Do you come from a musical background?
No, I'm the first musician in my family.
When did you first begin playing music and which instrument did you pick up first? Did you receive any lessons?
I started out on classical piano lessons when I was six, after deciding I wanted to be able to play "My Immortal" by Evanescence on piano (which I never actually ended up learning…). After messing around on the video game Rockband when I was ten, I was inspired to play real drums and began formal lessons with Dave Blackburn. I also learned some guitar from him and have also picked up bass since then. As for singing, I only started about 2 years ago after I began songwriting.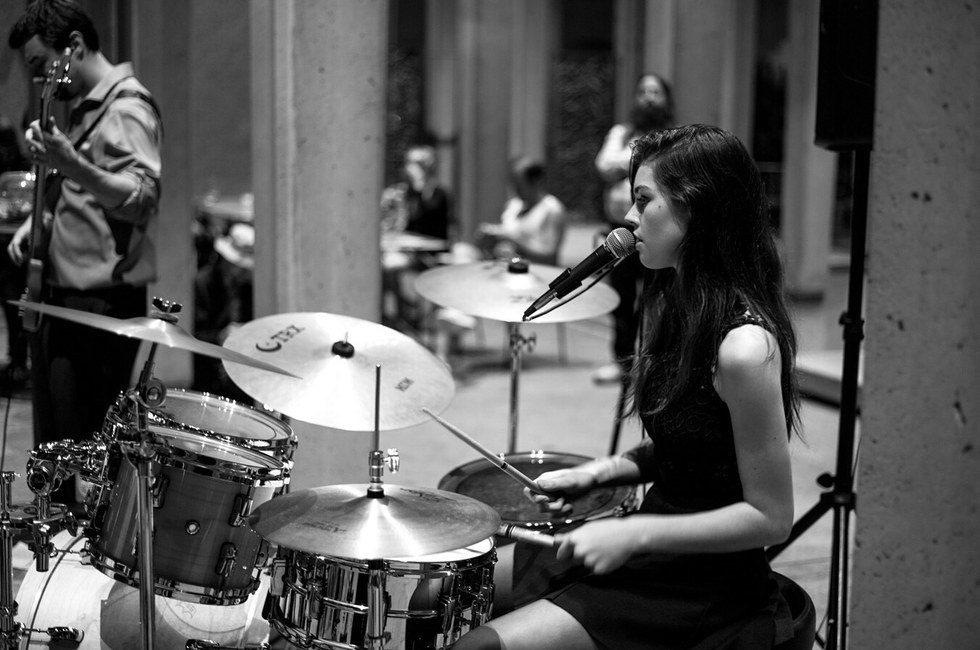 You have a really unique, soothing tone to your voice, were you trained in singing at all? You sound like you've been trained in jazz.
Thank you! I never really planned on being a singer and actually began by taking classical vocal lessons with a singer named Sara Perez. She helped me a lot with my technique, which was beneficial when I ventured into pop singing. I currently take contemporary voice lessons with Jody Bagley.
When you are writing a song, what does your songwriting process look like?
I almost always write my songs on piano, beginning with either a melody or a lyric phrase. Typically, the chorus comes first, because I see that as the song's "thesis", which the verse lyrics all point to.
Your songs are mixed so incredibly well. Who mixes/masters/produces your music?
Almost all of the tracks on my album were mixed and mastered by Alan Sanderson, though my most recent single, "Burn," was mixed and mastered by Christopher Hoffee. On songs like "She Talking" and "Burn," I record and produce the tracks at home, then take them to the studio for mixing. On less electronic songs, I record in the studio with Alan and my producer Gary Hyde.
Is it a collaborative effort between you and the producer?
Yes, my producer is also the cowriter on most of my songs, so a lot of the work we do is a collaborative effort.
You're a full-time musician, but are you/have you been in school for music as well?
I graduated high school a year early to pursue music, so I'm essentially replacing my senior year with a gap year. I have plans to apply for music college for next year, with my top choice being USC.

There is a lot of talent out on the west coast, how do you set yourself apart as an artist?
It's easy to get grouped with other artists, especially being a female singer-songwriter. I think the fact that I play all the instruments on my album adds a new perspective to my music, since most pop music isn't recorded like that.

If you could collaborate with one artist, who would they be?
That's a tough one to answer. I'd probably choose to collaborate with Thom Yorke from Radiohead.
In terms of songwriting, who are some of your biggest influences?
Definitely Sting from The Police.
Why are they your biggest influences?
Sting writes a lot of beautiful verse melodies that perfectly frame his lyrics. The way his songs flow, creating a story, is the tell of an amazing songwriter.
You have an eclectic sound to your original music. Which genre of music would you consider your music?
Most of my music falls under the category of Alternative Pop. By this I mean that the songs are written with pop forms, but the recordings have alternative arrangements.
You've just released your first music video for your single "Burn"! Where was it filmed? What was the experience like?
"Burn" was filmed in South Africa with a production company called The Grand•Kids Collective. It was shot over two long (13-15 hour) days. Everyone involved was a pleasure to work with, and I have plans for future videos with them. You can find behind-the-scenes photos on my Facebook page, along with little stories from the two days shooting.
You've released a few really great singles, do we expect an LP anytime soon?
Thank you and yes, all four of my singles are part of my debut album, which will be released before the end of the year. The style of each single is quite different from the last, which reflects the sound of the album as a whole. There are about eleven songs on the album, and it'd be hard to classify them all under on genre.
Are you currently involved in any other musical projects?
I have been a part of a couple of other projects as a songwriter and vocalist, and a few as a session drummer. However, my main focus is on my album right now.
What are your top five favorite albums?
Reggatta de Blanc (The Police), In Rainbows (Radiohead), The Dark Side of the Moon (Pink Floyd), Aja (Steely Dan), and Sylva (Snarky Puppy)
Where do you see yourself as a musician in ten years?
Songwriting will always continue to be a part of my life. I'm interested in collaborating with other artists, songwriters and producers as I continue with my own projects. Other than that, I will always be a drummer at heart and I will go where music takes me.
What is one tip you'd give to other aspiring songwriters out there?
Collaborate. After a while I sometimes find myself starting to write songs the same way repeatedly, which can lose its excitement. Just writing one song with another person can show you a whole different approach that will bring a new perspective to your creativity.
Many thanks to the super talented Elise Trouw. Please check out her music and pick up her singles on Itunes!
Watch her debut MV, "Burn" here:
You can also follow her here:
https://soundcloud.com/elisetrouw

https://www.instagram.com/elisetrouw/

https://www.youtube.com/user/drummergirl11010

https://www.facebook.com/elisetrouwmusic/