-In need of more re-useable face masks, my parents (who are avid runners), discovered one of their favorite athletic wear companies was now making face masks.

-Deciding that I would need several re-useable face masks for my return to campus, my parents decided to order me a few of the very stylish, 3-layer face masks.
-These masks are protective, easy to wash, and have definitely earned me a few compliments on my style!
As the pandemic progressed, it was apparent that my family would all need face masks sturdier than the makeshift ones we made from an old t-shirt. I try to be environmentally conscious, so it was important to me that I was not using disposable masks. (Additionally, I have sensitive skin, so fabric against the face is a bit gentler than the course paper used in standard disposable masks).
Both my parents are avid runners, and have purchased vibrant athletic-wear from INKnBURN---a company that makes comfortable and unique clothes for exercise. One day, they discovered INKnBURN was selling face masks---in many patterns that were far more exciting than the ones being sold in retail stores. Though they are a bit on the pricey side, these masks have held up through my day-to-day usage and have had no issues in the washing machine. The soft interior-lining has been kind to my skin (which is subject to breakout).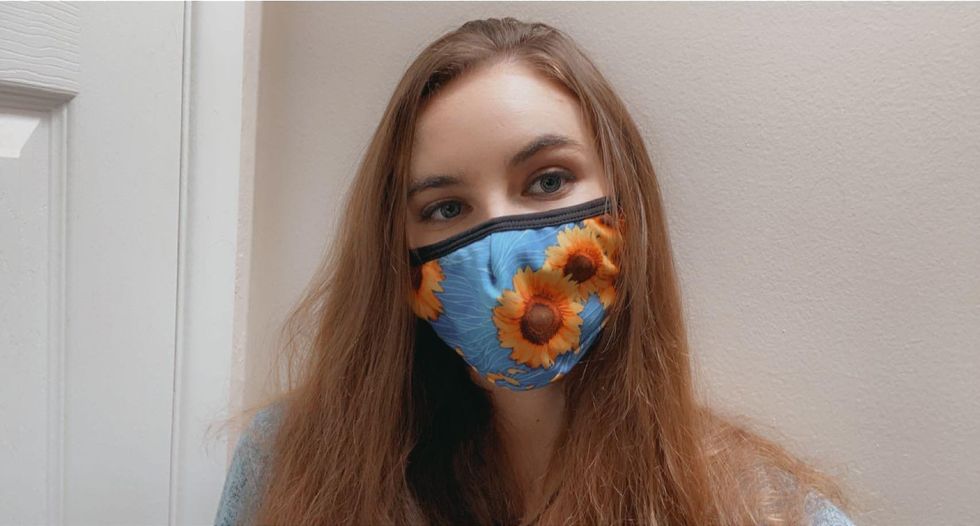 Here I am modeling the sunflower-print face mask!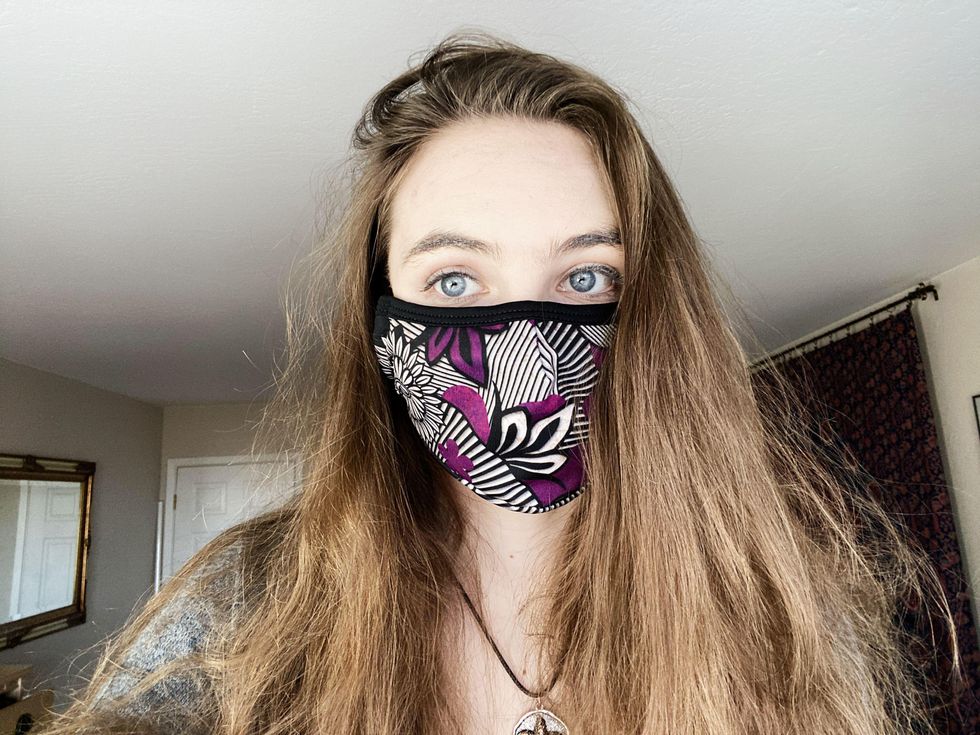 Excuse the messy hair, but here is another one of INKnBURN's masks!
I've found that face masks are surprisingly hard to find the right fit. So far, I haven't had any issues with the way INKnBURN's masks fit. My mom and my dad are both able to wear these masks as well---despite our differences in face shape and size! The straps are comfortable, and I hardly notice them around my ears. The 3-layered fabric feels snug---though it isn't any more difficult to breathe in than another mask. I've observed people with other cloth masks who have had difficulty keeping the mask over their nose. INKnBURN's masks stay in place---limiting the amount of times I have to touch the exterior of the mask. When I wear these masks, I know I am doing my part to limit the spread of COVID-19.
The outside of the mask feels smooth---similar to the texture of your typical workout clothes. As I said earlier, the interior is soft and has not irritated my sensitive skin. (Like any re-useable mask, you should wash your mask after each use). If you know anything about washers/driers in dorms, you know those machines are not always the kindest to clothes. Despite this, I have had no issue washing/drying my masks in machine washer/driers.
INKnBURN has dozens of original patterns and colors you can choose from. Additionally, they release new patterns each week! So, if you're looking to enhance your pandemic look, INKnBURN has plenty of options for you.
I genuinely have no complaints about this mask. Even after coating the inside of a few of my masks in make-up, I've found the stains easily washed out. Though it's a bit more expensive than masks you could find at Target or Walmart, I'd say the price is definitely worth it if you want a mask that is fun, protective, and durable.
If you're feeling guilty about how many disposable masks you've chucked into the trash---or you feel that your cheaply purchased or homemade mask is too thin to prevent particles from being spread, take a look at INKnBURN's masks. They have many patterns---ranging in complex designs to more simplistic styles. The extra money is worth it, because these masks will survive beyond your pandemic days, and might get you a few compliments (from six-feet away of course).
Buy INKnBURN's face masks on INKnBURN's website for $25.