I have two tattoos. One on each arm.
If you didn't know, it's probably because I do not go sleeveless all that often, because, really, that is a lot of pale for public to handle. Anyways, I know the stigma and everything associated with tattoos. I thought both of them through, quite a lot. Also, I'm damn proud of sitting for them to get them done.
Let me explain.
For longer than I'd like to admit, I've struggled with depression and anxiety. During junior high and high school, I went through a rebuilding process to become the person I am today, after completely losing myself. Since the battle with my demons is internal, it is often hard to remember and conceptualize the victories I have achieved in my life, regardless of it being small or huge. More often than not, I tried to rely on others instead of myself, thinking that they were the root of my happiness. That's why, when I heard the quote "be your own anchor", it resonated with me. It is up to me to fix it, so damn it I will fix it. I also wanted a symbol to go with it. Picking an anchor would have been too simple. I like to go deeper than that. So, I looked in to Celtic symbols, ending up choosing the Celtic symbol of strength, also known as the triskelion. It is one of those things that has many different interpretations for the meaning of each of the three legs. For me, it means love, loss, and rebirth. My "rebirth" was only able to happen because I realized I have to be my own anchor. You can see this tattoo in the cover photo.
If you know me, you know I love the singer Halsey, who happens to be very open about her struggles with bipolar disorder. From the very first time that I heard her song "Control," the lyric "I'm meaner than my demons" held a particular resonance with me. All though it may have been out of a partial OCD moment, wanting to balance my body with one tattoo on each side, I decided that I wanted my second tattoo to involve that lyric. I really liked the construct of my first tattoo, the words surrounding the symbol, and wanted that to be the design on my next tattoo. So, I went on the hunt for another symbol, particularly one of protection, because, hey, if some external symbol could help me internally, I would take it. Anyways, I stumbled across Odin's shield, which is universally a symbol of protection. It is a symbol that has also carried over to Celtic symbology. The picture is right below this paragraph.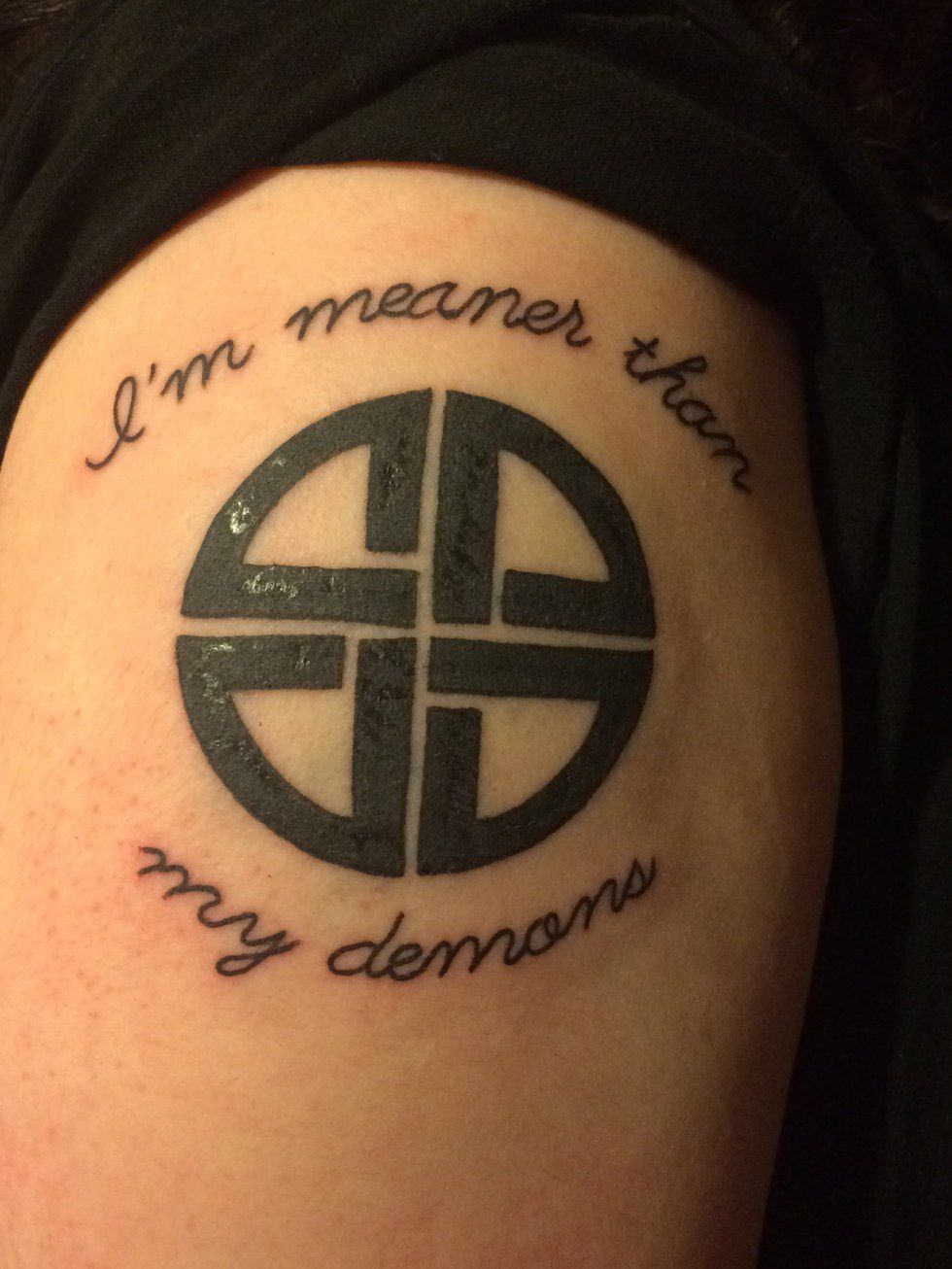 Yes, I thought both through very thoroughly. I made sure to put them in places that are easily covered because of how picky certain employers can be about visible tattoos. The reason most people don't know I have them is because I wear t-shirts, or work blouses that cover my upper arms. If I want to show them, I can easily do so. If I want to cover them, I can easily do so. Also, the subject matter is something that will be an unfortunately large part of my life, as mental illness is tricky, and can rear it's ugly head whenever it wants to.
Let's get one thing straight (aside from the fact that I am not). I HATE NEEDLES. I have to hold my mom's hand getting a shot or getting blood drawn. Even though the sensation is completely different, there is still an element of fear. Also, it is a discomfort that becomes a pain, as the artist keeps working raw skin with something sharp and pointy. Both of my tattoos took about an hour to complete. Even though that is not too much time, both left me with a sense of empowerment. This pain I was able to endure, and I wanted to, almost as if saying to my demons, "haha now I really won you little buggers. I'm doing this WITH NEEDLES to prove that I will always be stronger than what you lead me to believe. This pain is making that reminder visible and permanent. F you demons, I win." Knowing me, my internal monologue did go something like that. Even though it's different to have two big(ish) tattoos, it does not matter. I am inked, it is permanent, and damn, I am proud of them.