I am a woman. I am liberal. But no, I do not support Hillary Clinton. Because my personal belief is that Hillary Clinton is not qualified to be president and is not the woman I see as an accurate representation of women.
I'm not talking about Benghazi and the email scandal. I'm talking about Clinton's treatment of women in the present and the past. It's one thing to say you're pro-woman; it's another to act like it.
March 20, 2015, Senator Rand Paul called Clinton out on some anti-woman actions in her campaign. The tweet read: "Unacceptable. RETWEET if you agree Hillary Clinton must return the money she took from countries that oppress woman." It was accompanied by this picture: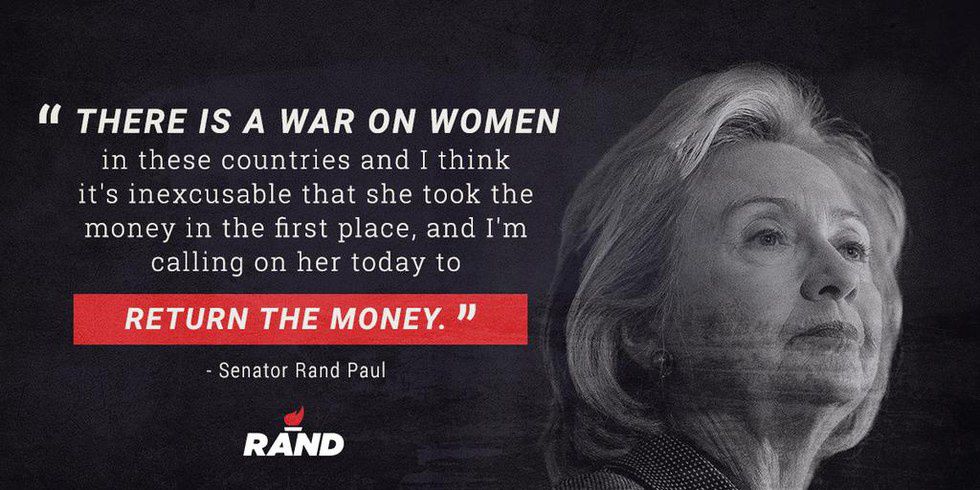 Some countries the Clinton campaign has accepted money from include Saudi Arabia and Brunei, according to the Senator.
Hillary Clinton also has a long past of anti-woman actions and beliefs. The common response to this criticism is that she's "evolved", whatever that means. She "evolved" because she is a Democratic politician. Her views on feminism and other social issues has changed by the decade. That's fine. I'm happy she "evolved" as a liberal. But there are other candidates on this ballot who didn't have to "evolve" their beliefs. There is a candidate who has spoken up for woman his entire career.
But how exactly has Clinton been anti-woman in the past? I'd like to direct us to an article by The Daily Beast who interviewed a rape victim who said, "Hillary Clinton took me through Hell."
The 1975 case was Clinton's first criminal defense case. Clinton was not on the side of the 12-year-old rape victim, either. What's the worst part about the case?
The article quotes Clinton saying in a recording, "He took a lie detector test. I had him take a polygraph, which he passed, which forever destroyed my faith in polygraphs."
The article comments on this saying, "For the victim, the tapes prove that while Clinton was arguing in the affidavit that the victim could have some culpability in her own attack, she actually believed that her client was guilty."
Now, I understand, as an aspiring lawyer, that your job is to defend your client. But also as an aspiring lawyer, I realize you do have a choice in which cases you take on. You still have a right to your integrity.
And we're all aware of President Clinton's sexual scandals while he was in the White House, but I'm not concerned with what President Clinton did in his private life. I'm concerned with Hillary Clinton's reactions against the women who her husband had affairs with and were sexually harassed.
Monica Lewinsky was a "narcissistic loony toon". Gennifer Flowers was "trailer trash".
Kathleen Wiley, who was also targeted by Hillary Clinton after claiming to have been sexually assaulted by President Clinton, said:
"She is the war on women, as far as I'm concerned, because with every woman that she's found out about—and she made it a point to find out who every woman had been that's crossed his path over the years—she's orchestrated a terror campaign against every one of these women, including me."

I find all of this highly ironic considering she's running on a feminist campaign and says victims "have a right to be believed", even though she has a history of not believing sexual assault victims herself. But that raises another point.
Hillary's campaign is based around the fact that she's a woman. Even one of her campaign slogans is "I'm with her."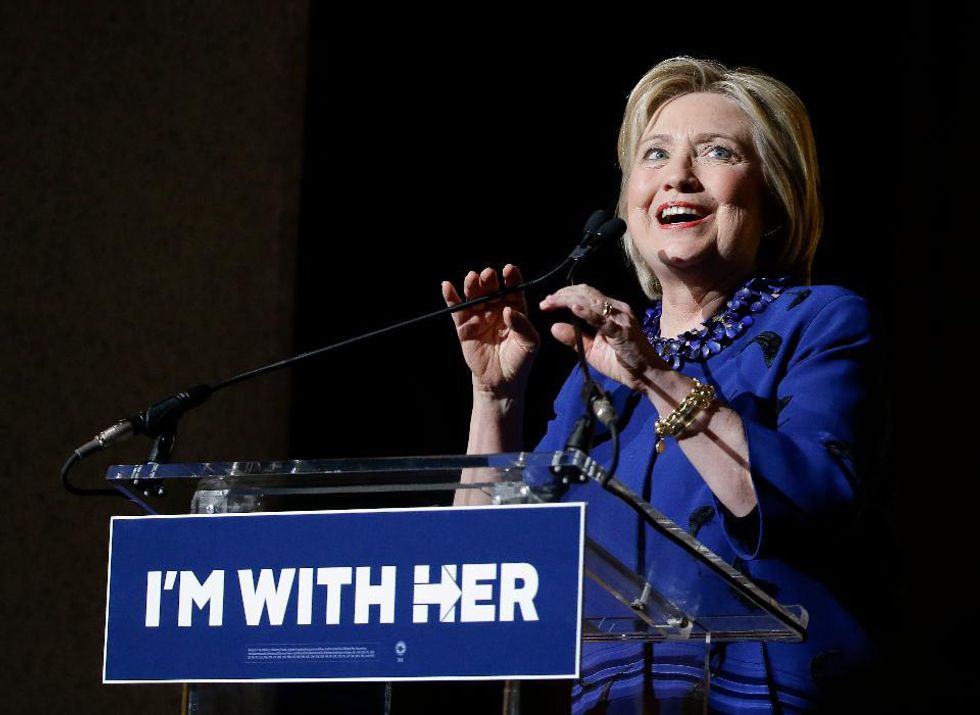 And this is what gets me the most. I don't care that you're a woman, Hillary. I am a woman myself, but that doesn't mean I am qualified to be president. Other young women aren't buying it either.
NPR interviewed women of all ages about their opinions on Clinton.
One woman interviewed was Stephanie Hundley, who I couldn't agree with more. She said, "I don't think she's the woman to be representative of women." Instead, Hundley is a Sanders supporter and she states, "It's weird that an old, white guy would represent women better than an actual woman."
Hillary Clinton is not who I want to be the first woman president because as a woman, she isn't qualified. Money is more important to her than women's rights, and yet she focuses her campaign on the fact that she is a woman.
I don't doubt that there will be a woman president in my lifetime, and I will vote for her when that time comes. But Hillary Clinton is not that woman.