Pumpkin carving is a fall tradition that has been around for generations; it brings families and friends closer together to celebrate the spooky holiday of Halloween.
The Wunderlich family has carved their own Jack-O-Lanterns every year before Halloween and have developed some techniques to create pumpkins that can scare the socks off of any neighborhood trick-or-treater.
"Carving pumpkins is a special tradition that I look forward to every year. My favorite things are carving out the face and scooping out all the pumpkin guts," said Ellie Wunderlich.
The original pumpkin, the Jack-O-Lantern, first came about in 19th century Britain when Christians celebrated All Hallows' Eve on October 31st, the evening before All Saints' Day.
It is said that the origin of the term 'Jack-O-Lantern' comes from a flame-like phosphorescence, also known as the 'will-o'-the-wisp'. They could be seen rising up from dark, decaying plants in marshy areas and resembled a flame.
Back then, soldiers often carried torches and were nicknamed a 'Jack' so unfamiliar soldiers could call out to them for light. So, when people spotted a soft, flickering flame in a dark, ghoulish swamp that had a figure of a soldier holding it, they called it a Jack-O-Lantern.
How to Carve
To start out, gather supplies: a large pumpkin, a sharp knife, washable markers, a big spoon, a bowl, and a candle.
For the Wunderlich family, "traditional carving is best. Hollowing out the pumpkin, scooping out the seeds, and cutting holes for the eyes and mouth is the best way to carve a pumpkin," said Kathleen Wunderlich.
To begin, start by washing off the pumpkin and using a large, sharp knife to cut a circle around the stem. Once the top is pulled off, take a large spoon and scoop out the pumpkin's guts into a bowl and scrape the sides clean.
If set aside for later, pumpkin seeds are a great snack if baked in the oven with some salt!
Next, sketch out a design on the front face of the pumpkin with a washable marker and begin carving. Here is where creativity can flow to create the spookiest, scariest, super cute or most devilish Jack-O-Lantern.
Finally, pop out the mouth, eyes, and nose and clean all the excess marker off with a wet paper towel. All that is left is to add a candle, turn off the lights, and reveal the pumpkin's new horrifying Halloween face!
How to Care For
In order to preserve a cut-up Jack-O-Lantern and have it last until Halloween, there are some natural and chemical processes that can halt rotting.
Of course, the basics are to pick a good, strong pumpkin that will last and clean out all the dirt from the skin of the pumpkin.
To naturally preserve it, make sure to scoop out all the pumpkin's guts, as this part of the pumpkin accelerates the rotting process, and to wash it with peppermint dish-soap. Peppermint is antifungal and will slow the decomposition process, preserving the pumpkin's skin.
Another way is to chemically treat the pumpkin by coating the inside with a bleach solution. This will kill any bacteria lingering on its surface and prevent mold growth. Make sure to rinse off the pumpkin with cold water after letting the bleach sit for 20 minutes.
Either of these solutions will preserve a Jack-O-Lanterns spooky face and leave it looking fresh all the way until Halloween night, ready to scare some trick-or-treaters.
Carving fall pumpkins during October is a tradition that has been passed down for generations and will always highlight Halloween celebration.
"Carving a Jack-O-Lantern is a tradition in my family. I enjoy and look forward to it because I get to spend time with my family and make something spooky," said Ellie Wunderlich.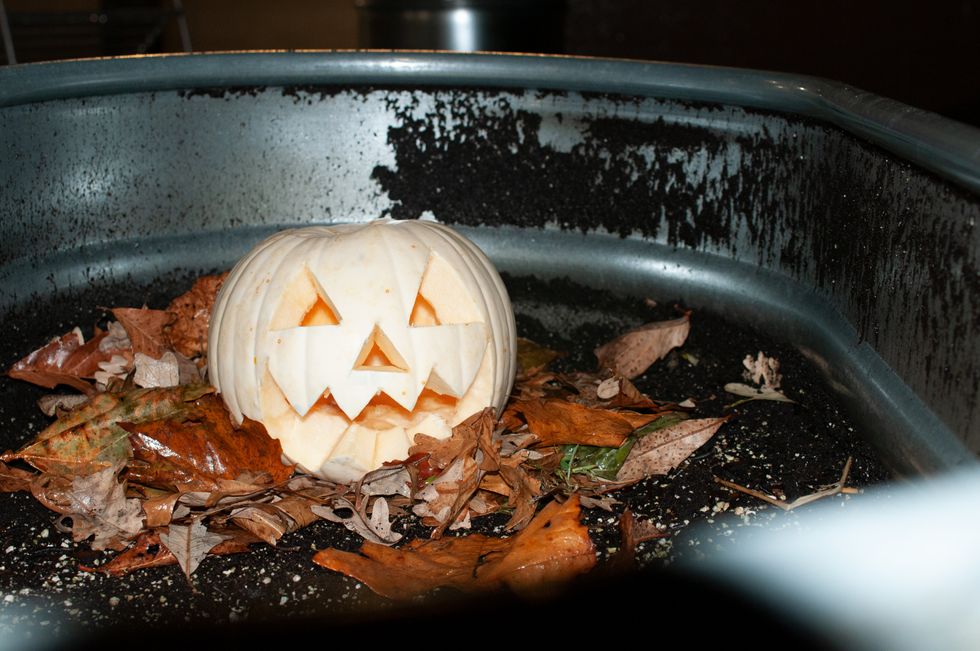 @ErinWunderlich