Going to a big school can definitely be intimidating before you start!
Going from high school to college is a big transition and nothing can really prepare you for it, it just takes some time to get used to. People always ask me how I even get to know anybody in "such a big school" - well, that's the point. There are SO many people out there to meet, you just have to go out and meet them! But you have to narrow down the playing field before you start. These are some ways you can make big universities feel a little big smaller.
---
1. Join a club.
Joining a club that has anything to do with your major or hobbies will help you connect to people that have the same interest as you! You will be meeting the same kind of people as you while you work on projects together!
2. Live in the dorms.
Living in the dorms is a great way to meet people going through the same thing as you! Freshman year you will be living with other freshman who are also eager to meet lots and lots of new people! Keep your door open, people will walk by and say hi all the time!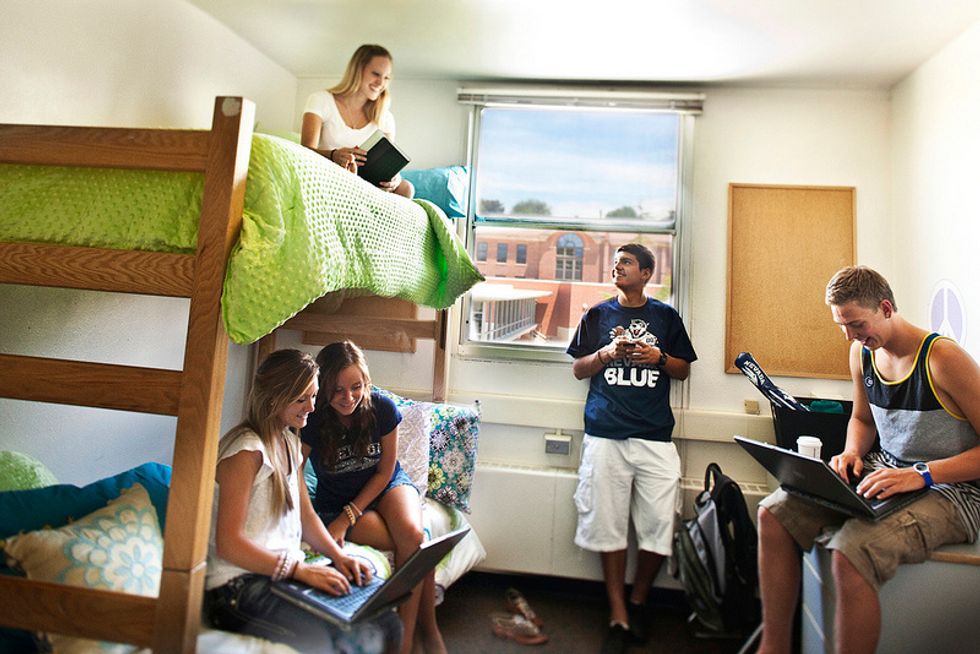 3. Remember who you are and where you came from.
Remember what you like to do and why you like to do it! Joining a club for the wrong reasons or joining an intramural to where you don't like the sport anymore isn't beneficiary for you. Do activities because you like to do them not because everyone else likes to.
4. Enroll in some smaller classes.
Smaller classes give you the push to talk to students in your class you might not have met in a large lecture hall. In a large lecture hall you listen to the teacher and take notes, without much discussion or interaction with the other students. In smaller classes you get to discuss the class topics with one another, while getting to know everybody else on a first name basis!
5. Get a campus job.
Getting a job on campus will automatically set you up with people on campus right away! You will be working with them and will be another friendly face to say hello to on your way to class! This will even set you up for some potential very good friends.
6. Join a sorority or fraternity.
Getting into Greek life automatically introduces you to a ton of new opportunities. By joining you are a part of a pledge class and get to know a lot of the older members very well during chapters and hang outs at the house. Getting to know your pledge class gives you more people to become even closer to and you will be spending a ton of time together!
7. Study in the study rooms and library.
Study in areas other students will be studying. It will give you the opportunity to say hi to familiar faces from your residence building, but haven't met yet. Once you have said hi to a few people that study in the same spot as you, you can begin to work on projects together, study for tests or go eat at the dining centers together!
8. Go out of the way to meet students in your class.
Go out of your way to say hi to people in your classes. These are people you will be seeing almost everyday and if they are in your major, possibly for the next four years. It is a nice perk to classes when you can sit by a friendly face who you can study with and have an automatic partner for group work!
9. Don't bring your hometown friends with you.
Your hometown friends are great and you will still see them and keep in touch, but try to expand your horizons and make some new friends! Especially in the beginning where it may be temping to hang out with your old friends, this is the time everyone is creating the relationships they will have all throughout college with the people in their classes, clubs and dorms! So even though your high school friends are awesome and you miss them, make some times for new opportunities in front of you!