So here's a funny story... NOT
A few weeks ago I received an email on my student email from what I thought was a potential employer. This employer said that she had found my resume on my schools career website which I had been using recently to apply for jobs and internships. This woman was named Larissa McClain and she said she worked for a company called Reality Based Group and that they hired mystery shoppers to perform performance evaluations on a variety of different shops and restaurants. Little did I know that this woman was impersonating a legitimate company and would eventually scam me out of $1,610.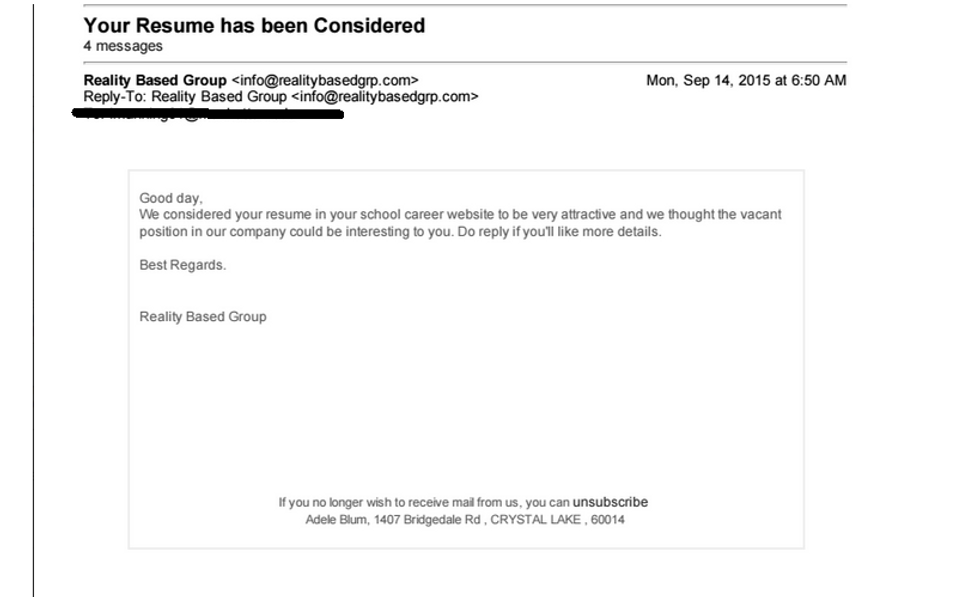 After speaking with her through several emails about the job position and what all I would be doing she asked for my mailing information to send me my first assignment, I gave her my school mailbox number and the next day I received a package. In this overnighted FedEx package there was a check for $1,860. I was totally freaking out. That's a ton of money to send to some college kid, but I was being naive and thought, "This is just standard business procedure for this company, I guess."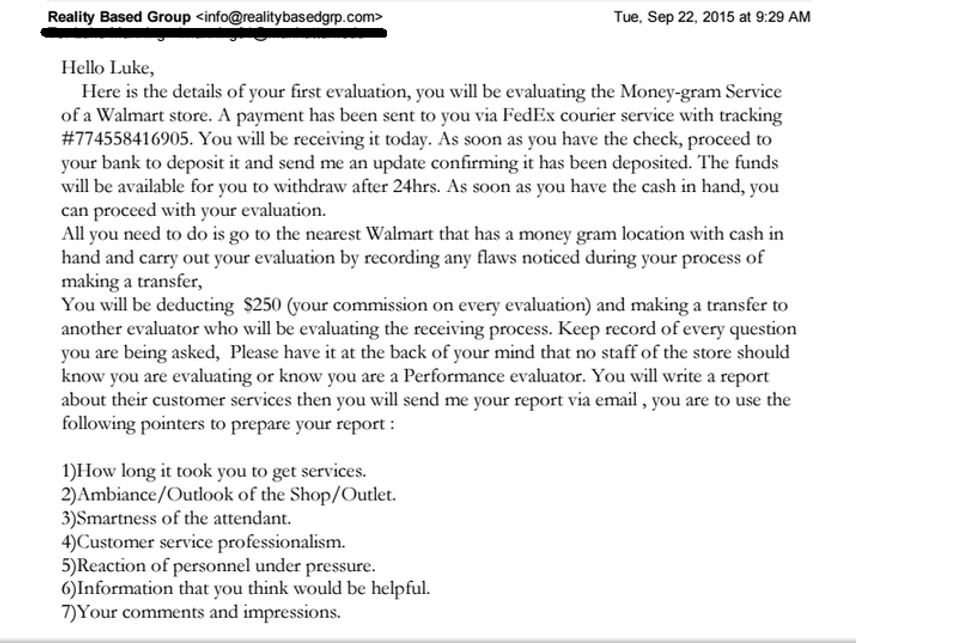 The woman told me that I would be reviewing the performance of Walmarts Moneygram service. Being familiar with the service I didn't see anything sketchy about what she was asking me to do and I had never heard of a Moneygram or Western Union scam (it may shock some people but I don't spend my day looking up different kind of scams on the internet). The woman told me to take a $250 commission for my first evaluation and she sent me a review form to fill out with various questions about the Moneygram process. The woman told me to cash the $1,860 check and then to take the money, minus my commission, and send the rest via Moneygram to someone who would then review the receiving process. I deposited the check into my Bank of America account the next day and was able to withdraw the funds in full the day after that.

The whole process took like two or three hours to do not including the time I had to wait for the check to clear. At the time I didn't think the $250 seemed like such a crazy amount of money to earn once or twice a month for going somewhere and filling out a detailed report form, I had no idea that real mystery shoppers make around $10 to $20 per review and not $250. After sending in the report form "Larissa" told me I had done a great job and she would be in contact with me soon to do another evaluation.

A few days Later, she contacted me and told me I would be performing the same evaluation and she sent me another check, this time for $2,160. I became a little more concerned so instead of looking into the company she was impersonating I looked into her name. At first I didn't find anything but after digging through several pages of Google I came across a mystery shopping form where a college student posted the same situation as mine. The people on the form informed him that this was indeed a Moneygram scam and not to get involved, even the company who the woman was impersonating posted on the form and said that they had no involvement with this "Larissa McClain." I began to post on the form and told them my story, the people on the form told me that the check would eventually be bounced as they assured me it was a fake check. Luckily, I didn't send the other check.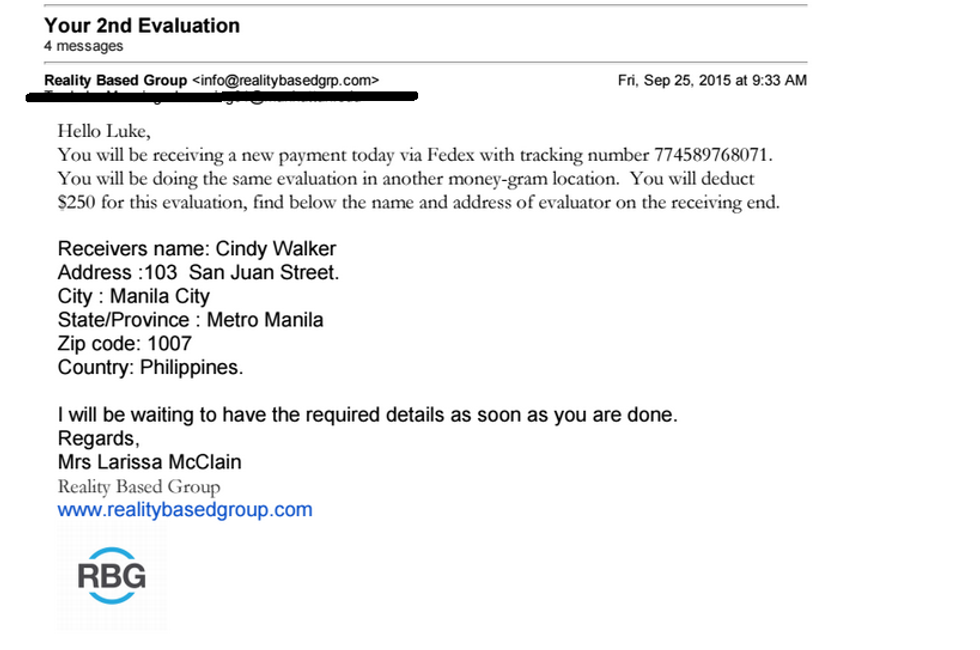 A few days later, I looked at my bank account, and Bank of America had debited my account for the amount of the first check and had taken everything I had out of my bank account. The next thing I knew I was unable to even look at my bank account so I called BofA and they informed me that they had closed my account due to the fact that I had deposited a fake check. I started to freak out and tried to explain to them what happened but they didn't care they said that I now owed them money. I went to my local police department and filed a police report for grand larceny and I also filed a report with the FBI's division of internet scams known as the IC3.

I informed my college that I believe that this person did in fact find my information through my school and my school sent out an alert to all of my fellow peers to let them know what was going on. The issue is that I have no doubt in my mind that this scammer did indeed find my information through my schools career website but the question is how? Did they hack into our system? Did they just guess what my email was? Are they going to try and get someone else? It seems to me that these are all questions that need some attention and I'm trying my best to help alert anyone I can to steer clear of any scams like this, which is why I'm writing this article.

Bank of America now says I owe them a total of $1,427.39 since they took everything out of my bank account. They have also listed me in the CHEX System (a system used to check the credentials of anyone who is trying to open up a bank account) as a fraudulent client and I am unable to open a checking or savings account with any bank anywhere for 5+ years. Until I pay this amount off I will be listed in their system as a fraudulent client, I am trying to appeal this with the CHEX System by sending them copies of my police and IC3 report but it may take several months for this process to get completed.

I hope you've found some of this information useful and if you're about to get involved in some sort of scam like this DON'T DO IT!!! If you take pity on my soul and want to help me out I've set up a GoFundMe that you can help my cause out by donating to, I'm hoping to pay back the bank within the next month or two but being a college student that's only working one on campus job is proving to be a little more difficult to make up the funds quickly enough to pay back the bank... Maybe I should pick up a bar-tending job somewhere?
In all seriousness though this has really affected me and my family and I and I am doing whatever I can at this point to get this situation sorted out. I'm trying not to involve my family members too much seeing as it is me that screwed up and not them but I hope everyone can see why I feel for this scam and understand that I was the victim and not the crook.
If you wanna donate to my GoFundMe here is the link: https://www.gofundme.com/ys5zw2ac
Thanks again for reading and remember this old saying: "If it seems too good to be true, it probably is."