As a Creator, it's easy to think that you write for yourself. You probably were attracted to Odyssey in the first place because you found it cathartic to write about a recent breakup or share your experience as a college athlete — you liked having an outlet to share your thoughts.
That's one of the reasons Odyssey exists. We want thinkers, innovators and leaders like you to be able to share their thoughts to an audience who cares. But something to consider if you want to grow and develop as a Creator on Odyssey is who will be reading what you write — that's your audience.
To be a successful Creator who generates engagement, racks up readers and crushes it, it's important to think about who your audience really is.
An audience can differ Creator to Creator and there are two major things to consider as you're trying to figure out what exactly your audience is.
For starters, think about who really reads your articles. Who is in your network? Is it…
Greek life from your school?
Your family?
Your teammates?
People who have lived in or gone to school at a certain place
People who have shared a certain experience with you?
Really think about who might see your article on their newsfeed. Does your content fit into that demographic? Are there certain hyperlocal references or topics to tap into them? If you can create a few consistent posts that really lean into this audience, you may be able to build up a loyal readership ––AKA people who will always read your articles even if they don't exactly pertain to them.
Here's a graphic that breaks the process down.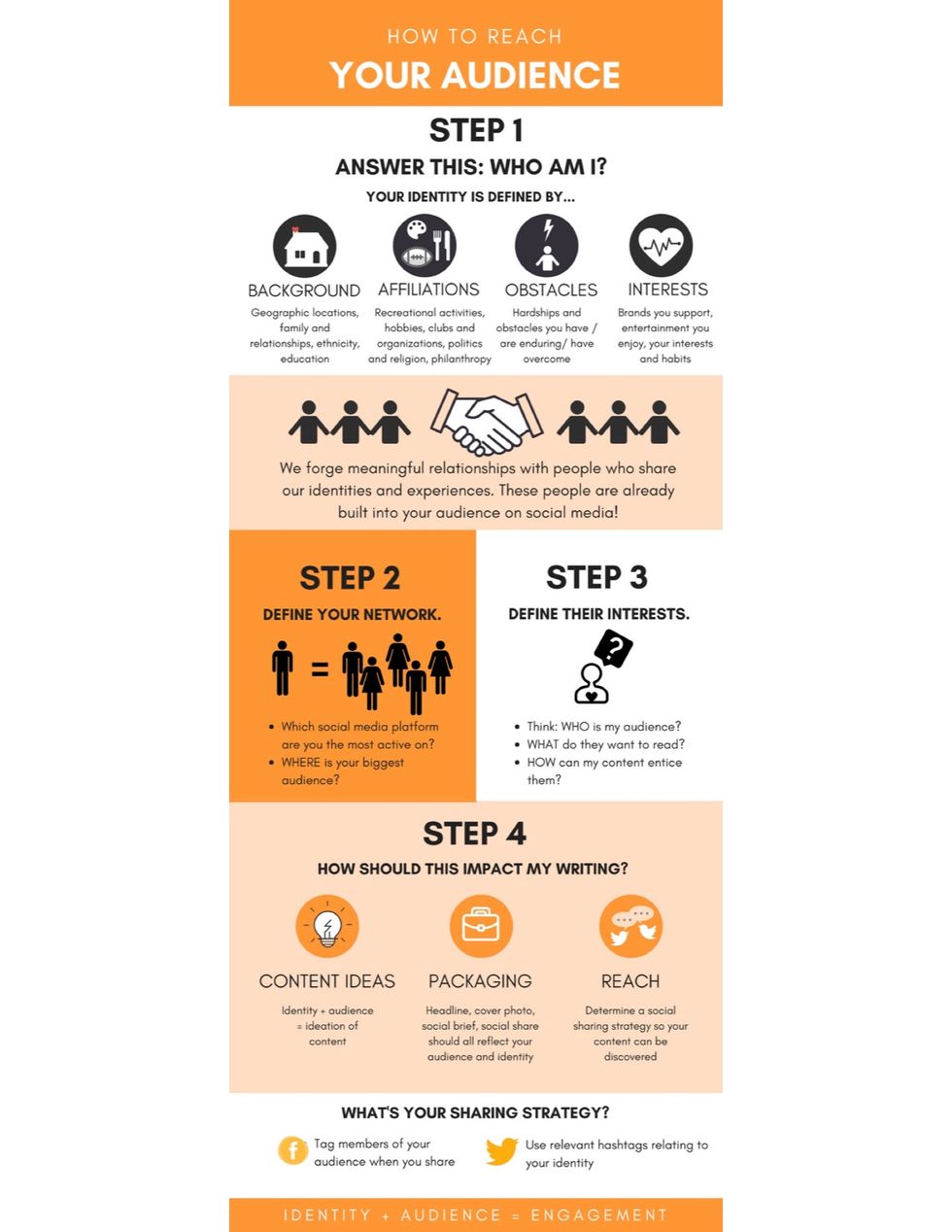 Second, when you're writing a piece of content, identify if there's a specific audience that you're trying to reach.
For example, if you're writing "13 Signs You're A Goldendoodle Owner" you're really writing an article that will only be relatable for Goldendoodle owners (or maybe, at most, aspiring Goldendoodle owners). Here are some great examples of Creators who figured out how to reach their specific audiences with super relatable content. These people get it.

Where can you find these specific people? Interest-based Facebook groups are a good start to really lean in and find a specific audience. You can find thousands of highly specific Facebook groups roaming the platform. Utilize them. When your post goes up on your Facebook or Twitter page, tag anybody you're connected with who owns a Goldendoodle to make sure they engage with the article right away.
This all brings us back to our original question — who are you really writing for?
Yourself?
Or the audience that will bring you the engagement and experience you want?