Humans of New York founder Brandon Stanton takes a trip overseas every year to feature other countries the same way he does New York. It began two years ago when he took a trip to Iran, which is where he will be ending this year's venture as well. But before he left for Iran this year, he spent time in Pakistan, and came across one of the world's most important activists: Syeda Ghulam Fatima, better known as Pakistan's Harriet Tubman.
In Pakistan, the most common and cheapest building material is brick, and because of that, there are 20,000 brick kilns across the country. The laborers in these kilns are illiterate and impoverished workers who, under contract with the kiln owners, work tirelessly making bricks in order to pay off a small loan borrowed from the owners. The laborers are originally only contracted to work for a period of time; however, when that time is up, the laborers find out that their debt has grown, and must now work longer. As their debt grows, the laborers end up working for the rest of their lives, and once they die, their debt gets passed down onto their children. This illegal practice is called bonded labor, and is one of the last remaining forms of slavery.
These kiln owners are some of the most powerful people in the country, with the ability to put their family and friends in the legislature, and intimidate and bribe police to keep them from saving these laborers from the cruel and relentless acts of violence that the owners carry out. Fatima has spent most of her life working tirelessly to relieve these laborers and fight for their rights in the country. She has been electrocuted, shot, and repeatedly beaten for her revolutionary acts, and Brandon Stanton wanted to bring her into the world-wide spotlight.
Her admirers do their best to thank her when they can. At a time when Fatima and her brother were shot, the local hospitals were told not to help her, so in order to get treatment at a private hospital, she had to sell her house. Various laborers lined up with the small amount of rupees that they had, only five to 10 per person, and gave them to her, as well as all donated blood to help.
Stanton didn't think this was enough. Knowing that everything Fatima did was out of her own funds, he started a fundraiser to blast to his many social media followers for Humans of New York. In eight days, the many people that followed Fatima's story donated $2,310,660, and that amount is still rising.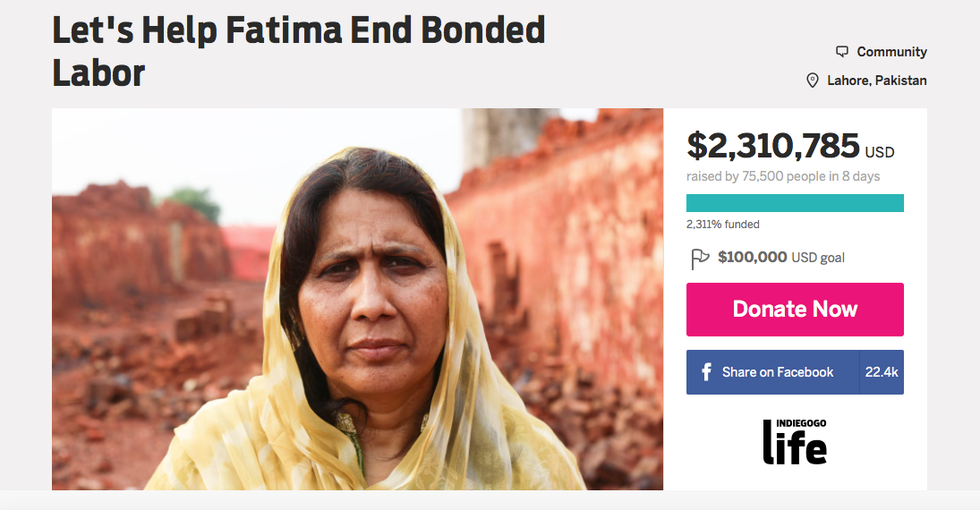 (courtesy of INDIEGOGO Life)
Few people really understand the power of social media to spread the importance of a cause. This beautiful movement has sparked a lot of hope for our humanity's care for the well-being of others. For a cause irrelevant to America, the country has taken it upon itself to make a difference in thousands of other people's lives, and it's beautiful.
To follow the rest of Brandon Stanton's european trip through his last stop in Iran, go to https://www.facebook.com/humansofnewyork?fref=ts&r....