I spent this past week with my older cousins in Caribou, Maine. The scenery is beautiful and the special occasion was my cousin Stephanie getting married. Their wedding was country chic and they grew the flowers for the jelly in their yard. We made 50 mini jelly jars to give away as wedding favors, and man was it a fun process. There are some pictures below to prove it.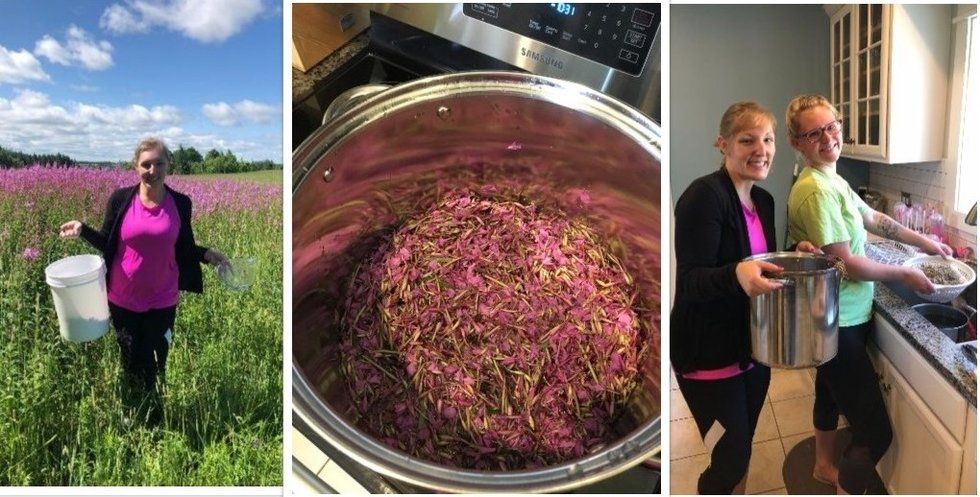 Making the Jelly
My cousin and I began the process by ATVing out to the front yard to gather the beautiful flowers. They key when gathering them is to strip the bud of all the flowers leaving only the green stem behind. We needed a lot of them so we began picking them as fast as possible. Fifteen minutes later we traveled back up to the house and began boiling the pot of fireweed.
It took us a second to get the hang of straining the liquid from the plants. Slowly but surely all that was left was the fireweed juice. Once it was time to add the pectin we realized we didn't have nearly enough for this batch.
Being so far up by the border of Canada everything is far apart. This drove us scrambling to the car for the half-hour trek to the nearest supermart. We nearly cleared the store out of pectin buying eight more packages but we rushed as fast as we could to get back to the jelly.
While driving back we saw small houses, pick up trucks, cats, cows, and even horses. That may sound normal but to me, it was everything but normal. Once we were back at the house the chaos of making these jars commenced. We added more pectin sturring it inside, then added a lot of sugar. Lastly, we stirred in the lemon juice stirring it around so the sugar and lemon juice were evenly distributed. This also made the pretty pinkish and reddish color return.
After, we got the mini jars and began ladling the jelly into the jars. Since you have to ladle it hot from the previously boiling pots there were some burns. I think it was described as the first drop of candle wax. Once each jar was filled we meticulously checked each jar for jelly on the sides in order to prevent the lid from sticking harshly to the jar.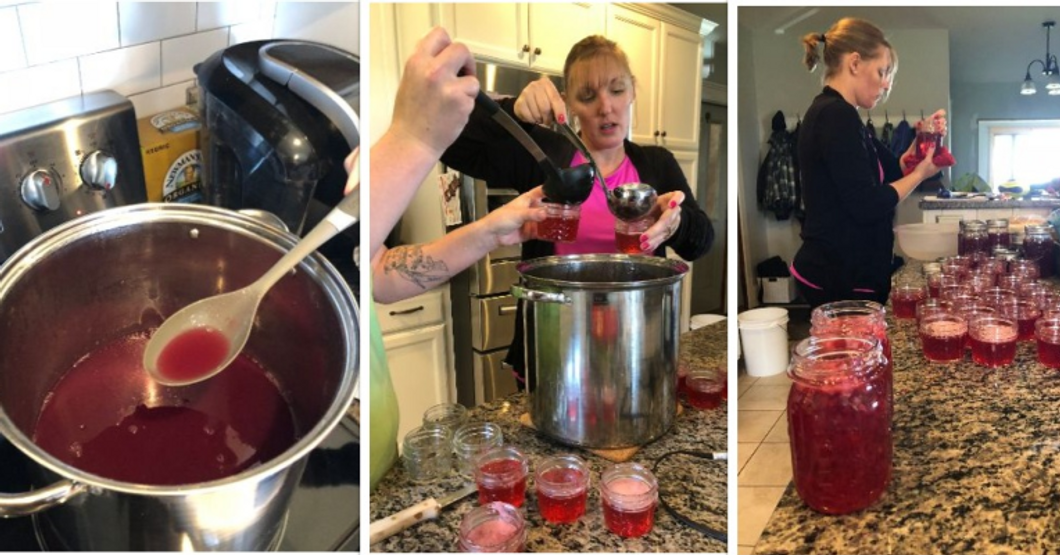 Jarring the Jelly
All in all, it was a fun visit with my cousins and I hope to see them very soon. The finished products of the jars turned out to look very pretty.