Last semester, I made the decision to be a nude model for a Life Drawing class at my university. Nudity wasn't a big deal to me, but I had never been naked in a public setting before. So I got more and more anxious as the day came. A part of me wanted to back out, but why? People get naked all the time. Publicly too. There was no reason for me to be anxious. I signed up to be a model so I could get some extra cash and so I could write about the experience.
Well, this was a more worthwhile experience than I thought it was going to be.
It wasn't until the morning of the first class I was going to be posing for that I realized why this was more important than just some extra cash. I dreamt that I was a nude model in my dream and my anxiety was high. This isn't the first time I've had a dream like this either. So often, I've had dreams where I was naked and exposed and it made me get incredibly anxious. Last year my therapist said these dreams might have to do with my anxiety that stems from me constantly feeling like I have to live up to everyone's expectations and that I'm never good enough. I told her I was always concerned with meeting expectations that I would hide many things about myself. So in these dreams where I was naked, I was anxious because there I was, completely and utterly exposed and open. So, naturally, I decided to make these anxiety-driven dreams come true by signing up to be a nude model.
Here are the eight things I learned from this experience.

1. Being naked is the most natural state of a human being.
I went into the studio, changed into a robe behind a screen, and then waited for class to begin. As I'm waiting, Kathleen comes in. Kathleen is an elderly woman with blue hair and she was the second model. I didn't know there would be a second model, but the instructor got excited there were two of us and had to rearrange the platform. Once we were ready, Kathleen walks right up to the platform, takes off her robe with ease, and sits on the box. I quickly took off my robe and leaned against the box she was sitting on. To my surprise, I didn't get red and blotchy like I do when I get nervous.
Immediately, as people looked at me to draw, I started to think about what I wanted to write, and I forgot that eyes were on me. We took a five-minute break every twenty minutes for about three hours. During the second twenty minute session, I started to forget I was naked. During the breaks, we put our robes back on because as the coordinator said, "It's easy to go from being a nude model to a naked person in the room." Even so, walking around in a robe or sitting naked felt so natural. I felt no shame, no discomfort, none of that. I actually felt proud of myself.
2. Nudity and art go hand in hand.

A bunch of eyes were on me. And yet, I wasn't looked at sexually or under scrutiny, which is how nudity is so commonly viewed. I was a piece of art, and it's pretty cool to be a piece of art. I didn't feel objectified either because art is more than just objects, too. The class is meant to focus on the human body and shape. In reality, you can probably get the body and shape fine in certain pieces of clothing, but art captures the naturalness, and that's what the artists in this class did. They actually made me feel good, and their work turned out to be remarkable, which made me feel remarkable.
3. I am in control of my body.

For about three hours and twenty minutes, we had twenty-minute sessions with five-minute breaks in between. The instructor put tape in places where our hands and feet were so we would be able to get back in the same pose exactly. I was worried about the twenty minutes because sure I've stood for longer than twenty minutes but I was able to move from foot to foot and fidget around. The twenty minutes went by fast, though, and when she said it was time for our first break I was surprised it was already time. It made me feel good knowing I could actually sit on a thin pillow and stare at a wall without cramping up.
4. Time to think is time to meditate.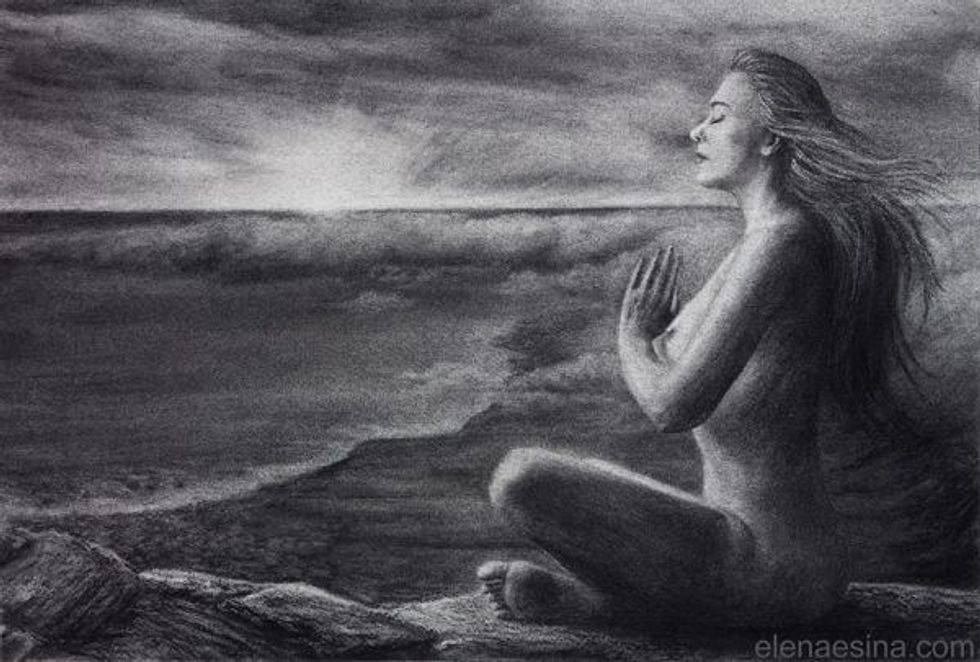 I felt good after the whole class period for different reasons, but one reason why specifically is since I couldn't do anything except for sit, I had plenty of time to think. During all my thinking, it was like meditation. I had time to think about all of the things I had to do for that week, when and how I was going to do those things. I thought about the things that were worrying me and managed to calm my nerves about them. I also had time to brainstorm and think out my ideas for the fiction stories that I am writing. At the end, I felt refreshed and ready for the whole week because of that time I had to think.
5. My imperfections are artistic.

Every stretch mark, every roll or extra curve, every blemish, every wild hair - were all new and interesting details to draw for the artists. They didn't look at me to judge me. They looked at me to create me on paper. After the session, I looked at some of the work and even though they may have drawn stomach rolls or my messy hair, it didn't look bad. I didn't look bad. These imperfections were just more to the drawing, and more to me as well. It made me realize that these imperfections weren't imperfect at all. They're just a part of who I am, and without them what would the artist have to draw?
6. Nudity is beautiful at any age.

Having the second model Kathleen there made me much more comfortable, but she also made me realize nudity isn't only for young people. As I said about imperfections above, every mark or line on us is just another detail and tells another part of us. The pieces that focused on Kathleen more were stunning, and the personality that Kathleen gave showed how being confident in yourself can really work wonders the older you get.
7. Being naked and feeling naked are very different.

I think everyone gets the feeling that they're "naked," or where they feel exposed in some sort of way. Feeling naked and being naked are different. Feeling naked can happen when you're not naked at all, but it's this feeling that someone is seeing something that you don't want them to see. That feeling can also, of course, happen when someone is naked. If someone is peeping in on a bedroom window then that's voyeurism, and it's not consensual because the person in that room did not give consent to being looked at.
I was expecting to feel naked and get all red and embarrassed. However, I didn't. I was comfortable. I realized I was comfortable with being naked because I gave consent to be naked. So often we assume nudity as taboo and should be a private matter, but I let those artists see me naked and it was perfectly okay. It really emphasized how important consent is and I wanted to reiterate that in this article because comfortability is important, and the more consent the more comfortable.
8. I can overcome my anxiety.

As I said above, I made my anxiety-fueled nightmares come true by being a nude model. It's obviously different in real life, but nonetheless, it really put my anxieties into perspective. I've made a lot of progress already with my mental health, but by confronting the physical representation of my mental fears, it ended up helping me realize that it's okay if people know things about me, see my vulnerable side, and see my imperfections - because what is an imperfection to me might actually just be another fine detail to someone else.
All images belong to artists respectively. Click on image for artist information.