College is filled with fun--from sporting events to social events, to extracurriculars, there's an array of options when it comes to preoccupying yourself. However, there isn't always a wide array of options when it comes to food. As much as they try, it's extremely difficult (and expensive) for dining halls to mass produce healthy food. Thus, we college students are left with a decision: Do we succumb to the mass-produced, lackluster dining hall food, or do we ditch the dining hall and make our own food?
After a semester in college, I decided I'd had enough crinkle fries... something I never thought I'd say. I started hitting up Target and Trader Joe's like my life depended on it (which, it kind of did). Soon enough, I found some healthy and affordable food that have become dorm room staples. Here are five of my favorites.
Long gone are the days where I'd make bets on what exotic way chicken would be prepared for dinner. I have these snacks, as well as many more I can make with these same ingredients, to thank for that.
1. Fancy Oatmeal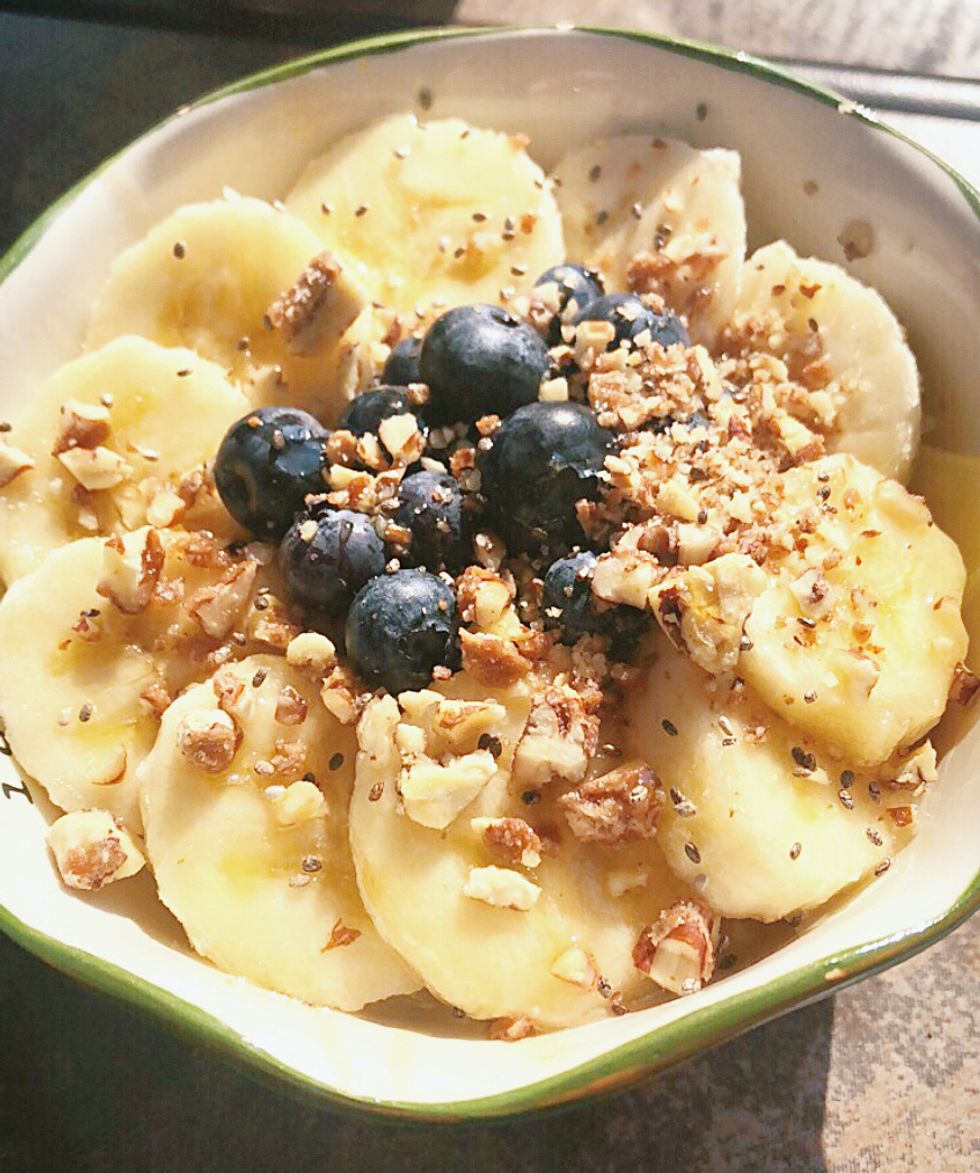 Personal Photo
Even though I thought it was commonly called "porridge" until the third grade, oatmeal has always been one of my favorite breakfast foods. Once I got to college, I realized Quaker Oats apples and cinnamon wasn't the only type of spiced-up oatmeal out there. Soon, I was adding a sliced up banana, peanut butter, and chia seeds to my oatmeal every morning, helping me stay fuller longer. In this particular bowl, I sprinkled chopped almonds and blueberries just for fun.
2. Carrots and hummus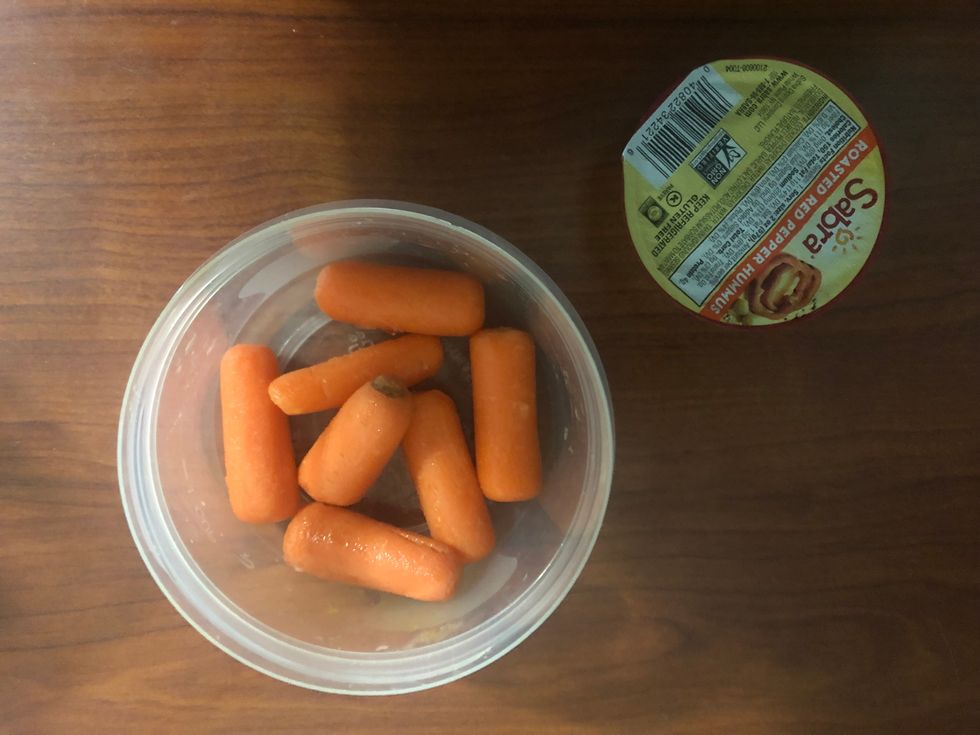 Personal Photo
Baby carrots are good for you, and they don't go bad as quickly as other veggies like lettuce and cucumbers. Popping a couple in a plastic bag along with an individual container of hummus and stuffing it in your purse or backpack make for a great on-the-go snack.
3. Turkey Roll Up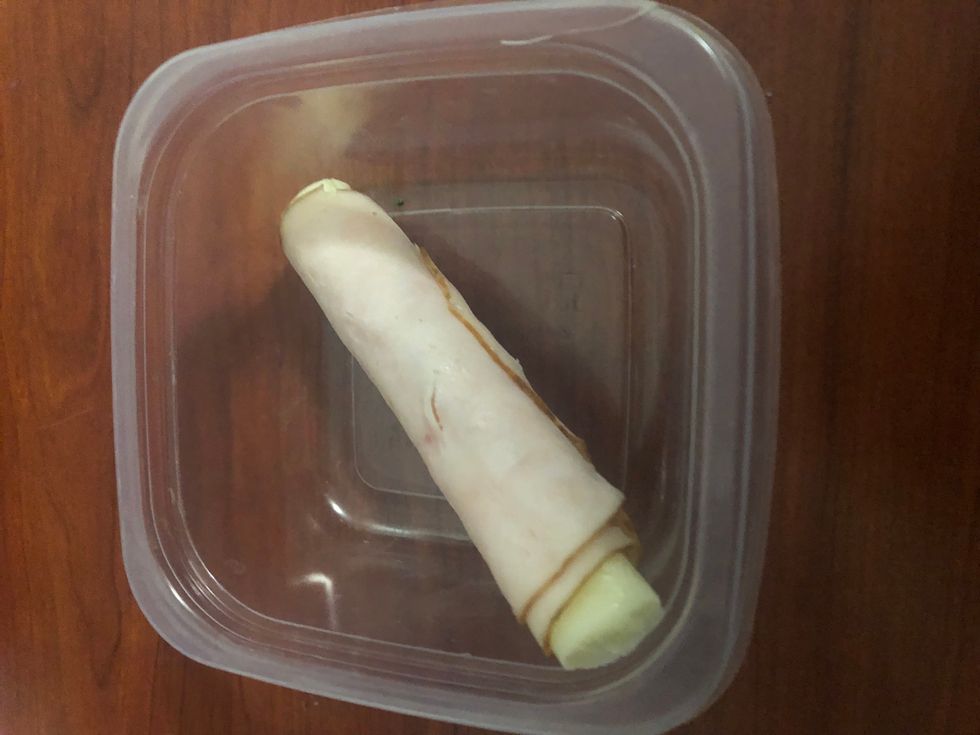 Personal Photo
This snack is so easy to make and yummy I'm surprised more people don't know about it. Take a stick of light string cheese, place it on a piece of deli-shaved turkey, and roll it right up like a burrito! Sometimes, I even add a little mustard to my turkey slice before rolling it. It's just like a sandwich without the bread!
4. Sustainable Salad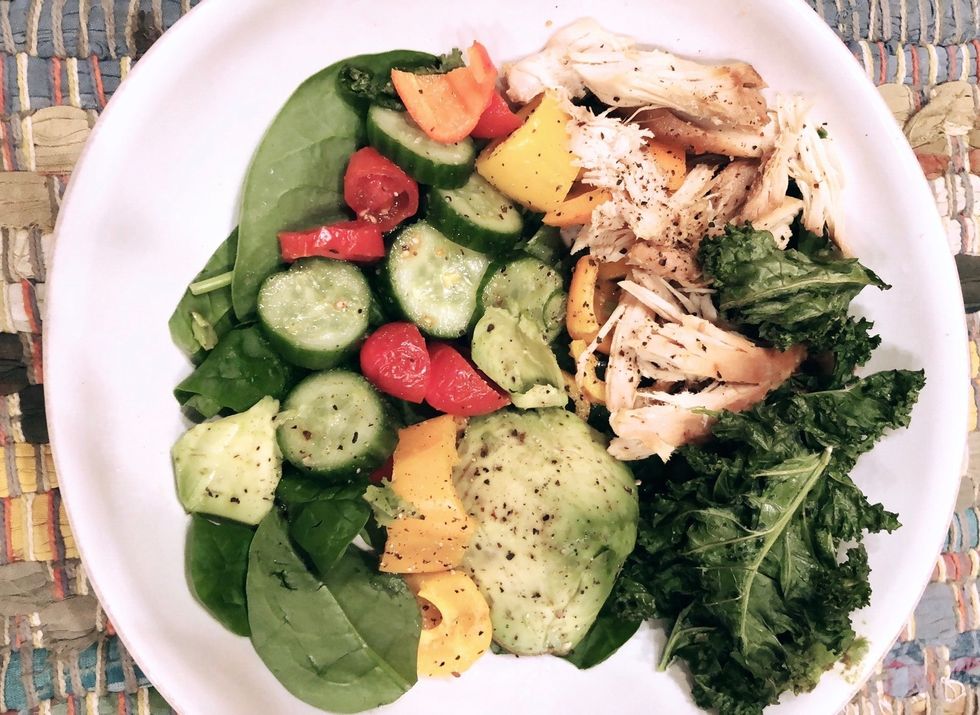 Personal Photo
Worried you might not get to all your lettuce before it starts to wilt? Here's a hack: Putting a paper towel inside the bag of lettuce will allow it to soak up the moisture that otherwise would turn the lettuce brown. Still don't trust yourself with eating it all before this? You can always snag some lettuce from your dining hall and add your own toppings to it later. My favorite include grape tomatoes, cucumbers, broccoli, string cheese, and turkey or frozen grilled chicken strips. Add light ranch or a vinaigrette dressing and wa-la! You have a filling, healthy meal.
5. Fruit Smoothie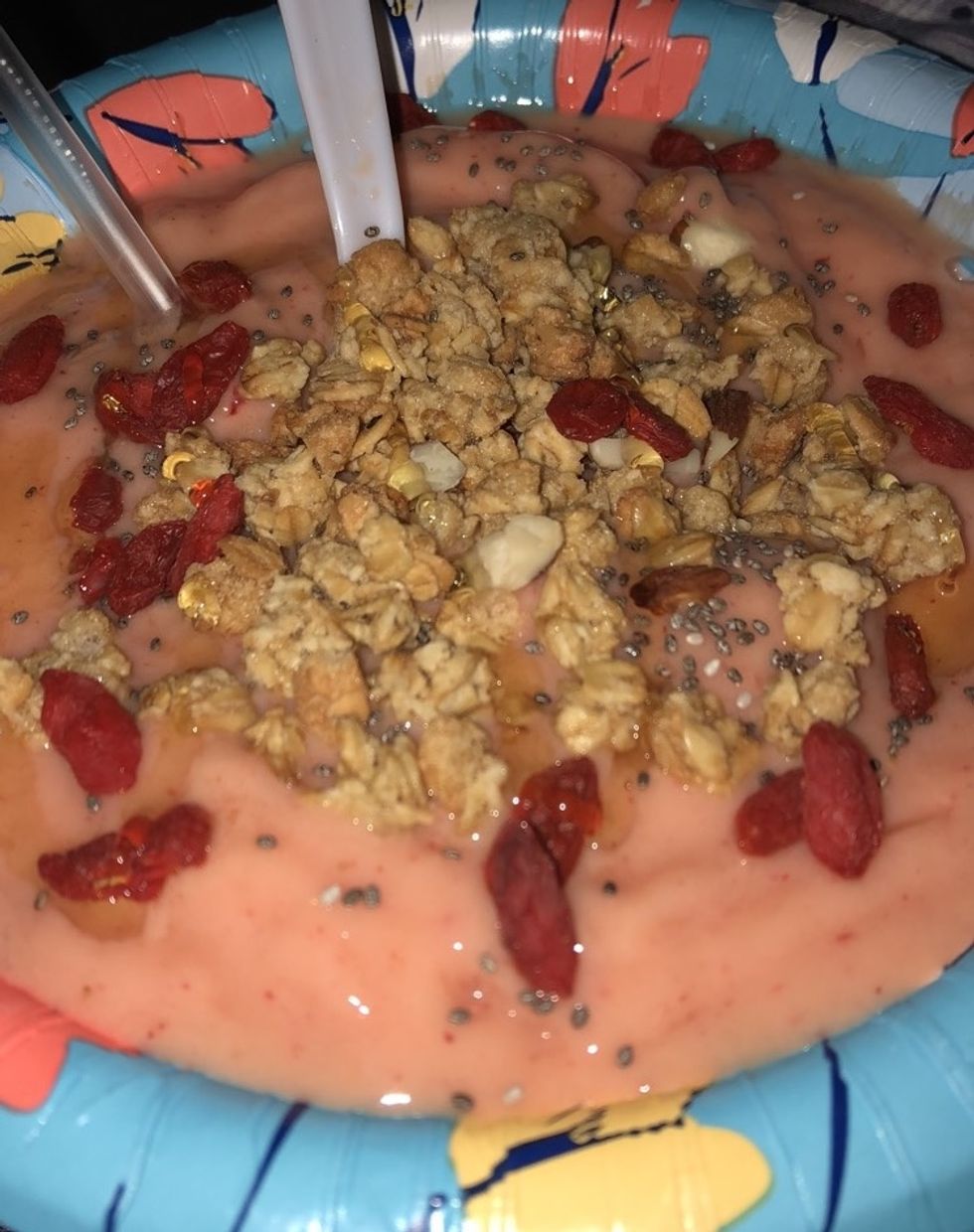 Personal Photo
The most expensive part of this snack is all in the preparation: the blender. Trust me, though, this is worth it. I love mixing a little frozen fruit, almond milk, and honey together in my mini blender and enjoying a smoothie on the way to class. If I'm feeling really fancy, I'll add goji berries, chia seeds, or granola to the top for a little extra boost!
With snacks like these, I'm glad I left the french fries and mysterious chicken behind. As you can see, many of the ingredients overlap--it's pretty easy to turn a simple grocery list into a collection of yummy, healthy snacks!