You don't have to be able to drink or have that New Year's kiss to make the last night of the year fun. Here are some ideas to get the New Year started off right if you're single and under 21:
Stay in with your friends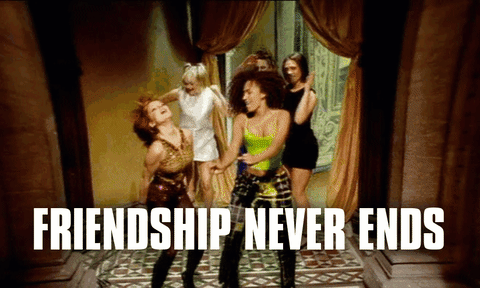 Giphy
Starting the New Year off with your friends can be very exciting. Buy New Year's party hats and noisemakers to celebrate. Take photoshoots with sparklers and ring in the new year with cranberry juice in a wine glass to pretend to be in on the fun!
Have a party!
Text your friends and invite them over, make some appetizers, pick up some sparkling seltzer, party hats, and horns. Have a BALL!
Buy fireworks and set them off.
*If your state allows* buy some fireworks and set them off when that clock hits midnight. My family and I purchase fireworks from Phantom Fireworks. They have an amazing variety and have fun names on each item. Watching the fireworks will fill you with joy and will start your new year off with an exhilarating show of light, proving you don't need a special someone to have sparks.
Watch the New Year's coverage LIVE.
Whether it's your hometown's coverage or the CNN coverage in New York it is always fun to watch. I always choose to watch the CNN coverage with Anderson Cooper and Andy Cohen. This will be Andy Cohen's third year covering the ball drop, as well as, Anderson Cooper's 16th year in New York since 2002. You can learn more about this New Year's duo here.
Start on your resolutions early.
It is never too early to start on your resolutions. Clean your room, head to the gym, text your crush, and whatever else you want to do. Cross some items off of your list early, you'll feel accomplished and great after doing what you said you would do and maybe others thought you wouldn't.
Stay in with your family.
You could also stay in with the ones who love you most. Play tons of board games, talk about your resolutions, discuss what you all learned from this year and what you expect from the incoming new year. Start a challenge at the end of the year game night, such as, make the loser have to set-up and clean up the family game nights for the rest of the year or the winner gets to choose the games for the rest of the month.
Sleep.
Who says you have to stay awake to see another year start? In fact, you could take this opportunity to go to bed early and start your year off with better sleep! I would say it's a win-win.
Have a fun and safe New Year. I will see you next year!
Follow Swoon on Instagram.