On September 29th and 30th, Relentless Beats turns the everyday rawhide into an amazing western town full of cowboys, horses, and much more. This show is 18+. You will need both your wristband and ID to enter. This show includes headliners Deadmau5, Illenium, and Steve Aoki. Attached is the official lineup video for this year's event.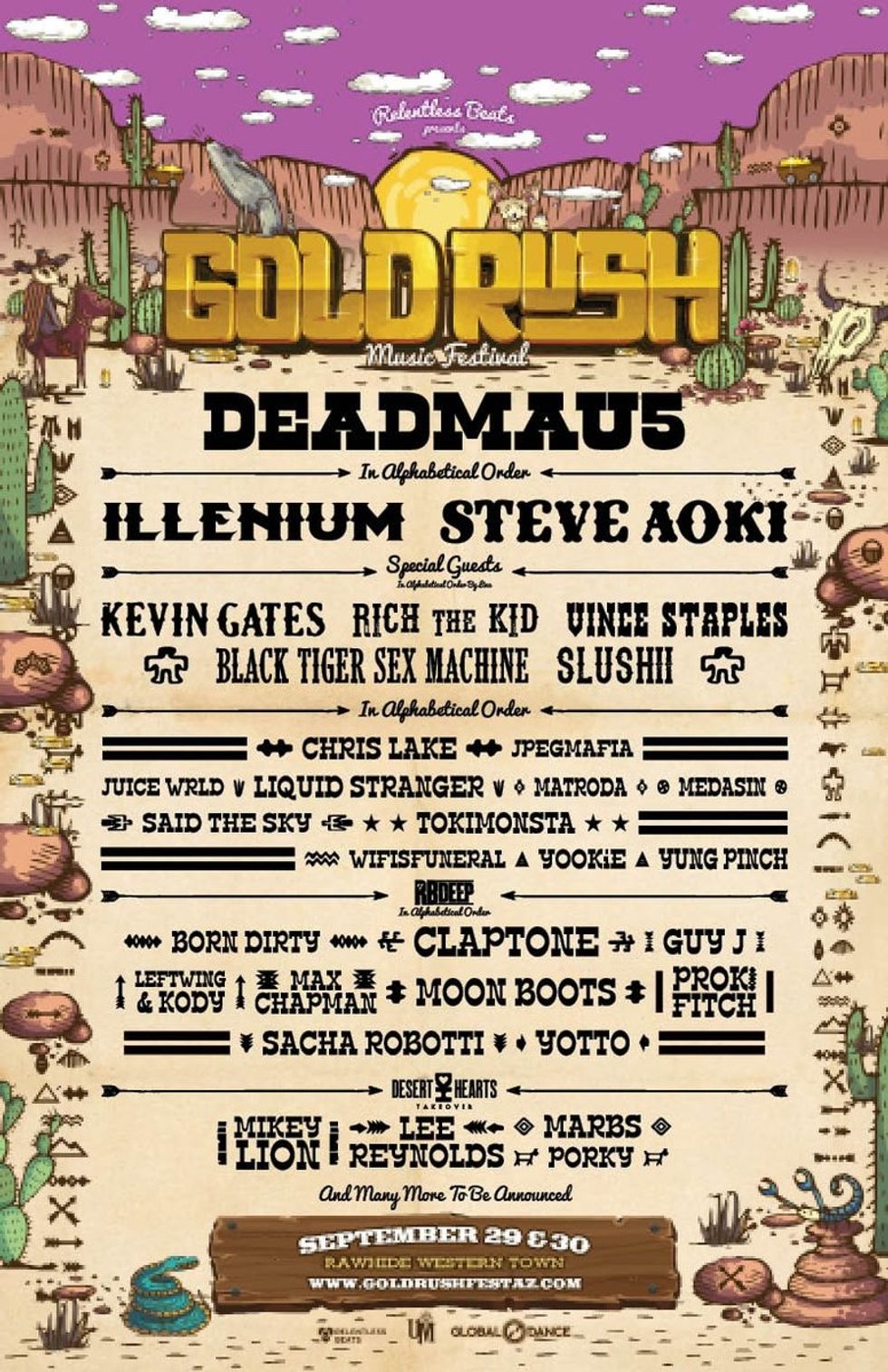 Tickets are on sale now and currently on Tier 3/4: (GA - $159), Tier 2/3: (VIP - $239), and Tier 2/3: (Platinum - $599). There are three options to reserve a table at the main stage, prices vary by the package. You can buy your tickets now using the following link: Goldrush Music Festival. If you don't buy your ticket in time and would like to the day of, you are able to at the door as long as it isn't sold out. Doors open at 4:00 PM each day. There are a lot of performers, so early arrival is highly recommended. Event ends at 2:00 AM on Saturday and 1:00 AM on Sunday. If you are hungry while at the event, there will be several food and drink vendors for you to check out. If you want to leave with a souvenir, there will be merchandise for sale. Everything is cashless inside so make sure you load up your wristband with money or bring your credit/debit cards.

The following is not allowed into the venue:
NO Illegal Substances, NO Drugs or Drug Paraphernalia, NO Pets, NO Massagers, NO Laser Pens / Pointers, NO Eye Drops, NO Glass, Cans, Cups, or Coolers, NO Markers, Pens, or Spray Paint, NO Large Chains or Spiked Jewelry, NO Stickers or Flyers, NO Tents, Large Umbrellas, Chairs, or Blankets, NO Large Purses or Bags (Anything over 10×10 inches), NO Open Cigarettes, Lipstick, Chapstick, or Tampons, NO Outside Food, Beverage, or Alcohol, NO Professional Cameras -- SLR or Detachable Lens, NO Video or Audio Recording Equipment, NO Knives, Firearms, Pepper Spray, Fireworks, or Weapons of Any Kind, NO Toy Weapons or Real Weapons of Any Kind, NO Open Sunscreen, NO Balloons, Balls, Frisbee, and / or Any Other Projectile
The following is allowed into the venue:
OK Small bags, purses, and fanny packs, OK Empty water bottles, including reusable and disposable water bottles, OK Empty CamelBak-style water bladder systems, OK Fanny Packs, OK Non-professional cameras incl Go Pros, OK Cell phones, OK Lighters, OK Sealed: cigarette packages, tampons, packs of gum, and chapstick/lip gloss, OK Festival Totems, OK Glowing / Illuminated Costumes or Jewelry, OK Inflatables (deflated upon entry), OK Flags / Banners or Handmade signs (no corporate or company-branded ones), OK Sunglasses and hats, OK Sealed Liquid sunscreen and cosmetic products, OK Disposable E-cigs / Nicotine Vaporizer pens, but none with refillable chambers containing visible liquid, OK Guide dogs for people with disabilities and other service animals with current rabies certification, OK Totems per rules in next section
If you have any more questions, feel free to send an e-mail to info@relentlessbeats.com
For any ticket issues, call See Tickets at (323) 908-0607
One last thing, can you dig it?