Gender equality may not only be a social issue but an economic one as well. And it's not a reference towards the gender wage gap—men earning more than their female counterparts for the same job. It's come to light in the past few years that women are being charged more for their products and services than men. This is the "pink tax."
A study in 1994 by the State of California concluded that women are spending about $1,351 more than men for the same products and services.
The New York City's Department of Consumer Affairs conducted a study which concluded in December 2015 named, "From Cradle to Cane: The Cost of Being a Female Consumer." The study showed female consumers are charged more from birth to death by investigating in depth 35 categories with about 800 products.
The "pink tax" is usually associated with female products such as razors, but it applies to much more. The study went in depth by investigating clothing used through women's lives starting from birth. Clothing for baby girls, more specifically shirts, cost up to 13 percent more than they do for boys. This gender pricing gap exists throughout all children's clothing, from onesies, to shoes and underwear.
The same gender pricing gap extends to children's toys which cost 11 percent more for girls than boys. This gap exists for a scooter. The study found a red scooter marketed towards a boy costs $24.99 while a pink scooter marketed towards a girl cost $49.99. The only difference between the scooters are the colors and gender labeling.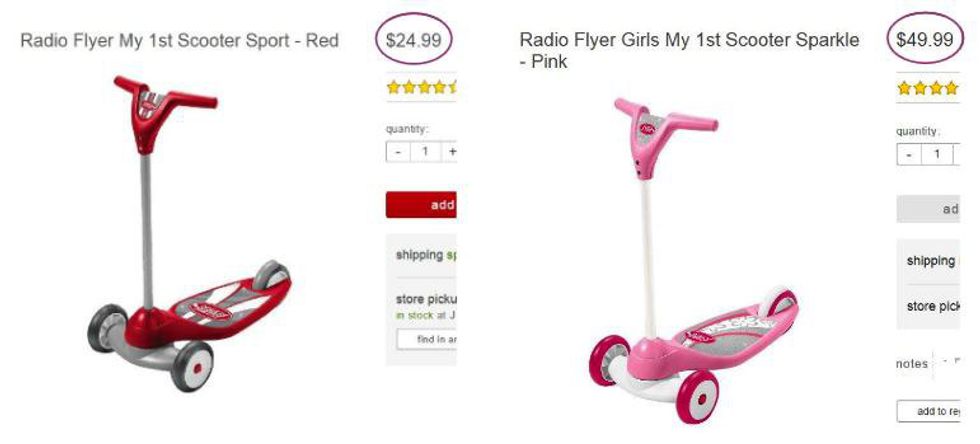 Women continue to pay the "pink tax" as they mature into adulthood. Women pay 15 percent more than men for shirts. A men's shirt labelled "Classic One Pocket Shirt" costs $48 while a women's shirt labelled "One Pocket Boyfriend Shirt" costs $78. There's a reason I steal my boyfriend's clothing – to save money.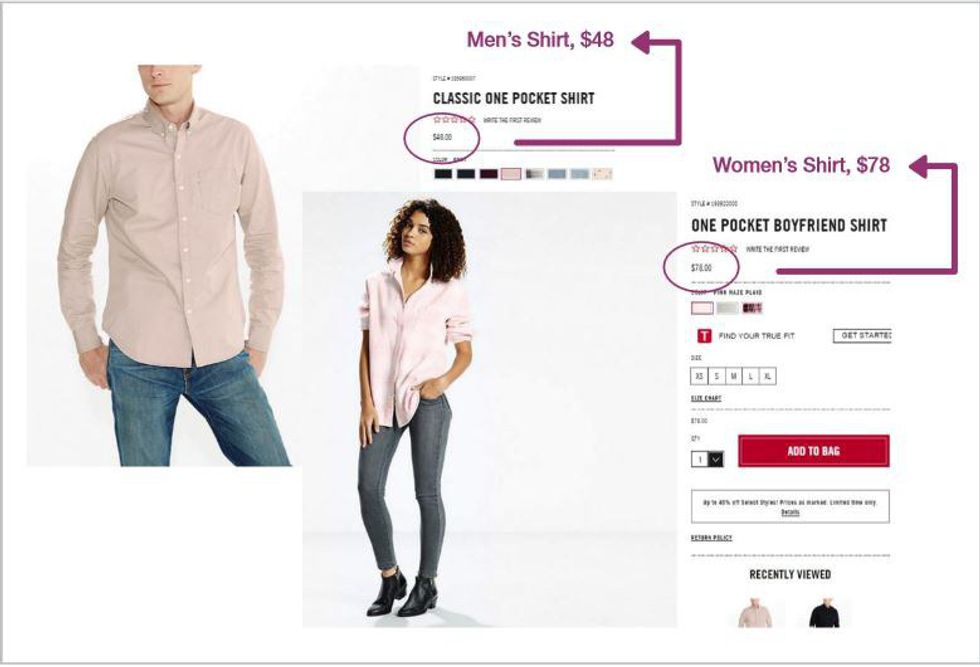 Even when caring for clothing, there's a "pink tax." According to Listenmoneymatters.com, dry cleaners charge women more than men for the same service. While a man's shirt can be cleaned for $2.86, a woman's charged $4.95. Although NYC has laws against gender-based pricing, it still happens.
Referencing back to the New York City's Department of Consumer Affairs study, the "pink tax" on hygienic products is evident. Women are charged 48 percent more for shampoo and conditioner. The only real differences between the shampoo and conditioner marketed to men and women are the scents, and packaging. The same can be said about razor cartridges, razors, and lotions whose cost are increased 11 percent for women.
These hygienic products are used by both genders and there's no way around them. Razors are essential to both genders, but in the summer women are the ones constantly using razors to shave, and applying lotion for smooth, hydrated skin. It's a well-known part of society which advocates hairless women and essentially helps feed the gender pricing gap.
Women have to deal with menstrual cramps by buying overpriced ibuprofen, pads, and tampons. A 2010 study conducted by Consumer Reports found Walgreens charging 50 cents more for Excedrin Complete Menstrual than Excedrin Extreme Strength. Both products have the same ingredients. This isn't fair for female consumers, especially women who suffer from menorrhagia (abnormally heavy bleeding) and have to resort to other methods, like alcohol, to relieve severe cramps.
Even after menstruation, the "pink tax" doesn't abandon women, following them into old age. Personal urinals marketed towards female senior citizens are 21 percent more expensive. Adult diapers cost 7 percent more for women. Female senior citizens have to pay 12 percent more for canes on top of paying 15 percent more for braces, and support.
Whether the gender-hiked prices are solely based off of marketing for female beauty or women are seen as second-class citizens who are forced to pay a "pink tax" isn't the real concern. The main takeaway is that women are being exploited because of their gender, and change needs to happen.
Despite being a woman paying the "pink tax," I don't want my potential female offspring to pay it as well. Parents can't naturally control the gender of their children, but they can advocate for a world that accepts both genders equally. Without the "pink tax."