Here's some background. It was my 4th birthday that started my love for horses. My parents and I lived in this house that had an acre plot of land, perfect for the best birthday parties. This birthday party, in particular, consisted of ponies.
My father rented one of those party organizations to bring a few ponies for my friends and me to ride, and that very day I said to my father, "I want to ride horses!" And the rest was history.
I started and still to this day ride at Level Green Riding School, a barn that became a second home to me at a young age. My first lesson, at the age of 6, was on this magical little pony, who now barely reaches my hips, Change. He was this fiery little pony who had some attitude but was incredibly patient with the young students.
I took my first few weeks of lessons on him and continued to on and off ride him for about two years after. Although we did little real work other than walk, trot, canter, then finally 18-inch jumping, I learned a lot from him.
So to my buddy Change,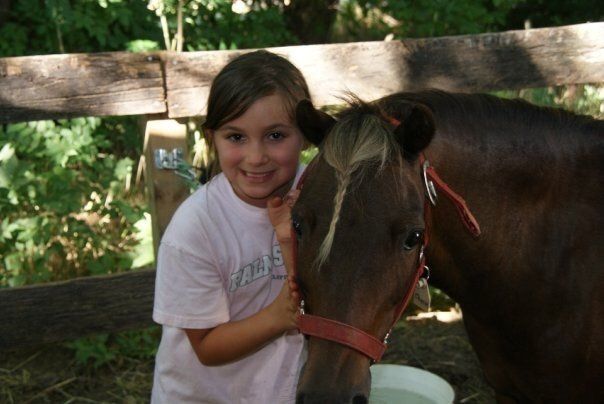 Selena Spezio, 2009
Thank you for helping me grow my love for riding. Because of you, I have continued to pursue my passion for the sport. I have kept with it, even when I felt like a failure. There would be times when I felt horrible about a lesson, but because of you I keep with it and understand that there is always room for improvement.
Thanks to you, I understand that the horse is never to blame, but that I should reevaluate my position, attitude or technique to better my relationship with the horse I am on. The love I have for these animals stems from the small connection my young kind had with you.
I learned how to be humble. The little things we accomplished together, like my first time ever posting, where I looked like I was attached to a pole just standing up and sitting down, was a big moment, but I know it only happened because you helped me out. Image if I was on a wild pony who had an attitude and was out of control, those big moments would have come a lot harder.
The first time we jumped, oh what a joy. Although it was a small pile of poles at first, I felt free. I really saw what it was like to have a simple connection with a being.
Change, you taught me control, composure, and to have a great attitude no matter what. Those times when you were having a bad day and the first time you tried to buck me off, instead of being in fear, I just laughed and kicked you along.
You taught me the fun of this sport, and for that, I thank you with all my heart.