In 1492 it is said that Columbus discovered America, discovered being a relative term.
We celebrate Thanksgiving because the story we were told is that the pilgrims, after a very harsh winter, collected harvest and feasted with the Indigenous people, feasted with being a relative term. There's a common theme I have noticed, let's discover it together...
It wasn't until 1924 that the indigenous were granted citizenship. This effort put the indigenous people in a catch 22 because yes, you are granted full protection as a citizen BUT, and but being a very important conjunction here, is that the indigenous may lose the sovereignty of their tribe and land. The US government hasn't made themselves trustworthy so this fear was not unfounded. It was very important to include the clause in the Indian Citizenship Act that would not only have the Natives gain US citizenship rights and protection but continued to have tribal rights and property.
Europeans acknowledges that people have individual property rights which directly contradicts many indigenous tribes' beliefs that view land for the use of hunting and agriculture as a shared property for all its people.
"I feel helpless and very angry...the Native Americans are doing what we all as a Nation should be doing. The Dakota Access Pipeline cuts through territory that still belongs to Native Americans, based on a 1851 treaty signed at Fort Laramie in Wyoming. Some people do not understand what is happening out there. And even after all the tribulations the Natives had suffered they are still suffering at the hands of greed. They are protecting the land that our children and children's children will grow up on. They are the original inhibitors of this land and they are taking their rightful place at the front line of the Dakota Pipe Line. They are no strangers to this fight and will continue to stand tall like their ancestors have. They are the protectors of this land we call home and will continue to do so as long as they live and breath.

" --Natanyah, a Tyendinaga Mohawk of the Bay of Quinte First Nation.
In 1830, Congress passed an act called the Indian Removal Act, calling for natives in north Georgia to give up their land. This Act had a provision known as the Treaty of New Echota which meant that the indigenous living in this particular area had to move westward past the Mississippi River, to what is present day Oklahoma, giving up their lands which were vehemently opposed by most natives and the elected elders. I always thought that a treaty was a sort of truce, this was anything but. This tribe called it Trails of Tears (and death) which literally describes the experience they endured leaving their ancestral lands by force. The Indian Removal Act should not be confused with the Indian Removal Act of 1956. This was a failed effort to help assimilate the indigenous and give them vocational training in order to improve tribal members quality of life, but outside tribal lands.
Okay, what is the crux of the DAPL problem?
First, we have EIS which stand for Environmental Impact Study. A company or government uses this study for decision making. The EIS will provide what impact a particular action, plan, policy or project proposed by an entity may have on the environment. It will describe any negative or positive consequences and explains ways it will mitigate all negative impacts. This survey also will explain the inter-related socio-economic, cultural and human-health impacts including both beneficial and adverse consequences of said action. It's a pretty important tool.
The situation at Standing Rock is that the energy company, Energy Transfer Partners, has not performed an EIS. They are mandated to do so by law. According to Energy Transfer's website : "The Dakota Access Pipeline Project is a new, approximately 1,172-mile, 30-inch diameter pipeline that will connect the rapidly expanding Bakken and Three Forks production areas, in North Dakota, to Patoka, Illinois." Any government or company arbitrarily taking over, using, or crossing tribal land, hopefully being upheld by treaty is just plain illegal.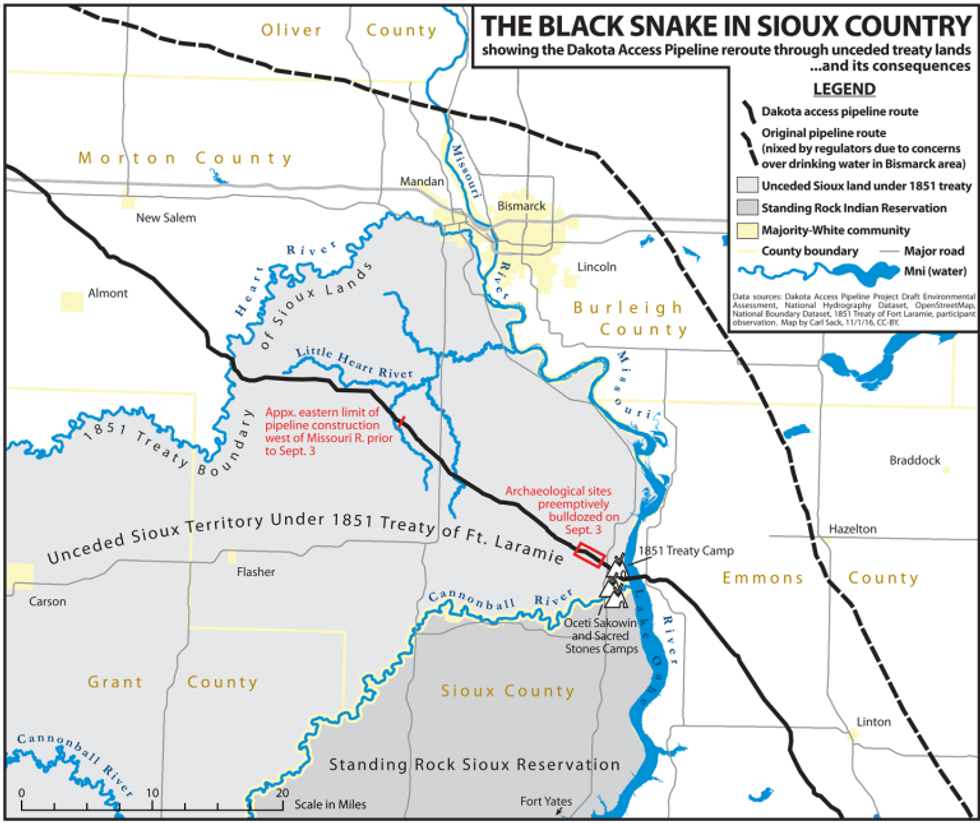 They had originally proposed going via a route that ran close to Bismarck, North Dakota a predominately white community, and their rejection then gave to the new route that goes through the Indian Reservation. I won't speculate as to why one will think that the disapproval by the citizens of these predominantly white cities, such as Bismarck, was adhered to in contrast to the militarized forces set against the indigenous people who blatantly also disapproved the DAPL.
Many tribes from around the country have gathered at Standing Rock to protest this pipeline. But what exactly are they protesting? They are asking that Energy Partners conduct an EIS. With this EIS it will be easier to see the impact the pipeline will have and the cost, which many say will clearly show that it would be downright rejected. The Natives stance is for Energy Partners to comply with the law.
Another thing I want to point out is that the indigenous people are trying to prevent is the environmental damage that will arise by having these pipelines. They are not fighting merely because of the use of their land but to prevent contaminations of waters that ALL of us use and absolutely need to survive, hence the "Water is Life" maxim and how they assert to be water protectors.

There are reports that Energy Partners have sent letters to the Morton County that states they will pay for all cost that has been incurred due to this project. In other words, law enforcement has become hired help or mercenaries. This is yet to be confirmed, so for now, we can put it in the back burner.
One last thing is an inconvenient truth about the pipelines, according to John Risch as reported on the Dickinson Press. He explains that the rail system, which is what is currently being used has the capability to transport 100 trains a day using 21 oil loading stations. Currently, 3-4 trains are being loaded a day forcing 300 rail workers to be furloughed. John explains that although the pipelines are said to create more jobs, he says that it is a temporary measure and one that uses many out of state workers, so the benefit for the local surrounding areas is limited.

The truth of the matter is that the US is emerging to newer, reusable, sustainable, more green energy-- it is inevitable. But to build this pipeline is nothing but a ploy to continue to use much dirtier fossil fuel resource and send it to poorer countries. The spending for such a project is not justifiable and to cut their loses, they will need to push to continue the use of this resource.
Not only is this pipeline in total disregard to being a good steward of the earth, it is also illegal. Energy Partners do not have permission to drill, directly defying the law, and they are doing it in segments, which is also illegal. Everyone is turning a blind eye. As a child, I was told to take care of my permanent teeth because unlike my baby teeth that fell off and were replaced, the permanent one were the only one I would ever get, in my lifetime. The Earth is pretty much the same way, we only have one Earth and that is it! We only have one Earth and that, my friends, is not a relative term.
Here's what you can do: