We all know that one of the most iconic television characters in recent years is, you guessed it, Michael Scott. He has so many iconic moments that many people, even those who do not watch "The Office"know about. He might actually be one of the most quotable characters of television. But, there are many moments in which Michael has upheld his reputation that have been brushed aside from the masses. Here are Michael Scott's most underrated moments.
1. His entire involvement in Phyllis's wedding. Between his uncanny reaction to Phyllis's father miraculously walking his daughter down the aisle, his premature announcement of the happy couple, and his absolutely hilarious, unannounced toast — the man definitely made the whole event interesting.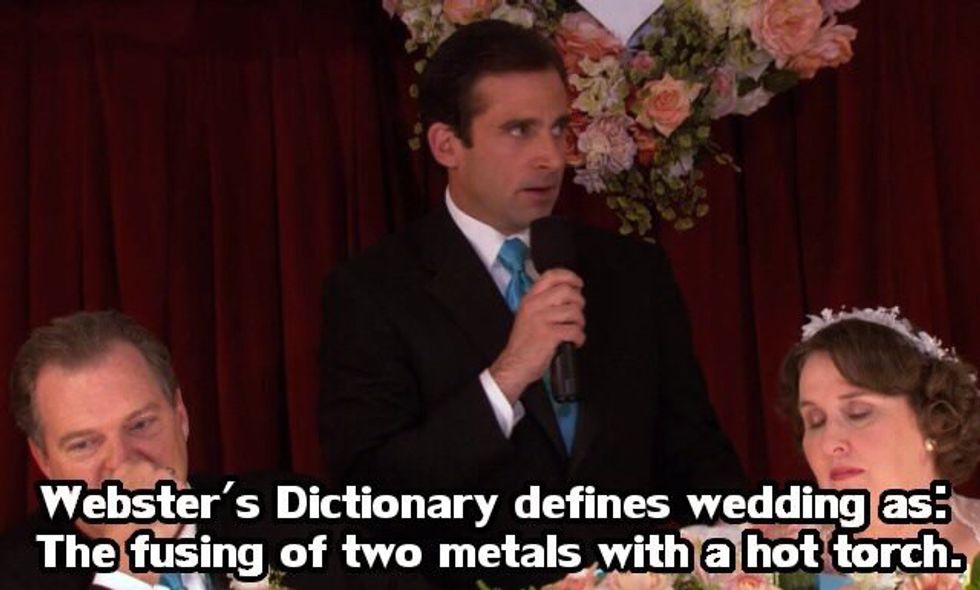 2. The entire basketball game between the office workers and the warehouse guys. This might arguably be one of the best scenes in the entire show. Michael just couldn't find his athleticism that would have supposedly won them the game if they had played until the end and then proceeded to make excuses and somehow "won" the game.[rebelmouse-proxy-image https://media.rbl.ms/image?u=%2Ffiles%2F2016%2F10%2F07%2F6361140794413432431952049928_giphy.gif&ho=https%3A%2F%2Faz616578.vo.msecnd.net&s=155&h=2fbbb858257b0debdffc06967ee9ebbbc1ccbd8faf8d060537e1d175ee9e29f6&size=980x&c=3513447395 crop_info="%7B%22image%22%3A%20%22https%3A//media.rbl.ms/image%3Fu%3D%252Ffiles%252F2016%252F10%252F07%252F6361140794413432431952049928_giphy.gif%26ho%3Dhttps%253A%252F%252Faz616578.vo.msecnd.net%26s%3D155%26h%3D2fbbb858257b0debdffc06967ee9ebbbc1ccbd8faf8d060537e1d175ee9e29f6%26size%3D980x%26c%3D3513447395%22%7D" expand=1]
3. Lazy Scranton. Talk about a tune that will get stuck in your head. This number was made possible by the dynamic duo of Dwight and Michael, and it's guaranteed to get stuck in your head for hours. You're welcome.
4. His involvement in Jan's baby. Firstly, he actually thought that the baby's name was Astird, which contributed to the hilariously awkward feel of Jan's baby shower, which actually occurred after her baby was born. Can was also talk about how he held Astrid in her carrier? Iconic.
5. The whole "frame Toby" incident. Michael unknowingly buys a bag of basil for 500 dollars and tries to pass it off as Toby's marijuana, all in hopes that he will get Toby fired. His disappointment to learn that he not only bought someone's lame lunch for 500 dollars and that he didn't get Toby fired? Priceless.
6. When he tried to fix the company at the shareholder meeting, yet failed miserably by lying that he had a plan. He then fled from the meeting in typical Michael fashion and left all the other corporate workers to deal with the angry shareholders. Talk about courageous.
7. His involvement in Pam's delivery. Between driving Jim and Pam to the hospital, his "distraction meeting" for Pam, and the fact that he feels that Pam's delivery is also a big day for him are all reasons for side-splitting laughter.
8. The fun run. Or should I say, the "Michael Scott's Dunder Mifflin Scranton Meredith Palmer Memorial Celebrity Rabies Awareness Pro-Am Fun Run Race for the Cure." Who eats an entire entrée of fettuccine alfredo before running a 5k? Well, apparently Michael Scott does.