This is probably my greatest hack I've ever discovered in life. Last Thanksgiving, I was able to dodge all the cringe-worthy conversation that involves interrogating love and school life by bringing a delicious appetizer to the party.
I can't even explain how much more pleasant it was to share my recipe and cooking tips than explain why there are no grandchildren yet. They aren't expecting you, the college student, to show up with a dish in hand, so take control of the conversation this year!
3 Ingredient Queso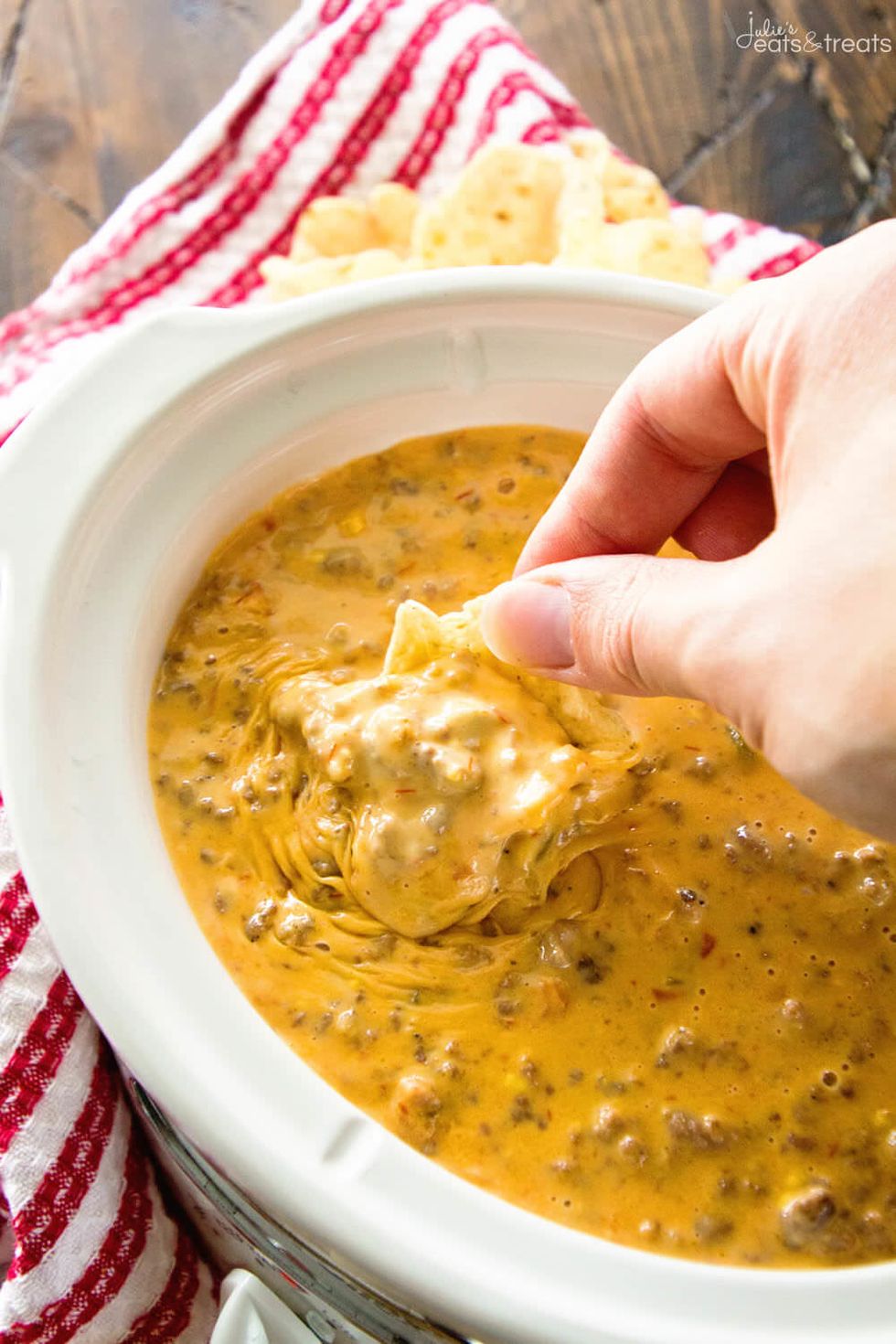 This recipe is always such a hit whenever I make it. Last Thanksgiving, the crockpot was completely empty before dinner was even ready! I've also included a meatless alternative with white cheese and spinach, instead of original and hamburger meat.
Ingredients:
1 block of Velveeta Original OR Queso Blanco (I wont lie, knock off brands like Great Value taste the exact same and cost a few dollars less)
2 cans of Rotel Diced Tomatoes & Green Chiles (I use mild)
1 lb of ground beef OR 9 oz frozen spinach
Cooking Instructions:
1. Dump into the crock-pot* your block of cheese and cans of Rotel and set to high. It helps to cut the block of cheese into smaller pieces.
2. Brown the hamburger meat in a pan and drain the grease.
3. Once your meat is cooked, add it to the crock-pot and set to low.
It takes a few hours to melt altogether, and I recommend stirring every 45 minutes to avoid cheese burning to the bottom.
*this recipe can be made in a large pot on the stove, it just requires a little more attentiveness and time*
Fancy Crescent Rolls
Sorry I don't have a better name for this, I kind of just made up the recipe recently by experimenting a little. I was making dinner and knew I wanted a roll, but a roll with flavor packed in it. So, here we are.
Ingredients:
1 can of Pillsbury Crescent Rolls
3 tablespoons of butter
Shredded Cheese (any kind will work, and the amount needed is really up to you) (I use mozzarella)
3 teaspoon Parsley Flakes
3 teaspoon Basil Leaves
2 teaspoon Garlic Powder
Cooking Instructions:
1. For easy clean-up, lay foil over a baking sheet.
2. Place your unrolled dough out on the foil, leaving you 8 triangles.
3. Melt the butter down in a little bowl. Add garlic powder, parsley, and basil to melted butter to create a sauce we will spread on the dough before baking.
5. On the widest part of the dough, place your desirable amount of cheese in small pile.
6. Once all your dough has cheese on it, fold over the dough like you normally would a crescent roll. (Take the top of the triangle of dough and tuck it under the base)
7. Use a spoon to spread your butter sauce over all the crescent rolls, sprinkle more parsley and basil on the tops if you would like.
8. Bake at 350 degrees for about 10 minutes, but because all ovens vary keep your eye on them so they don't burn!
Blueberry Lemon Bread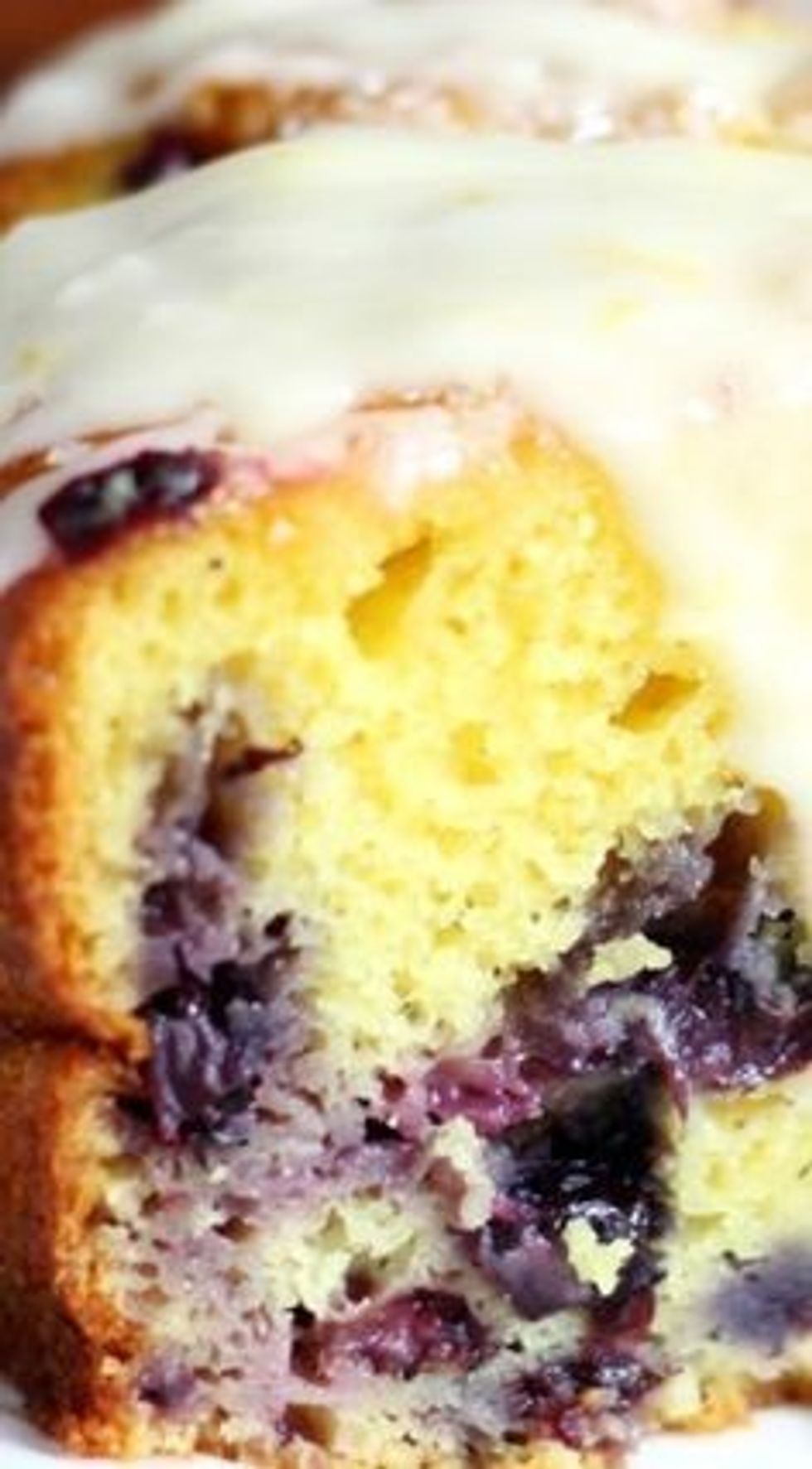 This recipe was so yummy but a little messy to make! The two flavors really compliment each other, and the dish itself looks very adult-y.
Ingredients:
2 boxes of blueberry muffin mix
1 can of lemon frosting
Cooking Instructions:
1. Follow the prep instructions of your blueberry muffin mix to get the batter ready.
2. Pour your batter into a bread-loaf pan instead of muffins.
3. Follow your muffin baking instructions, it may take a little longer than your instructions say because it is in loaf form.
4. Lay out some wax paper beneath a cooling rack, because this frosting part gets messy.
5. Remove your fully cooked blueberry "bread" from the oven. Take it out of the pan and place on the cooling rack.
6. While the loaf is still warm, spoon out your lemon frosting atop the loaf. It will melt down and drip off, hence why we put wax paper underneath!
It looks fancy, it tastes delicious, and is not a very common dessert. Hello conversation starter!!
Easy-Bake Sliders
So for this you can really mix it up with what kind you want to make! It's so easy and so yummy, it honestly makes you wonder why you haven't thought of it before. Unfortunately, despite the name of the recipe the iconic easy-bake oven is not a part of this one.... my apologies.
Ingredients:
1 package of King's Hawaiian Dinner Rolls
Sliced ham and swiss OR seasoned meatballs, spaghetti sauce, and mozzarella OR sliced corned beef, sauerkraut, and swiss
4 tablespoons of butter, melted
Play around with spices like basil, parsely, and oregano to make your own butter sauce.
Cooking Instructions:
1. DO NOT pull apart the rolls, leave them as a large block and use a big knife to cut the entire thing in half, so there is a top and bottom piece. (Pro-tip: King's Hawaiian sells these rolls in sub sandwich form where they are already pre-cut in half)
2. With the bottom half on a baking sheet, cover the roll with whichever meat you are choosing to use.
3. Top the meat layer with cheese (and sauce if applicable)
4. Put your top piece on the cheese and spoon out a coating of the butter sauce you made.
5. Bake at 350 degrees for about 10-15 minutes, or however long it takes for the cheese to melt and the tops to be golden brown.
6. After they're done baking, you can leave them as a whole large piece and allow guests to pull apart as they please, or use a knife and cut the rolls into individual squares.
Candied Bacon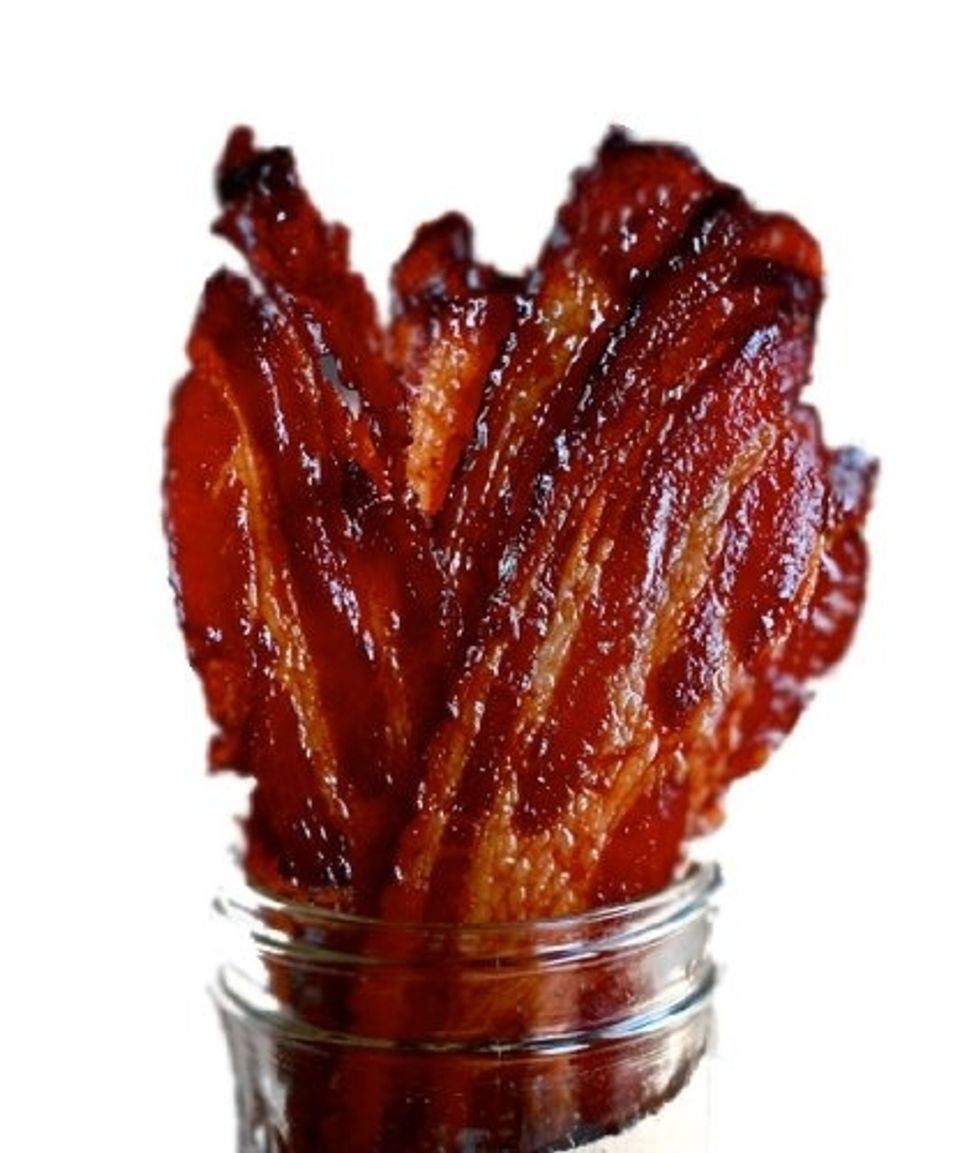 This is probably one of the best but trickiest recipes of the list. It can burn really easily so take caution and PAY ATTENTION when making this recipe!! ( I usually almost ALWAYS burn at least a piece or two so don't feel bad).
Ingredients:
Thick-cut bacon
Maple Syrup
Brown Sugar
Cooking Instructions:
1. Cover a baking sheet in foil because if it burns its near impossible to clean off.
2. Set aside a bowl of brown sugar and a bowl of maple syrup, you will be dipping the bacon in the syrup so take that into consideration of bowl choice.
3. Coat your bacon in the syrup and lay on the foil.
4. Sprinkle brown sugar on each side of the bacon.
5. Bake in the oven at 350 degrees for about 8 minutes but seriously peek every 2 minutes or so as burning can happen within seconds!!!
6. Let the bacon cool for a while and it will harden up and be super yummy and crispy.
Stuffed Mini Peppers
These are a colorful addition to any snack spread at any gathering.
Ingredients:
6 mini peppers, cut in half long-ways and seeds removed
Roughly 4 pieces of bacon, cooked and chopped up
4 oz cream cheese
1/2 teaspoon garlic powder
1/2 cup shredded cheddar cheese
Cooking Instructions:
1. In a bowl, mix together cream cheese, bacon, garlic, and cheddar until it is a smooth mixture.
2. Fill each half of the peppers with desired amount of the mixture.
3. Use leftover shredded cheese to sprinkle on top.
4. Bake at 400 degrees for about 10-12 minutes.
Jalapeno Popper Dip
Don't let the jalapenos scare you, this can be a non-spicy dip by just adding less of them! This dip is best served with crackers though, not tortilla chips.
Ingredients:
8 oz cream cheese
4 oz can of diced jalapenos, drained
1 cup sour cream
2 cups shredded cheddar cheese
1 cup Parmesan cheese
1 teaspoon garlic powder
1 cup bread crumbs
4 tablespoons butter
1 tablespoon parsley flakes
Cooking Instructions:
1. In a large bowl, combine cream cheese, garlic powder, and sour cream.
2. Mix in the jalapenos, shredded cheddar cheese, and 3/4 cup of the Parmesan cheese.
3. Spread the mixture into an 8x8 pan.
4. In another bowl, mix together the butter, bread crumbs, parsley, and remaining Parmesan cheese. Spread this mixture over the top of the dip.
5. Bake at 375 degrees for 15-20 minutes, or until the top is crispy brown.
Baked Potato Rounds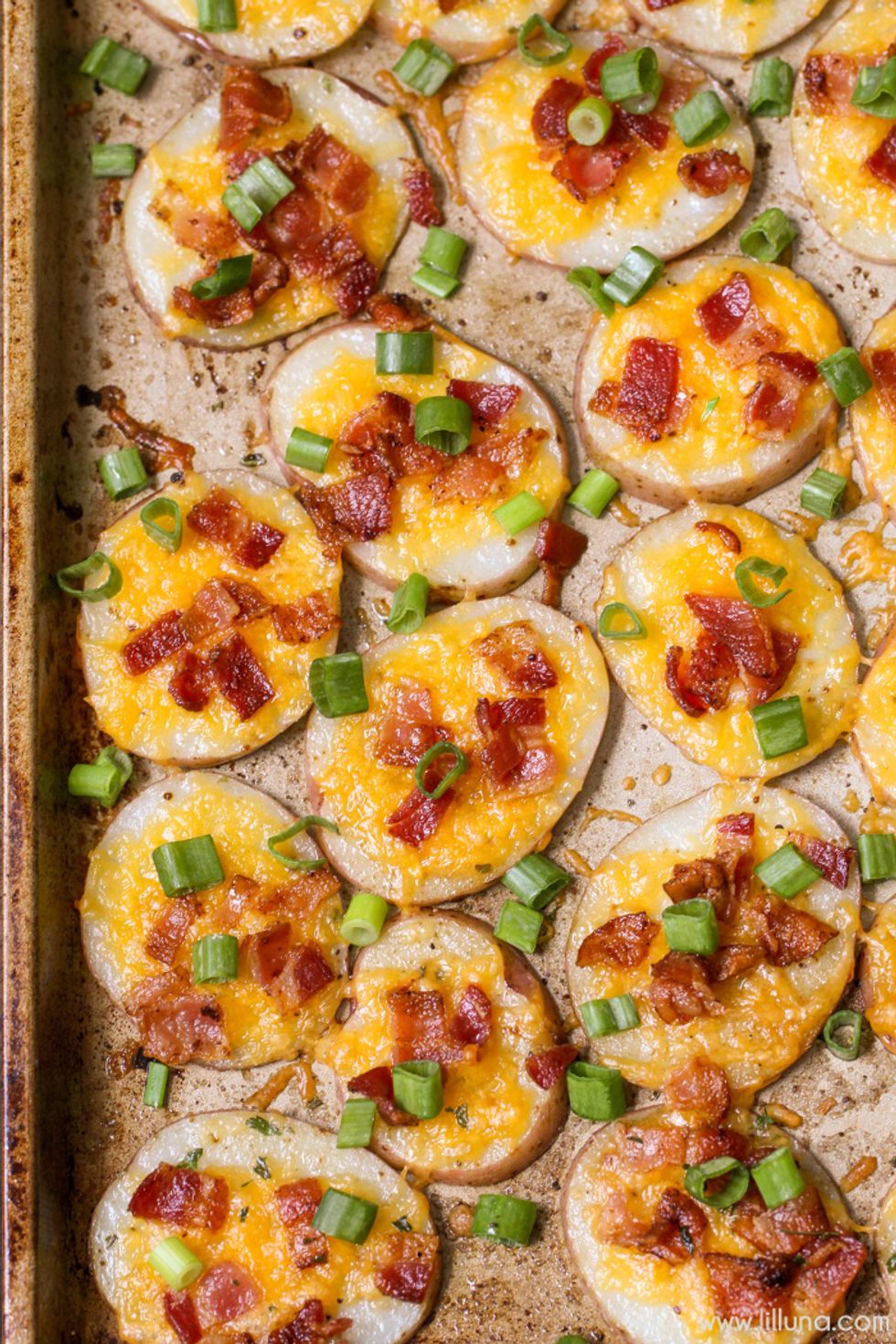 This one is probably the easiest, so I saved it for last.
Ingredients:
4 medium sized potatoes
5 pieces of bacon, cooked and chopped
Shredded cheddar cheese
Garlic salt
Cooking Instructions:
1. Bring a pot of water to a boil.
2. Slice the potatoes into 1/4 in ch thick slices and boil for 3-4 minutes.
3. Spread the potatoes out onto a foil-covered baking sheet, sprinkle with garlic salt.
4. Pile on cheese and bacon pieces.
5. Bake for 12-14 minutes and serve with sour cream to dip!