October is an exciting month - it is full of bonfires, sweaters, pumpkin spice, Halloween preparation and so much more. It is also a month in which everything is covered in pink due to Breast Cancer Awareness. There is another important cause that is forgotten or bypassed every single year - it is Domestic Violence Awareness Month.
I am not trying to say that Breast Cancer Awareness is not important, but I am trying to advocate that Domestic Violence Awareness is just as important. Domestic violence is a topic that is not discussed often, and it includes many issues, including physical abuse, emotional abuse, rape, stalking and homicide. I believe that we are aware that it is happening, but we are not aware with how often it is happening.
Close your eyes, think about how quickly the minutes pass in a day. One minute is simply 60 seconds. Each minute that passes, 20 people are physically abused. This equates to more than 10 million people being abused each year. This pertains to adults and teenagers. "One in three teenagers reported knowing a friend or peer who has been hit, punched, kicked, slapped, strangled, or physically hurt by their partner." On top of this, only half of all Tweens claim to know the warning signs of a toxic relationship.
If a Tween or teen is in an abusive relationship and does not recognize it, they are highly likely to stay in the relationship for months or years. Even if they break up, it is psychologically proven that we as humans cling to familiarity. If one is in an abusive relationship, they are likely to be in another, even if they know it is wrong, since it is familiar and comforting to them. Domestic violence needs to be educated, so those in an abusive relationship can get out of it in enough time to save their mental health and their future.
It is also important to recognize that males and females can experience domestic violence. Although it is statistically lower for males to experience it, it can happen.
How you can help:
-Wear purple, for it is the official color of Domestic Violence Awareness Month
-Make a donation to support the cause
-Join the week of action
-Host a charity event
UNCG's Alpha Chi Omega hosts a sit in each year to where they raise money for Domestic Violence Awareness. This is a great idea and example to get the message out there and to raise money.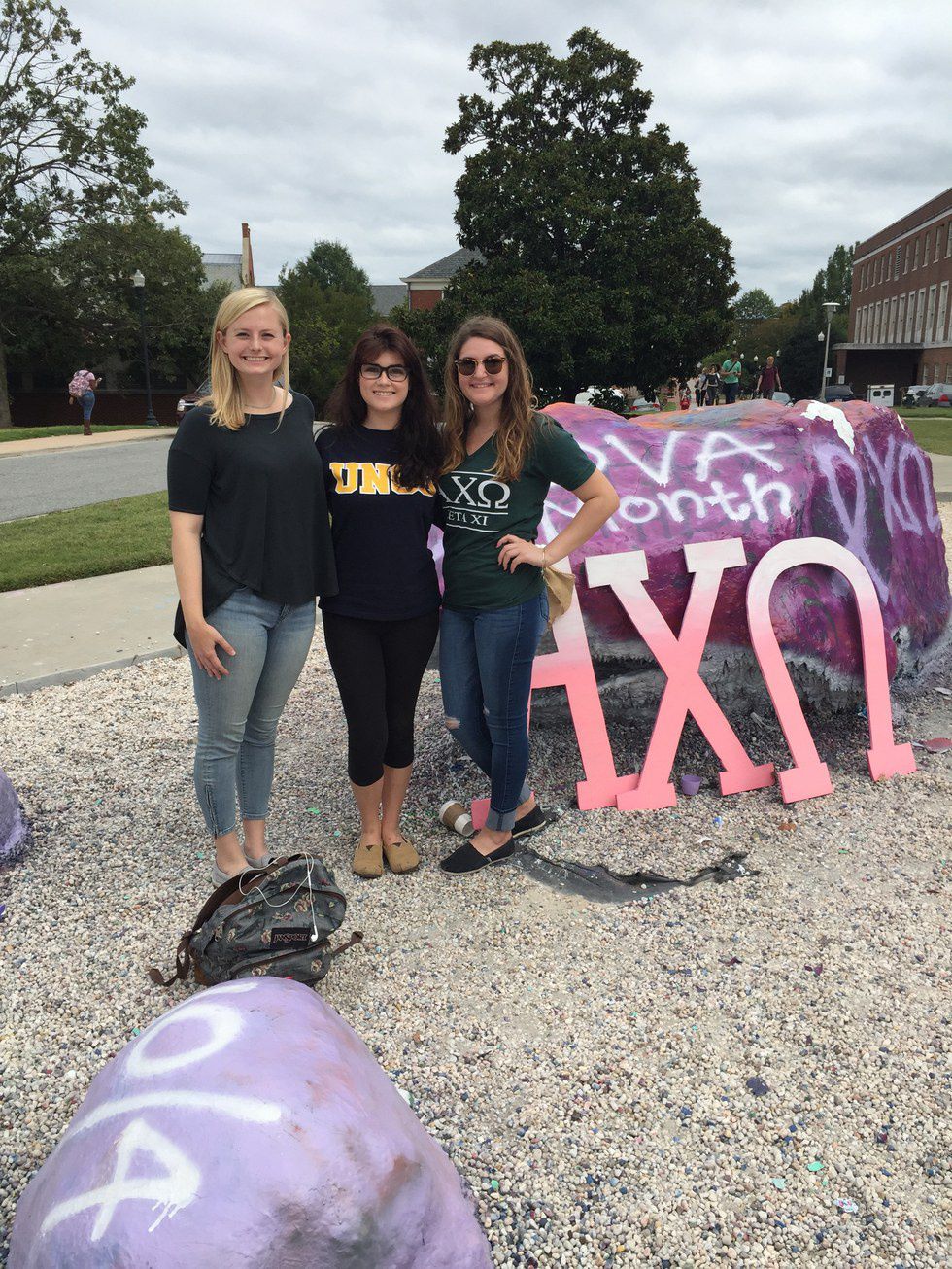 If you or someone you know is in need of advice, please call The National Domestic Violence Hotline at 1(800)799-7233. I recommend keeping this number safe, because you never know when you will need to use it. Keep in mind that this is anonymous and confidential. If you or someone you know is in immediate danger, please dial 911.
Finally, if you are reading this and are experiencing domestic violence, just know that there are people out there who love you. You can overcome this. Walking away is the most difficult part, and there is support for you throughout the process. You do not deserve to be mistreated, you are an amazing person, and you deserve only the best.