865 days. That is the number of days it had been since the University of Connecticut Women's Basketball team had lost a game, until Friday night. In case you haven't heard, their 111 game win streak was snapped in overtime of the Final Four round of the NCAA tournament by Mississippi State. Their last loss came in November of 2014…over three years ago, to Stanford, also in overtime. UCONN's head coach Geno Auriemma has built his program into a winning machine and dominant force.
Their winning streak of 111 games is nothing to laugh at. The Huskies are a winning dynasty that has done so much good for the women's game. This program has produced stars such as Maya Moore, Sue Bird, Diana Taurasi, Breanna Stewart, this list goes on and on. UCONN has forced women's basketball to become more relevant in our country. This program was something special even before their 111 game streak. The Huskies also had a 90 game winning streak prior to this one. They have done battle against other greats such as Skylar Diggins and Brittney Griner who made it by no means easy. Even for the people who say "women's basketball isn't interesting," cannot help but recognize that this program is achieving greatness. The longest men's NCAA streak stands at 88 games, and the UCLA Bruins hold this record from the 70s. Just in case your calculators aren't working, I have done the math for you. Yes, the UCONN women's team has won 23 MORE games straight than the standing men's record. But women's basketball is boring right?? This 111 game win streak and the UCONN dynasty has helped open doors for women's basketball players all around the world. Little girls are dreaming about being a part of the greatness, Division III players like myself feel as though our sport is relevant, basketball fans everywhere have a women's team to watch dominate and play the game effortlessly. Watching the Huskies play as a well-oiled machine has been incredible. Thank you to Geno and his program for making women's basketball on the map.
You have done so much for this game with your streak… but watching it come to an end, will also do great things for women's college basketball.
Dan Shaughnessy tweeted in March of 2016 after the Huskies blew out Mississippi State by 60 in the Sweet 16 round of the NCAA tournament.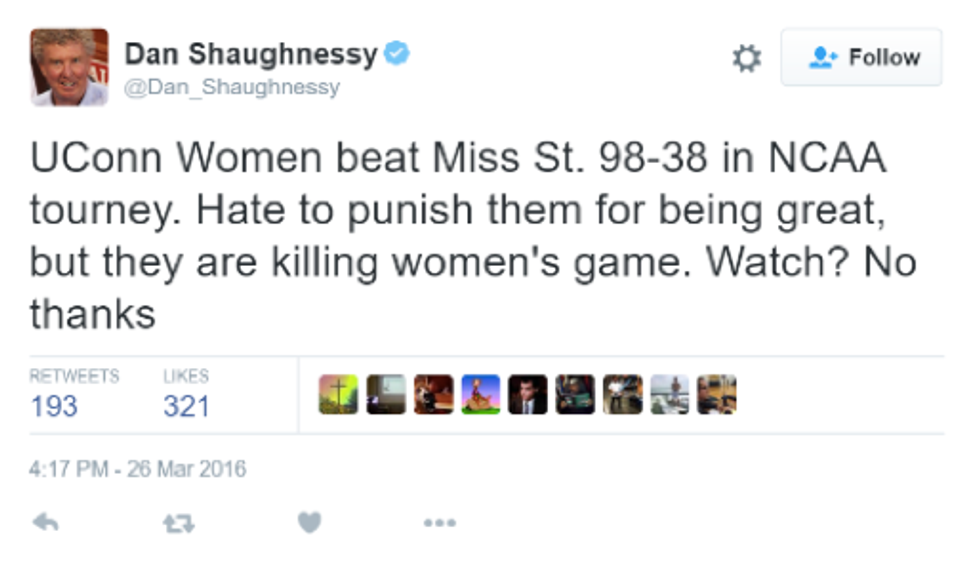 Geno responded when asked about the tweet at a press conference with "Don't watch. Nobody's putting a gun to your head to watch. So don't watch, and don't write about it. Spend your time on things you think are important. If you don't think this is important, don't pay any attention to it. The fact you have to comment on it? Says something about you, doesn't it? We are what we are. You know? We do what we do. When Tiger [Woods] was winning every major, nobody said he was bad for golf. Actually, he did a lot for golf. He made everybody have to be a better golfer. And they did. And now there's a lot more great golfers because of Tiger. There are a lot better writers than Dan Shaughnessy, but that doesn't mean he's bad for the game."

In my opinion Shaughnessy looks ignorant right about now. Obviously, he could never have predicted this but that is why sometimes we shouldn't tweet things that can be pulled up later to make us look unintelligent. Here we are about a year after his tweet, and look what happened. The unthinkable. Down goes UCONN. 111 game winning streak has been snapped by none other than Mississippi State. The same team that was annihilated in the tournament the year before by the Huskies. For the first time since 2013 we have a National Champion that is not the Huskies. Do you want to know what Mississippi did after their devastating and embarrassing loss to UCONN? They got better. Just like Geno said, Tiger made everyone else have to get better to compete with him, and so did the Huskies. Yes, Auriemma and his team lost, but they have forced others to get better. They also put on one heck of a show Friday night, I know I was on the edge of my seat! Overtime in the Final Four? Now THAT is exciting. So, Mr. Shaughnessy, you don't have to watch because "UCONN is killing the game." But what you don't understand is they are growing it and making it better. If they were truly killing the game…they would have been National Champs again, but they aren't, because other teams stepped up.
This one loss was the end of the season for the Huskies, but this is not the end of their dominance. They will be back, and it will be great to see who else in the country will be there working hard to also compete with them. Thank you Geno for what your 111 game winning streak did for women's basketball. And thank you Geno for what losing your 111 game winning streak will do for women's basketball.