There were people cheering and waving signs. One of the signs read, "If you're not a p**** vote for Trump."
Donald Trump came to Germain Arena Tuesday, Sept. 19, to get Florida voters ready for the election. The arena was packed, and there were more people outside than inside. People were lining up at the main entrance hours early to find a seat or at least stand in front of the podium.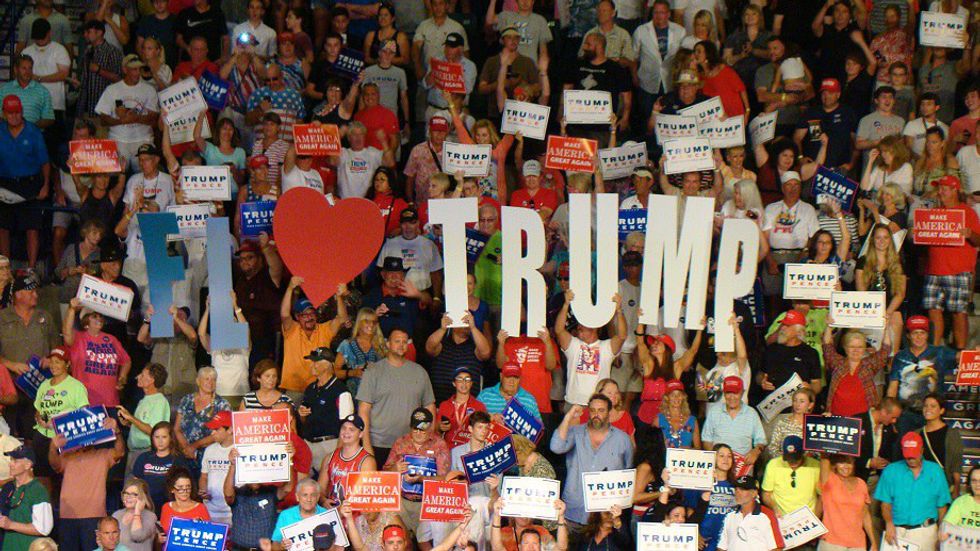 Many of the 8,000 plus people who were at the rally were FGCU students as well as high schoolers who came to hear the GOP presidential candidate speak. They played numerous videos of Clinton; one of the videos was about her deleting her emails. The crowd booed her and yelled, "Lock her up."
The guest speakers bashed her as well and talked down on Hillary saying, "She is not fit to be the president of this country."
"How cold and heartless could you be to lie to a mother about her dead son," Newt Gingrich said, referring to Clinton's statement to the Benghazi woman who loss her son in the war.
Trump used the recent attacks on Orlando, New York, Minnesota, and New Jersey to call for extreme vetting on Muslims, and to build a huge wall between in the American-Mexican border.
"We must defeat radical Islam," Donald Trump said. "Anyone who does not name the enemy does not fit to lead this country."
He blamed Obama and Clinton for making America soft and easy target for America's enemies.
"Obama opened the doors for ISIS. Now, it is time to close those doors," Trump said. "We should have temporarily suspended immigrants coming to our country."
It was as if anti-Clinton rhetoric received as pro-Trump, no matter how fallacious. He made Clinton the theme of his speech, and his supporter were eager to march with him.
"Hillary is weak and ineffective," Trump said. "She is not the right person to fix the problems Obama gave us."
Republican congressional nominee Francis Rooney of Naples called out all Republicans who sit out and said all members of the party should be supporting Trump.
"I don't want Clinton in the White House. I don't want Clinton to bring four years of disaster that have plagued this country for the past eight," Rooney said.
Bob Kunsth, 47 year old, who used to work for Hillarynow.com stood in front of the entrance of the arena with a sign reads 'Trump vs Tramp' said that he was being nice to Hillary to call her that. Kunsth helped start her campaign in 2003 and gave her five years of his life.
"Hillary is a Tramp. She's a murderer. She's responsible for 700,000 dead in the Middle East," Bob Kunsth said.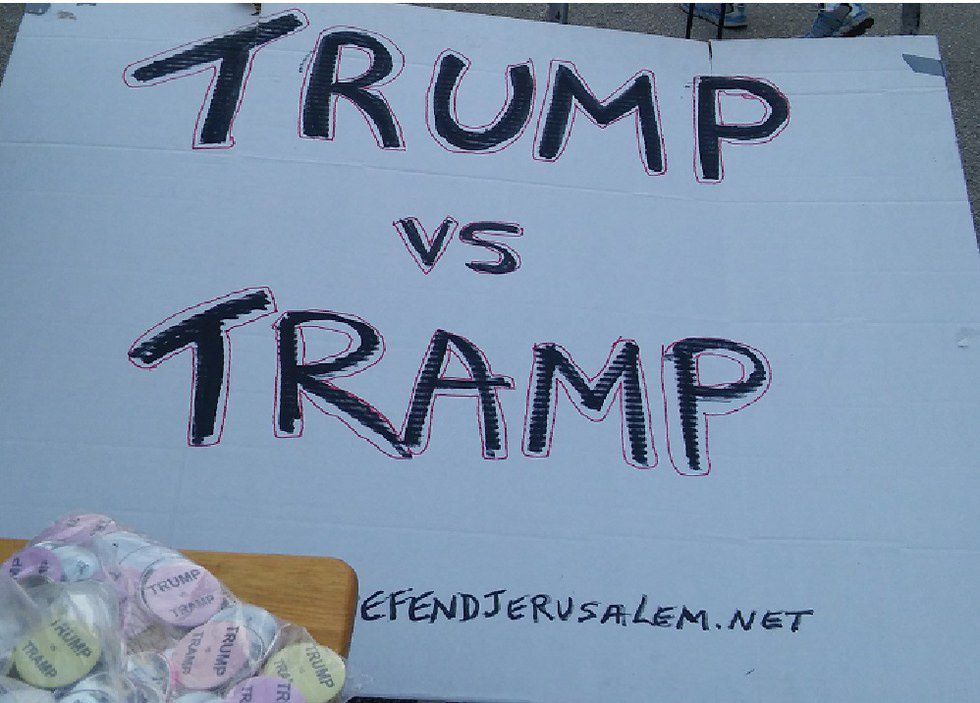 Then he went on blaming Hillary for 100,000 dead in the Iraq and the Arab Spring.
"This woman is evil. She really belongs in jail, and if you or I did what she did, we would be in jail," Kunsth said.
Even this far in the election, Donald Trump has not change his focus toward how he is going to create policies that will benefits the American people.
"I still have no idea what his policies are," Jerry Felix said. "The only plan that he had was to build a wall. I understand it politics because he failed behind, now he will use and say anything to get every votes he can get."
Hillary deleting those emails still leaves doubt in people's mind of what kind of president would she be. Many believe that Trump is the best candidate for the job because he has a better understanding of how to invest in the economy.
"Even if he does not hold up to his promises, he's our best shot compared to Hillary Clinton and Gary Johnson. We have an opportunity we got take it. This is a land of opportunity we take risks and we see the rewards of these risks," Keiran Rowan said.
Bradley, a 17-year-old student of Lee High School, said that Trump has issues like Clinton and others but was not willing to talk about them at the moment.
"Trump, he understands more of the public side of things. He is not politically correct all the time. He is not going to use a political term to define something. He just says it like 'radical Islam,'" Bradley Cunningham said.
Trump kept blaming immigrants, Obama, and Clinton for everything bad that happened in this country; the bomb detonated in March of this year in the airport, the mass shooting in Orlando, New York.
"My highest duty is to protect our society," Trump said. "Since 9/11 hundreds and hundreds of immigrants should have been deported. We want people to come to our country, but they have to love our country, they have to love us."
What a day for Southwest Florida. Trump finished his speech by telling the "The Snake Story," a bedtime story written by Trump himself followed by a few promises.
"I'm going to repeal and replace Obamacare," Trump said.
Trump promised to cut taxes and bring jobs back to America. He believes that high taxes caused many businesses to leave the country. He stated that China, Mexico, and other foreign countries are taking advantages of America, and our jobs are going overseas.
"We are going to bring jobs back to America," Trump said. "I will make America wealthy and safe again."