When people talk about their greatest fears, they often mention heights, spiders, snakes, clowns, rejection, failure, financial instability, death. Until recently I hadn't known what to say when asked about my fears. I know now. My greatest fear is that I irritate my friends and they don't actually want me around.
It seems like every story like this starts in middle school; I've traced the origin in me of this fear back to sixth grade. I went to a tiny middle school, and my sixth grade class consisted of 16 students -- 12 of whom were girls. That meant that energy was high and drama was rampant. Somewhere along the way, I had a falling out with one of my best friends. Since the girls in our class were so interconnected, I suddenly found myself unable to eat lunch with my girl friends or hang out with them at recess.
The four boys in our class kept to themselves, and, looking back on the drama that was going on between the girls, I can see why. At the time, "the boys group" seemed like the only place I could get away from "the girls group" and not be lonely, so I started spending all my time with the boys. They talked about video games I'd never played and Airsoft guns I'd never heard of; I did a lot of listening in sixth grade, and not a lot of talking. The boys largely ignored me, stopping their conversations once in a while if I had a particularly confused look on my face to explain what they were talking about. This was the first time in my life that I was aware that certain people might not want to be around me. From here on out, there would always be a nagging little voice in my head, whispering,
They don't want you around. You're annoying them. Why don't you just leave?
My social life has never been the same. Why? I constantly doubt my friendships and my worthiness to have friends. More often than not, after a few months of friendship, I leave without explanation to make new friends. It is by no means because I don't care about my friends; once you're my friend, I will love you always. My problem is that I decide to leave people before they can leave me, which actually makes me the one at fault. I shudder to think about all the people I might have unintentionally left behind because of my absurd fear that I'm unwanted, but the voice of fear is so loud that it manages to convince me that they're better off without me.
It seems silly that I would allow my fears to come true. Instead of running away from a friendship in an effort to keep myself from getting hurt, why don't I just stay and invest in the friendship so that it will grow into something stronger and more beautiful? That's not a rhetorical question. I want to know.
I noticed this trend sometime during my junior year of high school, and ever since then I've been even more cautious in my friendships. I realized that I can rarely stop myself from pulling away when people get too close to me. Now, on top of my fear that my friends don't like me, I'm afraid of myself as well. I'm always waiting for my brain to decide that it's time to leave, to get out while I still can. I never know how long it will take, but it happens almost every time.
I interpret everything in terms of this fear. Some friends went shopping without me? They must have needed the time away from me. They didn't tell me they were going to dinner? They definitely didn't want me there. They interact more with other friends on social media? They wish I'd leave them alone. They call other people their "best friends?" They obviously don't like me at all.
When I read what I've written here, it seems ridiculous. Fears are kind of ridiculous, though. Luckily for me, since I've identified this fear, I can try to face it.
What am I saying? Have I learned nothing from Jedi Master Yoda?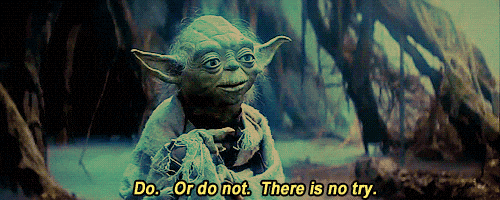 "No! Try not. Do. Or do not. There is no try."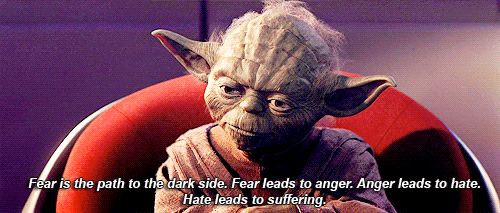 "Fear is the path to the dark side. Fear leads to anger. Anger leads to hate. Hate leads to suffering."
Thanks, Yoda. I won't let this fear get the best of me.