The last few days for Deondre Francois have been a whirlwind of accusations and apologies, pushing the Florida State football program into a national spotlight. A disturbing video, posted on Instagram by Francois' accuser, reveals audio from a dispute that occurred in January 2018. During this occurrence, police were called by Francois when a woman he knew entered his property and broke a few of his things. According to the incident report, no arrests were made nor was the video of the audio shown to the responding police officer. In the video released this week, the camera points towards the ceiling while you hear audio between a man and woman arguing in which the man threatens the woman with physical violence. After the initial posting of this video, Coach Willie Taggart announced a parting of ways with Deondre Francois, the Seminole's starting quarterback.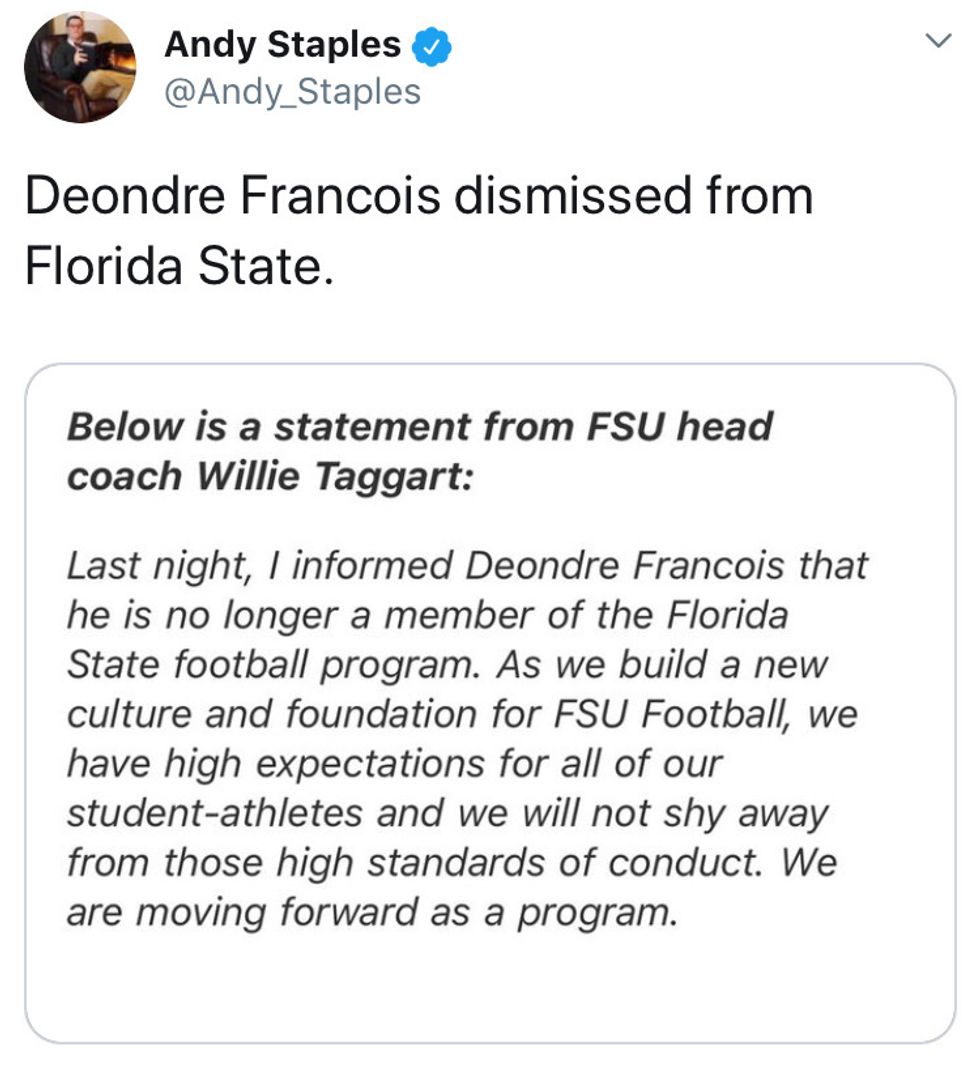 Statement from Willie TaggartAndy Staples
It's interesting to note that after his dismissal, a post apologizing for the video was created by the accuser's Instagram account. THEN a post from the accuser's family stated that the accuser's social media account was hacked. This "he said she said" scenario is less than ideal for an aspiring leader of a college football team.
With that being said, I believe Coach Taggart was RIGHT in his dismissal of Francois. Whether the accusations are true or not, Francois has created major drama around the Florida State football program. It is quite possible that Francois never laid a hand on his accuser. However, he seemed to have accepted his dismissal, as if to confirm his voice in the video. There is no way that Coach Taggart would dismiss his starting quarterback in mere accusations alone. It does not matter if you believe the accusations or not, the video was hands down disturbing. The clear threats the man makes towards the woman is in no way, shape or form the kind of image Florida State wishes to convey. Although I do have strong feelings for Francois' dismissal, I do wish him the best of luck within the transfer portal.
I hope he learns from his mistakes and continues to grow on and off the field on another college campus. A quarterback is supposed to be the leader of the team, and Francois has clearly shown his true character-- or lack thereof. Francois no longer fits in the new culture Taggart is creating for his players, one in which abuse (whether physical or verbal) has no place.