Growing up, plopping my butt in front of the television and mindlessly staring at some cartoon for hours on Saturday mornings was the highlight of my week. You see, I was one of those "allowed to watch 'Family Guy'" kids. As the youngest child of my family, I grew up a lot quicker than my older siblings, so innocence wasn't really my main concern. But, still, the age-innapropriate jokes flew right over my head. So you can imagine why, at the time, I never understood why other parents prohibited their children from watching. Well, shows like "Family Guy" and "The Simpson's" were one thing, but when households banned many other seemingly innocent cartoons, I was puzzled. How could any parent deprive their child of the hilarity that is "Foster's Home for Imaginary Friends"?
After doing some research, I now see exactly why parents were skeptical. It seems almost as if the producers of these shows were competing to see who could sneak the most sexual innuendos and lewd one-liners past our young, pure minds. Regardless, they did a pretty good job.
Looking back at what flew right over your head as a kid will cause you to spit out your morning coffee at some of these shockingly inappropriate jokes. Sorry for ruining your childhood.
1. This sign in "Ed, Edd n Eddy."
"Don't touch yourself." Hmm.
2. Eddy disobeying the sign.

Uh.
3. When SpongeBob played with condoms.

Well, we all do this.
4. Or when he got caught watching porn.

Awkward.
5. When they made a penis joke.

6. When Mr. Krabs made a penis joke.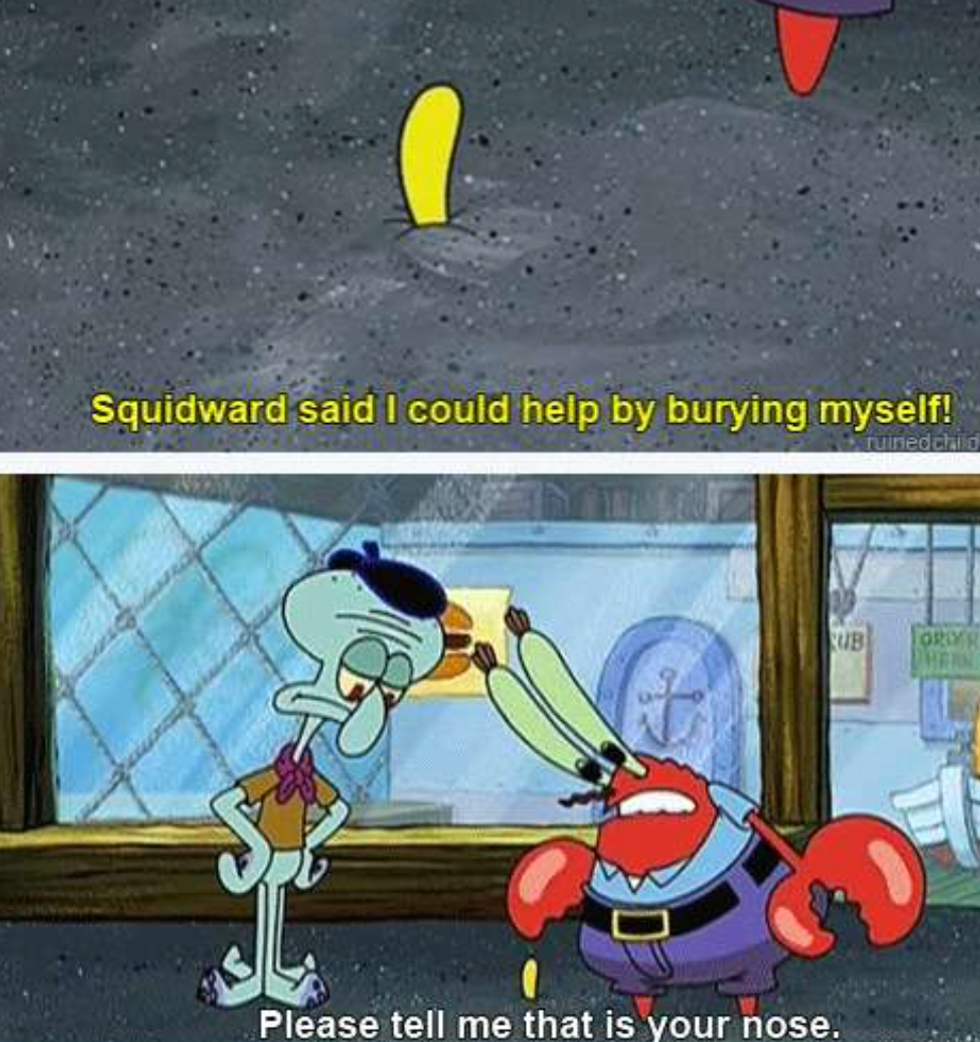 7. When Rugrats made a circumcision joke.

8. And they got a little too "all grown up."

Whatcha lookin' at?

9. And when Chuckie got too aggressive.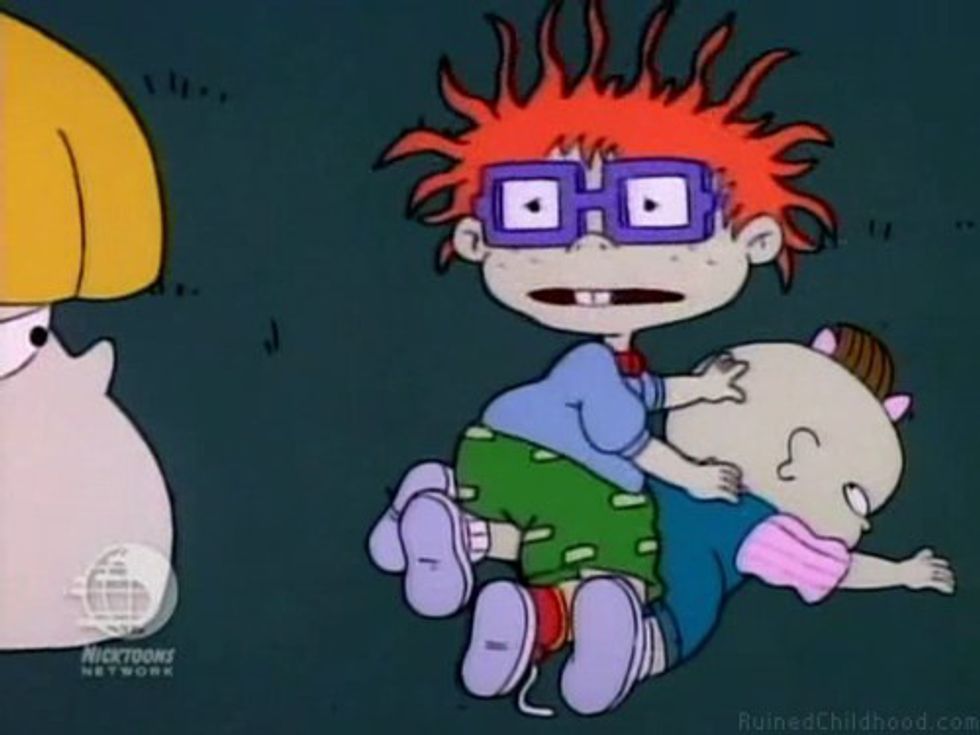 10. This phallic image on grandpa's face in "Hey Arnold."

11. Then Grandpa reminisced about his hippie good 'ol days.

Or should I say... daze?
12. Or how about Helga's erotic poem to Arnold?

This makes me so uncomfortable.
13. When Dexter "accidentally" hired a hooker in his laboratory.

14. Or this unusual toy in "Toy Story."

Fishing hook, get it?
15. When Ord flashes Max and Emmy in "Dragon Tales."

Yeah, I don't think that's your tail, buddy.
16. When Kronk "pitches a tent" in the "Emperor's New Groove."

Pretty sure that's not where a tent goes.
17. This play on words in the "Cat in the Hat."

18. And again in "Full House."

19. When the Flash discovers the downside to his powers.

Harsh.
20. When Genie alludes to wedding night intercourse in "Aladdin."

21. The dark fate of the Three Little Pigs' father.

Sorry, vegetarians.
22. Shaggy's love for drugs in the "Scooby Doo" movie.

23. When this skunk from Bambi's excitement is all too familiar

Looks like my dog's erections.
24. When Daffy Duck does some light reading.

25. As does the security guard in "Rocko's Modern Life."

26. And Heffer makes some questionable movements under his hospital blanket.

How did they get away with this one?
27. This penis joke in "Frozen."

You know what they say about guys with big feet.
28. This out of context image from "Pokémon."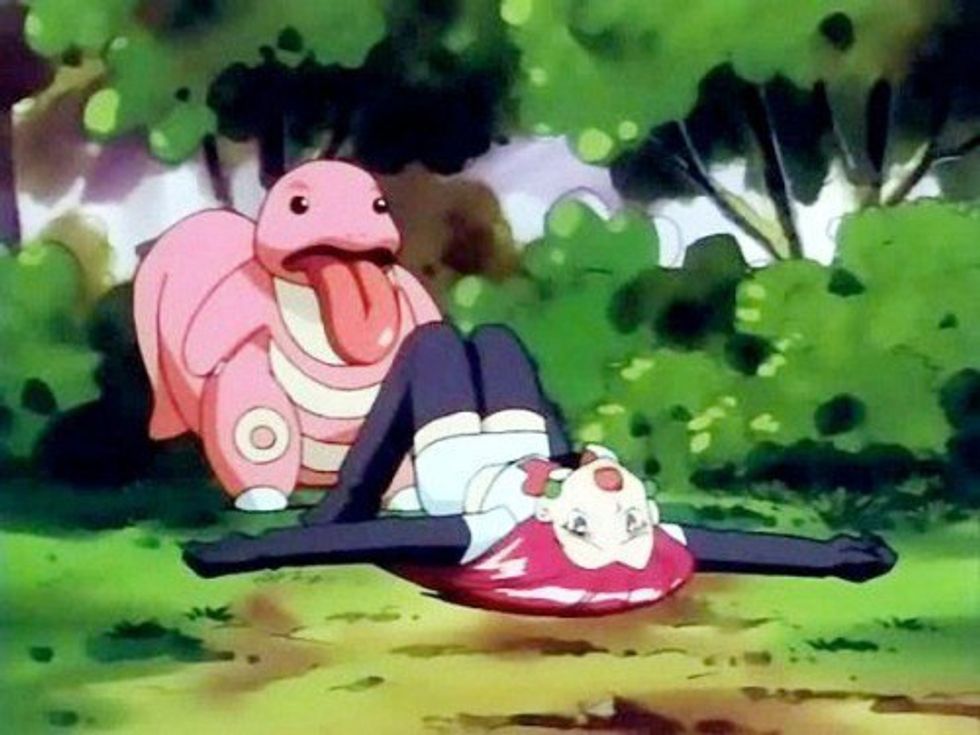 29. Boo's unsettling drawing in "Monsters Inc."

That kid is gonna need some therapy.
30. Peter Pan's interesting shadow.

Well, it's official. I'm scarred for life.