As a Flyer, there were three words that you hear over and over again;
Learn. Lead. Serve.
They are the three words that lie in the heart of UD, and in the hearts of each student in this corner of the world we all call home; the University of Dayton.
Stepping on campus in September of 2016, they were just three words to me. But, as a Junior here at UD, these simple three words have become the way of living out this beautiful, God given life. Through all of the experiences I have had under the beautiful blue chapel, I have learned the immeasurable value behind these three words, and the impact they have on your life once you invest yourself in something greater than you. This place, and these people, have taught me life-long lessons. I have learned immensely, while surrounded by incredible leaders, all fueled by the mission service; to one another, and for the one above.
This is UD, and this is what it has taught me.
I have learned "To enjoy the hearts I get to call home".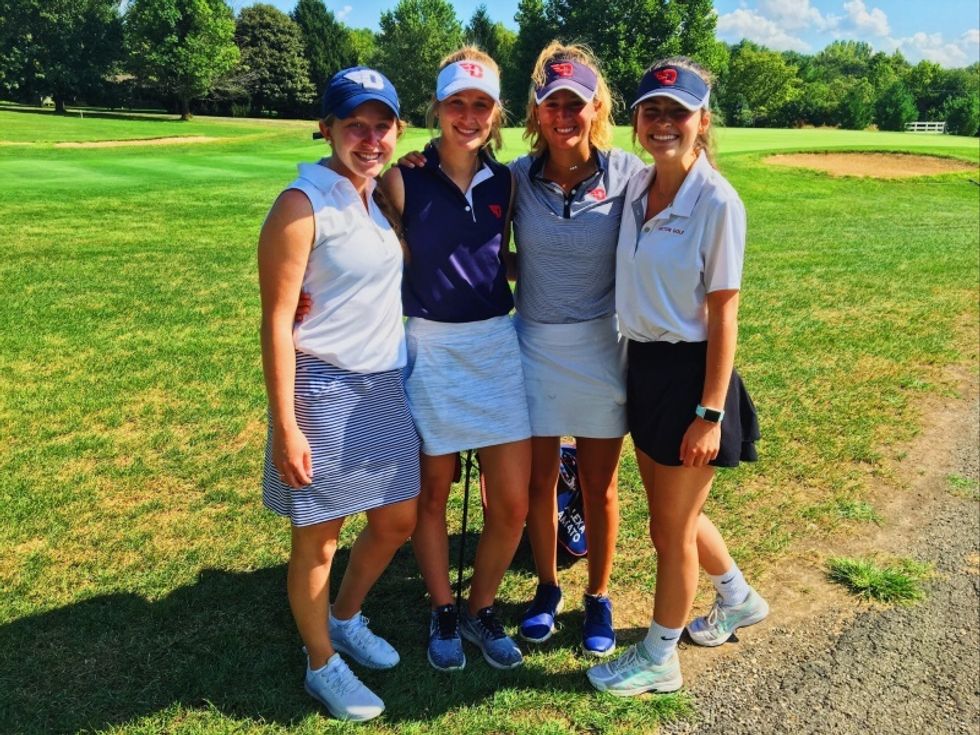 Personal Photo
Between the countless nights huddled around the TV in tears from the newest episode of "This Is Us", to the early mornings making banana pancakes as we jam out to our Sunday Mornin' playlist, and every single moment in between, Dayton gave me these three girls. These loving souls have, in time, become pieces of home. Each time I open the door to our little shack on Kief, I am reminded of the blessing it is to come home to the people you love doing life with. Through the highs and the lows, Dayton gave me three girls to laugh, cry, dance, and kick it on the porch with. UD taught me to look at each heart in my life in the eyes, UD taught me the value in seeing others, truly seeing them. I learned that everyone has a story, and everyone is walking this life in pursuit of happiness, and our greatest gift in this world is our ability to love and be loved. It is as simple as that.
I have learned that "There is a team to find, or build, anywhere you go".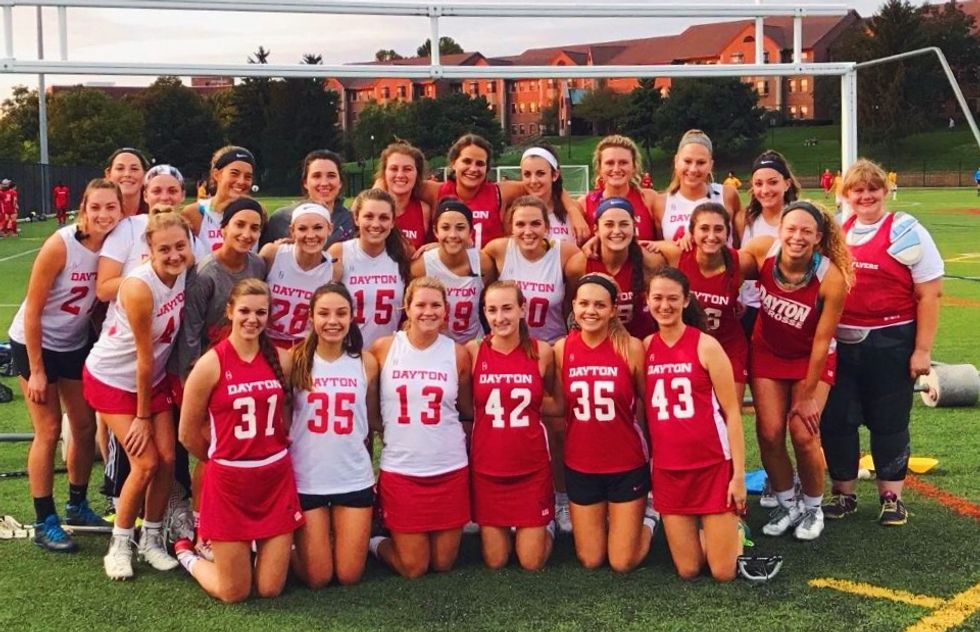 Personal Photo
I can still remember so clearly lacing up my cleats in the fall of my freshman year. I remember the feeling I got as I hit the turf on Stuart Field for the first time, wearing our UD Women's Lacrosse jerseys and playing the game I have come to know and love. Ever since I was little, I imaged myself in this very moment, playing the game I loved for the school I have always loved; UD.
Each girl on this team is family to me, and there is not a second that I would trade for the bus rides, hotel overnights, each second in-between the whistles blown, and all memories made with these beautiful people. UD Women's Lax is student-run and that is what is what makes us so special, and so strong.
This team gave me the opportunity to serve as the Social and Recruitment Chair, and it has been through this role that I learned just how much goes into maintaining the momentum of the driving force behind our team on campus. It is through our ability to lead one another, and lean on one another, to succeed on and off the field that builds the most beautiful and unique connection that can't ever be broken. There is power behind a team, and I can never thank UD enough for giving me this team.
I have learned the true meaning of "Leadership in Action".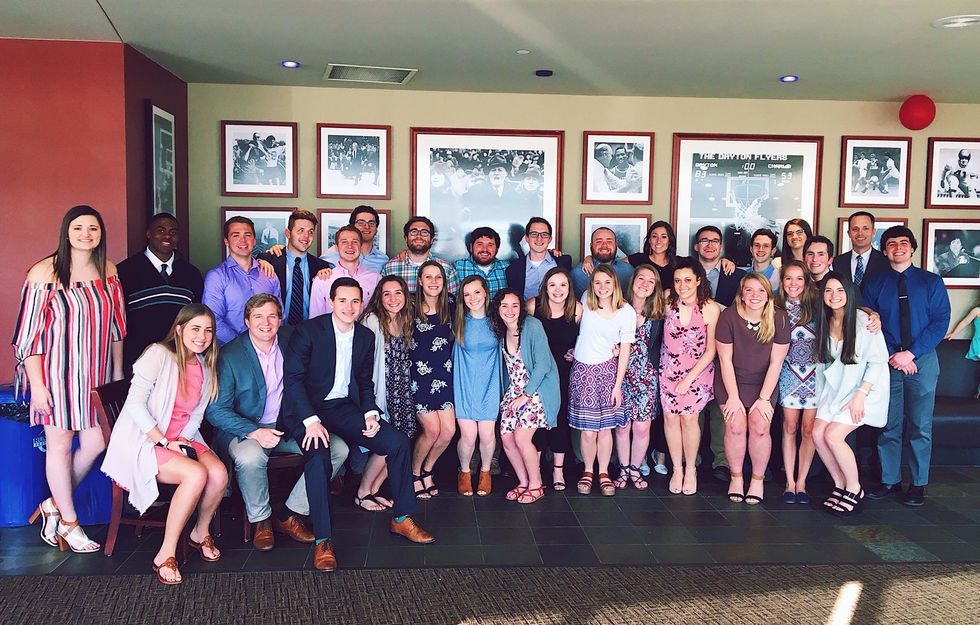 Personal Photo
Yes, we are the friendly faces that play oldies' but goodies at the front desk, and swipe your card while throwing in a "Have a great workout"! Yes, we do strictly hire based on how you look reppin' the red UDCR polos (joking!). But, the one yes that I can say more confidently than all the others, is when I am asked if the experience of working for UDCR has been rewarding, and if this experience has served as a catalyst for who I am and the motivation I have personally and professionally. To this, my answer is hands down, every time: "yes".
Working as a student employee for the University of Dayton Campus Recreation Complex has fueled my passion to be a better leader than any other experience in my life. I have never felt more invested in, cared for, and challenged than in the moments wearing that Red UDCR Polo. As a Freshman, I was brought into the UDCR family's open arms, and I immediately saw their Servant Leadership vision for this campus unfold before my eyes. I was moved, and inspired from day one.
UD has given me some of the most rewarding experiences I will ever have through my job on campus, and a network of hard working, passionate, best friends and mentors that I will carry with me for the rest of my life.
I have learned to "Set my mind on the things above".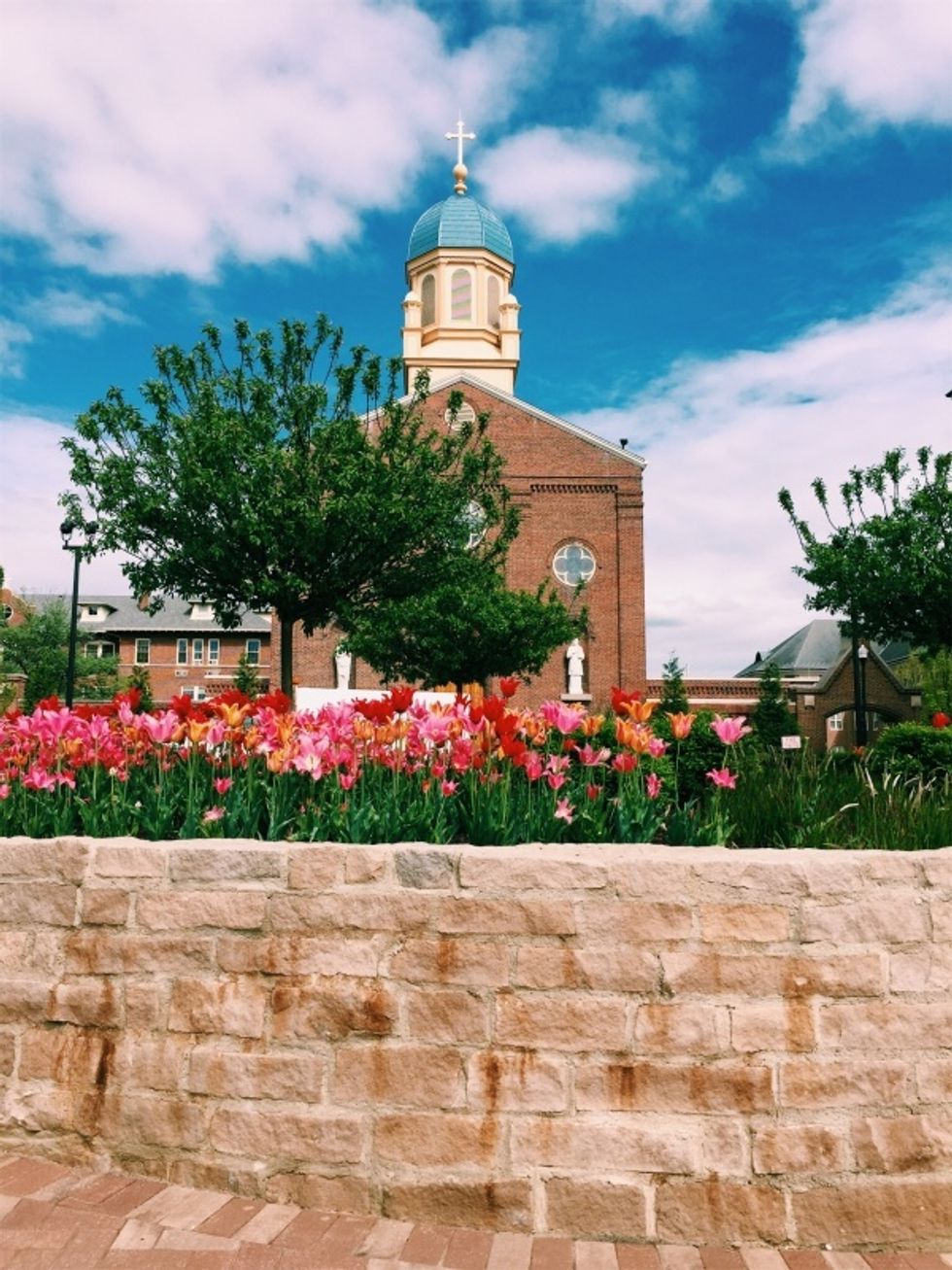 Personal Photo
Each time I pass the chapel, the beautiful blue dome never fails to slow me down just enough to stop, look up, and breathe. Looking back at me is always that beautiful cross, reminding me of what, and who, is most important. I am reminded of the one who has my life in the palm of His hands. Our beautiful chapel is at the center of campus, because our maker is at the center of us, and all that we do with our time on this earth.

The graceful presence of this place alone, reminds me with each walk to class of the deeply held values not only of UD, but the values in me. I am reminded, time and time again, to look up. When I think of Dayton, I think of the community that I have here, but I also think about the values that are alive on this campus, and the chapel serves as the symbol for the "greater good" that stands solid, time after time, always ready to welcome each student back home. There is never a moment that this beautiful place doesn't bring me back home.
I have learned that "It is so more than just a neighborhood".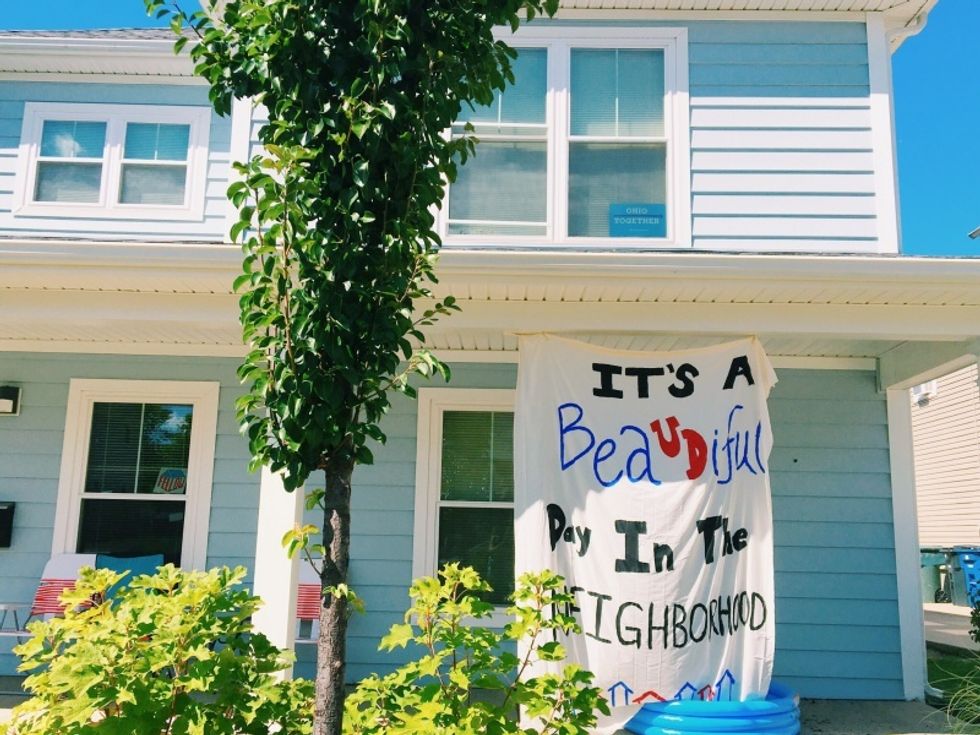 Personal Photo
What started as student on-campus housing in the 1870s, has turned into the most unique, energetic streets packed with students who are living life with a smile on their face. There is an energy to this place that you truly can not find anywhere else. As you drive down each street, there are sheet signs made by every student living on each porch that leave your heart happy, and shed light on the incredible friends we all get to call our neighbors. With each walk down Irving, Lowes, Kiefaber, or Stonemill, there are three things that are guaranteed; music playing, feet kicked up on the porch, and people welcoming you with a wave, simply "Happy to be here".
This place leaves you with a sense of magic, and it goes so far beyond the simple blocks of a neighborhood. Simply put; it puts Disney world to shame, and the best part is, its a place I get to live in.
I have learned "To slow it all down and take in each sunset".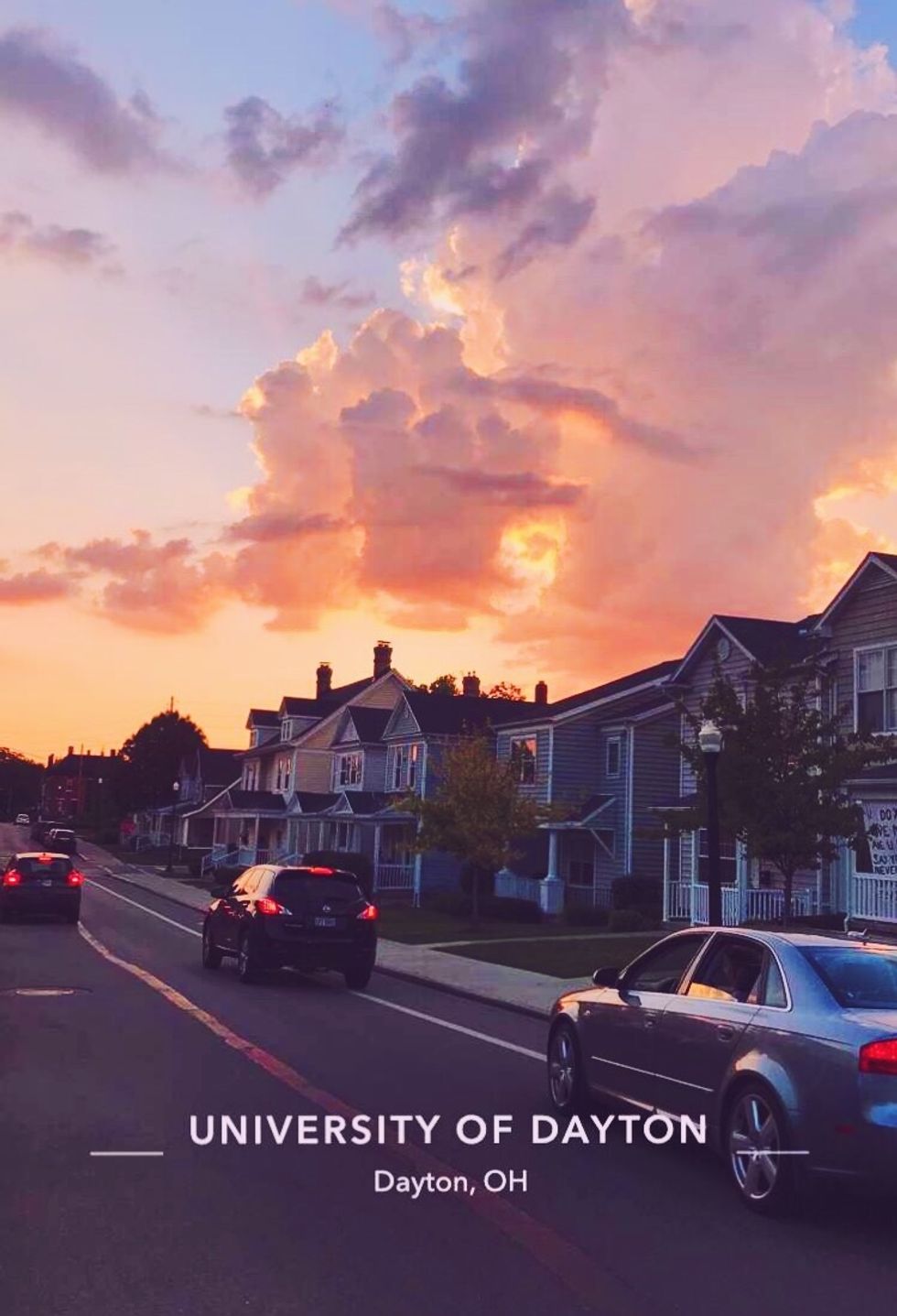 Personal Photo
In between 18 credit hours, 2 on campus jobs, a club sport, intramurals, professional fraternities, service organizations, and the list goes on… there are many moments in which are missed. Growing up, I used to always call these moments "God Winks".
They are the little moments, that serve as glimpses, of the work of art that is all around each and every one of us. But, this place, and the beautiful skies above, force me to stop in my tracks and take it all in. Home to the best sunsets this world can offer, UD brings these God Winks to me in every possible way. Each of these moments are found, and felt, all over campus, and they are reminders of just how simple things can be when we slow down to appreciate all that we have been given.
I have learned that "It is bigger than me".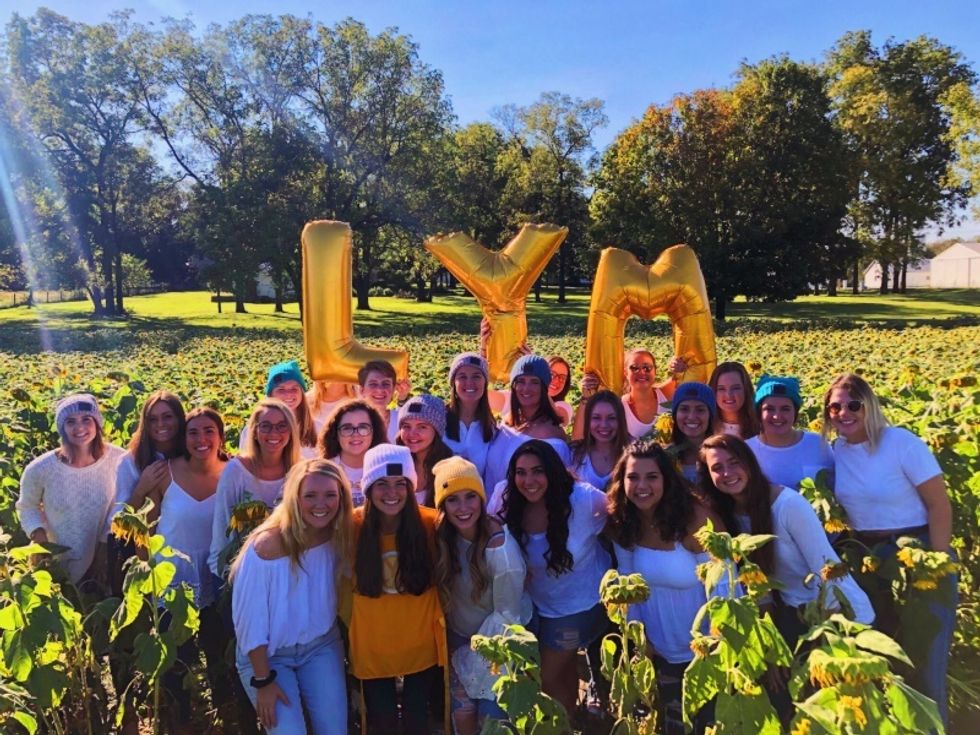 Personal Photo
There is something so beautiful when you are able to take a step back and see the bigger picture unfolding before you. Every single corner of this campus has opportunities for students to become involved in something bigger than them. To serve one another humbly knowing we have such more more to learn, but there is so much we have to offer as we are right now. As an Ambassador, and Secretary, for the clothing brand Love Your Melon on the University of Dayton Campus, I have see the most beautiful form of service come to life from each member on our Campus Crew Team as we work to provide support and "Love" to the courageous souls that are battling cancer.
UD gave me the opportunity to see just how much could be done through consistently giving apart of myself and my endless blessings to those who are walking this earth alongside me. Through LYM, I have learned to take that extra step alongside those in our community, and watch as something bigger than all of us unfolds before our eyes for a greater good.
Last but not least, I have learned that I have become apart of "A Flyer Family that will last a lifetime".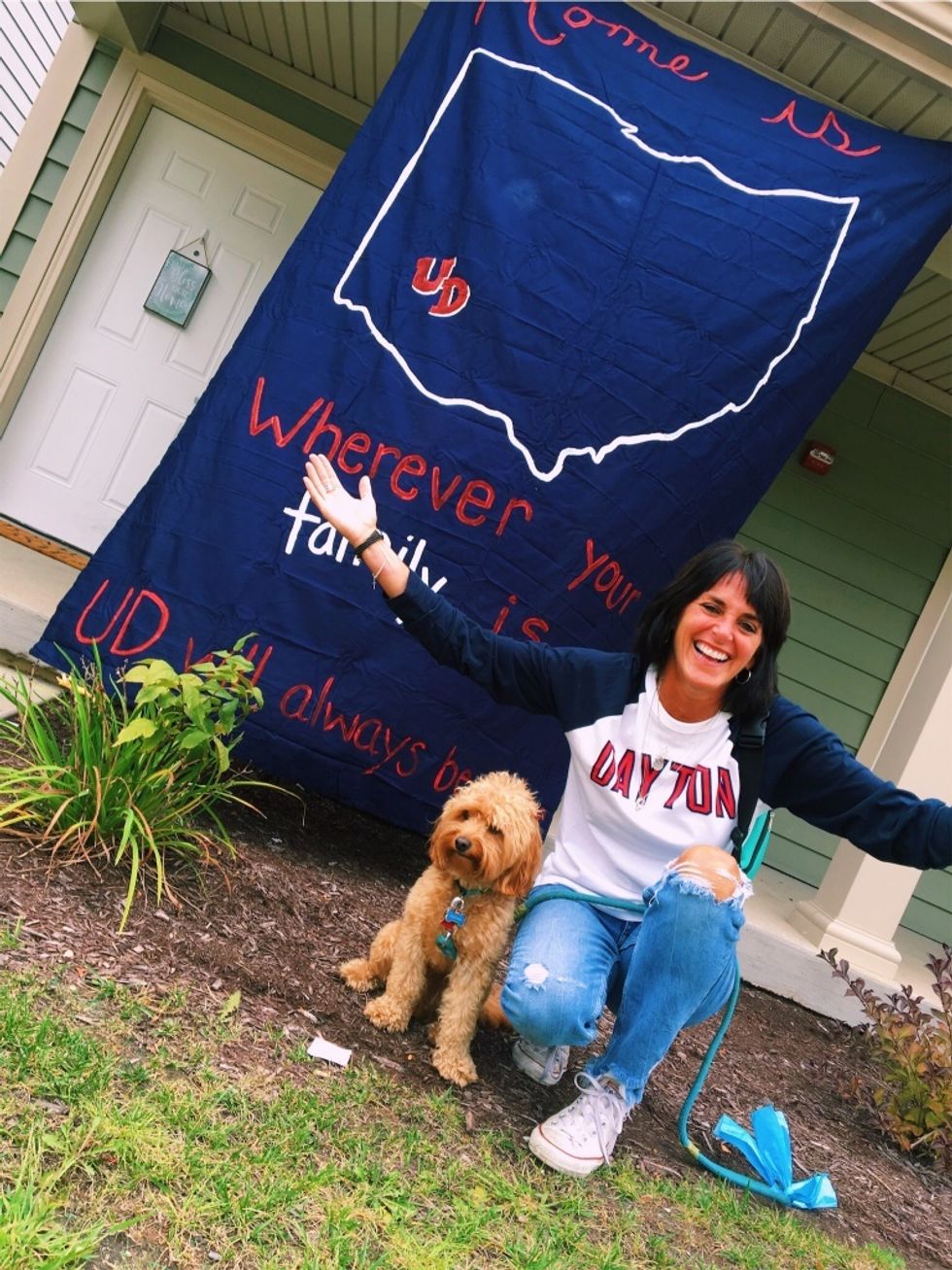 Personal Photo
From the minute I could say the word "Flyer", I truly believe my sweet Mama Harps had me in a UD Jersey ready to rally. Growing up, I would watch her face light up with this authentic passion, and warm energy as she spoke about the endless memories she made during her time as a UD Flyer under the blue chapel. With each story she told, the joy within her radiated out as she remeniced on the moments that made her who she is today; the strong, graceful, energetic, beautiful heart that she is. I never truly understood the impact of this place on her heart until we stepped foot on campus, and she was welcomed back into the arms of all of those people she did these four years with during Parents Weekend my Freshman year.
To see the person I loved most in this world, so loved and embraced by a community of people who shared this "energy" filled my heart so fully. I could not wipe the smile off my face as her flyers came up to her, wrapping her up in hugs and starting us off with "Kelley Kiernan!! Oh I have a good one! Remember when..."
That is the beauty of this Flyer Family, no matter where I go; in my hometown, out of the state, and even out of the country, the minute our family sees that UD logo, we are bonded to the heart that is wearing it. That is what community is to me, and there is a Flyer family that I will always be apart of.
So, Cheers to you UD, Thanks for being so good to me.
And, of course, let the gUD times roll.
Related Articles Around the Web