Without revealing too much, one of my best friends recently found out that her dad has been a secret stoner all these years. As his children entered the experimental teenage years, he'd scold them about the use of drugs and alcohol. Then, he would proceed to reach into his hidden stash (which he later uncovered) to roll up. Sounds a little strange—funny even—but maybe my friend isn't alone.

New data released earlier this month by the Centers for Disease Control and Prevention shows that middle-aged Americans are now more likely to use marijuana than their teenagers. You read that right, Mom and Dad.

The Washington Post reports that only 7.4 percent of 12- to 17-year-olds smoked weed regularly in 2014, which is a decline of 10 percent since 2002. A slightly larger number in comparison, 8 percent of 35- to 44-year-olds were reported to use marijuana regularly in 2014.
Since 2002, there has been an almost 50 percent increase of reoccurring marijuana use among 45- to 54-year-old Americans. And even more shocking, the regular use of the drug among those ages 55 to 64 has jumped by 455 percent.
And it doesn't just stop there—the rate in marijuana-smoking grandparents has also risen. Among seniors (65 and older) monthly use has spiked 333 percent.
Report author Alejandro Azofeifa told The Washington Post in an email that during the last 13 years, "marijuana use (i.e., past-month marijuana use) has steadily increased in the United States, particularly among people aged 26 years or older." Azofeifa also said that in the past month, "Older groups [specifically] had a significant increase of marijuana use."
There are those who condemn the use of marijuana and those who rave about its health benefits—its alleviation of both mental and physical pain. Whether you side strongly with one argument or you're indifferent—take these numbers as you will.
According to The Washington Post, there are several factors that could come into play here, one of which is the growing percentage of older adults using medical marijuana to treat ailments such as sleeplessness, aches, and arthritis.
These older adults are also taking advantage of relaxed restrictions on marijuana use, especially in states where it's legalized. To date, 25 states and Washington D.C. have decriminalize medical cannabis, and come November, eight states will vote to legalize the use of cannabis for recreational or medical purposes.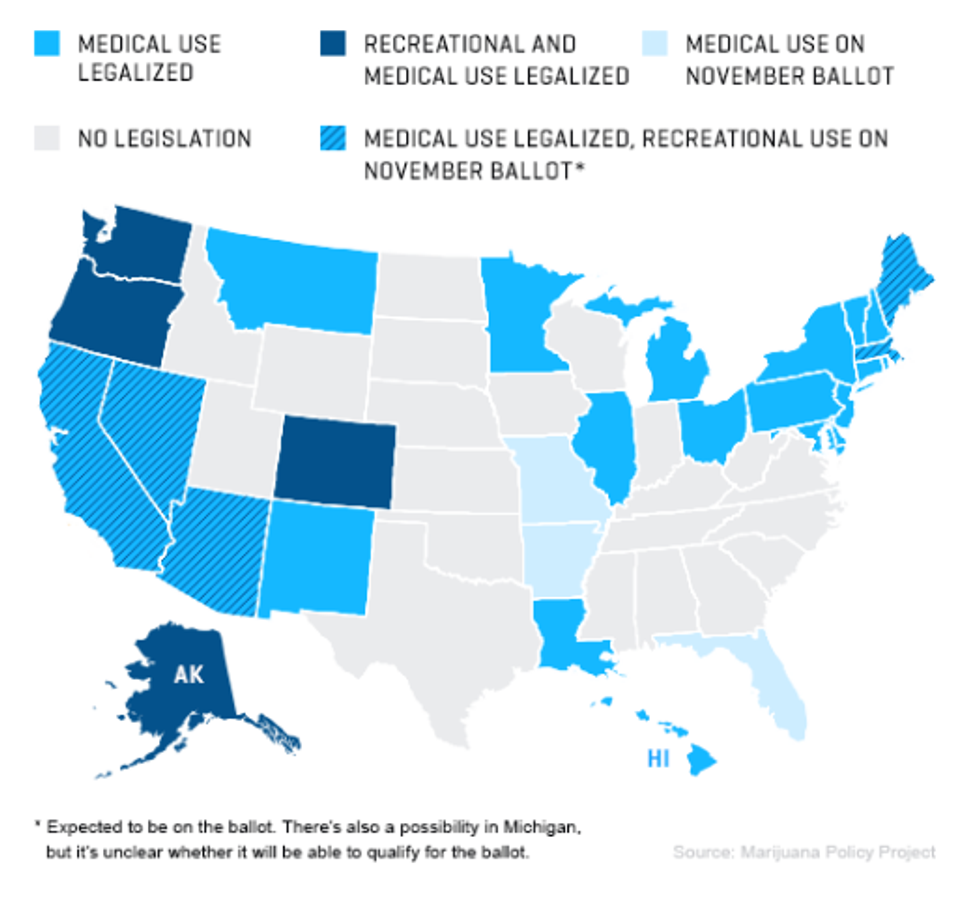 If trends like this continue, it's reported that in a few years, marijuana use among older adults in their 50- and 60-somethings could be higher than use among teens.
My mom only dabbled with marijuana in high school (and has made a point to say that it was not for her), and my dad has never smoked a day in his life. So I'm not sure they'll be quick to blaze up anytime soon. But this certainly will be a good conversation starter at your next family dinner. Instead of "Pass the salt," we'll be saying, "Pass the blunt Grandma."