Since its inception in 2012 and beginning development in 2016, console/PC gamers and longtime fans of the futuristic tabletop series long awaited the release of the open-world role-playing game (RPG) "Cyberpunk 2077." Set in Night City where powerful corporations, gangs, and crime run rampant, you play as V, the 22-year-old protagonist that scours the city and the desolate outskirts called the Badlands for work, money, and most of all, fame. Filled with a variety of missions, non-playable characters (NPCs), bodily cybernetic enhancements, and player backgrounds called "lifepaths," Cyberpunk offers players and fans alike an immersive take on the RPG genre of video games.
However, since its release on December 10, the controversy surrounding "Cyberpunk 2077"--its bugs, glitches, base PlayStation 4/Xbox One versions, and Polish developer CD Projekt Red's advertising--has resulted in players and companies criticizing the game's current state.
1. Some players have criticized Cyperpunk's non-transparent advertising.

Cyberpunk 2077: Base PS4 vs PS5 Youtube
Since the beginning, CD Projekt Red made an effort to showcase Cyberpunk's graphics, mechanics, gameplay, and overall presentation--ranging as far as eight years ago since the game's reveal. However, CD Projekt Red was not fully transparent regarding the striking differences between the graphics and overall playability between the newly released PlayStation 5/Xbox Series X and the first generation PS4/Xbox One versions. Whether that was purposeful or a marketing error is still up for debate since the game released only weeks ago. CD Projekt Red did acknowledge their editing, stating in their apology, "We would like to start by apologizing to you for not showing the game on base last-gen consoles before it premiered and, in consequence, not allowing you to make a more informed decision about your purchase. We should have paid more attention to making it play better on PlayStation 4 and Xbox One."

Opinion: From a player's perspective, CD Projekt Red's advertisement leading up to the release of the game for the past year seems intentional. With the graphic demands they set themselves up for, and the release of both the new PS5 and Xbox Series X, it's not complicated to see why the developers kept the PS4/Xbox One versions away from the public: they wanted to show the game at its best. Nonetheless, this kind of pre-emptive damage control and deception only added fuel to the raging fire that surrounds Cyberpunk as a whole. CD Projekt Red should've been more transparent about the game's performance on older consoles, PC, and they should've issues fully transparent warnings--not only about the graphics--but about the game's performance overall. Slapping Keanu Reeve's face on the game and selling it to players is not enough to appease the masses, so they should've thought about it a little more. All-in-all, it was a lazy marketing tactic.
In the meantime, GameSpot's breakdown comparison presents exactly how different the next-gen console and old-gen console versions truly are.
2. Versions of the game vary based on device.
Cyberpunk 2077: PC VS CONSOLE Graphics Comparison - (Xbox One X / PS4 Pro VS PC) Youtube
If you own a first generation PS4 or Xbox One compared to either the PS4 Pro, the Xbox One X, or the next-gen consoles, you experience with "Cyberpunk 2077" is not entirely what you signed up for. On par with CNBC's take on the game, "Cyberpunk's steep graphics requirements mean that the game [suffers] on older hardware. People playing the game on PS4 and Xbox One have found it often freezes, while textures take a while to load in, and [non-playable] characters' faces are sometimes blurred." The PS4 Pro and Xbox One X versions run better--closer to the advertised gameplay on the PC and next-gen console versions--yet it is not perfect by any stretch.

Opinion: The issues are not the end of the world. As base PS4 owner and a player of the game, Cyberpunk's issues are connected to the age of players' consoles, the hardware of players' PCs, and the games internal issues. So far, the game fairly well on some base PS4s due to age alone, and with the two released patches, CD Projekt Red did stabilize and mitigate some of the issues players experienced; however, those patch notes will be showcased later on.
YouTuber DRJ's comparison of old-gen and PC versions puts into perspective Cyberpunk's graphics.
3. CD Projekt Red has apologized and agreed to select refunds.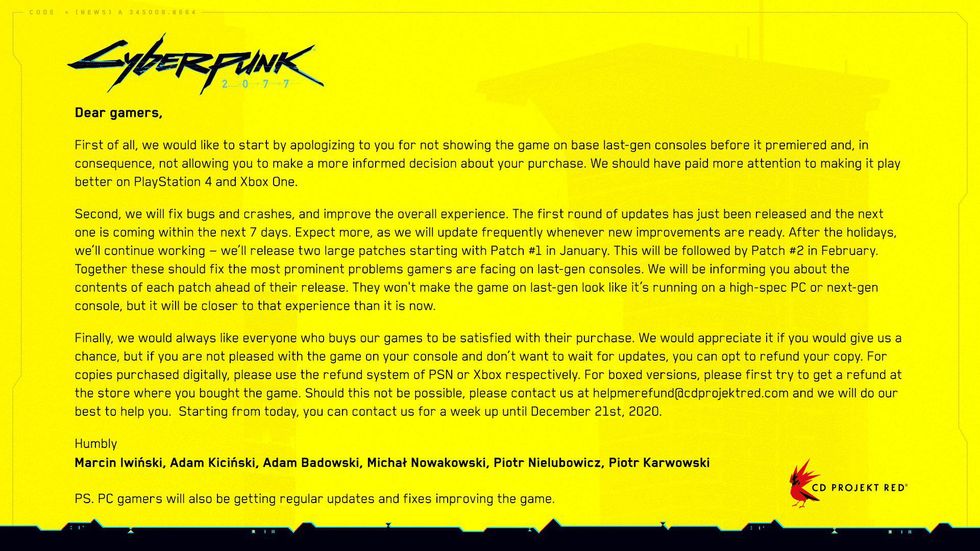 @cyberpunkgame/Twitter
CD Projekt Red, after receiving backlash upon the release of Cyberpunk, issued an apology to notify players of future actions. In their statement, the developers acknowledged their misleading marking ploy, and asked players to "give us a chance" whilst they continue to work and bring the game to full efficiency. Notably, however, CD Projekt Red also acknowledged the frustration caused by the game's poor performance on all consoles overall and refunded players through December 21. Players can request refunds at the email helpmerefund@cdprojektred.com or try the store where they bought the game first; however, according to Vox, "People quickly discovered that this was a make-good in name only. Retailers redirected those seeking their money back to speak to the company, which only reiterated that it was up to retailers to make the refunds." Issues from the refund requests are many since parties are currently in the crossfires of the game's release and performance problems. CD Projekt Red pledged to "fix bugs and crashes, and improve the overall experience, [and] we'll release two large patches with Patch #1 in January. This will be followed by Patch #2 in February." PC players will also receive constant updates, and as of December 18, Sony is refunding players who purchased the game digitally. As of right now, here's a list of some improvements mentioned in the PS4 1.03 and 1.04 patch notes:
Patch 1.03
- "Risk of Seizure" warning added to the game's introduction
- Blurriness addressed
- Performance and stability improvements
- Fixed sporadic crashes
- Fixed game performance, loading, and texture issues.
Patch 1.04
- Improved car and vehicle streaming
- Fixed preview in weapon crafting
- Fixed missing animations in scenes
- Fixed various quest issues
- Improved stability
Opinion: CD Projekt Red's apology is the best public announcement they could've made. Not only are they declaring to fix the game, but it shows that they are dedicated to providing players with the full-blown Cyberpunk experience--an experience that was promised eight years ago. Other companies like Bethesda Softworks, Hello Games, and Monolith Productions have released games on totally different premises compared to gameplay footage and trailers (as in the case of the disastrous "Fallout 76," "No Man's Sky," and "Middle-Earth: Shadow of War"), which were all games that not only had performance issues, but also misleading marketing. None of those companies received as much criticism and backlash as CD Projekt Red received in the past week. Players are upset, understandably so, but players also need to realize that games can be improved upon over time (as most games nowadays are), updates are remotely transferred via the Internet straight to consoles and PCs, and the game will be fixed in the upcoming months. Truthfully, CD Projekt Red should've delayed "Cyberpunk 2077" once more to refine and polish the performance, but that is easier said than done in what is the multibillion-dollar gaming industry. Overall, the situation is not as deep as disgruntled players are making it out to be.
4. Sony Interactive Entertainment pulled Cyberpunk from its online store.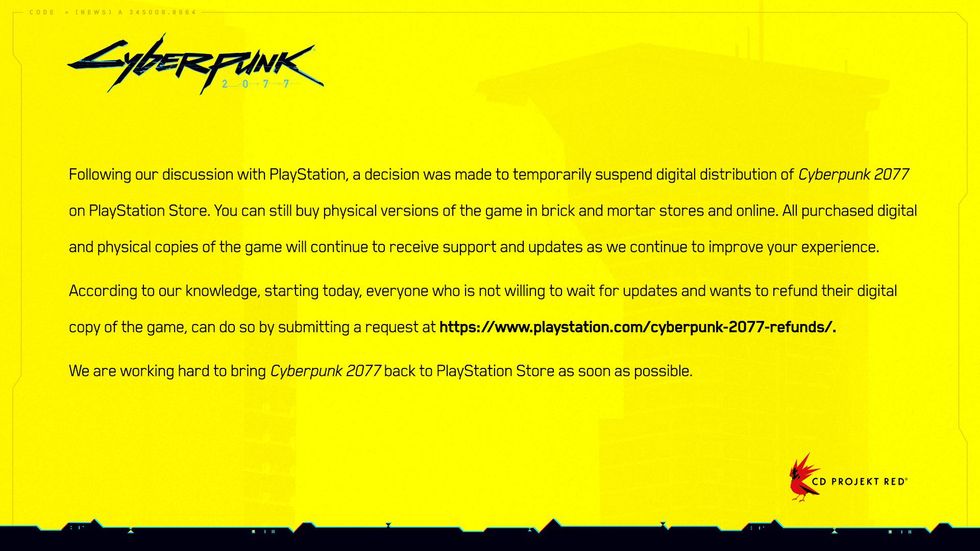 @cyberpunkgame/Twitter
As of December 18, alongside Sony Interactive Entertainment's (SIE) decision to offer refunds for digital versions of "Cyberpunk 2077," SIE removed the digital version of the game from its PlayStation Store in what IGN called "taking things a step further and actually removing Cyberpunk 2077 from digital purchase 'until further notice.'" The game is still accessible via the PlayStation Store for those those awaiting the patches from CD Projekt Red and those who have not requested refunds. Following SIE's announcement and actions, CD Projekt Red released their statement detailing that "a decision was made to temporarily suspend digital distribution of Cyberpunk 2077. All purchased physical and digital copies of the game will continue to receive support and updates." Further updates and patches are pending thus far.
Opinion: SIE took matters a bit too far by removing the game from its online store; it sheds a bad light and focuses it on CD Projekt Red, the only people that are currently updating the game and resolving issues. SIE should've understood the issues that the developers were experiencing since many game throughout the course of gaming history released with a slew of issues far greater than those of "Cyberpunk 2077," and game were never removed because of their performance issues until now. SIE should return the game once it is stabilized more to the PlayStation store. The tactic of adding more pressure on the developers by removing their game is a show of bad faith when this kind of corporate treatment never reared its head before.